Longines Flagship steel bombee lugs 1957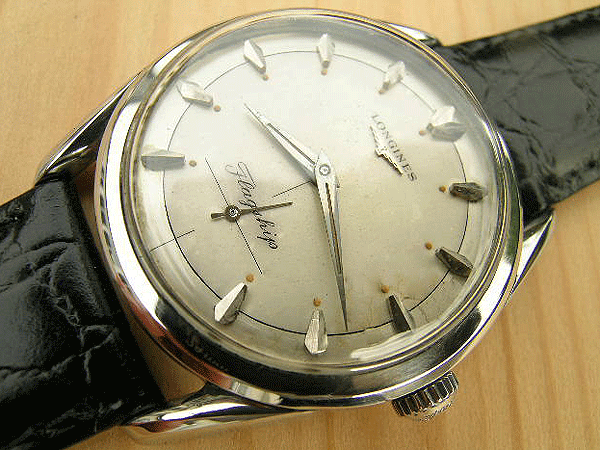 The Longines Flagship is one of those enduring model groups, like the Rolex Oyster and the Omega Seamaster, that qualifies as an icon in the eyes of the vintage watch collecting community. First offered in 1957 and still in production today, the Flagship range has continuously evolved but, exactly like the Oyster and the Seamaster, maintained the spirit that drove the creation of its original incarnation. It was always a substantial, solid watch that combined elegance with very robust build. In many ways, these three model types were all competing for market share, catering for wealthy, active buyers who wanted rugged timepieces that were also craftsman finished to an impeccable standard and expensive status symbols.
This example is the probably the most attractive vintage Longines Flagship that we have offered for sale in the last decade. It was manufactured in the first year of production, which in itself is appealing, and we have never encountered another that was identical. Interestingly, we know from the private individual who sold the watch to us that it was purchased new in Norway and it may be that this was a variant only offered to the Scandinavian market. We think that, by far, it is the most eye catching of all the first generation Longines Flagship variations and can guarantee that its buyer will be highly delighted when it arrives with him.
The initial reaction when seeing this watch is one of being surprised at its large size. With a width of 34mm and a drum-like depth of just under 10mm, this is a noticeable piece that is considerably bigger than most others of its era. Comparing it side by side with a bumper Omega Seamaster from the late 1950s, the Longines has a significantly heftier, bulkier look than its competitor, which fits in with contemporary tastes.
When examined further, other features catch one's attention. Whereas most Longines Flagship models from the 1950s have flat lugs, the lugs on this case are twisted bombee items, like those that we associate with Omega's Speedmaster chronographs. Bombee lugs are some of the most beautiful ever designed, and if found on a vintage Rolex Oyster, they command huge price premiums over their more conventional equivalents.
Case condition is almost perfect, with just the very slightest handling marks here and there that can only really be noticed with the aid of a jeweller's eyeglass. To find a better preserved vintage Longines Flagship for sale from the model's first year of production, either online or in one the physical fine wristwatch auction sessions held by Sotheby's, Christie's or Bonhams, would be quite a challenge and perhaps impossible. A lot of the pre-1960s stainless steel cases that are offered to us have noticeable pitting to their reserve sides, caused by the acid contained in perspiration eating into the metal. A particular vulnerable area for this is the joint between case body and back, which acts as a trap for moisture. With the arrival of small scale laser welding equipment for the jewellery industry over the last ten years, it has been increasingly a trend for unscrupulous vendors to try and fill in damage of this kind before polishing the surface in an attempt to disguise their activities. The case here has not been subjected to any repair work in the past and is entirely free of corrosion throughout.
The Flagship, like its rivals the Oyster Perpetual and the Seamaster, was designed to be waterproof and indeed, this was one of its key selling points. In common with those of almost all waterproof models, the case back was threaded and screws tightly onto the case body.
Externally, the case back is signed "Longines, Waterproof, Antimagnetic, Shock Absorber, Swiss Made". This tells us a considerable amount about the luxury end of the Swiss watch industry at the time. The 1950s are often regarded by collectors as having been the ultimate high point in the development of the mechanical watch, when standards of engineering and finish were achieved that have not been equalled since. A lot of the technical advances that first appeared on civilian luxury watches in the 1950s were trialled by the military on both the Allied and German sides in World War II, and even by the late 1950s, when the first Longines Flagship was launched, they still captured the imagination of the buying public. If we look at watch advertising from this era, firms like Rolex, Omega and Longines would make great play of features like shock resistance and anti-magnetic shielding, knowing that they could sway a vacillating buyer towards their brand. Having these attributes so prominently displayed on a case back outer is another manifestation of this same marketing approach of, if you like, boasting about technical sophistication.
All this wording is very clear and is still of full depth. Experienced collectors will carefully examine case markings for evidence of excessive wear and polishing, all of which will smooth out definition and reduce desirability. When we buy for our stock, we want to see crisp and sharp case back stamps, these being a good indication that a case has not been tampered with and subjected to too much exposure to a polishing mop at the hands of an over zealous jeweller.
The case back is opened by engaging the appropriate Longines factory tool with six machined slots. If an incorrect implement is used, these slots will inevitably become chewed. All these points add up to make the difference between a merely average vintage watch and an exceptional piece that can be bought as a long term investment. Even within two examples of exactly the same model from the same year, there can be enormous variation in condition and, resulting from this, great disparity in value. Here, there are no tool marks at all and it is clear that this housing has only ever been removed by conscientious repairers who owned the correct equipment to access the movement for servicing without leaving a trace of their presence.
Internally, the case back is covered with an engine turned pearled pattern. Even Rolex and Omega sometimes cut corners and left their case back interiors plainly finished, but Longines took considerable trouble to ornately decorate this aspect of its watches, which says an awful lot about the company's approach in general. We have said for years that the best vintage Longines watches were built to a superior standard to those by the other top tier Swiss brands and when we examine an item like this one, we feel we can justify this statement.
"Longines" is stamped inside the case back, together with the famous winged hourglass emblem. Also here is the wording "Fab Suisse, Swiss Made, Acier Inoxydable ( the French term for stainless steel) and the model reference 6818-1. It is worth noting that there is a similar Longines Flagship variant from 1957 with the model reference 6818, but this has flat lugs and is altogether less flamboyant. It seems a fair assumption that the "-1" appendix here defines this deluxe version, with a more complex case style.
Beneath the model reference is stamped 386, which is the individual serial number for this case. This is extremely low and indicates that this housing was one of the very first of its type to be produced. Given that we have never encountered this particular version of the Longines Flagship before, it is tempting to suggest that this style was only ever manufactured in very small quantities. We buy and sell vintage Longines watches every week and have done so for almost thirty years, but this lovely case version is something that we had not encountered before on a Flagship, which leads us to think that it was only created in limited numbers in the first instance, perhaps at the request of Longines' agent in Norway.
The dial also is a more exotic version of what we would usually expect on a first year of production Flagship. Reference 6818, the standard early Flagship, has a flat single piece dial, but the dial on this watch is a far more complex two part component, with a separate chapter ring riveted to an inner section to create a very attractive stepped effect. Those in the more advanced stages of vintage watch collecting will know exactly what we mean if we say that this dial has the same structure as the polychromatic cloisonné creations that were hand painted at vast expense for some of the elite Swiss brands in the 1950s.
Dial condition is very good, but certainly not perfect. There is some very minor ageing to the dial surface which ironically, is very pleasing to the eye, but it takes the dial slightly out of the near mint bracket when graded by a critical collector. The look of this dial is so exceptionally attractive that to have it restored would be an act of vandalism and we cannot advise too strongly against this course. As it is, the watch is entirely original and in superb, untouched condition, which is fine from an investment perspective. Nobody has fooled around with this dial or tried to clean or refinish it, and as a result, it has a great deal of old world character.
"Longines" is signed above the dial centre point, with "Flagship" just above the subsidiary seconds hand. This is the very early Flagship script lettering, which, of course, is absolutely correct for a first generation dial from 1957.
The hour batons are oversize, art deco themed spearheads in chrome, which match the original pitched dauphine shaped hands. The plating on both the hands and batons is almost perfect, with no tarnishing at all visible to the naked eye. When assessing any vintage watch for sale, either online or in the physical marketplace, it is essential that attention is paid to details like hands and winding crowns. So often, these have been changed over the years and if they have, the commercial value of any antique timepiece is reduced dramatically. We have several thousand period adverts and a huge archive of parts manuals and vintage sales brochures that we constantly consult to establish authenticity of these details when buying for our stock, but we appreciate that for the retail customer not armed with these advantages, establishing originality can be very difficult. Based on our own experiences, we would always advise that it is better to pay more initially and buy a vintage watch that is guaranteed to be authentic and correct throughout, even though this will inevitably cost more, than to cut corners, opt for something that may have non-standard components at a lower price and then try to locate the parts needed to put it back to factory standard specification at some later stage. Those materials suppliers lucky enough to be hoarding stock of original vintage parts for Longines, Rolex and the rest are well aware that the field is a sellers' market and charge accordingly. It is very easy to find that an elusive set of correct hands for a desirable classic model like this one come with a painful price tag that represents a disproportionate percentage of the overall worth of the piece.
As it should be, the movement in this watch is Longines calibre 30L, a hand wound unit that is among the most revered that this famous brand has ever built. Launched in 1955, two years before the Flagship made its debut, this unit employed the same architecture as many of the vintage Longines wristwatch movements of the 1930s, most noticeably with an exposed winding mechanism, but was aesthetically entirely new and shares very little in appearance with its forebears.
Many Longines purists will argue, quite convincingly, that the 30L was the finest manually wound mechanism of its era, by any maker. We wouldn't go so far, but we would agree that there was nothing better than the 30L in the post-war period and that it deserves its place as an all time classic, along with the Rolex Hunter, Omega 30mm series and IWC calibre 88 and 89 movements. All of these units were at the absolute cutting edge of technical development and craftsmanship in the mid-1950s, and choosing the superior movement out of the five is impossible and in the end, typically comes down to an individual's passion for a certain brand.
There were several versions of the 30L and it is important to be sure that the one present is the correct edition for the case into which it is fitted. The earliest type, which is the one here, ran at 18000 half beats per hour and was offered with subsidiary seconds, as here, and with centre seconds under the related calibre number 30LS. In 1958, the running speed of the 30L was upped to 21600 half beats per hour and we have encountered several very early Flagships in recent years that have been retro-fitted, incorrectly, with the more common, rapidly beating later movement. The two mechanisms are interchangeable without modifications being required and it is vital to value that the correct earlier, slower beat, version is the one present in a first generation Flagship, as it is here. The two movements are very difficult to tell apart visually, and care must be taken to establish this point before a watch is acquired.
Very wisely, Longines had an established policy of developing existing successful products into new calibres, rather than starting afresh whenever it required an addition to its range of movements. This made sense, and resulted in a very solid selection of highly reliable mechanisms that had evolved gradually over a long period of time, having had any teething troubles long since ironed out. The 30L had found acclaim with retailers and the specialist horological press, prompting Longines to use it as the basis for a revised version, calibre 302, in 1965. In its original form, the classic 30L is one of the most beautiful hand wound movements ever made and an essential inclusion in any serious collection.
We have never owned an example of Longines calibre 30L that was as close to being mint as the one inside this watch. This movement is indistinguishable from its equivalent in a brand new model and we could forgive the casual examiner with no specialist knowledge of Longines movements if he thought that it had been manufactured a month ago. We can state categorically that there is no better example of a vintage Longines 30L in existence anywhere, including the one on permanent public display in the company's factory museum in St. Imier.
Everything about the 30L screams quality. Longines own factory journal of 13 July 1957 ( issue 171), comments that the "Longines Flagship, fitted with the 30L movement, has become the leading model for precision and accuracy" and goes on to add that its sophistication was the result of "meticulous planning and immense care in construction". Studying this unit with an eyeglass, we really don't need to take Longines' word for its superlative standard and there are numerous points worthy of mention that establish it firmly in the top echelon.
If you look closely at the photos with this description, the brass sleeves around the jewels can just be made out, these contrasting with the silver finished rhodium plates. On almost all wristwatch movements, including virtually everything ever made by Rolex and Omega, the jewels have been fitted directly into holes drilled in the plates and are held there by friction. This is a perfectly good way of doing things, but a quantum step up in refinement, and cost of manufacture, is to have each jewel cased in a threaded tube known as a chaton, which is screwed down into a correspondingly threaded hole in the plate. When a repair is needed, these precision machined chatons can be wound out as required. Very, very few movement makers used screwed chatons, Longines and Patek-Philippe being among the notables that did. When these are found today, we can be assured that a movement is of Rolls-Royce quality.
Again, most movements of the period, even by the top level brands, had edges to their plates that were left at right angles. Longines, wanting to demonstrate complete mastery of its art, bevelled every edge, by hand, and polished it to a mirror finish. Today, it would be impossible to produce a movement of anything remotely like this quality for even several times the asking price of this watch. Very few items in the collectible timepiece world can honestly be described as bargains, but early post-war vintage Longines watches unquestionably fall into this bracket at the time of writing.
"Longines, 17 Jewels, Swiss, 30L" is signed on the bridge, together with the movement number 10181190. Falling between the two extremes of vintage Longines watch movement production for that year of 10000000 and 10333333, this clearly identifies this unit as having been manufactured in the second half of 1956. Longines, in common with all the major houses, manufactured its movements in batches of a calibre type, putting them into store to be used up as required, often over a period of several years. Notice how the late 1956 movement serial number ties in with the very early, low digit case serial number which we know categorically, given that the launch of the vintage Longines Flagship is well documented, dates from early 1957. Longines made this movement, put it into inventory, and fitted it into its new top of the range model only a matter of months later. This chronology, backed up by clearly defined serial numbers, is ideally what the serious collector wishes to find every time he inspects a potential purchase.
This watch works perfectly. It is in the best mechanical condition imaginable and if looked after properly, which means having it serviced every three or four years without fail, it will last several lifetimes with ease. Longines has a policy of taking a very active interest in its vintage watches and has a dedicated service centre at St. Imier that looks after its past classics. Having mentioned this, it should also be said that there is nothing about this piece that could not be maintained just as well by an experienced independent watchmaker, at a significantly lower price level.
We have fitted this watch with a high quality crocodile skin type strap. While this is not a genuine Longines strap, it is very similar in both appearance and construction to those shown on the vintage Longines watches for sale in period advertising from the late 1950s. Having not been worn, it remains in mint condition.
Pricing this watch is not easy, primarily because we have never seen another 1957 Longines Flagship with this wonderful bombee case style and two piece dial. This is a very rare and extremely beautiful piece that will set the pulse of any serious vintage Longines collector racing. To find a first year of production example of an important model range, but in a form that departs from the norm, is something of an event and we would expect this item to sell quickly. Our asking price for it is £1275 GB pounds, which, given the quality of both its case and movement, is very modest indeed. There can be very few examples of this exotic early Flagship reference for sale anywhere and in our view, it is one of the most charming and irresistible pieces to be offered on our website.
Price £1275 GB Pounds
Vintage Watch Brands
Vintage Watch Decades
Vintage Ladies Watches
Vintage Watch Bracelets
Swipwreek Straps
Travel Clock/ Pocket Watches
Home
About
Brand Overviews
By Decade
Reference
Contact Details
Telephone from the UK:
07453 734666
or 07428 051005
Telephone from overseas:
+44 7453 734666
or +44 7428 051005