Longines silver officer's with hinged lugs and Benson dial 1918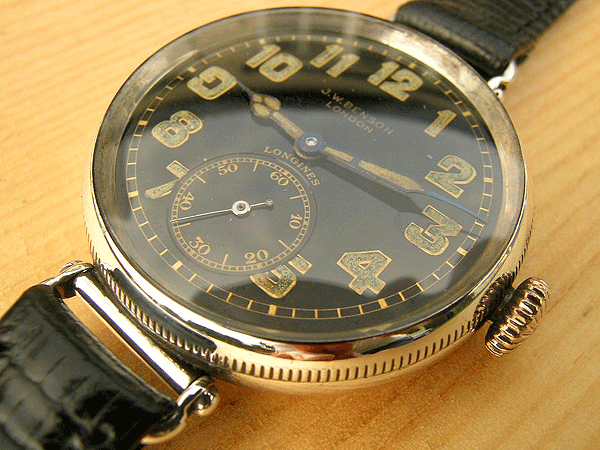 This wonderful large double signed 1918 vintage Longines solid silver officer's watch in absolutely original, almost mint condition, is the perfect example of a gem that would be effectively impossible to source today under normal circumstances. When we acquired the majority of our very early stock in the early and mid 1980s, the concept of the "vintage wristwatch" as a sub-genre of antique collecting was still in its infancy, and accordingly, it remained possible for us to locate incredibly fine rarities that are now but a fond memory in an almost barren marketplace.
We should remember than in relative terms, by the standards of today's luxury wristwatch manufacturers who have access to modern mass production techniques and computer controlled precision machinery, the grand Swiss houses were only producing small numbers of movements even by the mid 1920's, and each watch required a vast amount of labour intensive input from a range of highly skilled time served traditional watch makers, each with a number of very different specialist skills, from gear cutting through to dial enamelling. One of the aspects that attracted us to the idea of dealing in very high grade early wristwatches, and indeed still does today, is that there was so much human input and such an enormous amount of pride taken in the creation of these beautifully built watches.
It is very easy to simply read the year of manufacture of a watch like this one in an auction catalogue description without really taking on board how different the world was technologically in what was still essentially almost a continuation of the Edwardian era. This watch has survived, in its almost "as new" condition, through the great depression of the '20s, the glamorous era of early motor racing at Brooklands, the breaking news of the Japanese attack on Pearl Harbour, the celebrations following the end of World War II, the lunar landing in 1969 and all the other momentous events of the last ninety-plus years. This point is included not because these landmarks are in any way directly relevant to the watch for sale here, but simply to put a degree of context to the piece, as there is a tendency to become blasé when looking at the selection of these rare early watches on our website and view them in the same way as items from perhaps the 1950s and '60s.
Considering the sheer age of these models from the very dawn of the wristwatch itself, it is little short of miraculous that there still exist today a few examples, like the one for sale here, that have been carefully preserved out of harm's way and are in almost exactly the same condition as they were when taken out of their supplying jeweller's doorways when first purchased. Even twenty years ago, it was difficult to find these very early wristwatches, but with some effort and a little detective work it was possible, and we have a great deal of sympathy for the plight of the enthusiastic new convert to the vintage wristwatch hobby today, for whom the task of building up a representative collection of well preserved, unmolested World War I era watches by the prestige houses will be little short of Herculean.
These formative wristwatches, with their distinctive large circular cases and wire lugs are often referred to collectively as "officers watches" and this is entirely appropriate given that the wristwatch was first adapted for, and adopted by, a male clientele during World War I. The wristwatch had existed commercially prior to the break out of hostilities in 1914, but was viewed for the most part as little more than a frivolous novelty item that would often be highly decorated with jewels and worn by society ladies in the drawing room. Any gentleman that chose to wear a wrist rather than pocket watch would raise eyebrows and have doubts cast upon his masculinity.
This state of affairs would be irrevocably inverted after the front line officers of the Great War quickly realised the merits of wearing a timepiece on the wrist where it was easily accessible, rather than a pocket watch that was hidden beneath a heavy woollen overcoat, regulation jerkin and tangled in a mass of webbing worn on the person. The actual method of warfare itself, where "over the top" trench assaults were timed to occur directly after heavy artillery shelling had softened the enemy positions was extremely time critical and accurate timekeeping was of more significance in the 1914-18 conflict than it had ever been in the preceding Edwardian or Victorian eras. In these, engagement took place for the most part in a transitory battlefield setting, hostilities starting simply as soon as, and at the point where, the paths of the conflicting forces intersected. Because both sides were "dug in" in the trenches on an indefinite basis, pre-planned, timed assaults, often coordinated between different sections down a trench line to a few seconds, became the norm. The winters in Flanders were exceptionally bitter in 1915 and 16, this adding to the exigency for a time source that could be consulted without losing body heat, again compounding the appeal of a wristwatch. In summary, it was World War I that established the wristwatch as the way forward in personal timekeeping for the future. That sticking point before the War, the suggested effeminacy of a male wristwatch wearer, had been banished at a stroke and the way was clear for some of the most attractive and highest quality watches that the world had ever seen to be offered for sale in the following decades in wrist worn form.
Everything about this watch indicates that it has led a cosseted life and has hardly ever even been worn. It must be remembered that these watches were not supplied by the Government at this time; the official slow moving channels still being of the opinion that the traditional military pocket watches of the day were perfectly adequate for ground based troops. Watches of the quality of this piece, by the prestige houses, were bought privately by wealthy officers from London's finest jewellers before their owners set off for the front. Given the incredible condition of this watch, we would surely have to question whether this piece ever found its way to the blood soaked battlefields of France or, as is perhaps more likely, given that its case is hallmarked as having been imported through London in 1918, it never saw active combat duty, the War being over before it was purchased.
The very large ( the piece has a width of 37mm and a substantial depth of approx. 10mm) and therefore heavy solid silver case is, as stated above, fully hallmarked as being assayed as an imported item in London in 1918, together with the Sterling silver standard. It also bears the very early Longines case serial number 3430967 inside its perfectly hinged case back. One of the very distinctive features of this watch is its large hinged lugs, which enable the strap to pivot independently of the watch head, making the piece not only look spectacular, but also very comfortable to wear. Both of these lugs are completely original and bear a stamped import hallmark.
On watches of this value and rarity, every detail must be correct and the case must be the one with which the movement started life. This example bears the sponsor's mark "AB", ( this term meaning the company identification "code" stamp for the firm that submitted and paid for assay of the goods when they were first imported to the UK ), this being the correct marking for Baume and Co. of 50 Hatton Garden, London, the official importers of the Longines brand at this time. One of the most important pieces of advice that we would give any aspiring collector of fine antique wristwatches would be to ask questions and be almost pathologically inquisitive. Any movement markings or case maker's stamps can all, with enough detective work and effort, be deciphered today. There is an attitude among some whimsical buyers that such details are not relevant and far too academic, and that a watch should be bought on appearance alone. This is fine for those wishing to wear their watches without thinking of investment potential, but when we first started purchasing, we made an exhaustive study of the finest minutiae of every aspect of our watches, only buying the most spectacular items, and suggest that any serious collector now do the same. It is watches like these, on which every last detail is correct, that will always be the very pinnacle of the market and appreciate to the greatest extent. We have a policy of deliberately spelling out every significant point for each watch in my website descriptions, not only to confirm the absolute originality of the pieces we have for sale, but also in the hope that new enthusiasts will quickly begin to recognise a pattern of investigation that should be followed when appraising any watch before a potential purchase is committed to.
A splendid touch that is particularly find appealing, is the presence of a finely threaded screw back that securely winds down into place on the case body, creating an effective moisture proof seal. In many ways, these officers' watches are actually a throwback to the pocket watch era but this one has features that typify the next significant phase of wristwatch development, the quest for effective waterproofing. Screw threaded backs provided additional resistance to the ingress of water, dust and dirt particles, the exclusion of which were particularly important in a trench type environment. When viewed with an eyeglass, the perfect machined threads are a joy to behold and in superb unworn condition.
The attention to detail present in these very early watches always fills the observer with such pride for the craftsmen that built them. Brands like Longines, at this time, were catering for an elite market for whom retail price was of no concern and as a result, every finishing touch was included, the majority of which would not be suggested, or even thought of, by the finest luxury horological manufacturers today. These officers' watches still stand, over ninety years on, as a monument to what can be achieved in fine watch making when traditionally trained craftsmen are available and production is not fettered by cost driven accountancy.
The black enamel dial on this piece is breathtaking in the extreme. We are not normally given to such immodest description of aspects of our watches, but in this case, there is no other word for this glorious item. It is very interesting to note that black dials were originally introduced on wristwatches during World War I on the basis that white dials would be far more reflective at night in the trenches and might attract the notice of an enemy sniper. Anyone wishing to purchase another of these rare watches might look for twenty years before one came along with an entirely original double-signed dial that is as perfect as the one for sale here. Despite its age, there is not the slightest discolouration or hairline cracking whatsoever. Put simply, in the current market climate, it would be effectively impossible to source another of this model with a dial that was even 80% of the equal of this one. This is a double-signed "Longines, Swiss made" dial, with the Longines wording elegantly curving around the top of the subsidiary seconds dial and the prestigious "J.W Benson, London" stated above this. As a further example of the attention to detail mentioned earlier, notice how the wonderfully stylised numerals, almost in an art nouveau typeface, have been printed in gold and then filled in with luminous radium paint. By even the early 1930s, numerals were simply printed in radium directly onto the dial without a black outline in order to cut down on manufacturing expenses. This is a small point in itself, but these tiny features all aggregate to give us this "golden age" of wristwatch production.
Before moving on from this dial area, it should be mentioned that the so-typically World War I luminous skeleton hands are completely original and in almost perfect condition throughout, as indeed, is the distinctive winding crown.
Many of these exceptional officers' watches by the great Swiss houses had beautiful hand built movements, and the very early Longines calibre 13.34 present here is among the most spectacular that we have seen in recent years. This is a fully signed item and again, carries the stamping of Longines' official importers in the UK "Baume & Co". The 13.34 is one of the most difficult early Longines movements for the collector to find, it being also one of the company's first calibres designed specifically for the wristwatch in 1910 and almost all examples now reside in private collections from whence they are unlikely to reappear in the foreseeable future. This is a 15 jewelled level calibre and is one of the most visually attractive early Longines movements. Its large bridge plate hints so strongly at the pocket watch era, while its size and regulator layout confirm that this was one of the first movements to be intended for wristwatch use. Everything about this movement encapsulates that tremendously exciting turning point in the history of the portable timepiece and was built with no regard to expense.
It must be noted that, like the rest of the watch, every individual component of this movement is completely original and unmolested. There are no changed or incorrect parts whatsoever and the internals of the piece look almost as if they had been made yesterday with not even the first hint of discolouration or corrosion. A movement like this one, though always very costly when bought on the collectible market, will always be far less troublesome than a badly worn, badly corroded version of the same calibre. These are obviously very old watches, but by buying carefully, and purchasing only a really high-grade example like this one, there is no reason why such a watch should not be reliable today and, if careful maintenance continued, in the future also. These movements were built to the very highest standards by some of the most skilled precision engineering craftsmen of their day, and one of the most appealing aspects of these early watches is that they were created originally to last indefinitely. Though brilliantly performed, there was actually no process used in manufacture of these movements that could not be used today by a traditional skilled watch maker to enable the watch to continue running well into the next century, perhaps as an heirloom item. We have always been the most vociferous advocate of regular servicing, and as a result of such routine cleaning and adjustment having been carried out routinely throughout the life of the piece, the watch works perfectly today.
For the serious collector, this watch has an extremely appealing feature that we have deliberately left from our description so far, feeling that this deserved a paragraph of its own. It will have been noticed by the keen eyed that the dial is doubly signed as "Longines" and "J.W Benson, London", this latter wording being a reference to the jeweller that supplied the watch when new. Double signed vintage watches, this term referring to those on which the names of the manufacturer and retailer are both signed on the dial, are extremely rare and command a high price premium. This extra value is derived from the fact that they are very attractive, but also because very few retailers were deemed to have appropriate prestige that the major Swiss houses would agree to add their names to dials in this way.
J.W Benson was one of the most important British jewellers of the Victorian and Edwardian eras. Founded in 1847 and based at 62-64 Ludgate Hill, it held warrants of appointment to Queen Victoria, The Prince of Wales, and the Kings of Siam and Denmark. Benson's own watches are extremely collectible now, but during the World War I era, it was the policy of the company to work closely with the importers of the finest Swiss makers to purchase small quantities of hand picked watches and then further test and time these to perfection in their own workshops. Benson's prestige was so great at this point that the addition of their signature, even to a highly respected product like Longines, was a factor that would dramatically increase the sales potential of any watch and, of course, give Benson a strong commercial advantage over its competition.
Overall then, this is a glorious 1918 silver vintage Longines officer's watch, in a large size with an unusually lugged case style, with a J.W. Benson signed dial, in a condition that can only be described as suitable for museum display. Watches like this one, of this age and rarity, and in this completely original, nearly mint condition, simply are almost extinct. Anyone looking for a good, tidy example of an early top tier officers' watch for daily use might actually be better advised to look elsewhere, simply because this watch is actually rather too well preserved to be worn on a regular basis, and such use will in time detract from its current high value. This is a perfect investment or serious collector's watch, to be stored in a safe and examined from time to time, perhaps worn very occasionally for an evening meal, giving enormous pleasure to its owner as he relishes the thought that he possesses a grade of vintage watch that is now virtually impossible to source.
Valuing this watch is so difficult, as indeed is the case for so many of the watches we have for sale on this site, simply because we are not aware of any similar example having been sold recently by which a price precedent can be established. In the superb reference book "Longines", by Italian collector Daria Marozzi, an almost identical silver example ( same case, movement, dial and hands) is shown as a full colour plate on page 156. However, this watch does not feature the glorious hinged lugs that make the watch for sale here so exceptional and is in considerably poorer condition, not to mention the fact that it does not have the significant enhancement of the J.W Benson connection and dual signature. The price guide accompanying this volume suggests that the watch pictured has a value of just over £700 GB pounds, which considering the book was published over twenty years ago in 1990 does seem reasonable. Vintage wristwatch prices have soared over the intervening time, particularly in the last seven or eight years as a new wave of collectors became interested in fine wristwatch collecting via the Internet.
After some thought, we have set a price on this watch of £1275 GB pounds. Vintage Longines pieces are painfully, ridiculously undervalued in the antique wristwatch marketplace at the moment and there is no better bargain in the world of antique horology at the time of writing. This watch offers a higher quality movement than its Rolex equivalent, but has an asking price of less than half its better known brother. We cannot recommend pre-World War II vintage Longines watches enough, both as investments and as extremely satisfying objects to own.
Price £1275 GB Pounds
Price £1275 GB Pounds
Vintage Watch Brands
Vintage Watch Decades
Vintage Ladies Watches
Vintage Watch Bracelets
Swipwreek Straps
Travel Clock/ Pocket Watches
Home
About
Brand Overviews
By Decade
Reference
Contact Details
Telephone from the UK:
07453 734666
or 07428 051005
Telephone from overseas:
+44 7453 734666
or +44 7428 051005