Longines 18k gold Borgel case moisture proof 1926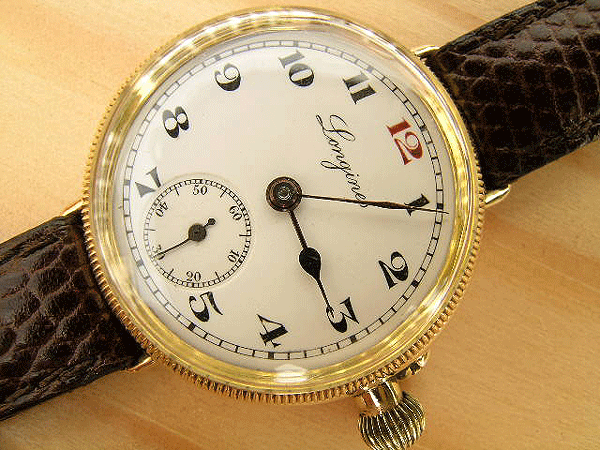 This beautiful gentleman's 1926 Longines in a patented moisture proof 18 karat gold Borgel case is one of the most appealing early vintage watches for sale on this site. Its condition is literally almost perfect, yet despite being over eighty years old, it remains totally original in detail. This item sums up exactly why we became interested in antique wristwatches in the first instance and even to write about it here is a pleasure.
Longines must be the most under valued of all vintage watch brands, but slowly, this position is changing. When this watch was manufactured, Longines was one of the most prestigious horological houses in the world, with a status that was unquestionably higher than that of Rolex. This piece would have been one of the most costly wristwatches available at the time and was built to a quality standard that was unsurpassed by any of the company's competitors.
From the point of view of the modern day collector, the attraction of this watch is derived from its exceptionally high quality and from the condition of this particular example. Looking at its case now under high magnification as this is written, it is very difficult to believe that this item has ever been worn. There are only the very faintest marks here and there that are almost invisible to the naked eye and would be present on any example that had ever been handled in a jeweller's shop.
Internally, this case carries the marks "FB" and "AB", these being the respective signatures of Francois Borgel, the Genevan case making company, and Baume & Company, the official British agent for Longines at this time. Based at 50 Hatton Garden, London EC1, this firm had Arthur Baume as its managing director, hence the initials used for its sponsor's mark.
Also here is the individual serial number for this case, 813120 and a full set of British hallmarks, these telling us that this housing was assayed as solid 18 karat gold in London, 1926.
There is a page in the reference section of this site that explains the ingenious design concept behind the Borgel case and having included this, it seems extraneous to repeat the same information here. However, for those in a hurry or the casual browser without the inclination to explore in depth, it seems worthwhile to include a very short potted summary of this information. Basically, the Borgel's system improved on the water resisting capabilities of previous case types by eliminating the case back joint completely and having a single piece, bowl-like case onto which the movement was screwed from the front. The movement was contained in a deep threaded collar which could be wound down into the correspondingly threaded case body. The bezel was integral to the collar and milled in order that a firm grip could be obtained when screwing the movement in place. If the photos of this watch are studied carefully, it will be noticed that we have included a shot of the piece with the movement almost entirely screwed out from the case, showing the clutch and pin set connections.
Borgel had invented this system in 1898 for use on pocket watches, but it first appeared in wrist watch form during World War I, when having a timepiece sealed from the elements was clearly a great advantage to those serving in the trenches. While Borgel patented his design, he made it available to third parties for a fee, and produced a range of superb quality cases that were built around this principle. Nearly all the major Swiss houses offered at least one model with a Borgel moisture proof case in the immediate post-World War I years and, without doubt, this style of watch should be regarded as an important evolutionary stepping stone on the way to the creation of the world's first genuinely waterproof wristwatch, the Rolex Oyster, in 1926.
In terms of its aesthetics and its construction, this watch appears at first glance to be older than it actually is. This style of watch, circular and with soldered wire lugs, is one generally associated with World War I and, if we'd have been asked to suggest a year for this example without having access to its hallmark date letter, we would have assessed it as being from 1918 or 1919. In the 1920s, the wristwatch developed rapidly and took on its own identity away from its pocket watch ancestry. By 1926 when this item was produced, the trend had changed to favour rectangular and square forms, and it would have already looked somewhat anachronistic. Interestingly, while when we think of Borgel cases we think of the Great War, it is a matter of recorded fact that Longines still offered a model of this kind until the early 1940s.
One of the ingenious features of Borgel's invention was that, when the movement is unscrewed from the case, the winding crown remained captive in the case side. These crowns are all too often changed and incorrect, but the one here is the original with which the watch started life. Notice that, in common with all watches built around the Borgel patent, this features a pin setting system, with the pin in this instance being located just above the winding crown. In order to set the hands, the pin is depressed at the same time as the winding crown is turned.
Like the vast majority of what we term today officers' watches, this piece has an enamel dial. By the mid-1920s, painted dials had become the norm and their enamel predecessors were rarely seen. Both types have their advantages and drawbacks. Having a hard glazed surface, enamel dials resist staining by dust and damp but, on the other hand, often suffer from hairline cracking. Painted dials deteriorate very easily and can become very unsightly quickly, but do not crack. The dial on this watch is the best of all worlds, being a totally original, untouched item without even the faintest hairline crack. It is literally perfect, and as such is a rarity on a watch of this age. In the eyes of many collectors, some faint hairlines are acceptable on an enamel dialled model, simply because mint examples are unlikely to ever be found. No compromise in needed here, and this dial looks today exactly like it did when sitting in a jeweller's window in 1926.
"Longines" is signed in very attractive script above the dial centre point. Large Arabic numerals sit inside a double minute track and, typical of the period, the twelve numeral is in red. The blued steel hands are all totally original and free from corrosion.
When the movement is wound upwards on its collar out of the case, we can study it in detail. For several reasons, it is especially interesting and something that we haven't encountered before. To the experienced collector it is instantly recognisable as a vintage Longines movement from the very distinctive shape of the bridges. However, while identifying the origin of this item isn't difficult, what threw us was its decoration. The standard Longines finish at the time was frosted gilt, with the plates left completely flat. In total contrast, the movement here has been finished to a far more exotic level, with wide and very pronounced Geneva stripes having been hand polished into the plates with a rotating boxwood disk. Even the plating is different, with the plates finished in rhodium rather than gilt.
Equally strange is that there is no Longines signature, or serial number, both of which would be found on standard production. To anyone with experience in the field, even at first glance this is obviously a vintage Longines mechanism and couldn't possibly be mistaken for anything else, but for whatever reason, it has been given a far more deluxe finish than we'd expect to see.
The components in this unit are the same as those in the standard calibre and have not been altered in any way. This movement is completely original and, aside from regular servicing, does not appear to have had any repair work performed on it. Everything about it gleams brightly and we doubt a better preserved example of a 1920s vintage Longines movement exists anywhere. The mirror polished screw heads have slots that are perfect and free from chewing, which informs us that this item has never fallen into the clumsy hands of the back street repairer. After routine cleaning and lubrication, this watch works perfectly. It sets, winds and runs very smoothly and provided it is treated with care, will last almost indefinitely.
We have fitted the watch with a high quality crocodile skin type strap. This is brand new and certainly need not be changed at this time. While perfectly useable, this strap is not actually of the type that would have been used by Longines with this item when new. To view the historically accurate straps that we have had commissioned for early officers' watches, do follow the link at the top of this page to the shipwreck straps section. These are pricey, but for the perfectionist who wants to present his watches from this era to the best possible advantage, are something of a Godsend.
The price of this vintage Longines watch is £1775 GB pounds. While not a tiny sum, it is a modest amount for such an exceptionally well-preserved specimen of this very rare model in such high karat gold. In the last twenty years, we have owned perhaps half a dozen early Borgel cased antique Longines watches, but all of these have been in silver. 9 karat gold examples do exist and show up for sale occasionally, but this is the only one we have ever seen in an 18 karat case. Its movement, while guaranteed to be totally original and the correct Longines calibre for this model, has clearly been prepared to a much higher than usual standard to reflect the high price of its exotic housing which, again, adds interest from the perspective of the serious collector.
In every respect, this vintage watch represents the highest grade of officer's watch that was ever offered. While the wristwatch was ideal for use in the trenches because of the practical advantages that came with it, this item is a world removed from the purely utilitarian. Everything about it screams quality and luxury, and it will make a lovely sample of the Longines company's early work for the investor or advanced collector.
Price £1775 GB Pounds
Vintage Watch Brands
Vintage Watch Decades
Vintage Ladies Watches
Vintage Watch Bracelets
Swipwreek Straps
Travel Clock/ Pocket Watches
Home
About
Brand Overviews
By Decade
Reference
Contact Details
Telephone from the UK:
07453 734666
or 07428 051005
Telephone from overseas:
+44 7453 734666
or +44 7428 051005