Longines steel pilot's watch with Weems 1943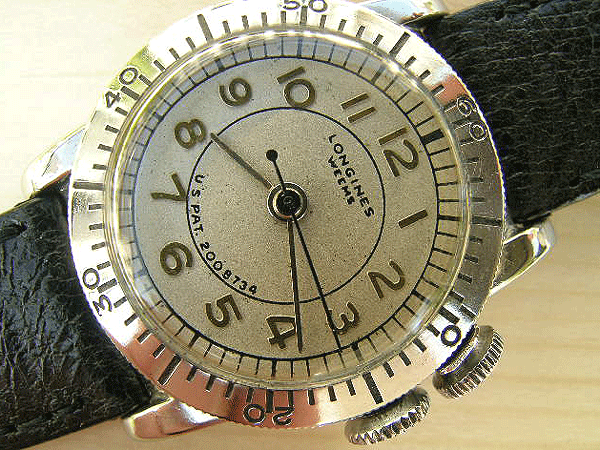 It has been suggested on several occasions that the wristwatch was originally invented in 1904 after a request to his jeweller Cartier by the Brazilian aviator Alberto Santos-Dumont for a timepiece that he could consult in flight, his traditional waistcoat worn pocket watch being far too inconvenient for this purpose. In truth, there are so many conflicting claims as to who created the first wristwatch that we are unlikely ever to establish the definitive facts regarding this issue, but it is unquestionably the case that since its first formative years, the evolution of the wristwatch has been inextricably linked with the world of the pilot.
From a collector's perspective, wristwatches designed for use by aviators make a delightful subject, and some of the pioneer examples of the World War I and inter-war years are among the most charismatic timepieces ever made. Universally, the quality of these pieces is exceptionally high, and this makes sense when we stop to consider the type of individual who purchased these items in the first instance. Just as it still is today, aviation as a private hobby was always prohibitively expensive for the masses, and the buyer who had a requirement for a purpose built pilots' watch was unlikely to be cost conscious.
This 1942 Longines with a Weems bezel is the textbook example of a beautiful vintage timepiece that, because of its superb condition, unique design and extreme rarity, is ideal as an investment purchase. A point that we often come back to in our descriptions, when buying collectible elderly wristwatches for long term financial gain, deliberately set out to acquire those pieces that have defining features that set them apart from others of the same era. There were literally thousands of models produced by the major Swiss manufacturers in the industry's golden period, and in truth, while many of these are visually appealing and all are of superb quality, to the casual onlooker their appearance is often very similar. This results in a somewhat homogenised market place, and as a seller, it is difficult to make one's watches of this kind stand out from those offered by others. By carefully buying only those iconic models that are clearly landmarks in the development of the wristwatch, one avoids this trap, and should such items be liquidated in the future, their distinct identity and documented history will ensure that they quickly find buyers at a strong price level.
The Weems bezel is universally regarded as one of the all time classic features to be found on early pilots' watches and was invented by Professor Phillip Van Horn Weems, a man who arguably contributed more to the advancement of air navigation than anyone else in the inter-war years. Working for the US Naval Academy in Annapolis, Weems was brilliantly ingenious, and many of his techniques by which a pilot could relate his position to that of the stars while flying at night are still in use as standards today. Several books on the subject of in-flight navigation were authored by Weems and he received a Gold Medal from the International Aeronautic Federation. The celebrated trans-Atlantic flier Charles Lindberg studied under Weems before making his 1927 journey in Spirit of St. Louis, and indeed, he actually built on the bezel arrangement here to create an improved version by which hour angle calculations could be made.
The principle on which the Weems bezel operates is extremely simple, but like many such ideas, it is also very efficient and utterly foolproof. Something that hadn't been as relevant in the age of sea travel, ultra-accurate timekeeping was of the utmost importance to the aviator. While a Lt. Commander in the US Navy, Weems realised that with flying speeds of between 200 and 300 miles per hour being regularly achieved even during the inter-war years, a slight error in timekeeping when calculating one's position could have disastrous consequences. It therefore followed that there emerged a requirement to be able to set a watch exactly, to the second, to a known time signal. Today, this task is achieved by means of so-called "hacking seconds", this terms being the one used to describe the process of stopping a second hand at will, typically by pulling the winding crown out to its fullest extent. In 1929, when Weems devised his invention, the concept of stopping a movement on command had not yet appeared on a large scale, though theoretically at least, the first generation of watches with this featured had begun to be offered by this stage. Weems' solution to the seconds synchronisation problem was a far better one, this being achieved by having a rotating bezel, calibrated in segments between 0 and 60. Therefore, at any time, the bezel could be instantly turned to align its vertical 0 position to coincide with its equivalent on any other time source. This method of setting was far easier to use, particularly when in mid-flight and synchronising to radio time signals, that the hacking seconds system of adjustment, and, a point that always seems to be overlooked, also resulted in far less mechanical strain on the movement in general, this not having to be stopped, paused and started again during the synchronising process. As an aside, it is also understandable, though not an obvious application, that many of these Weems pilots' watches found a second career after being decommissioned from military life in the hands of radio and television broadcasters of the late 1940s, who found the ability to synchronise to the exact second invaluable when starting and ending transmissions.
Weems had a handful of prototype watches built locally in San Diego with this rotating bezel by a chap called Harry Nash, but having established the validity of these as a working design, went on to forge a relationship with Longines, who manufactured the model offered here in obviously greater quantities. The condition of this particular example, dating from 1943, is exceptional throughout and especially remarkable since the majority of these watches from the war years saw active use, with the result that they are now relatively battered. This robust case is in near perfect condition, with only the very tiniest of imperfections that can hardly be seen with the naked eye. The all-important rotating bezel, heavily milled around its edges to enable it to be turned even when wearing cumbersome flying gauntlets, sets smoothly and has no measurable wear. Inside the case back interior is the signature "Cased and Timed in the USA by Longines", together with the individual serial number for this housing, 322317, and the word "Keystone". The Keystone Watch Case Co, based in Illinois, was one of the most highly regarded of all the American case manufacturers, and sold its products to almost all the elite Swiss houses for sale on their US market watches. In the inter-war years and well into the 1950s, the American government had taken steps to encourage the emerging domestic watch industry, and accordingly imposed high import tariffs on Swiss made timepieces. By shipping uncased movements to the USA, these not being subject to this punitive duty rate, and then having these cased by domestic suppliers, it was still possible for firms like Longines to compete in the American market. As an aside, it is worth commenting that a parallel situation existed in the UK, where the Birmingham based Dennison company flourished for almost three quarters of the 20th century, its precious metal cases being used virtually exclusively by all the important Swiss brands when their items were offered for sale in Britain.
An interesting point is that we don't recall having ever seen a Longines Weems with anything other than an American made case, this suggesting that such an item was probably never manufactured. The Weems concept was licensed also to Omega in the 1939-45 period, and two thousand examples built to this design were supplied to the British Government for RAF use through the Goldsmiths & Silversmiths Company. We have never studied the inside of a Weems equipped Omega from this era and are therefore unable to pass comment on its internal case signature, but it would certainly be fascinating to do so in order to ascertain if its housing was of UK or American origin.
Probably the most eye-catching feature of these watches is their distinctive two winding crowns. On this particular watch, both crowns are entirely original and are in excellent condition, with no wear to their serrated edges. The lower crown, that positioned alongside the 3 o'clock numeral, operates in the standard way, this being used to wind the watch and, when pulled out, to set the correct time. The upper crown is actually nothing of the sort, and has no influence whatsoever on the movement. This is a locking device, and when loosened anti-clockwise, the bezel is free to rotate in either direction. When the seconds scale has been aligned to that of a correct time source and the wearer is satisfied that the synchronisation of the seconds has been achieved, the crown is screwed down against its backing plate, this latter item ensuring that the bezel is then locked in place and cannot move, this being important, for it doing so would result in the potential for inaccurate in-flight readings to be taken.
It should be immediately apparent by now that this is very much a collector's watch, and because of this and its relatively high worth, its new owner is likely to be an experienced vintage watch enthusiast rather than a casual buyer. At a lower level, when nominal amounts of money are spent to acquire generic older watches for a novelty look, investment criteria are largely irrelevant, but with items like this, it is inevitable that the majority of purchasers are mindful of the potential that a particular watch has to climb in value in the future. Without any doubt whatsoever, the key single factor in defining the value of a timepiece as a collectible is its dial. In order for a vintage watch to have its maximum theoretical value, this must be totally original and in nearly perfect condition. On public display for over half a century, a dial of this age has often been exposed to the bleaching effects of bright sunlight, contamination by both dust and moisture, and shows all too many tell-tale signs of past use. Very, very few dials from the wartime era survive in anything remotely like the superb, original condition of the one here, this just having the slightest few tiny surface imperfections that differentiate it from the way it looked when new in 1943. When assessing any vintage watch, always look for consistency as a good sign that all is how it's supposed to be. When we see a brand new looking dial with a badly worn case, we feel the need to question why this combination has arisen, and would automatically be on our guard for a dial that had been refinished. Similarly, if offered a piece on which the dial was discoloured and unsightly but the case was near perfect, we would suspect that the housing had been excessively polished, perhaps to remove a myriad of scratches or past repair work. The watch here is a good example of how an honest piece should look. Its case is superbly preserved and has never been polished, its dial is almost perfect but just has the tiniest few spots here and there, and its original winding crowns show no sign of wear. In short, almost insignificant deterioration is uniform across the watch, which is very much a reassurance that all is well.
The gold Arabic numerals remain free from discolouration and match the original hands perfectly. The black sweep second hand is also authentic and correct, its colour deliberately chosen to contrast to the greatest extent the French white dial background. The black signature "Longines Weems" remains crisp above the dial centre point, as does the lower wording "US Pat. 2008734", this referring to Philip Weems' original registration of his design as a pilot's navigational aid in 1935.
One of the great advantages of Weems' design was that, while achieving its intended purpose of allowing two timepieces to synchronise seconds, it enabled a standard movement type to be used. This benefit should not be overlooked, and was an important factor in this Longines model being so highly regarded by airmen at the time. In many cases, effective navigation equated with survival, particularly during World War II when American military pilots often found themselves out in the Pacific, travelling from atoll to atoll, these typically being surrounded by several hundred miles of ocean. An error in navigation, and a scheduled fuel stop location would be overshot, with immense difficulty in finding it again under time pressure. These type of conditions were not those in which to test a new movement type, and Longines wisely chose to use their venerable 10.68N movement for this model. First introduced in 1939, this was actually only a very slight revision of the firm's 10.68Z, the mechanism that had been in the hour angle aviator's watch used by Lindbergh since 1932. In modern parlance, this unit was utterly "bullet proof", and capable of giving reliable service in almost any hostile climatic conditions. The movement had been tested to an incredible degree in the eleven years before this particular watch was produced, and was in every respect a known quantity that could be shipped to pilots without any fear whatsoever that it would let them down.
The movement here is in almost "as new" condition throughout, and gleams brightly like that in a brand new watch. Curiously, its finish is rhodium plated, as opposed to the frosted gilt used on the 10.68Z. We have noticed this in the past on wartime Longines examples, and, pure speculation on our part, have wondered if this substitution came about as a result of difficulties in obtaining quantities of gold for plating during the conflict years. This unit is fully signed, with "Longines Watch Co, Swiss" stated on its bridge, together with "Seventeen Jewels" and the individual serial number 6525779, this confirming the unit's 1943 origin. Studying the movement now with a jeweller's eyeglass, it is quite obvious that this has had no component changes whatsoever and is totally original throughout. Always a good sign, the mirror polished screw heads are free from damage and there is no evidence of any past repair work having ever been performed. Having been serviced regularly throughout its life, this watch works perfectly today, and is in the very best possible mechanical health.
The quality of finish present on these classic 1930s and '40s Longines movements is exceptionally high, and while prices for these watches are far from cheap, we still maintain that they are measurably lower than those realised for equivalent mechanisms by the firm's competitors from the same era. This unit displays examples of almost every refinement and has been entirely built up by hand on an individual basis. The edges of the plates are all bevelled, something that one only sees on high grade production, as opposed to being left unfinished, and each of the large jewels used at the significant bearing points is individually held in its purpose built brass sleeve, or chaton, which in turn is threaded into a corresponding hole in the plates. The vast majority of luxury watches, both then and now, have press fit jewels, with the rubies being pushed directly into the plates and held by friction, and very few mechanisms are found with this refinement. It would be tempting to assume that Longines created the 10.68N exclusively for use in pilots' watches, hence its exotic construction and finish, but this actually isn't the case, and this same mechanism appears in a variety of the company's better civilian models. We think that it would be very difficult to think of any way in which the 10.68N here could be improved, and few collectors would ever argue that this calibre wasn't one of Longines' most highly regarded war era movements.
We have fitted the watch with a high quality calfskin leather strap that is perfectly in keeping with its vintage appearance. This is not a genuine Longines strap, the original having disintegrated many years ago, but it has been sympathetically chosen as appropriate for the piece and remains in mint condition, having never been worn.
In summary, this is an exceedingly charismatic vintage pilot's watch that combines one of the most innovative horological features of the early/mid 20th century with the superb quality that we associate with Longines items from this era. From an investment perspective, it is difficult to imagine any reason why this unusual watch should not continue to rise steadily in value in the future, just as it has done since the discovery of vintage wristwatches as a genre in the 1980s. Regardless of the technical triumphs displayed in their movements, the fact remains that collectible wristwatches, like classic sports cars and bespoke shoes, are an emotional purchase, bought primarily by men who are greatly influenced by the evocative nature of a piece worn new by a wartime pilot. This glamour, whether real or perceived, is almost impossible to erase, and remains a major factor in why these period aviators' watches are so sought after. There are few personal possessions that are as intimate as a wristwatch, and we would be the first to acknowledge the emotive appeal of looking at a vintage timepiece on one's wrist and remembering that this exact same view was almost certainly seen by the wartime pilot inside his cockpit during a night time run over the Pacific. Manufacturers of new luxury watches today play on such imagery, often citing examples of famous models sold to various Governments and airlines decades ago, but in the last analysis, it is these vintage examples that are genuinely historically significant in this context.
Valuing this watch is difficult, not least because very few Longines Weems examples seem to have survived in this excellent condition. Slightly later examples produced after the end of World War II with gold filled cases do sometimes appear, but in stainless steel, this is a hard watch to locate in anything remotely approaching worthwhile order.
There are numerous print references to this model, and the collector will have no difficulty in finding mention of this watch in almost any book that covers the subject of collectible pilots' watches or period aviation equipment in general. Gisbert Brunner's "Wristwatches" devotes a full page (p. 274) to the reproduction of Philip Weems' original drawings for this rotating bezel concept, describing it as an "apparatus for navigator's time keeping". On the opposite page, an almost identical Longines Weems to the one offered here is pictured in colour with the caption that this is a "pilot's Longines Weems in steel, 1939, blocking bezel ( the book is a slightly clumsy translated version, and we can presume that this is a reference to the ability to lock the rotating bezel in place after setting), Calibre 10.68N ".
"Wristwatches, A History of a Century's Development" by Helmut Kahlert includes a photograph of this model on page 303 in a chapter entitled "Aviation, Observation and Military Watches". The accompanying text informs us that "the outer glass can be locked by the knob by the 2", this being incorrect. The glass remains static at all times, with the bezel only rotating and locking. Well over twenty years ago, in 1989 when this work was published, the watch was suggested as having a worth of $1500 US dollars or approximately £850 GB pounds.
One of the best references is on page 103 of Z.M Wesolowski's "A Concise Guide to Military Timepieces". An identical steel Longines Weems to the one offered here is pictured, accompanied by the note that "it was produced in 1940 by Longines, with a small number acquired by the Royal Air Force. It is known that at least one such watch was issued to the navigator of a Lancaster bomber in 1942. The back of the case bears no issue marks, but the dial is both signed Longines and Weems. It bears the US patent number 2008734, which was granted to PVH Weems for his original design on 31st July 1935. A gold filled version was also retailed on the commercial market".
Sotheby's included a Longines Weems, stated as being from 1938 and apparently identical to the one here with the exception of it having a less desirable gold plated case, as Lot 136 in its 22nd February 1990 auction sale in London "Important Clocks, Watches and Wristwatches". Its condition is obviously much poorer than the example offered here, yet even two decades ago, it had a published pre-sale estimate of £800 to £1000 GB pounds.
Daria Marozzi's excellent 1990 book "Longines" includes a large full page colour plate of two of this exact stainless steel model side by side ( p. 87) in a section entitled "watches and instruments for aviation". Both examples shown appear to be in excellent condition and are suggested as having a value of 3000k Lira each, this being approximately equal to £1050 GB pounds or $1800 US dollars. Over twenty years ago, this estimate was probably reasonably accurate, but given the general rise of the vintage watch market particularly over the last decade, and the huge wave of interest in pilots' and sports watches during this time, it is no longer realistic today.
Lot Number 81 in the thematic sale "Longines-Legendary Watches" held by Antiquorum at the Grand Hotel et de Milan on the 28th November 1994 was the identical twin of the piece for sale here, with the exception that it was stated as being from 1940, three years before our example was produced. It had the same case, twin crowns, dial with US patent number and distinctive second hand. The catalogue tells us that this was a "very fine, important and rare centre seconds Weems pilot's wristwatch".
We have priced this watch at £2275 GB pounds which, if we pause for a moment to consider its historically important design and its high level of intrinsic quality, is actually remarkably good value for money. From our own experiences as serious vintage watch dealers over the last three decades, we would have no hesitation in suggesting that it makes far better economic sense to acquire a single piece like this one, that is a genuine rarity and established collector's item, that to use the same total outlay to purchase four or five mediocre watches that will always be regarded as rather run of the mill, however long they are retained. This is an extremely interesting piece that will appeal to a wide cross section of buyers, from serious Longines aficionados through to those involved in the period aviation scene, and it is a watch that will be very difficult for us to replace in our stock when it has sold.
Price £2275 GB Pounds
Vintage Watch Brands
Vintage Watch Decades
Vintage Ladies Watches
Vintage Watch Bracelets
Swipwreek Straps
Travel Clock/ Pocket Watches
Home
About
Brand Overviews
By Decade
Reference
Contact Details
Telephone from the UK:
07453 734666
or 07428 051005
Telephone from overseas:
+44 7453 734666
or +44 7428 051005