Rolex ladies gold with guilloche dial, boxed, 1935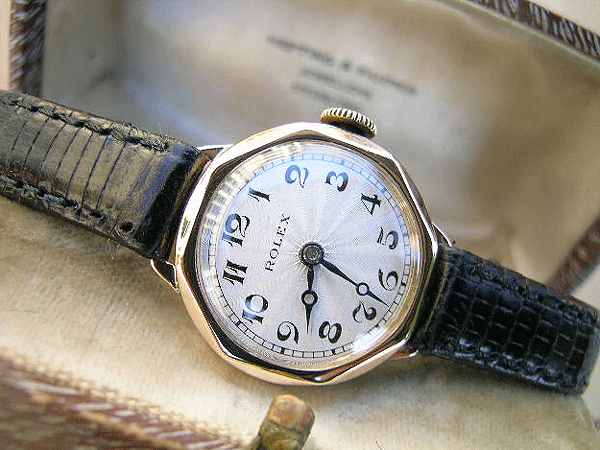 Vintage Rolex ladies' watches are something of a speciality of ours. Rolex began its trading life in London as an importer of ladies' watches in the years immediately before World War I and it is not untrue to say that the classic ladies' models of the 1920s and '30s are among the most appealing that this famous company has ever made. Based in Yorkshire in the north of England, even fifteen years ago we used to purchase these watches on a fairly regular basis, often in small provincial sale rooms in the Dales and the wealthier parts of the North East, but today, such experiences are just a fond memory. Vintage Rolex watches have been passionately collected since the mid-1980s and very little worthwhile material comes fresh to the market today. This 1935 watch in near mint, totally original condition is the perfect example of a classic ladies' Rolex that could be purchased for investment, but similar pieces are few and far between in the current market.
When we first saw this watch we were immediately impressed by its condition. The heavy gold case is of a larger size than usual and is almost unmarked. If we want to be deliberately pedantic, we might suggest that there are a few virtually invisible imperfections here and there, but on a watch of this age, these must be accepted. In realistic terms, this case is as close to mint as anyone could ever hope to find.
We spend a lot of time explaining to our regular buyers how to inspect vintage watches prior to a purchase. A vast amount, in fact probably the majority, of the classic Rolex watches for sale today, particularly in the fast paced world of the mass market online auction websites, are not as they should be. In most instances, they are not outright fakes, but merely worn out, incomplete items that have been incorrectly resurrected for sale with inappropriate components. Similarly, every known technique has been used to spruce up cases and dials that are long past their best.
A very worthwhile habit is that of examining the inside of a watch case body. Gold is very soft and the sharp edges on a lot of these pre-War cases have been abraded to the extent that they have worn through completely. A skilled jeweller will be able to fill in holes of this kind and polish the exterior to disguise his work, but what he cannot do, because there isn't enough room to get a polishing mop inside the tight curves of the case, is remove evidence of repair from a case interior. This case has never been repaired in the past and is entirely free of solder marks on its inner surfaces.
The case back is of the snap on variety and is signed "British Make, LN, Pat No 378233". Initially, we were a little confused by this. We knew from the history given to us by the private party from whom we purchased the watch that it was categorically all original; it had been in their family since new. But equally, we had not encountered the LN maker's mark in a Rolex case before. In order to avoid the high levels of import duty on gold Swiss watches when they arrived in Britain, Rolex and its competitors routinely shipped uncased movements to their British agents and had these fitted into domestically manufactured cases, these, of course, being already in the country, were not subject to import tax. However, in almost thirty years in the vintage watch business, we had not encountered a British made Rolex case with the LN stamp and this had us rather perplexed.
Intrigued, we contacted the British Patent Office and paid for a copy of the original patent grant document that related to the number inside this case. Things became far clearer when this arrived on account of the party registering the patent have been none other than BH Britton, a Birmingham case making company that was one of the major suppliers of gold cases to Rolex during the vintage period. The document itself makes interesting reading and we will include it when we ship this watch to its next owner. This is unquestionably the case in which this movement started life and it was obviously manufactured by BH Britton. Why it is signed with the LN initials and not the standard BH that we typically see is likely to remain a mystery forever.
Also present are a full set of British hallmarks, these telling us that this case was assayed as solid 9 karat gold in Chester, 1935. All the stamping inside this case remains very crisp and clear, which, of course, is exactly what the experienced collector hopes to find when he opens the back of a potential acquisition.
We try to avoid including a personal opinion in our descriptions, but regular visitors to this site may well have noticed our fondness for guilloche dials. Sometimes referred to as starburst dials, these were created by engine turning fine lines into the surface of a sheet of German silver. The effect is charming, with rays of light thrown from the dial centre point out towards its edge. It is often not appreciated fully that these dials were manufactured on an individual basis, one after another, by highly skilled craftsmen using hand cranked tools correctly known as rose engines. The work was held in the hand and pushed onto the cutting head with the operator's thumb. Too much pressure and the sharp head would pierce the dial, rendering it scrap in an instant. Too little pressure and the depth of groove carved would not be sufficient and uniform with the rest of the dial. It is a matter of recorded fact that an experienced rose engine operator, known as a guillocher, would take the better part of a working day to create a single dial of this type. For no other reason than the prohibitively high cost of production, guilloche dials gradually disappeared during the 1930s and were gone entirely by the outbreak of World War II. They remain some of the most beautiful dials ever offered by Rolex and its competitors in the top echelon of Swiss watch making.
The surface of the guilloche dial is bare metal which has the considerable advantage that, unlike conventional paint finishes, it does not deteriorate with age. What does tend to happen however, is that over many decades, any dust that manages to creep past the edge of the glass settles in the fine grooves in the dial. Unlike painted dials, guilloche dials can be professionally cleaned but this work is highly specialised and expensive. The dial here is absolutely original and is in almost perfect condition. It has been stored well away from dust and damp throughout its life and gleams brightly, just as it did when new in 1935. A dirty guilloche dial is rather like an old master painting that is covered with a surface layer of grime and pollution. Original guilloche dials in near perfect, clean condition are things of enormous beauty and will always attract attention when worn in a dinner party environment.
The hour numerals are very stylised and show the influence of art nouveau. A railway minute track runs around the outside of the dial with "Rolex" signed in upper case letters above its centre point. All this printing is extremely clear and has not faded in the least with age.
Both hands are original and in blued steel. This style of hands, correctly known as Breguet, is one of the most classical used by Rolex and is always popular with collectors. It is very important that hands are original if any vintage Rolex watch is to have its maximum potential value. Sourcing correct hands today for a Rolex model from the 1930s would be almost impossible and we would suggest that it is better to pay a little more in the first instance to buy a watch, like this one, that is entirely original throughout.
The cases and dials of vintage Rolex watches are of exceptionally high quality, but what really sets these early pieces apart is the standard to which their movements were built. There were many other prestigious brands in Switzerland making movements of this grade, but Rolex was the first to offer it in wristwatch, rather than pocket watch, form on any serious commercial scale.
A lot of the vintage Rolex movements in circulation today have been modified with non-standard components, typically back in the 1970s when the concept of the mechanical wristwatch as a collector's item had not yet emerged and these items had very little value. This movement is guaranteed to be original throughout and superbly preserved. The bridges and wheels are in rhodium plate and not at all corroded. There is no suggestion that any repair work has ever been performed and even the slots in the individually mirror polished screw heads are virtually unmarked.
"Rolex, Standard Quality, 15 Rubies, Swiss Made" is signed on the bridges as called for. It is rather ironic that the standard quality grade for Rolex was significantly higher than that present in nearly every other maker's work from the same period. It is difficult to convey to the casual browser just how out of the ordinary these movements actually are. If bought in good condition and sent for routine cleaning and lubrication every three or four years, they will last several lifetimes with ease, making them ideal as heirloom pieces that can be passed down through successive generations. This particular movement has clearly been cared for and consequently, it sets, winds and runs very smoothly and with excellent balance amplitude.
We have fitted this watch with a high quality crocodile skin type strap that suits its antique appearance to perfection. This is not a genuine Rolex strap, the original having disintegrated decades ago, but it is ideal for the theme of the piece and is brand new.
A nice touch is the presence of the original box in which the watch was supplied new in 1935. This is signed inside its lid with the name of Hepting & Farrer, one of the most prestigious jewellers in Scotland during the inter-war period. Trading from Murray Place, Stirling, the concern was an official Rolex agent from the early 1920s onwards. Later, Hepting & Farrer would be bought out by Fraser Hart, but it still continues in business today and remains an appointed Rolex stockist. It is unusual to find vintage ladies Rolex watches for sale with their original packaging and this lovely box is very much a collectible in its own right. If sold alone, with this provable Rolex provenance, this item would change hands quickly for approximately £100 GB pounds and this additional worth must be considered when thinking about this watch as a possible purchase.
The price of this watch is £1225 GB pounds. It is a gorgeous, completely authentic antique model that if looked after, will never lose a penny in value and in fact be a strong appreciating asset in the future. Newcomers to the collecting field often simply don't understand that antique Rolex pieces in this condition are not in circulation in any significant quantity and with every year that goes by, become harder and harder for dealers like us to purchase. These gems do exist, but are now almost entirely in the hands of well heeled collectors who don't want to part with them, and the only opportunity we have to add them to our stock comes when there is the possibility to negotiate a part exchange transaction. In central London, comparable antique ladies Rolex examples are offered by the dealers in the Burlington Arcade and Bond Street for around £4000 GB pounds, which is very much a reflection on the astronomical trading overheads that are unavoidable to retailers based in one of the most expensive cities in the world. This watch is of exactly the same quality as those supplied by the London vintage watch shops, but simply because of our location in sleepy rural Yorkshire, where business expenses are some of the lowest in England, has a price tag of less than a third of this amount. We pride ourselves on offering some of the very best vintage ladies Rolex watches for sale anywhere on the internet and without a doubt, this is an item that is among the finest we have bought for some months.
Price £1225 GB Pounds
Vintage Watch Brands
Vintage Watch Decades
Vintage Ladies Watches
Vintage Watch Bracelets
Swipwreek Straps
Travel Clock/ Pocket Watches
Home
About
Brand Overviews
By Decade
Reference
Contact Details
Telephone from the UK:
07453 734666
or 07428 051005
Telephone from overseas:
+44 7453 734666
or +44 7428 051005