Rolex Queen ladies gold art deco boxed 1935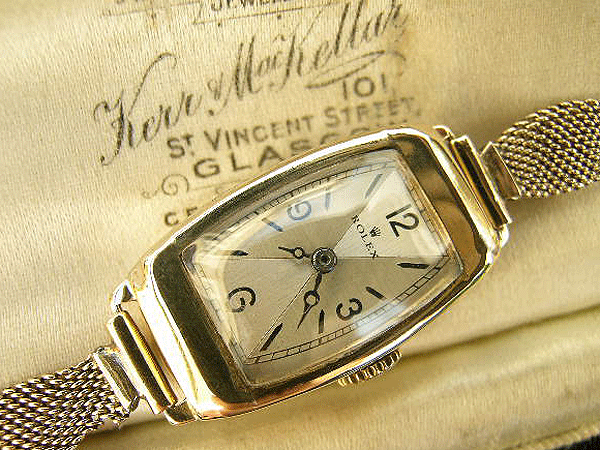 The Rolex Queen is one of the most attractive of all the vintage art deco wristwatch models for ladies that were produced in the years between the two World Wars. Rolex latched onto the idea of using model names associated with royalty in the 1920s and continued with this theme right up until only two decades ago. We have had the Prince, Princess, Monarch, King Midas and in fact a whole free standing model range, Tudor, all taking their inspiration from various royal institutions. Expensive and very high quality, a Rolex watch has always been an aspirational purchase and it made sense for the company to try and create a subconscious link between its products and the British royal household in the minds of the general public.
It is difficult to be sure when the Queen was released and this state of affairs is not helped by Rolex's stubborn official policy of refusing to answer any queries about its past production. We have a vast amount of period watch advertising here in Yorkshire and have tried our best to arrange it in some kind of chronological order. The first mention of the Queen in Rolex publicity material in our archive comes in 1932, with its last appearance in 1939. We have never seen a Rolex Queen that had been manufactured after World War II and it seems that we can safely regard this model as a product of the 1930s, which ties in with its appearance that has clearly been very influenced by the all prevailing taste at the time for art deco objects.
Interestingly, like the Prince and Princess editions that were staples of the Rolex range during approximately the same period, the Queen name was not given to a single model, but to a group of closely related models that were united by having cases that were almost identical, but had minor differences in other respects. For instance, the Egyptian Queen had ostensibly the same tonneau shaped case as the watch here, but with stepped sections at each end. Similarly, while this watch has conventional strap fixings, these taking the form of standard lugs, another variant, still sold under the Queen banner, combined this same case style with a single lug at either end, this enabling a narrow, circular section so-called bootlace strap to be fitted. Again, because of a lack of specific data from Rolex, it is hard to be sure, but our experience as dealers over thirty years suggests that in total, there were perhaps six or seven interlinked watches in the Rolex Queen range.
The condition of this particular watch is quite remarkable and it is undoubtedly the best preserved Rolex Queen that we have seen in the last decade. We should not forget that apart from the diamond set models, which were obviously very costly due to the value of their stones, the Queen was right at the top of the ladies' Rolex range and was accordingly very expensive. At a time when simply surviving was the preoccupation for a large chunk of the British population, especially in the dark days of the Great Depression in the early 1930s, only the well soled would have ever thought about purchasing a timepiece of this value. We only have to look at period Rolex adverts of the time, with their themes of private aviation, skiing in the Swiss Alps and motor racing in Monaco to get a feel for the class of clientele for whom the company catered. Sadly, in the 1970s when mechanical watches were not regarded and had little value, a lot of these lovely pre-War Rolex classics were woefully neglected. This one has clearly been cherished throughout its life and remains in an outstanding state.
The case here is almost unmarked and is not at all worn. When buying a vintage watch in gold, it is worth keeping an eye on just how thick the case walls actually are. A watch that has been worn every day since the 1930s or '40s will have gently abraded over the years, to the extent that it may well have a case that in places, is less than half as thick as it was when new. Rolex cases were among the thickest walled ever made but even so, over our years in business we have rejected plenty of examples on the basis that they were now little more than paper thin.
We also advocate the close examination of cases from the inside as well as the out. A good case repairer will be able to carefully buff out the evidence of his attentions on the outside, but will find it impossible to remove traces of excess solder and solidified gold on the inner surfaces due to difficulty of getting even the tiniest polishing mop into such a confined area. There are some lovely looking vintage Rolex watches out there that scream of excessive restoration, even completely replaced lugs and filling in of heavy damage, when their movements are removed and they are scrutinised inside. This case is virgin throughout and no part of it has been near a soldering iron since the day it was first made.
Internally, this case has been decorated by hand with an exquisite engine turned pearled pattern. At this point in time, Rolex and its competitors at the top tier of the Swiss watch industry went to extraordinary lengths to refine their products. There was no functional benefit at all from this ornamental turning and it was highly unlikely that any owner would ever even see it, but it was done all the same, regardless of expense.
"Rolex, 25 Worlds Records, Geneva, Suisse" is signed inside the case back. The world records were new standards for accuracy that had been set by Rolex in the contests held by the observatories to promote the Swiss watch industry overseas. Rolex gradually increased its record count from just after World War I up until it abandoned this style of case marking in the mid-1940s. We have been intrigued by this escalating number of records for decades and at last have added a series of pages that chart this progression to this website. These can be found by clicking on the "Reference" link above. Such information has never been available before on the Internet and is very useful to the serious vintage Rolex collector.
The classic Rolex cartouche is here, with the RWC Ltd letters that it contains of course standing for Rolex Watch Company Limited. This format is very much something that we associate with Rolex cases from the 1930s and '40s.
If we look very carefully, we can make out the coded mark of case maker Schmitz & Cie of Unt. Kanalweg 23, 2560 Nidau. A point not often appreciated by novice enthusiasts, Rolex was never a case manufacturer and in fact purchased its cases from a small number of concerns that excelled in this specialist field. Schmitz & Cie crops up regularly inside Rolex cases from the inter-War period and without a doubt, its work was of some of the highest quality to be used by the company. Established collectors will have come across Schmitz & Cie before on account of it having been responsible for a number of the Rolex Prince Brancard ( flared sides) cases of the 1930s. It is interesting to note that despite the firm being based in Nidau, its case mark was formally registered at the intellectual property office in Bienne, this, of course, being the home town of Rolex.
Exactly as we would wish to find in an ideal world, there is a full set of crisp, well defined British hallmarks. These confirm to us that this case was assayed as solid 9 karat gold in Glasgow 1935. While earlier Rolex cases, those made prior to 1920, are almost always with London hallmarks, certainly by the early 1920s virtually every gold case that was brought into the UK by the company was sent for hallmarking in Glasgow. Later, in the 1950s and 60s, we would see a gradual shift again, this time largely to Birmingham, reflecting the relationship between Rolex and its favoured British case maker Dennison, which was based there.
Externally, the case back is stamped with a very large coronet emblem, around the brim of which is the Rolex brand name. Normally, vintage Rolex case backs are smooth except for a model reference and serial number, but for a brief period in the 1930s, they were decorated very ostentatiously in the manner here. These cases are some of the most visually appealing ever offered by Rolex and to find a Prince, a Princess or a Queen with this large Rolex logo on its reverse side is a real treat.
The individual serial number 18675 and the Rolex model reference 2622 are also stamped into the case back. This stamping, and that of the Rolex coronet mentioned in the previous paragraph, is sharp and of full depth, confirming that this case has not been polished. A lot of the 1930s Rolex cases in circulation now, especially those in soft gold rather than steel, have numerical stamps on them that are getting very difficult to make out. The buyer of this watch need not have any such concerns.
Also on the case back is the engraved dedication "Dorothy, 28th May 1938". It seems likely that this watch was given as perhaps a birthday or anniversary gift and such wording is not unusual. The style of the engraving is in itself extremely attractive and the fact that it was applied entirely by hand is in contrast to today's bland machine inscriptions. The presence of this decoration does not reduce the desirability of this watch in the slightest and we have often commented that charming engraving of this type adds a romantic sense of provenance and past life to a piece.
Before moving on from the case, it is worth noting that the tiny numbers "75" are stamped into the inside of the case front. These are a repeat of the last two digits of the serial number that is on the case back and confirm that both front and back started life together as one when new. An awful lot of the vintage Rolex watches for sale today, especially on the mass market online auction websites, are made up of parts that were not originally in the same watch. Learning to spot inconsistencies is one of the skills that must quickly be acquired by the new collector if he is to avoid purchasing items that may well look very attractive, but be completely unsuitable as serious acquisitions for investment.
To a large extent, the values of vintage Rolex watches of a particular model are defined by their dials. Dial condition and originality are major factors in setting worth and combined with format and its perceived position within a hierarchy of desirability, they account for approximately 50% of the monetary value of an item like the one here.
The dial on this watch meets the very highest standards and realistically represents perhaps only the top two or three percent of vintage Rolex watches from the 1930s that have survived. Unlike so many now in circulation, it is guaranteed to be original and has at no point been restored. This is a very important consideration. The concept of dial restoration sounds innocuous enough, but in fact involves the stripping off of the original surface and its replacement by a modern substitute. A dial can be refinished an infinite number of times, but by definition, can only be original once. When this originality is lost, its value plummets, hence the high worth of pieces like this one with those elusive dials that are both original and immaculate.
We tend to be a little obsessive and typically examine dials under a stereo microscope to assess their condition prior to us adding them to our stock. Viewed even at very close quarters this dial is almost in an as-new state. There is no foxing or dust staining anywhere and the only possible criticism that could be levied by the most small minded perfectionist is that its overall colour has just slightly aged from a once bright silver into a now marginally creamier tone.
This style of dial, normally referred to by collectors as quartered two-tone, is without a doubt the most eye catching that Rolex offered in the 1930s and is enormously evocative of the era in which it was created. The Queen was very much an art deco inspired watch and nowhere is the weight of this important aesthetic movement more noticeable that its dial. The engine turned guilloche dials of the Edwardian era and the 1920s were replaced in the 1930s by these deco quartered dials. Both types are immensely sought after when in good condition and it would be pointless to try to decide which was more desirable or more visually dramatic. Both are outstanding and qualify as essential inclusions in a collection focussing on important Rolex landmark variants.
Unlike the guilloche dials, into which fine grooves were laboriously cut with a hand cranked rose engine, these two tone dials were flat. The contrasting colours of the four diagonally divided sections were achieved by slightly brushing the metal surface in different directions to create the very effective optical illusion of two different shades of silver. Years ago, when we first started in the vintage watch business, these items were often referred to by collectors as harlequin dials, but we haven't heard this phrase used for a long time and it seems to have fallen by the wayside.
"Rolex" is stated above the dial centre point, accompanied by the famous coronet emblem. The presence of this logo is entirely correct on a Rolex dial of this age. One of our pets hates is seeing early dials, typically pre-1930, to which the coronet has been added to, in the eyes of the vendor, make them more saleable. The coronet appeared widely in the 1930s, but was not a universal signature until after World War II. It is perfectly usual to find examples of vintage Rolex watches from the 1930s, Oysters, Princes and Queens, that have the same dial format but on which the coronet is sometimes present and sometimes omitted. Rolex period advertising shows watches both with and without the coronet and it would seem that is was used almost according to the whim of the dial printer.
Both hands are original and in the distinctive Breguet shape. First used by the legendary French watchmaker of the same name in the Georgian era, this style of hands is utterly classical and one of the most elegant to ever appear on wristwatches. When buying a vintage Rolex watch, it is very important to be absolutely sure that its hands are original and neither incorrect for the model or, God forbid, modern replacements. Small component details like hands and winding crowns have a huge bearing on value, but it is so difficult for the new collector to be sure that these aspects are as they should be. We often cringe at watches shown to us, usually bought online, that have been brought back from the scrap parts box using a mixture of components that were never intended to be together in the first place. The vintage Rolex watches for sale on our website are not cheap, but they are authentic, legitimate items that can be bought as serious investments and will not be the source of any nasty surprises in the future.
The lovely stretched rectangular movement is a delight for the eye. This style of mechanism typifies Rolex production from the 1930s and was entirely different from the largely circular movements used by the company in the previous decade. Towards the end of the 1920s, Rolex introduced several oval shaped calibres, some of which are represented in the watches for sale on this website, but it was these angular rectangular units that we associate today with the golden age of the late inter-War period. Again, and this is a point we have made many times in our descriptions here, public taste was the catalyst for technical change and mechanical innovation. Buyers wanted watches with an angular, art deco appearance and these, with their typically elongated rectangular and tonneau shaped cases, required suitably shaped movements to fit inside them.
In terms of its layout, this mechanism is a sort of hybrid cross between the Rolex Princess and HW ( Hans Wilsdorf) calibres. Hand wound and with a very large balance wheel, its appearance apes the Princess, but we can also see a similar architecture to that of the HW. Both of these types are rightly regarded as legendary Rolex movements and the unit here is a very appealing item that combines the best aspects of both.
Right across the range, Rolex movements from the 1930s were of incredibly high quality, with this excellence being a major factor as to why these classic models are so venerated today. However, even within the Rolex range there was disparity, with some mechanisms having a slightly more exotic specification than others.
This movement is of exceptionally high grade and has aspects that can only be regarded as exotic. The most obvious of these is the use of chatons for the jewels. In conventional movements, including almost all those by Rolex, the jewels are press fitted into holes drilled in the plates and held there by friction. In this example, the jewels have been placed in beautifully finished threaded brass sleeves, correctly known as chatons, which have then, in turn, been screwed into correspondingly threaded holes in the plates. This is a refinement that is very rarely seen and is always indicative of movements made to a very fine standard. If we are lucky enough to encounter screwed chatons on a Rolex movement from the 1930s, it will typically be a chronometer or observatory grade unit that was tuned to turn in a higher level of performance than its more mundane equivalents. There is no suggestion that the movement here was ever intended for chronometer certification and thinking back as this is written, it has to be said that this is one of the only pre-War Rolex ladies' movements that we have encountered with this luxury feature, making it especially interesting to the advanced Rolex collector looking for variants that he may not already own.
As called for, "Rolex" is stated on the bridge, together with "Swiss, 15 Rubis, Fab Suisse". Most importantly of all, everything here is both original and in nearly mint condition. It is easy to forget that watches like this one are almost seventy years old and at some point in their past lives, most have been neglected. A lot of the older Rolex movements in existence today have been modified with non-standard components, typically for no other reason than to keep them running at low cost when mechanical timepieces were perceived as having little worth in the 1970s. This one has managed to come through in a superb state and is among the best preserved that could be found anywhere, at any price. After regular servicing, it works perfectly and provided it is looked after correctly, will give many decades of continued trouble free ownership.
A nice touch is the art deco mesh bracelet that is still in place. Rolex was not a bracelet manufacturer in the 1930s and the buyer of this piece would have chosen a bracelet from a selection offered by the supplying jeweller at the time. This bracelet is unsigned, but in solid 9 karat gold and of a very high quality that is suited to the rest of the watch. If an owner preferred, this watch could easily be fitted with a crocodile skin type strap but given that these two items have been a pair since well before World War II, we prefer to leave them together now.
Charming in the extreme is the original box in which this watch was supplied in 1935. Kerr & MacKellar was an official Rolex agent in Glasgow in the years between the Wars. Interestingly, it was one of only a relatively small number of Scottish retailers for which Rolex would double-sign dials, though this dial is singly signed, presumably because of limitations of space. This box is very attractive and in itself is a collector's item.
We have priced this watch at £1675 GB pounds. For an immaculate early Rolex Queen, with its box and a striking two tone dial in a virgin state, this is not a vast sum to pay. In London's Bond Street, similar art deco ladies' vintage Rolex watches from the 1930s are offered for between £4000 and £4500, with our price reflecting the fact that in rural Yorkshire, our business overheads are a lot lower than those of traders operating from shop premises in central London. This is an exceptionally beautiful classic gold Rolex in a condition that is not often seen. It would be ideal as an investment purchase or as a dramatic gift for a lady with a taste of upmarket antique possessions.
Price £1675 GB Pounds
Vintage Watch Brands
Vintage Watch Decades
Vintage Ladies Watches
Vintage Watch Bracelets
Swipwreek Straps
Travel Clock/ Pocket Watches
Home
About
Brand Overviews
By Decade
Reference
Contact Details
Telephone from the UK:
07453 734666
or 07428 051005
Telephone from overseas:
+44 7453 734666
or +44 7428 051005