Jaeger LeCoultre ladies art deco steel, boxed 1936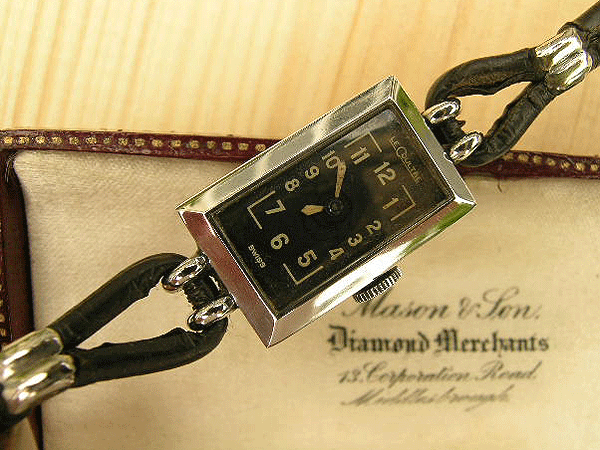 This stainless steel boxed ladies' vintage Jaeger LeCoultre watch from 1936 is the perfect example of the art deco style that influenced horological design in the second half of the inter-war years. The 1930s were the age of streamlined locomotives, flared running boards on cars and even architecture embraced the deco idiom. The look of this piece couldn't be more representative of its year of production, and anyone with an eye for classic 20th century design will immediately fall in love with its chic appearance.
The condition of its elongated stainless steel case is almost perfect, and we can suspect that this watch has hardly ever even been worn. Just as it is today, in 1936 Jaeger LeCoultre was one of the world's most prestigious horological houses and very few buyers would have ever purchased a watch of this cost and quality to wear on a daily basis. We like the fact that the case is in steel rather than the silver that would undoubtedly have been used even a decade before. This gives a colder, harsher appearance than silver would have done, perfectly fitting the angular, sharp deco lines of the piece. In relative terms, this is quite a large watch, with a length 31mm and a width of just under 16mm. Even today, in an era when many younger women prefer bulky sport watches, it makes a noticeable statement when worn in public.
Externally, there is the serial number 24353, together with "Fab. Suisse" ( Swiss Made) and "Staybrite", this latter word being a reference to the particular patented stainless steel alloy used, with a very high chromium content giving it this icy brightness. Quite correctly, this housing is not signed as a Jaeger LeCoultre product, but is identifiable as such both from the distinctive typeface used on its case back stamping and because of its instantly recognisable appearance, with two prominent lugs at either end of the case rather than a single large lug as seen on the offerings of its competitors. This same aesthetic was used on the company's Duoplan and ladies' Reverso models from the same era and genetic thread running between these two watches and the one here is immediately obvious.
Very unusually, this watch has a black dial. While this may not sound cataclysmic to the casual browser, the fact is that one hardly ever sees examples from the inter-war period with black dials, the vast majority being in white. Because of the value added by a black dial to a piece from this period, there are a large number of vintage watches for sale today that have had their dials refinished in black, but this one is guaranteed to be original. When studied under high magnification, this dial can be seen to be almost perfect, and has never had any restoration work carried out on it whatsoever.
In keeping with the case, the layout of this dial couldn't be more art deco looking. Radium painted Arabic numerals appear inside a stylised broken border, above and below which "LeCoultre, Swiss" is printed. Those who have read a number of our descriptions will be aware of the difference between the "LeCoultre" and "Jaeger LeCoultre" signatures on watches by this brand from the 1940s and '50s, the former being used on watches intended for sale in the USA where there was a dispute over the ownership of the "Jaeger" trade name. However, to complicate matters further, we should mention that this is a much earlier British market watch, sold new in the UK, and that its abbreviated signature does not stem from this situation. While Edmond Jaeger had merged his business with that of Jacques-David LeCoultre in 1917, watches produced by the resulting amalgamation were still signed as either Jaeger or LeCoultre, the combined "Jaeger LeCoultre" not appearing commonly until after 1937 when the firm officially changed its registered title to "Societe du vente des produits Jaeger LeCoultre SA". Hence it follows that Jaeger LeCoultre items manufactured before 1937, regardless of their country of retail sale, are almost universally signed on their dials as LeCoultre, like the piece here. Franco Cologni's book "Jaeger LeCoultre, The Story of the Grande Maison", includes a photograph of this exact same dial on page 83, reproduced from a 1933 British catalogue and signed in abbreviated LeCoultre form.
Every detail of this watch is correct and as it should be. Not one component part has been changed and there is no sign of any repair work having ever been performed. A lovely touch, that is so often missing, is the presence of the distinctive flared art deco hands. These were very much a Jaeger LeCoultre trademark and were used in larger form on both the gentleman's Duoplan and Reverso models. Similarly, the flat faced steel winding crown is authentic and the one with which the watch started life.
Its looks may be dramatic and the quality of its case extremely high, but the real reason for purchasing this watch must be its utterly gorgeous vintage Jaeger LeCoultre calibre 404 movement. Introduced in 1933, three years before this example was made, the hand wound 404 was designed specifically for use in the company's ladies' Reverso model, but, as here, also found its way into several other variants in the brand's range.
Jaeger LeCoultre movements from the 1930s are, literally, the very best created by any maker, at any time. The company supplied its movements to high society French jeweller Cartier and Genevan horological house Patek-Philippe during this era, both of which demanded standards of engineering and finish that were second to none. There are other ladies movements by other brands from the same period, most notably the Princess mechanisms by Rolex, that are the equal of the movement here, but it can be stated categorically that there are none better, regardless of how much money one is prepared to spend.
The condition of the movement here is almost mint, to the extent that it would be difficult to differentiate between it and the mechanism in a brand new watch. There is no corrosion or even discolouration, and both the plates and the wheels gleam brightly. Set into the rhodium finish in gold is the signature "Swiss, Jaeger LeCoultre, Fifteen 15 Jewels" together with the individual serial number for this unit, 82332. Falling between the two extremes of vintage Jaeger LeCoultre watch production for that year of 70000 and 90000, this clearly dates this unit as having been manufactured in mid-1936.
Having been serviced on a regular basis since new, this watch works perfectly. A Jaeger LeCoultre movement of this age, which was very much the best of its, or indeed of any, era, will last almost infinitely if cleaned and lubricated every three or four years. It is easy to forget that when new, these vintage models were not throwaway fashion items as today's luxury timepieces are, but were intended to be possessions for life. It is not in the least bit unrealistic to think of buying a watch like this one and still be using it thirty or forty years from now before passing it on to a relative as an heirloom item. Just as the luxury motorcars of the 1930s and 40s were built to a far higher standard than would ever be economically viable today, so it was that the wristwatches from the same era were hand built and finished to a remarkable quality. The craftsmanship that went into movements by the great Swiss houses in the 1930s and 40s has never been equalled since, and for anyone with an understanding of the dressing and finishing used in the horological industry at the highest level, studying the pearling and angled edges to the plates here will be a very satisfying experience.
Very unusually, the original leather cordite strap that came with the watch when new is still with it today. Surprisingly given its age, this remains in perfectly useable condition and we would not recommend that it is changed at this stage. The strap has no commercial value in itself, but is significant on account of it being indicative of a watch that has been cosseted and stored rather than used in earnest.
We have set a price for this item of £925 GB pounds. If we stop to consider that it shares exactly the same movement as its sister the Reverso, and the same dial as its other famous sibling the Duoplan, this piece starts to look like something of a bargain. Either of these better known, but no more appealing, models would sell easily for between £2000 and £2500 in stainless steel, and yet they offer nothing in technical superiority over the item here. This watch is so evocative of a particular period in history and is extremely chic today. Its look is pure flapper parties and Coco Chanel, and being so representative of the art deco age, it can only ever appreciate in value. This is an incredibly stylish, rare watch by arguably the most highly respected manufacturer of its day, and we can think of no possible scenario in which the buyer of this item could fail to make a profit in the long term, while at the same time having a beautiful antique that they can enjoy wearing on a regular basis.
Price £925 GB Pounds
Vintage Watch Brands
Vintage Watch Decades
Vintage Ladies Watches
Vintage Watch Bracelets
Swipwreek Straps
Travel Clock/ Pocket Watches
Home
About
Brand Overviews
By Decade
Reference
Contact Details
Telephone from the UK:
07453 734666
or 07428 051005
Telephone from overseas:
+44 7453 734666
or +44 7428 051005