Rolex ladies 15k gold black starburst boxed 1921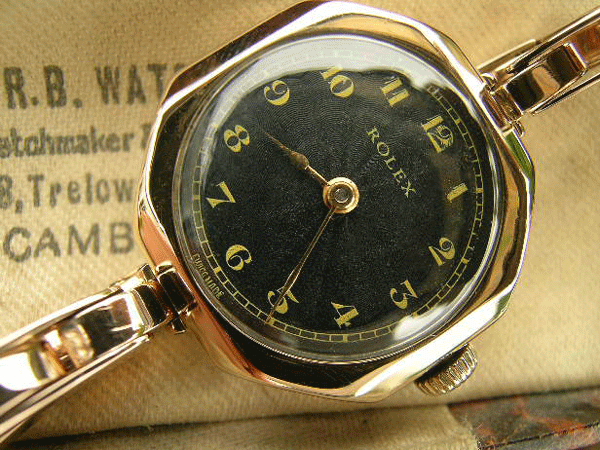 This exceptionally rare 1921 solid 15 karat gold model with a wonderful large octagonal art deco case and black lacquer starburst dial is one of the most collectible vintage ladies' Rolex watches for sale on our website. In so many ways, the ladies' models from this era are the purist's vintage Rolex, not least because the company initially began trading in 1905 ( as Wilsdorf and Davis, the Rolex name being later registered in 1915) specifically as an importer of ladies' watches. Even as far forward as the late 1920s, the vast majority of the watches offered for sale in Rolex advertising of the time were intended for female use. It must be remembered that the wristwatch was not widely accepted as a male accessory until after World War I, when the genre was favoured by officers in the trenches, who found accessing a traditional pocket watch under layers of heavy clothing to be impractical in the extreme.
The quality of these very early Rolex models is breathtaking and it is quite apparent that Hans Wilsdorf, the company's founder, realised from the outset that the niche market for his fledgling operation would be supplying the newly developed wristwatch, in the very finest possible grade, to an opulent clientele that had not previously been supplied wrist worn timepieces. Wilsdorf quickly realised that in order to establish the reputation of his brand, it would be essential to have the accuracy of his movements independently tested, preferably in the most public way possible, and one of the most impressive "Rolex" ( remember, the name had not been officially registered at this time) achievements from this period was when a Wilsdorf and Davis wristwatch was the first wrist worn timepiece to be awarded the prestigious Kew A certificate of accuracy by Kew Teddington Observatory on July 15th 1914. Everything about these early Rolex models is indicative of a company that from the outset, had an almost slavish devotion to quality and obsessive technical development.
This particular watch embodies every feature that established Rolex as the creator of the world's most sought after wristwatches, and exudes a level of sheer excellence that has never really been equalled since, by any watch making house. The very large ( the watch has a width of a hair under 27mm), and extremely heavy solid 15 karat gold case is in a delightful shade of very light rosy straw-coloured gold, rather than the standard brassy yellow gold used predominantly today. The case is in excellent condition, with only the slightest imperfections that are to be expected on any watch of this age that has been carefully worn on a handful of occasions. The hinged bezel on this piece is particularly interesting as, while being octagonal, it has distinct decorative faceted edges. We have seen this attractive pressed bezel style before, but it is unusual and very eye catching.
One of the most appealing aspects of early wristwatches from the World War I era, and this applies to those by other makers as well as Rolex items, is that their pocket watch heritage is still apparent, manifesting itself in delightfully antiquated case and movement features such as the delicate hinges on which the bezel and case back are pivoted when opened. Even on wristwatches produced a decade after this one, these are no longer present, case backs and bezels instead being of the cruder "snap on" variety. When buying a watch with a hinged case back, do always check that the hinge is in excellent condition and pivots correctly as repairs to hinges can be extremely difficult to effect. Do not, as we certainly have done in the past, make the potentially erroneous presumption that if a hinge looks to be in satisfactory condition when viewed with the case closed, that this is definitely so. Unscrupulous sellers are often capable of neatly closing a case even with a broken hinge, so that its damage will only be noticeable when the piece is opened by its new owner. Given our obsession with the quality and originality of the vintage ladies Rolex watches for sale on this website, it hardly needs to be said that, on this example, both the bezel and case back hinges are in perfect condition, having never been the subject of repair work in the past.
The case is fully signed internally as "Rolex, Swiss", together with the historically important "W & D" emblem, its letters representing the names of the company's founders, Hans Wilsdorf and Alfred Davis. In addition, the case is hallmarked with a 15 karat import mark for London 1921 and stamped with the very early case serial number 1148463.
The fact that this case is in 15 karat gold is extremely interesting to the collector and something that we have only encountered on one other early Rolex housing in over twenty-five years of daily involvement with high grade vintage wristwatches.
Today in Britain, we consider 9 and 18 karat gold to be the standards used in the jewellery and watch industries, whereas in the USA, 10 and 14 karat have always been the norm. Originally, the purity of gold used in Britain was higher than it is now, with a near unalloyed 22 karat grade ( 24 karat being gold in its unalloyed elemental form) being in regular use in the mid 1500s. Import duty in the USA was perceived as being a major barrier to the export of British made gold items, and to combat this, in 1854, parliament introduced additional hallmark standards for 9, 12 and 15 karat, the duty on entry to the USA being calculated on the purity of gold in any given item. The 15 karat gold standard is something that we almost universally associate with the Victorian era, and while the 15 karat hallmark was officially discontinued in 1932 ( along with 12 karat at the same time ), very few items manufactured post-1900 are seen in this purity grade.
The wonderfully evocative starburst dial is in almost mint condition and is superbly preserved. These dials are particularly sought after by collectors of early Rolex watches on account of both their rarity and striking good looks. The starburst effect is actually created by finely engine turning, laboriously on a hand cranked rose engine tool , a textured pattern into a German silver dial, but due to the high cost of production, these dials were almost entirely faded out by the mid 1920's in favour of plain painted items. One of the main advantages of a starburst dial is that, being metal, it will not discolour significantly or patinate with the passing of time. There is a tendency for dust to become trapped into the tiny machined lines on these dials, but in this case, having been kept in clean conditions within the safe of its last owner for many decades, the dial is bright and not in the slightest bit dirtied. This is a fully signed dial, with "ROLEX" being clearly visible in large upper case letters beneath the 12 numeral. Before moving on from an inspection of the dial, do notice the very unusual, and of course entirely original, spade hands. Some of these older Rolex hands have a wonderfully Edwardian flavour to their appearance, and these most certainly fit into this category. These are gilt items and are in perfect condition, with not even the slightest discolouration or corrosion to their surface.
As with any Rolex watch of this era, movement in this piece is a consummate display of the master horologer's art. This is the classic Rolex mechanism of its time, the 9 ¾ ligne ( the ligne being the unit of movement width measurement used in the Swiss watch industry. 10 ligne, just slightly larger than this example, is considered to be the standard size in a man's watch today.) Rebberg, this name being taken from the street in which its producing factory was located. In its various sizes, the Rebberg was the movement that really made Rolex, this being the mechanism that powered all its famous World War I era items that are so sought after today. This particular example is notable on account of it being the "deluxe" version of this calibre, having 15 jewels rather than the 7 that were found in the Rebberg in its standard edition. Additionally, the 15 jewelled Rebbergs have a beautiful hand decorated finish, with the bridge plates being covered with a spectacular pearled engine turned pattern, as opposed to the plainer, unadorned plates on the 7 jewelled units.
We have commented earlier that this watch has enhanced appeal to the serious early Rolex collector on account of it having a very unusual 15 karat gold case, but this is compounded by the rare signature on its movement. While being immediately recognisable as the very distinctive Rolex Rebberg, the company's flagship mechanism at the time, the winding wheel is signed as "Admiralty", wording that we was aware of in this context, but have only seen in the flesh on this particular watch. James Dowling's excellent book "Rolex Wristwatch, The Best of Time" gives chapter and verse on this signature on page 386, informing us that Rolex registered the word Admiralty ( Reg. No 53060) on the 22nd December 1922. The hallmark in this case back informs us that it was manufactured slightly before this registration grant, and indeed, given that this movement is the classic Rolex 15 jewelled Rebberg with no alternations whatsoever, one is prompted to question the purpose of it appearing on this item. However, as one of a very small number of watches produced with this signature, this is certainly a fascinating item for the ardent early Rolex purist. As a final note regarding this point, it is interesting to note that in the World War I and early 1920s period, Rolex registered a number of these nautical themed names, apparently either not using them, or, as here, only in tiny quantities. These included "Lusitania", "Aqua" and "The Sailor King", but there were many others. The clue to these might lie in the original grants being taken out specifically for both "watches and compasses", these latter items being something that Rolex never produced. Did Hans Wilsdorf perhaps have an intention to offer marine instruments alongside his highly regarded wristwatches ? The truth is, we'll never be sure, but speculation regarding this subject is fascinating. For those curious to know more, we would recommend that a copy of Dennis Harris' well researched article "Early Rolex Trademarks" in the May 1997 Horological Journal be obtained ( pages 160 to 164).
This movement is in almost perfect condition, and most significantly of all, is completely original and running perfectly, having been serviced regularly since new. The attention to detail and fine craftsmanship that went into these superb early Rolex calibres is quite extraordinary, and we would advise any buyer of one of these watches to, for the sake of only a few pounds, purchase an inexpensive jeweller's eye glass and a basic book on watch making, and spend a very enjoyable couple of hours identifying all the different hand finish types present on their new acquisition. Most importantly, a movement like this one, in a high value watch like this example, must be absolutely original in every respect, with no changed parts or incorrect components, for it to command its full price premium on the collector market. As with any form of antique collecting, the more costly the item, the more it will be scrutinised by potential buyers for complete authenticity before a sale is agreed. These early Rolex models are almost impossible to find in completely original form now, and fakes abound, largely being "conversions" from non Rolex pieces from the same era, and examples like this one that are very much the cream of the type, and totally "correct" in every respect, do attract very high prices from serious collectors and those buying for investment in a rapidly rising vintage watch market.
The watch is still complete with a very heavy, solid 9 karat gold bracelet, and this is almost certainly the original item that was supplied with it when new. Supporting this theory is the presence of the signature "Britannic", this being a trade name of E. Harrop Ltd, of 9 Hatton Garden, London. At the time when this piece was manufactured, Rolex were based at 44 Holborn Viaduct, and these two firms were located, literally, only yards apart. In 1919, Rolex had not yet begun to offer its own bracelets, and Britannic bracelets seem to appear on early Rolex items far too often for this to be mere coincidence. We doubt that records still exist that would ever confirm any formal trading relationship, but we suspect that many World War I era ladies' models were shipped out to retailers from Rolex already fitted with Harrop's extremely high grade bracelets.
This bracelet is in exceptionally fine condition and in itself, is a very collectible item. The links on these early bracelets are slightly sprung, enabling even those with large wrists today to wear these watches in perfect comfort. Most importantly, the links on this bracelet have not been over stretched and this item has a good tight feel when gently tensioned by the fingers.
For us though, the icing on the cake for this wonderful watch is the presence of its original retailer's box, this being in very good condition and signed R. B Watson, Watchmaker and Jeweller, 28 Trelowarren St, Camborne. We have encountered several very early Rolex pieces in R. B Watson signed boxes and would suggest that this company was one of the most effective Cornish Rolex agents in the immediate post-World War I era. Finding an elderly Rolex, particularly in this remarkable condition and with a starburst metal dial, especially in black, complete with its original packaging, is quite simply something that hardly ever happens today, and this piece is a rare opportunity to purchase an important Rolex watch that will prove to be a superb investment in the future.
We really are unsure as to the value of this spectacular item. In a central London jeweller's, perhaps in Burlington Arcade or the Silver Vaults, this piece would unquestionably be offered with an exorbitant price tag, we would suspect ,of over £4000 GB pounds. These early vintage ladies' Rolex watches are obviously very rare and sought after, but such a price is too high even today and not an accurate indication of the watch's real worth if sold by Sotheby's, Christie's or Bonhams. In the excellent reference book "Rolex Wristwatches, The Best of Time" by James Dowling, on page 292 is pictured a similar piece from 1920, but in much poorer condition, without a starburst dial, unboxed, and on a simple leather strap rather than a gold bracelet. This is suggested as having a value of around of 800 in the price guide at the rear of the book, but, even allowing for its condition, this seems like too conservative an estimate in the present buoyant marketplace. The price guide contained in this book was compiled in 1996, and prices have risen astronomically during the intervening time. We have priced this watch at £1475 GB pounds, which reflects the fact that our business is based in the wilds of Yorkshire rather than Bond Street or Mayfair. We simply could not offer rare watches in this immaculate condition for anything remotely like this price if we were burdened with the high overheads that are unavoidable when trading in central London. This is a wonderful piece that would make a superb heirloom item to be passed on through future generations and its next owner will be highly delighted with it.
Price £1475 GB Pounds
Vintage Watch Brands
Vintage Watch Decades
Vintage Ladies Watches
Vintage Watch Bracelets
Swipwreek Straps
Travel Clock/ Pocket Watches
Home
About
Brand Overviews
By Decade
Reference
Contact Details
Telephone from the UK:
07453 734666
or 07428 051005
Telephone from overseas:
+44 7453 734666
or +44 7428 051005