Hermes gold ladies with exploding numerals 1928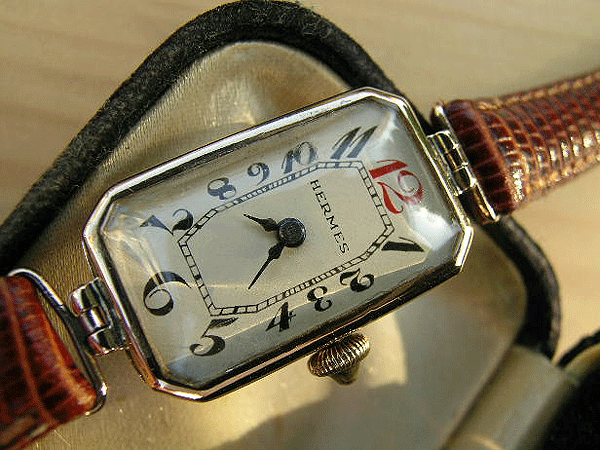 From 1928, this vintage Hermes ladies' watch with a stretched gold case and exploding dial numerals is one of the most attractive items for sale on this site. Hermes in London catered for a high society clientele for whom money was no object and this is reflected in the superb quality of this piece. It is important to appreciate that while companies like Hermes, Cartier and Louis Vuitton today have had their exclusivity diluted by the embracing of the mass market, in the years before World War II they established their reputations by supplying the most luxurious products to a social elite that made up only a tiny fraction of society at large. We would also recommend that anyone buying for investment opts for a vintage watch over a modern one, dually because of its rarity and also on account of it having been built to a much higher standard than its new equivalent.
The condition of this watch is nothing short of exceptional. We specialise in the sale of vintage watches for serious collectors and are deliberately very selective when buying, but even so, this item is really outstanding. Looking at it closely, we would suspect that it has only ever seen very light use as a watch for special occasions. There are the tiniest few imperfections to the case in places, but these are so minor as to hardly be worth mentioning and would be found on any vintage watch that is not literally unused new-old-stock.
The style of the watch is immensely appealing. The case body is a very long corner cut rectangle, with articulated lugs at either end. The lugs and case body are in heavy solid gold and are totally free of past repair work. This style of case couldn't be more representative of its era, having moved on from the circular models that we saw in World War I, but still having the soldered wire lugs that came before the integrated lugs that became part of cases in the early 1930s.
Internally, the case back is covered with a very decorative engine turned pattern. It says a lot about this watch that such attention to detail was applied to an aspect that the general public would never see under normal circumstances.
There are a full set of British hallmarks inside the case back, these informing us that this item was assayed as solid 9 karat gold in Birmingham in 1928. Also here are the large stamped initials "S.A", which represent the company of George Bouverat & Co of 30 Frederick Street, Birmingham. Trading as "Swiss Agents", hence the S.A initials, this concern acted as an importer for some extremely high quality Swiss made watch cases which it then supplied to a variety of high class customers, including Hermes.
The dial is the single most important aspect of any vintage wristwatch and both its format and its condition have an enormous bearing on commercial value. This style, with what are known by collectors as exploding numerals, is one of the most eye catching that has ever been offered. It appeared just before 1920 and was all but gone by a decade later. It reappeared almost seventy years later on brand new watches by Franck Muller and was sold to a public that was unaware of these vintage originals. We can't imagine anybody not finding exploding numerals attractive and watches with this dial format will always command a high price premium over their equivalents with uniformly sized numerals at every hour position.
The condition of this dial is almost perfect. Its silver white surface is free from any spotting or staining. Most fundamentally of all to the serious collector, this is an entirely original dial that has never been restored or tampered with at any time. The presence of a restored dial will always devalue a vintage watch offered for sale dramatically, and pre-war vintage watches with their original dials in excellent condition are the ultimate finds for the enthusiast. If we want to pick fault with this dial where in reality, none is really to be found, we might suggest that its overall colour is just a shade creamier now than it was in 1928, but in practice it would be impossible to ever find better on a watch of this age.
"Hermes" is stated above the dial centre point in black. This signature is not in the least bit faded and is very clear.
Both hands are totally original to this watch. These are in the index shape and finished in blued steel. Their surfaces haven't corroded at all and are in perfect condition. Similarly, the extremely attractive winding crown is also original. This is a very unusually shaped crown, looking very similar to the cabochon crowns used by Cartier at the same time, but cast as a complete metal unit rather than as a two piece item containing a set stone.
The quality of the hand wound movement in this watch is outstanding. This is very long rectangular movement with cut corners and is in the most remarkable condition. The telltale marks of attention to detail are all there, the most noticeable with the unassisted eye being the presence of bevelled, rather than simply right angled, edges to the bridges. Hermes wasn't a manufacturer of watches but instead would have ordered this item from a third party supplier. The same situation applied to Cartier, Tiffany & Co and Dunhill, all of which sold beautifully made early wristwatches under their own brand names, but at no point manufactured watch movements in-house. It is important to appreciate that it was essential that the movements in watches like this one were of very high quality. Hermes and its competitors were at this stage still building up the reputations that they continue to have today. Their customers were wealthy individuals who were attracted to extreme luxury. Hermes was well aware that its success depended on its goods being of an exceedingly high standard and if this standard ever dipped, its reputation would be damaged. It is reasonably fair comment to say that Hermes and its competitors overcharged, or, to be perhaps more charitable, charged very handsomely for their products, but equally, they were able to do so primarily because these products genuinely were so outstanding. The same applies to the much sought after Kelly and Birkin bags that Hermes offers today. These are very expensive and we can't imagine anyone ever regarding them as being good value for money, but the quality standard to which they are constructed is first rate.
Having been serviced on a regular basis since new, this watch works perfectly. It sets and runs extremely smoothly and has no mechanical problems of any kind. If treated with care and sent for cleaning and lubrication every three or four years, it will last a lifetime and be something that can be handed on to future generations in due course. It is easy to forget that today's luxury watches, for the most part, are built for instant gratification rather than longevity. Back in the 1920s, brands like Hermes supplied watches with the intention that these would be possessions for life.
The watch is still in the same box that was present when we acquired the piece. It's very difficult to say how long the watch and box have been together, but we guess in this instance, that they've lived alongside each other certainly since before World War II. Then as now, there were dealers specialising in the sale of used watches and jewellery by Cartier, Hermes, Tiffany & Co and the rest, and they tended to supply items they sold in their own boxes. The box here is a lovely antique item in its own right and is in excellent condition, with just the slightest air of shabby elegance about it.
The price of this watch is £885 GB pounds. For a completely genuine vintage Hermes watch in gold, retailed through the London branch of Hermes in 1928, in this immaculate condition, this isn't excessive by any means. Cartier offers a selection of its vintage watches for sale at its London shop and advertises for these in the specialist trade press, but we don't know if Hermes does the same. We are inclined to think that it hasn't followed suit yet, simply because we haven't read that it has, but when it does, as it inevitably will, this will cause values to jump sharply. Certainly, as we see from the almost manic level of interest in vintage Hermes Kelly and Birkin bags when they appear at auction, prices for all good Hermes pieces have risen dramatically over the last five or six years. Christie's ran its first thematic vintage Hermes sale in South Kensington on the 19th November 2009 and following its great success, it seems likely that further similar events will soon appear on the calendars of all the major auction houses. Vintage Hermes watches have all the quality hallmarks of the firm's famous handbags, but at the time of writing are less costly than their equivalents by Rolex, Jaeger LeCoultre or IWC. It seems a safe bet that as the value of classic Hermes bags continues to rise, attention will be drawn to the company's vintage watches, especially those from the pre-war period. At our asking price, this is an awful lot of very beautiful vintage wristwatch for a very small amount of money and the evidence is there to suggest that a decade from now, this figure in retrospect will be seen to have been painfully low.
Price £885 GB Pounds
Vintage Watch Brands
Vintage Watch Decades
Vintage Ladies Watches
Vintage Watch Bracelets
Swipwreek Straps
Travel Clock/ Pocket Watches
Home
About
Brand Overviews
By Decade
Reference
Contact Details
Telephone from the UK:
07453 734666
or 07428 051005
Telephone from overseas:
+44 7453 734666
or +44 7428 051005