Tiffany & Co 18k sapphire diamond ladies London 1925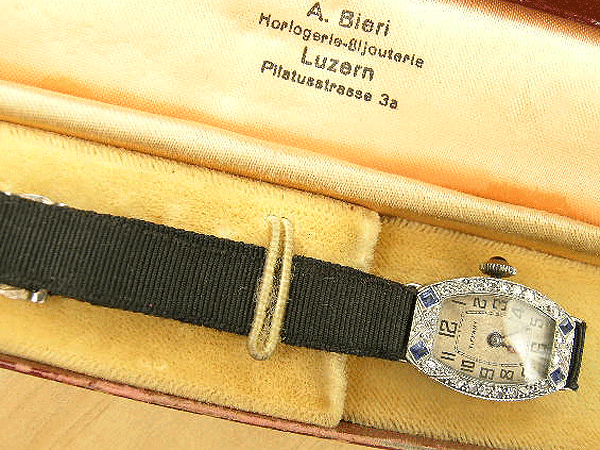 Since its foundation in 1837, when Charles Tiffany opened the doors of his eponymous shop selling writing implements, the Tiffany brand name has always been synonymous with exceptionally high quality, opulent items that have been aimed firmly at a niche market at the very top of society's social strata. By the mid 1840s, the firm had begun to import a range of pocket watches from some of the most exclusive manufacturers in Switzerland and this association with the cream of high horology has continued to the present day.
Interestingly, and perhaps because of its strong commercial links with Switzerland's top tier brands, the company has only ever attempted to produce its own watches during the short period spanning 1872 to 1877. For any newcomer intending to produce in house movements, the tooling costs involved are simply astronomical and, with the exception of some of the superb current crop of watches produced in Germany, the lack of the experience and expertise that has been honed by the Swiss industry over generations becomes apparent when the finished product is completed.
It therefore followed that Tiffany, after 1877, ceased its own movement production and commissioned luxury watches to its exacting specifications from the Swiss makers with whom it had already well established links. A hallmark of many, but not all, of the watches retailed under the Tiffany label was the fact that, to avoid punitive import duties on precious metals, the company had a policy of largely importing movements from Switzerland ( which were not heavily taxed) and having the elaborate watch cases manufactured domestically in either the United States or in the UK, depending on whether the finished piece was to be sold in America or, as in this instance, through the firm's London store, this having opened in 1868.
In common with many antique items, the relative position of vintage Tiffany watches and jewellery has not changed since new. In general, it is usually the case that items do not change their level of desirability as the years progress. For example, it is unlikely that an average, mid-priced family saloon car that arouses little excitement now will have potential purchasers frothing with anticipation at the thought of ownership in forty years time, whereas a new Ferrari or Lamborghini will turn heads today and continue to ignite passions in the future as a piece of classic exotica. And so it remains that Tiffany, always a high profile supplier to the super wealthy socialite set, is still regarded with great reverence today and its products, particularly those from the "black and white movie star" years of the 1920s and '30s are enormously sought after by vintage watch connoisseurs worldwide and form part of many highly regarded and well documented collections.
This particular solid 18 karat white gold, sapphire and diamond ladies' model from 1925 is one of the finest vintage Tiffany & Co watches that we have ever encountered in over twenty-five years in business. The quality on display here is extraordinary and the styling is so evocative of that long gone "Great Gatsby" era of Long Island cocktail parties and elegant Rolls-Royce motorcars with acres of running boards.
Leaving aside the attention to detail and finishing present in the piece, one of the most appealing aspects of this watch is its remarkable condition. It hardly needs to be said that this was a phenomenally expensive item when new and we would suspect that, in view of its value, the watch has been a cosseted prize possession and has hardly ever been worn.
The very heavy solid 18 karat white gold case has only the very tiniest of scratch marks that have occurred with careful legitimate use and the twenty large diamonds that are present on the front face of the watch case are still firmly set in place. These are complemented with four large sapphires in each of the case corners to produce a very eye catching harlequin effect. It is worth commenting that the diamonds are eight cut, this being a very attractive form of faceting that is rarely seen today. In principle circular in shape, this style has seven straight sides and a flat top, there being eight distinct external surfaces to each diamond. Creating eight cut diamonds is technically extremely difficult and requires the attention of an experienced cutter, hence these are hardly ever found now in modern diamond jewellery. Many watches in this style from the 1920s were small when judged by today's standards, but with a length of over 25mm and a width of 18mm, this one is still perceived as an impressively sized item today. When exposed to light, the visual impact of the stones and the platinum is nothing short of dramatic and prompts endless compliments from those viewing the watch at the time. It is additionally worth noting that, as well as being set with diamonds, the case itself is highly ornate, with a deco foliage pattern having been engraved around the outside edges of the watch and the entire front face being patterned with a distinctive, typically "Jazz Age" motif.
Internally, this case is beautifully decorated with a highly ornate engine turned pearled pattern and has a full set of British hallmarks, these informing us that it was assayed as solid 18 karat gold at Birmingham in 1925. Also present is the case maker's mark "RN", this being the stamp of Richard Neale of Coventry. In existence since 1786, this small workshop created some exceptional platinum and gold jewellery for the social elite of the day, particularly in the late Victorian period, and we were not in the last bit surprised to see that a wristwatch case of this grade had been ordered from the company by Tiffany, particularly as the working relationship between the two concerns had already been established back in the pocket watch era.
Sadly, because of the high intrinsic value of the 18 karat gold, sapphires and diamonds in these cases, so many of these watches were scrapped in the 1960s, when fashion very much turned against the 1920s art deco styles. This distinctive look is now very much in vogue again and original deco watches by the famous makers and retailers, like Tiffany and its competitor Cartier, command enormous prices.
Having been kept in the dark confines of a safe for over twenty years before we purchased it, the totally original delightful art deco dial on this piece remains in superb condition, with only the very slightest of patina that gives the watch a gently antiquated appearance. So many of these older rectangular and tonneau shaped watches, not being waterproof or even slightly resistant to the ingress of dust, have dials that are awfully discoloured or significantly faded, but this one is generally very good indeed. This example is probably the clearest one that we have seen in the last decade and the magical "Tiffany" name, with all its opulent connotations, can clearly be seen against the French white background. The watch glass is original and unmarked, again without any discolouration or aging of any kind.
The 15 jewelled, Swiss made movement present in this watch is of a very high grade with a considerable amount of hand finishing having been employed to produce a calibre that is almost as aesthetically pleasing as the case that houses it. We have never been able to categorically identify the maker of this movement. The movements supplied to Tiffany for use in timepieces that would carry the stores' own signature were almost never signed and we would be confident that this unit was the product of one of the famous industry names, though which one will probably remain a mystery.
The watch works perfectly and has been regularly serviced throughout its life. Most significantly in any vintage timepiece, this item has no changed parts whatsoever and is exactly as it left the Tiffany & Co store in London in 1925 when new. So many older watches have been resurrected from the dead with the use of non original or aftermarket parts in order to liquidate then in today's frantic vintage watch marketplace, but this one is guaranteed to be correct in every respect and entirely unmolested.
The watch is boxed in a sumptuous, velvet lined item, fully signed internally as "A. Bieri, Horologerie-Bijouterie, Pilatusstrasse 3a, Luzern". We would suggest that this box dates from the 1930s, but suits the style of watch perfectly and, is itself, a very fine collectible period item. The watch was supplied to us in this box and it seems likely that, on account of Bieri being a Swiss specialist in luxury diamond jewellery and accessories during the inter-war period, the two have lived together for many decades prior to this transaction. It would be shame to split them up now.
Overall, this is a wonderful piece of heirloom grade sapphire and diamond jewellery ( we make no apology for describing the watch as such, simply because, to our minds, the primary purpose of this item is to be decorative rather to be a timekeeper), retailed and signed by arguably the most significant high-society jeweller of the 20th century. Vintage Tiffany & Co watches are very difficult to source now and are certainly a strong appreciating asset, while at the same time being something that can be worn and enjoyed on a regular basis. In a specialist London auction or vintage wristwatch dealer's shop, this piece would be extremely costly. We have priced it here at £1675 GB pounds, which is far from excessive for an authentic diamond and sapphire Tiffany piece from the early inter-war years and reflects the fact that here in rural Yorkshire, our trading overheads are a small fraction of what they would be if we ran our business from retail premises in Mayfair or Piccadilly.
Price £1675 GB Pounds
Vintage Watch Brands
Vintage Watch Decades
Vintage Ladies Watches
Vintage Watch Bracelets
Swipwreek Straps
Travel Clock/ Pocket Watches
Home
About
Brand Overviews
By Decade
Reference
Contact Details
Telephone from the UK:
07453 734666
or 07428 051005
Telephone from overseas:
+44 7453 734666
or +44 7428 051005