Rolex ladies large sized pink gold on heavy bracelet 1919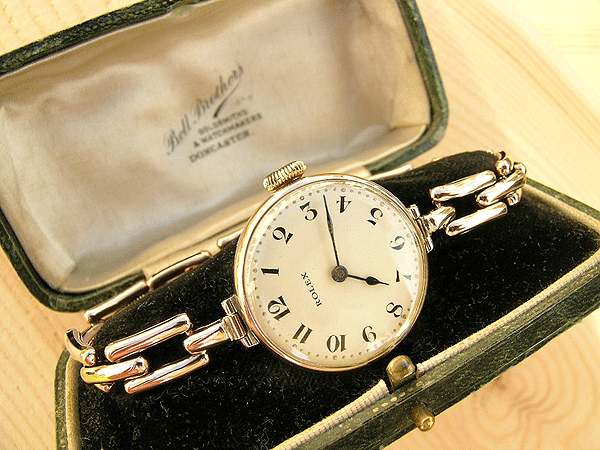 The original intention was to write the description of this beautiful large sized 1919 pink gold ladies' Rolex in usual way that is expected by regular visitors to this site, carefully dissecting the piece in terms of its case, dial, bracelet and movement in turn. With this aim in mind, the watch had been scrutinised in close detail with a jeweller's eye glass for any imperfections. While doing this, and this was particularly so when examining the hand applied engine turned finish all over the movement, it was impossible not to make a mental comparison between this item and the thousands of luxury watches that are purchased brand new in the high street as gifts every year in the UK and elsewhere.
An early Rolex watch like this one is very much a connoisseur's item, and ideally suited to the buyer that has an appreciation of movement quality and finishing techniques. If we look at current model watches even by the famous houses, these are essentially the products of high quality, clinical mass production techniques. Almost every stage in the creation of a new watch is done by automated machine, and it is fair to say that there is little, or even no, hand work present. As a consequence of this, relatively large quantities, in the majority of cases tens of thousands, of each model are manufactured, which are then distributed to a whole network of hundreds of retailers in every developed country in the world.
When this watch was manufactured a year after World War I, the whole nature of the luxury watch industry was entirely different. Rather than being mass market products to be found on every middle class wrist, watches like this one were built in much smaller quantities for a wealthy social elite, in an age where the ordinary citizen would never have dreamed of owning such an item. Today, Rolex watches, and those by the other top tier houses, are bought largely on the basis of the status given by their brand name. There is no doubt that they are still of very high quality, but even so, the Rolex watch as we know it today is still a mass produced item aimed at a large section of the buying public. In 1919, these very early Rolex watches were bought because of their outstanding quality, and not on the strength of their name.
Rolex was actually a relative newcomer to the horological market place having only been launched in London in 1912 by its founder Hans Wilsdorf, and its brand carried little weight when viewed against its competition, established grand houses that had been making pocket watches for over two hundred years. Nobody bought a Rolex watch from this upstart company on the basis of its name, but instead, because these watches were genuinely the very best available in wrist worn form at this time. It was their early pieces like the one for sale here that established Rolex as the finest maker of wristwatches in the world. Looking at this item now, its quality stands as symbol of the absolute pinnacle of hand craftsmanship in terms of what can be potentially done to decorate a case and movement if the relevant highly skilled labour is available.
The first two things that will strike any buyer of this watch when it arrives with them will be its very large size and the gorgeous bright pink colour of its case and matching bracelet. The width of the watch head is 29mm, and the bracelet has a parallel-sided width of 7mm, which is a similar thickness to many of the gentleman's leather straps of the time. The condition of this case is almost mint, with no significant dents or scratches anywhere to its surface. If one looks closely enough, it might be possible to make out a few tiny imperfections that have occurred with normal, careful use, but these are to be expected on any well cared for vintage watch, Rolex or otherwise, and are certainly not cause for any concern.
It is interesting to note how this case still takes its inspiration from the pocket watch forms of the Edwardian era. We can see this particularly in the design of the bezel and the case back, both of which are hinged, rather than press fitted, items. Again, one can't help but be saddened that so many of these little finishing touches have been lost, primarily on the basis that without them, production could be that little bit less expensive. At this time, these tiny hinges were actually soldered by hand, and are almost works of art in themselves. However, they are delicate, and one should be sure that they have not been damaged in the past, as finding a repairer with the skill to rebuild them today is not easy. In this instance, the three hinges present, those being joined to the bezel, the outer case back and even the inner solid gold movement dust cover, are all in perfect order, opening and closing smoothly and with no past repair work whatsoever.
The case back interior is fully signed with the wording "Rolex, W&D, Swiss", together with the serial number 1094109 and a full set of 9 karat gold UK hallmarks for London 1919. This stamping is a historically significant one, as it represents something of a transitional marking. The company that was eventually officially registered as Rolex in 1912 began in 1905 as a partnership between the German émigré Hans Wilsdorf and his English financial backer Alfred Davis. These two men traded as an importer of watches from Switzerland under the Wilsdorf and Davis banner, before changing the name of their concern to Rolex, largely motivated by an awareness that there was likely to be a hostile attitude in Britain towards any company with such a German sounding name as German Imperialism in Europe started to loom large. It is very interesting to read Hans Wilsdorf's account of the early days of his career, and how he and Alfred Davis gradually increased the number of Rolex signed watches that they shipped out to retailers, slipping an ever increasing percentage of these into each batch of "W & D" signed timepieces. Putting exact dates on transitional features is always difficult, but from our experience, we could probably say that the W & D alone case mark was in use until around 1916, after which the dual "Rolex and W & D" signature seen here was stamped for roughly three years, after which Rolex alone was used, often together with the "RWC Ltd" ( Rolex Watch Company Limited) oval stamp that one often encounters on post-1920 production.
This wonderful solid gold bracelet is the most eye catching, and certainly the heaviest, that we have encountered on any ladies' vintage Rolex in recent years. Despite having been made nearly a quarter century earlier, one can clearly see the evolutionary link between this item and the first Oyster pattern bracelets of the 1940s. The rosy pink colour of the watch head and the bracelet are striking in the extreme, and immensely attractive. This bracelet remains in excellent condition, and is totally original in every respect, with no previous repair work having been undertaken at any time in the past. It is of full, very long, factory length ( the total length of bracelet and watch is 190mm, but it should be noted that this is a sprung bracelet, and this dimension relates to its shortest possible, unexpanded, state) and has never been shortened, though it could be easily altered in the future if required to fit an owner with a very slim wrist.
The totally original dial is in, quite literally, almost mint condition. This is exactly the type of dial that should be purchased for investment, but is sadly present on just a tiny fraction of the surviving watches of this age. The upper case signature "Rolex" is crisp and clear, and the attractive italicised numerals are so representative of these World War I era Rolex models. The original blued steel spade hands are correct for this watch and are in almost perfect condition, as is the distinctive "onion shaped" winding crown. All too often overlooked by novice buyers, it is these details that really make a watch at this level, and define it as being head and shoulders above others of its type. Finding the correct hands and winding crowns for rare early vintage Rolex watches can be a nightmare, yet without these, they are seriously devalued. Our advice, often learned the hard way over the last thirty years, is to always pay that little bit extra, usually not a fortune in reality, to buy a watch that is the best possible example of its type, rather than cutting corners and obtaining an example that has incorrect components and will always be regarded as a second rate piece.
What really sets this item apart from today's luxury watches though, is the astonishing quality of its movement. It is presumed that Rolex manufactured their own movements in these early watches, but this is technically not true. Probably the most important movement ever used by Rolex was the so called "Rebberg" calibre, so named after the street in which its manufacturer, the Jean Aegler Company in Bienne, Switzerland, was based. This was the movement with which Rolex dominated the emerging wristwatch market during the World War I period and that was awarded the prestigious "Class A" accuracy certificate by London's Kew Teddington Observatory in 1914, the first time this honour had ever been given to a wristwatch movement. There were various other, lesser, movements used by Rolex in ladies' watches at this time, but for investment, we would always recommend that a Rebberg be sourced. The Rebberg was the finest grade of Rolex mechanism at this time, and has a well deserved reputation for exceptional reliability, something that is always worth paying a premium for on any vintage watch.
Incidentally, as a short historical note, the above point concerning the Rebberg not having been technically manufactured by Rolex should be clarified. In 1920, Rolex purchased a 15% interest in Aegler, the latter from then on calling itself the "Aegler SA Rolex Watch Company". After the phenomenal success of Rolex in the 1920s, the two firms completely merged, and even to this day, all new Rolex movements are still manufactured in Bienne by what was once the old Aegler company. It is interesting to see the change in the nature of the relationship between these two houses. Initially, the well established Aegler was the supplier of its exquisite movements to the London based, small W & D concern. After Rolex blossomed, the two forged stronger links and eventually, the giant Rolex absorbed Aegler completely. Today, only the serious Rolex collector would even be aware of the Aegler name, but in truth, this enterprise was the backbone supplier on which the glorious Rolex reputation was earned.
This movement is in almost "as new" condition, and is probably the best preserved Rebberg that one could ever hope to find. A manually wound unit with spectacular engine turned hand pearling to its entire top surface, this is fully signed "Rolex, 15 Jewels, Swiss Made" on its winding wheels. The Rebberg was offered in two grades, with seven jewels as the entry model, and fifteen as the deluxe version. Both movements are beautifully made, but the fifteen jewel model here had more attention paid to its finishing, having this opulent engine turned surface as opposed to a plain mirror polished set of bridge plates on the basic model.
Having been serviced regularly throughout its life, this watch works perfectly today and is in the very best of mechanical health. A movement of this exceptional quality has the potential to continue in use, quite literally, for several centuries, just as many high grade antique pocket watches are now, but if buying with the view to acquiring a possible heirloom item, only a watch in the best condition should be considered. A movement that has been neglected in the past, or has a number of non-original components, is far more likely to have reliability problems and need costly remedial work in the hands of a specialist dealer . A thorough clean and service, at a cost of around £100 GB pounds, every four to five years, will keep this item operational for the foreseeable future, and certainly this watch will be a much treasure possession for its next owners.
This watch is still complete with the original box in which it was supplied when new. Bell Brothers in Doncaster still exists today and is a highly respected Yorkshire jeweller. In the inter-war period, the firm was a significant official Rolex stockist in the North of England and we have bought and we have offered vintage Rolex watches for sale in the past on several occasions in their Bell Brothers packaging.
To return to the theme of the original paragraph, it seems remarkable that so many relatively bland, uninspiring new watches are be unthinkingly purchased today in retail stores across the world when, for in many cases a similar amount of money, a completely original and historically significant early Rolex could be bought instead. A new watch will depreciate by as much as 40% as soon as it is taken out of the jeweller's door, and have little residual value even five or six years later. In contrast, this watch, already a rare collector's item, will always hold its value and actually increase in worth over a longer period of time. Its quality is in every way superior to that of a new watch, and its styling far more charismatic. From a personal point of view, it always seems far more appealing and romantic to wear a watch that was purchased new by a member of society's elite in the year after World War I that a piece bought new today from a high street jeweller. Watches like this exude quality, opulence and a certain country house charm that, despite many manufacturers trying to capture this in their correct collections, has never really been repeated.
Pricing this item is not easy. Several specialist central London dealers can offer similar totally original World War I era Rolex models for ladies at around £3000 GB pounds with leather or crocodile straps and considerably more on period gold bracelets, but this is an inflated price that is largely aimed at the uninformed tourist market. The serious collector will be aware that these watches have not yet risen in this value to this level. Having said that, this particular watch really is an exceptional example of its type, and we have priced it at £1275 GB pounds, at which it represents extremely good value for money in terms of both the hand craftsmanship present in its movement and the weight of its very heavy pink gold case and bracelet.
This is another one of those watches that is so unusual now, and so beautifully preserved that obviously within sensible reason, it doesn't matter how much one pays for it. Offset against the frightening depreciation of a brand new watch, if a premium of perhaps a hundred or two hundred pounds is paid to secure this piece, this will be of no consequence in even two or three years. In a rapidly rising market, where finding completely genuine early Rolex watches for sale is becoming more and more difficult, an ever greater number of buyers are realising that a relatively expensive rarity today becomes an inexpensive purchase in the future. This view could certainly be applied to the watch here. It is among the best surviving examples of its type, and a superb sample of the watches that "made" Rolex in the Great War era.
Price £1275 GB Pounds
Vintage Watch Brands
Vintage Watch Decades
Vintage Ladies Watches
Vintage Watch Bracelets
Swipwreek Straps
Travel Clock/ Pocket Watches
Home
About
Brand Overviews
By Decade
Reference
Contact Details
Telephone from the UK:
07453 734666
or 07428 051005
Telephone from overseas:
+44 7453 734666
or +44 7428 051005