Mechanical Digital Ladies Art Deco 1933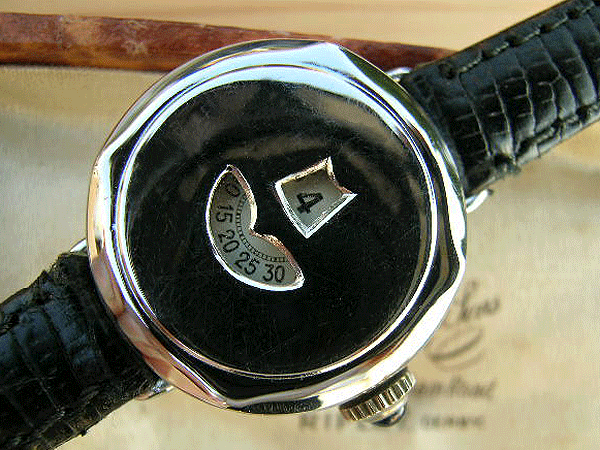 Manufactured in 1933, this very attractive ladies digital model is an eye catching piece that will always attract interested comments when worn at the dinner table. While evocative of its era and charming as a collectible today, this fell just slightly short of being a top tier item in the first instance, but was rather a watch of good solid quality that aimed to ride on the back of an aesthetic trend set by brands further up the cost and desirability scale. While the inter-war period watches by Rolex, Omega and Jaeger LeCoultre were the Rolls-Royces of their day, sold by prestigious jewellers to the wealthy few, models like this one would have been bought by comfortable middle class citizens from provincial family jewellers. There is nothing at all wrong with this watch and today, well preserved early digital wristwatches from the 1930s are much sought after by any maker, but it should not be confused with the output of the grandes maisons, many examples of which are for sale on this website.
The 1920s and '30s were the age of art deco. Originating in Paris in 1925, this movement quickly exploded in popularity and manufacturers of everything from motor cars and steam locomotives right through to luxury pens and fine wristwatches clamoured to offer items with its distinctive aesthetic influence. Similarly, even architecture took a deco direction and in most towns and cities in the UK even now, there are a number of buildings that stand out as having been designed in the inter-war years when art deco was all the rage.
With its streamlined, entirely covered over front, the mechanical digital wristwatch was a ideal for art deco interpretation. Originally, this style of watch was intended to provide a greater degree of protection than was offered with a conventional dial and celluloid crystal, particularly relevant to officers in the British army who were fond of playing the rough and tumble game of polo, but in reality, in much the same way that very few serious divers' watches now are bought new by anyone who ever goes anywhere near water, most mechanical digitals were sold on the basis of their dramatic appearances. There were various versions at the time, but they all more or less worked in the same way, with the hours jumping forward one digit at a time in much the same way that a date display clicks forward at around midnight, and "wandering minutes", with a minute disk rotating slowly and continuously, the correct minute being indicated by means of a pointer that formed part of the aperture border.
The case of this example is in chromed brass, which is a typical combination from this era. If we encounter a vintage watch with a brass case that is either nickel or chrome plated, we can be almost certain that it dates from the 1930s or '40s, even without knowing anything else about it. This type of case was actually very effective and is probably best remembered by enthusiasts today on account of it being used for the Mark X pilots' watches supplied in the mid-1940s to the British RAF by Longines, Jaeger LeCoultre, Record and various other Swiss makers for use by its military pilots.
Probably the only negative aspect of chromed brass housings is that if the chrome wears through, the brass below can be vulnerable to attack from the sweat contained in perspiration. In fairness, most of these cases were thickly plated in the first instance and have survived well, but we do see examples fairly regularly on which the reverse side, that in contact with a wearer's wrist, has become pitted and unsightly. A short term solution to this problem would probably be to strip what was left of the original chrome and polish the case back smooth before re-chroming it, but this would leave the case thin and it wouldn't be a course of action that we could recommend.
The buyer of this watch need have no concerns of this kind. The chrome to the case body and back is in very good condition and there is no acid pitting of any kind. This isn't a mint, unused case and the watch has clearly been occasionally used in the past, but its condition is superb throughout and finding a better, genuinely untouched specimen from the 1930s would probably be impossible.
We could present an argument that this case combines two styles, these being the circular form that had appeared on early wristwatches from the 1910s, and the art deco look of the mechanical digital, which is generally associated with rectangular models. Notice how the soldered wire lugs are typical of those found on wristwatches used by officers in the trenches in World War I. The marriage of the established circular case and the sharp new design of the 1930s is a harmonious one and the result works extremely well.
The snap back case is unsigned and it would be impossible to identify its maker. There was a whole industry in Switzerland making cases for watches like this one, which were of very good, solid quality, but not of a grade high enough to merit a signature or individual serial number. Looking at the case in detail now as this is written, we would be confident that it was Swiss, rather than British made, and, if pushed to pass comment, might be bold enough to venture that it was produced by one of the specialist case makers based in La Chaux de Fonds, but this is little more than educated guesswork based on past experience and should not be taken as gospel.
Anyone who has read a number of our descriptions will be well aware of the emphasis that we repeatedly put on dial condition and originality. These two factors, more than any others, influence the commercial desirability of any particular specimen of a vintage watch and we unashamedly obsess over them when buying for our stock. A mechanical digital watch does not have a dial in the conventional sense, with the hours and minutes being displayed by twin rotating disks that are read through apertures correspondingly cut into the case front, but inspection of these is just as vital as it is with the dial of a more traditional timepiece and perhaps even more so. With exposure to dust and damp, the surface of these disks will become deteriorated, to the degree that eventually, it will be impossible to make out the tiny numerals printed on them. Other dangers also come with the nature of mechanical digitals, in that only a small fraction of the disks can be seen at any one time with the case top in place. An old trick played by unscrupulous dealers used to be, and almost certainly still is, to set the disks so that any badly stained or faded area was rotated under the cover and conveniently out of view from a potential buyer's eyes. The two disks on this watch are almost perfect and are not in the least bit deteriorated with age. A perfectionist might suggest that their overall colour is just fractionally creamier in shade than it was in 1933 when it would have been a bright stark white, but in practice, this is not noticeable to the naked eye.
The winding crown is original and distinctive, being set with a dark blue cabouchon. This style of crown is one always associated with the French jeweller Cartier and clearly the maker of this watch wished to bask in a little bit of the Cartier glamour. The milled edges of the crown are perfectly defined, which are indicative of a manually wound watch that has seen very little use. We always look for consistency when buying and re-enforce this message to our customers. Here, for example, case, time display disks, movement and winding crown are all nearly mint, and no alarm bells are therefore raised as to originality. When we find a near mint case with, say, a worn winding crown or a tarnished movement, we become very suspicious and except in rare circumstances where evidence can be provided to explain such discrepancy, for instance a watch that has spent most of its life in Africa, where dials bleach in the bright sunlight, we do not proceed further with a purchase.
The hand wound movement inside this watch is again of very respectable quality and while it has been decorated to a lesser extent than its equivalents by the prestigious houses, it still remains head and shoulders above the vast majority of mechanisms sold in new watches today. We tend to assume that standards of watch making have remained fairly constant across the decades, but in fact, this is far from the case. During the period between the two World Wars, the degree of craftsmanship displayed on movements which were, at the time, regarded as nothing particularly out of the ordinary is in retrospect quite remarkable. Skilled labour was plentiful and wages historically low, meaning that it was economically viable to have a high degree of hand input even on movements that were in the mid, rather than top, price bracket.
While the maker of this movement is not immediately obvious, for anyone particularly minded to do so, it should be fairly easy to uncover its origins. Several of the major Swiss museums have extensive archives that chronologically list obscure calibre types and a polite covering letter, combined with close up photographs of both the front and back of the movement, may well produce a result. If reminded to do so, we will happily include the details of a number of potential information sources when posting this piece to its next owner. One of the advantages here is that only a relatively small number of different Swiss makers manufactured digital movements, which narrows down the field of options considerably and makes the task of identification much less complex.
While the digital complication was avant-garde at the time, the actual construction and design of this movement is very traditional and not greatly different to that of the typical mechanisms used in the early wristwatches of World War I. The most distinctive feature is the enormous single plate bridge, which is very reminiscent of the architecture used in a number of classic Longines movements from the same era.
The bridge has been finished in rhodium plate and decorated with a very attractive series of hand polished rings that run across its width. We have only encountered this style of ornamentation on a few occasions in the past, which is a shame as it stands out as very appealing. While less time consuming to produce than Geneva waves or engine turned pearling, it is a step up from the plain plates that were even often used by Rolex, Omega and IWC at the time.
Studying it closely, it is apparent that this movement is original throughout. It has not been modified and none of its component parts have been replaced. It has been serviced regularly and as a consequence works perfectly now, but there is no evidence at all that any repair work has ever been performed or needed. This is a robust, well made workhorse movement that if looked after and sent for cleaning and re-oiling every three or four years, will still be running well and attracting compliments a century from now. There was no concept of inbuilt obsolescence when movements like this one were made and it was assumed by manufacturers that their purchasers would continue wearing their watches for life.
There is a very good section on mechanical digitals in Helmut Kahlert's book "Wristwatches, History of a Century's Development" ( starts page 242). Kahlert comments that "wristwatches with digital indication came into fashion in the years after 1930. These watches, in place of hands, used rotating disks, and the hour disk moved one further position after an hour had passed". He includes a selection of photographs of several examples from the early 1930s, one of which, illustration 514, has a circular movement that appears very similar to the one here. This is suggested as being of Eterna origin.
We have fitted this watch with a high quality lizard skin type strap. This a brand new strap that has never been worn. The sharp contrast between the gleaming chrome of the case and the jet black of the strap is eye catching in the extreme and the latter accentuates the art deco theme of the former beautifully.
We have priced this watch at £345 GB pounds, which is a very modest amount to pay for any authentic 1930s mechanical digital. We deliberately try to keep our prices down much lower than those displayed in the windows of the central London dealers and if offered in Bond Street or Piccadilly, we would be lucky to find a comparable piece with jump hours and wandering minutes, in any case material, for less than £700 or £800 pounds. Mechanical digitals do crop up as curiosities now and again in the fine wristwatch sales held by Sotheby's, Christie's and Bonhams, but noticeably less so now than they did even fifteen years ago, mainly because most of the worthwhile examples are now in the hands of collectors who have no wish to part with them. Quirky, instantly recognisable and highly evocative of the art deco jazz age, these models are of genuine historical importance, so much so that London's Science Museum has a gentleman's example from the same period as part of its permanent horological collection. The whole notion of a digital watch that is mechanical rather than electronic is something that the vast majority of the population is completely unaware of, and when they see a piece like this in the flesh for the first time, they are usually intrigued to take a closer look and find out how it works. We see fewer and fewer good, untouched mechanical digitals with every year that passes and we bought this one dually because it looks so charming and because of its unmolested, completely authentic state. It is food for thought that a genuinely rare vintage watch in an eye catching style, built to a high standard and even complete with a collectible period box, can be acquired for much less than many mass produced so-called "designer" models in the high street that have throwaway battery powered movements that will struggle to keep going for more than a decade at most. The charming watch here offers very good value for money and will give a lot of pleasure to its buyer as well as being a firm asset that, if looked after, will only ever climb in value.
Price £345 GB Pounds
Vintage Watch Brands
Vintage Watch Decades
Vintage Ladies Watches
Vintage Watch Bracelets
Swipwreek Straps
Travel Clock/ Pocket Watches
Home
About
Brand Overviews
By Decade
Reference
Contact Details
Telephone from the UK:
07453 734666
or 07428 051005
Telephone from overseas:
+44 7453 734666
or +44 7428 051005