Jaeger LeCoultre ladies steel art deco Harrods 1936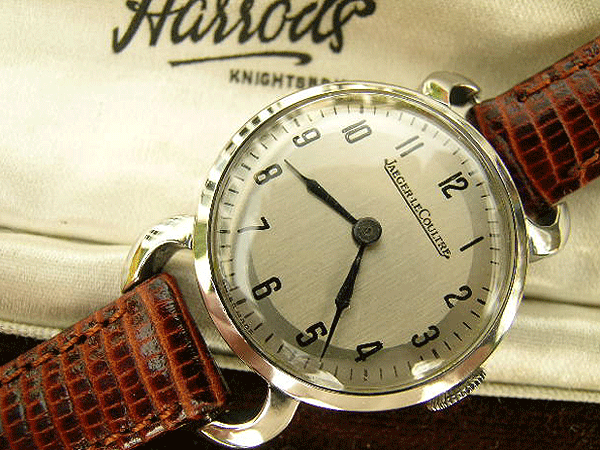 Vintage ladies' wristwatches really don't get an awful lot better than this 1936 Jaeger LeCoultre, in stainless steel with the most heavily stylised art deco case imaginable. We buy and sell antique watches literally every day and have done so for almost thirty years, but we see less and less pre-War material of this quality coming fresh to the market now. Novice collectors, habituated to the internet concept of instant gratification, assume that every vintage watch model is always available somewhere in pristine condition if the funds are there to pay for it. In reality, a huge imbalance between supply and demand means that however much money one has to spend, it can be frustratingly difficult to locate watches that are actually of an investment grade standard.
This example is original throughout and in almost perfect condition. A better specimen of this model could not be bought anywhere, be it Sotheby's, Christie's or any of the central London vintage watch shops. Studying it with an eyeglass, the imperfections to the surface of the steel case are so few that we are inevitably drawn to speculate as to whether the watch has been worn on more than a handful of special occasions. We should remember that when this item was new, the global economy was still gripped by the tail end effects of the Wall Street Crash of 1929, with the majority of the European and American population struggling to make ends meet for most of the following decade while the Great Depression era ran its course. Only a very small percentage of wealthy individuals were buying extremely expensive luxury watches by firms like Jaeger LeCoultre and Rolex. These were substantial purchases that were never likely to have been worn on a daily basis as functional timepieces and this is reflected in the superb condition of the item here.
Large in size, certainly much more substantial than most vintage ladies' watches from the 1930s, this is an instantly noticeable piece that was designed to attract comment. The circular case body is conventional and classical, but the overall aesthetic is elevated to the avant garde by enormous curved lugs that ooze art deco overtones. Case styles have a great bearing on commercial value, with exotic items like this one resulting in watches that are worth several times more than plainer versions with the same movements. This model is one of the most dramatically styled to have been made by Jaeger LeCoultre during the 1930s and accordingly, it is much sought after by collectors.
Externally, the case back is stamped with the serial number 31324. This stamp is of full depth and has not been smoothed by polishing or past wear.
Internally, the snap on case back is signed "Staybrite, Fab Suisse, LeCoultre". This wording is worthy of brief comment. Staybrite was a form on early patented stainless steel, with a high chromium content in the alloy giving it a crisp, icy shine that is extremely attractive. For those wishing to know more, we have written an article about the various types of stainless steel found in vintage watch cases and this can be found by clicking the link to the "Reference" section of our site above.
When we see the abbreviated signature "LeCoultre" instead of the full Jaeger LeCoultre name, we tend to think of watches that were sold in the USA in American made cases, these being used to avoid the high rates of duty imposed on Swiss made watches entering the country in the post-War period. The Jaeger name was omitted for the US market due to a legal dispute over its ownership there. However, on these very early models, the LeCoultre signature appears for different reasons. What formally became the Societe de vente des produits Jaeger LeCoultre SA in 1937 had previously, to over-simplify things slightly to avoid boring the casual reader, been two concerns, these being Jaeger and Jacques-David LeCoultre & Cie. In fact, since 1918, these businesses had co-operated closely with enormous success, but until just before the 1937 unification took place, the signatures of each were used separately. Franco Cologni's excellent book "Jaeger LeCoultre, The Story of the Grande Maison" includes the comment on page 84 that certainly up until 1935 "watches were still sold under the seperate signatures "Jaeger" and "LeCoultre". Hence we see Jaeger LeCoultre on the dial and movement here and the abbreviated LeCoultre on a Swiss, not American, made case. We know from that the movement in this watch was produced in 1936 and it seems likely that given the full Jaeger LeCoultre signature on its dial, that this was one of the very first examples to feature the full company name as we know it today. Curiously, and we have never heard a definitive explanation for this, even post-1937, Jaeger LeCoultre continued to sign almost all its case back interiors as just "LeCoultre". It seems plausible that there were tax advantages to be had by operating as various inter-trading companies, and certainly Rolex operated in this way, but this is pure speculation on our part and without access to Jaeger LeCoultre financial records from the 1930s, we are unlikely to ever have a concrete answer to explain this inconsistency.
We cannot fault the dial here, however deliberately pedantic we try to be. At this level, where genuinely rare watches by famous brands change hands for substantial sums, most buyers are aware of their proven records as excellent investments even if this is not their primary motivation for purchase. In order to have the potential to appreciate by the maximum amount possible, a vintage watch must have its original dial in nearly mint condition. Discoloured, scruffy original dials are not desirable. Neither are freshly restored, mint looking dials that can be created at any time with the drop of a hat. For a watch dial to have survived in the nearly perfect condition of the one here, it must have been kept well away from damp, dust and prolonged exposure to bright sunlight. There are very few pre-World War II vintage watches in circulation with immaculate, unrestored dials and hence when they do appear for sale, they always appear expensive, often causing inexperienced buyers to be very confused as to why, as it appears to them, for no apparent reason, two of the same model of watch will often sell for vastly different prices on the physical auction circuit.
This particular dial is a lovely find, being both original and virtually faultless. There is just the slightest, almost imperceptible ageing to its surface, but none of the spotting or fading that we almost expect to see on dials from the 1930s. The "Jaeger LeCoultre, Swiss Made" wording is well defined and not at all corrupted.
Both hands are original and in blued steel, perfectly matching the Arabic numerals around the dial. It is very significant that cosmetic details like hands and winding crowns are correct. Modifications of any kind knock down the value of any vintage watch dramatically and finding authentic period parts to restore a non-standard piece back to its original specification is all too often a frustrating nightmare. One of the hardest challenges facing the newcomer to the field is acquiring the knowledge required to quickly assess whether every aspect of a watch is correct and authentic. This item is exactly as it should be, but all too many, especially online, are not and it is extremely easy to find that one has bought a pig in a poke, often several years down the line from when a transaction has taken place. Our watches are not cheap by any means, but they will not be the source of any nasty surprises in the future if the decision to taken to liquidate them.
When the case back is removed, we find a corner cut rectangular movement. This is Jaeger LeCoultre calibre 404, a manually wound unit that made its debut in 1933 and probably best known by collectors today as the mechanism used in the company's ladies' Reverso models of the pre-War era. It seems rather odd that a rectangular movement should find its way into a circular case, but in fact, this wasn't unusual. We have seen a similar combination on watches by Omega, Longines and Movado. From a technical point of view, there is no reason at all why this arrangement shouldn't work perfectly and pondered logically, it made sense to use existing reliable, accurate rectangular movements like the 404 in as many models as possible, regardless of the shape of their cases.
Vintage Jaeger LeCoultre movements are world famous as objects of beauty and technical merit. The Swiss watch industry has not produced anything better than these exceptional units and a major reason for early models by Jaeger LeCoultre being so sought after is the superlative quality of the mechanisms in them. It is also relevant that Jaeger LeCoultre was a "manufacture" is the strictest sense, this term being the one used in Switzerland to describe a concern that was, and is, capable of producing its own movements entirely in-house from start to finish, without using any components bought from external suppliers. Every part in the movement here was manufactured in the Jaeger LeCoultre factory in Le Sentier, which gives it a great deal of credibility in the eyes of purist collectors. Like wine produced from grapes grown in a particular famous vineyard or puro cigars rolled from leaf on a specific plantation in Cuba's renowned Vuelta Abajo, a Jaeger LeCoultre movement is the product of a single, identifiable origin point. Unlike almost everything we buy today, it is not a homogenised commodity, but something that can be traced back to, if we put in enough research, to a definitive list of Jaeger LeCoultre employees. Even back in the heyday of the Swiss watch industry, there were very few brands that could lay claim to true manufacture status. In our business, particularly over the last decade, we have noticed a marked increase in the importance of the manufacture issue to many serious collectors and this has corresponded with a noticeable sharp rise in the sale prices of the best early Jaeger LeCoultre models on the physical auction circuit.
"Swiss, Jaeger LeCoultre" is signed on the bridge, together with the individual serial number 82588. Falling between the two extremes of vintage Jaeger LeCoultre movement production for that year of 70000 and 90000, this unequivocally identifies this unit as having been manufactured mid-way through 1936. We have another classic Jaeger LeCoultre ladies' watch for sale on our website from the same year, also with a calibre 404 movement with a serial number that is fractionally earlier than this one. It is worth reading the accompanying notes for this other watch as many of the comments made apply equally to both pieces.
The condition of this movement, consistent with the rest of the watch, is almost mint. Nothing here has been replaced or altered and the whole mechanism looks almost indistinguishable from that in a brand new watch. It has been serviced regularly, with the consequence that it works perfectly, setting, winding and running extremely smoothly. Jaeger LeCoultre will still undertake the servicing of its vintage models today back at Le Sentier and any work needed is carried out to very high standards. Having said this, the truth of the matter is that an experienced local watchmaker can do just as well for a fraction of the cost and there is nothing in a simple vintage movement like this one that should pose any problem to anyone used to maintaining high quality mechanical watches. It is very important that routine cleaning and re-oiling are performed every three or four years. Provided this work is carried out without fail, there is no good reason why this watch should not be in full working order a century or more from now, just as many antique pocket watches from the Georgian and Victorian eras still are today.
We have fitted this watch with a high quality lizard skin type strap. This is not a genuine vintage Jaeger LeCoultre strap but it is very similar to those shown in period Jaeger LeCoultre adverts from the 1930s. This strap has never been worn and is in mint condition.
A finishing touch is the original Harrods box in which the watch was supplied when new. This Knightsbridge, London store is one of the most prestigious in the world and is still famous today for its watch room. It remains an official Jaeger LeCoultre agent, just as it was in 1936.
We have priced this item at £925 GB pounds. It is a remarkably attractive relic from the art deco 1930s, by one of the most highly regarded of all the top tier Swiss brands. In a sense, the asking price is somewhat irrelevant because for anyone wanting a classic pre-War vintage ladies' Jaeger LeCoultre in this condition, as the challenge is in finding one at all, regardless of price. Whether as an addition to a serious collection or simply as a gift for someone who appreciates life's fine objects, this is a splendid item that will give a great deal of pleasure to its next owner. As with all our watches, it is offered here at a much lower level than it would be if sitting behind polished plate glass the window of a central London vintage watch shop in Bond Street or Chelsea. Based in rural Yorkshire where business overheads are among the lowest in the UK, we can typically undercut our competitors in the capital by around 50% without any sacrifice being made on the condition or quality of our stock. This item is the perfect illustrative example of a superb collector's piece that can be acquired for a modest sum, simply by choosing to buy in a less costly environment. We cannot recommend it too highly.
Price £925 GB Pounds
Vintage Watch Brands
Vintage Watch Decades
Vintage Ladies Watches
Vintage Watch Bracelets
Swipwreek Straps
Travel Clock/ Pocket Watches
Home
About
Brand Overviews
By Decade
Reference
Contact Details
Telephone from the UK:
07453 734666
or 07428 051005
Telephone from overseas:
+44 7453 734666
or +44 7428 051005