Jaeger LeCoultre ladies 18k gold 1974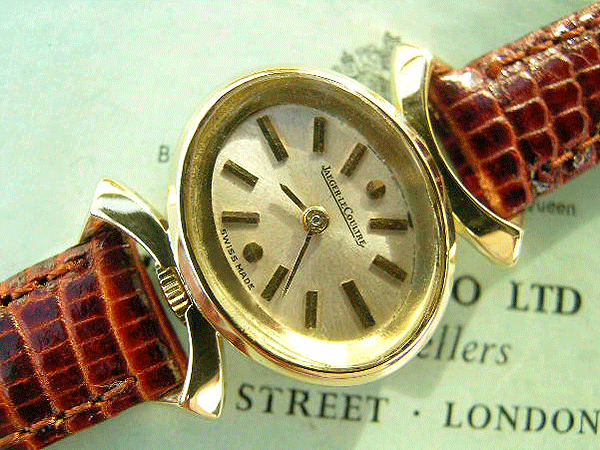 Jaeger LeCoultre is undoubtedly one of the most highly regarded wristwatch brands in the world. The quality of its products is second to none and its vintage output has been frantically collected by ever growing numbers of enthusiasts since the early 1980s. If a classic Jaeger LeCoultre watch is bought in excellent, all original condition, provided the purchase price is not ludicrously high in the first instance, it is almost guaranteed that its worth will increase steadily in the future. Certainly, it is a matter of incontrovertible fact that during the last twenty-five years, there has never been any point in time when the commercial value of vintage Jaeger LeCoultre watches has fallen, which is food for thought when we consider the dramatic ups and downs experienced by both property and the stock market during the same period.
This watch dates from 1974 and is very attractive from an investor's perspective at the time of writing. Over the last two years, we have witnessed an enormous rise in the level of interest in 1970s luxury watches, particularly those by makers like Jaeger LeCoultre and Patek-Philippe which were glamorous favourites of the jet set elite. The same ascent can be seen in the values of 1970s classic cars, with Aston Martin V8 and early Porsche 911 Turbo models, once hardly given a thought by collectors fixated on production from the 1950s and '60s, realising record prices at auction. There was a very good article by Nick Foulkes in the September 2011 issue of the British magazine Octane in which he discussed how sudden and sharp this enthusiasm for 1970s luxury has been, illustrating this with his own disappointing experiences when bidding on two 1970s watches for his collection, Omegas designed by Andrew Grima, both of which soared in priced to far more than he would have been required to pay for them even a year or so ago.
We were delighted to secure this watch for our stock, not least because it is so representative of the very best of this fertile period. While at first glance, a lot of the flamboyant case styles used in the 1970s were avant garde, in fact, they were often reworked versions of models that had achieved success in the years between the two World Wars. There is a strong correlation between 1970s design and the art deco and modernist movements that were at the forefront in the 1930s. This watch has a very distinctive case, with enormous lugs that define its overall appearance, but if the browser goes to the Omega section of this website and looks at the 1938 Medicus model there, the similarity between the two models will be immediately striking. Jaeger LeCoultre took its inspiration from Omega's earlier pre-War design, substituted an oval case body for its competitor's circular housing and launched its creation as something entirely new. One of the most interesting things we notice in our business, handling vintage wristwatches that were produced over a wide range of decades, is how the same aesthetic themes repeat on a very cyclical basis, often with an interval of perhaps thirty or even forty years between appearances.
The condition of this piece is almost perfect. At this level, the sort of buyer who would have purchased an exotic watch of this quality would almost certainly have various other luxury timepieces and it is a fair assumption that this item has only ever been worn on a limited number of occasions in the past. The heavy 18 karat gold case is virtually unmarked, with only the tiniest imperfections that can be spotted with the aid of a magnifying jeweller's loupe.
Over the years, we have noticed a higher than average incidence of repairs to cases with oversized lugs. The reasons for this are not obvious, but it could be that if a strap is caught and roughly pulled, the leverage of the large lugs causes them to break off at the point where they are soldered to the case body. Repairs are difficult to spot from the outside, but careful inspection of a case interior usually reveals any such restoration work that has been performed. This case is perfect when studied internally and we can say with absolute surety that it has not been damaged at any point in its past life. Often glossed over online, especially in the mass market internet auction environment, these details are so important when considering a vintage watch as a serious investment. There is a world of difference in value between a serious collector's watch in a virgin state and the same model that has been dubiously renovated for quick online disposal, but at first glance, these two types often look indistinguishable from one another. It can be very challenging for the new collector to be sure that he is buying at the top of the condition scale, which is why we spend so much time laboriously going through every aspect of the vintage watches for sale on our site in our descriptions.
The interior surface of the case back has been covered with an engine turned pearled pattern. This is so typical of vintage Jaeger LeCoultre production, in that expense and time has been lavished on an aspect of the watch that under normal circumstances would never be seen by its owner.
"LeCoultre Co, Swiss" is signed here. It is interesting how Jaeger LeCoultre cases were almost always signed with the abbreviated LeCoultre Co signature. It could be that this stems from limitations of space, but this seems unlikely as the same shortening occurs inside even large size men's cases. Perhaps more plausible is the theory that there was a division, on paper at least, for financial advantages, between Jaeger LeCoultre the movement maker and its case supplier LeCoultre Co. We have no evidence for this being so, but the constant omission of the Jaeger word inside the brand's cases is incongruous and clearly was done for a reason.
There are a full set of Swiss hallmarks ( head of Helvatia), these telling us that this case was assayed in Switzerland as solid 18 karat. Also present is the Jaeger LeCoultre model reference 1677.
Alongside the Swiss hallmarks are the three letters "DTE". These are the sponsor's mark of De Trevars. Based at 144 Cromwell Road London, SW7 with showrooms in Regent Street, De Trevars was Jaeger LeCoultre's official British distributor during the vintage period. The reference to De Trevars ties in perfectly with a crisp set of British hallmarks, which confirm assay in London in 1974. It is interesting that this piece has both Swiss and British hallmarks, suggesting that it was perhaps originally intended for European sale but instead ended up as part of an order for De Trevars in the UK.
To the ardent connoisseur with a passion for detail, more revealing still is the tiny coded case maker's mark of A.Brauchi & Fils of A-M Piaget 50, 2300 La Chaux-de-Fonds. In common with its competitors Rolex, Omega and Patek-Philippe, Jaeger LeCoultre was not a manufacturer of cases and instead purchased these from a handful of highly regarded makers that specialised in this field. Brauchi made some superbly finished housings in both gold and platinum for Jaeger LeCoultre and without doubt, they are some of the thickest walled cases that the company has ever used.
At the core of every vintage watch is its dial. This component has enormous bearing on the relative desirability of several examples of the same type of collectible timepiece. If we took a selection of the same model reference and entered them into one of the fine wristwatch sales held by Christie's, Sotheby's or Bonhams, we could guarantee that the prices to which each watch rose were largely determined by their dials. The very best watches, those that enthusiasts will always pay a premium to obtain and which consistently prove to be the most effective as investments, are those with original dials in nearly mint condition. As a percentage of the total number of vintage watches in circulation, only a small figure still have untouched original dials in excellent condition. A far greater number have mint-looking so-called "restored" dials that have actually been completely re-finished, in the process irrevocably destroying a part of these items' original character. Finding an original dial on a vintage watch is akin to chancing upon a classic motor car with original paint on its bodywork. Because so few older watches have original dials in superb condition, and so few old cars have authentic untouched paint, when these come up for sale they command high prices.
The dial on this watch is very good indeed and is guaranteed to be original. Realistically, a better untouched example of this model probably does not exist anywhere. Its French white surface is not mint and, as with the case, if we look hard enough with the aid of magnification we can just make out the slightest few marks here and there, but to all intents and purposes, this dial is close to perfection. We would have no hesitation in describing it as being of a standard suitable for serious investment.
"Jaeger LeCoultre" is printed in black above the dial centre point, with "Swiss Made" running around the bottom edge. All this wording is crisp and has not been at all corrupted. The hour markers are an unusual mixture of applied dots and rectangular batons, all in gilt. There is no sign of any corrosion or even dulling and they gleam in perfect harmony with the case.
Both hands are original and again, are in perfect condition.
Sitting on the underneath of the watch between the lower lugs, the position of the winding crown is unusual. While it looks novel here, again this is actually a re-heating of a format that was pioneered by Jaeger LeCoultre for its customer Cartier in the art deco years before World War II. Jaeger LeCoultre was arguably the maker of the finest Swiss watch movements of all time, but many of its aesthetic triumphs were driven by Cartier. The winding crown here is original and signed with a large Jaeger LeCoultre "JL" emblem. Again, when buying as a serious investment, details like winding crowns and hands are so important. Finding the correct spare parts to restore a modified watch back to standard specification is a frustrating and invariably expensive task. Buying a completely authentic, near mint watch like this one will inevitably be costly in the first instance, but in the long run will almost always prove to be the wiser choice.
A major part of the appeal of vintage Jaeger LeCoultre watches lies in the fact that the company was one of only a small group of elite Swiss brands that had the capability to produce its own movements entirely in-house. The general public assume that each of the famous brands was a manufacturer of its own watches, but in fact, very few achieved this status. In the same way that a single malt whisky is the product of a specific Scottish distillery rather than a blend, a vintage Jaeger LeCoultre movement was designed, manufactured, hand assembled and regulated entirely at the firm's venerable factory in Le Sentier. This enabled Jaeger LeCoultre to have complete control over the whole manufacturing process and resulted in a "pure" product that many collectors find irresistible.
This movement is Jaeger LeCoultre calibre 841, a hand wound mechanism that made its debut in 1973. In technical terms, this was a 17 jewel movement with shock protection and a rapid running speed of 19800 half beats per hour, but to simply read its specification is missing the whole point as to why classic Jaeger LeCoultre movements are so venerated by enthusiasts today. Everything about this movement suggests exotic production values and no expense has been spared to create a unit that was, literally, the best of its class when it was new. If we look at the majority of luxury watch movements, even those by the most well known makers, their plates have been left with right angled edges. Here, all the bridges have been bevelled. Similarly, notice the brass chatons surrounding the jewels. These are a lovely refinement that is only seen on the highest grade movements. On lesser mechanisms, including those by Rolex and Omega, the jewels are simply press fitted into the plates and held there by friction, but here, each ruby has been placed in its own threaded sleeve which, in turn, has been screwed down into correspondingly threaded holes drilled in the plates. To purchase this degree of quality in a brand new movement, one would have to spend many thousands of pounds.
"LeCoultre Co, Swiss" is signed on the bridge, with the calibre number 841 stamped next to the balance wheel. The whole unit is in almost mint condition and is entirely original. Nothing has been replaced or altered and there is no suggestion that any remedial work has ever been required in the past. Having been serviced regularly, this movement works perfectly and provided future owners send it for routine cleaning and lubrication, it will last virtually forever. These watches are not cheap by any means, but they will have no difficulty in fulfilling the role of timepieces for life, while all the time steadily rising in value. Commendably, Jaeger LeCoultre takes a great pride in its past work and will undertake the servicing of vintage classics like this one in its Swiss factory. While this work will be of a very high standard, there is nothing particularly complex about the movement here and an experienced independent watch repairer will be able to provide the care it requires at a fraction of the official Jaeger LeCoultre cost.
We have fitted this watch with a high grade tegu lizard type strap. This is not a genuine Jaeger LeCoultre strap, but it is perfectly in-keeping with the style of the piece. Having never been worn, this strap is in mint condition.
When it was new, this watch was retailed by Garrard of Regent Street, London, the world's longest established jewellery store and unquestionably one of the most prestigious. Garrard was one of the capital's most successful Jaeger LeCoultre agents and watches like this one would have been strong sellers to its free spending, chic clients. The watch retains its distinctive light blue cardboard Garrard packaging and while this is in slightly worn condition, it still provides suitable protection for the piece. Both Garrard and Jaeger LeCoultre keep excellent records and it may be possible, data protection act permitting, to find out specific details as to the exact date when this watch was purchased by writing to each firm with its case and movement serial numbers.
We have priced this watch at £875 GB pounds. For a completely original ladies' Jaeger LeCoultre in a solid 18 karat gold case in a very attractive style, this is very reasonable. Even a decade ago, we used to buy these 1970s models frequently but today, simply because they have become so fashionable and collectors are holding on to them, we find sourcing worthwhile examples ever more difficult. This is a charming item that is very evocative of high society living in the 1970s and it is highly recommended as a place to invest money in the vintage wristwatch market at the present time.
Price £875 GB Pounds
Vintage Watch Brands
Vintage Watch Decades
Vintage Ladies Watches
Vintage Watch Bracelets
Swipwreek Straps
Travel Clock/ Pocket Watches
Home
About
Brand Overviews
By Decade
Reference
Contact Details
Telephone from the UK:
07453 734666
or 07428 051005
Telephone from overseas:
+44 7453 734666
or +44 7428 051005