Rolex Oysterdate steel on Oyster bracelet, boxed, 1973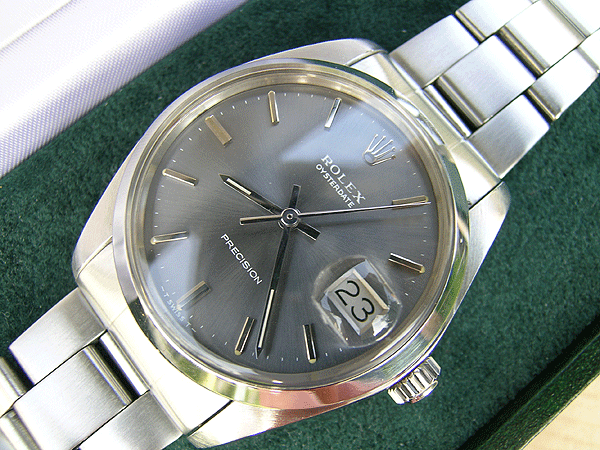 The Rolex Oyster has become one of the classic design icons of our age and arguably the finest wristwatch model to have ever been created. The roots of this now legendary design go back to 1925 when Hans Wilsdorf, the founding father of the Rolex empire, became aware that by manufacturing a watch with a screw on, rather than snap on, back and a threaded winding crown that could be tightened down onto the case body of the watch, a timepiece could be produced that was reliably waterproof, a feat that had previously not been successfully accomplished, despite numerous fascinating earlier attempts having been registered at the Patents Office.
Rolex Oyster models have always been extremely costly when new and are now considered to be the very pinnacle of the vintage wristwatch phenomena, with numerous scholarly reference books being available entirely dealing with the history and development of the Rolex company in general and the Oyster range in particular. An appealing aspect of the Rolex Oyster is that it has evolved very gradually, with cosmetic changes being very slight and occurring over decades, in contrast to the policy of many other Swiss luxury watch brands which have a policy of redesigning their models every couple of years. Even Rolex Oyster models from the 1940s and '50s look, to the casual observer, to be almost identical to those that can be bought brand new from Rolex stockists today. This has the result that the depreciation on modern used Rolex watches is almost non-existent and ensures that market values are high for recent pre-owned models.
Vintage models such as this one are in rather a separate category to their merely used brothers, being watches that have now attainted classic status in their own right, but are usually still similar in appearance to the watches produced today. The collector with a number of Rolex Oyster models from different eras can take a great delight in comparing the subtle differences between the watches from different decades and studying how the Oyster design was improved and altered with the passing of over three quarters of a century. We regularly supply watches to a very knowledgeable enthusiast in Hong Kong who has over six hundred Oyster models displayed in strict chronological order in custom built glass cabinets that hang on the walls of his office. When visiting him last year, it was a source of absolute fascination to be able to chart the progress of the Oyster using this wonderful resource as a reference.
The beautiful boxed stainless steel gentleman's vintage Rolex Oyster for sale here, with its original folded link Rolex Oyster bracelet, is a remarkable time warp piece, dating from 1973 and in nearly perfect condition. The stainless steel case has only a tiny handful of imperfections that are almost invisible to the naked eye, and it seems likely that this watch has, quite literally, only ever been worn on just a few special occasions in the past. This is a large model, with an imposing width of 36mm and is more unusual than the typical mid-sized versions from the same period. The screw on case back is fully signed internally "Montres Rolex SA, Geneva Switzerland, Patented, Stainless Steel" and bears the model reference number 6694. This same model number is correctly repeated between the upper two case lugs on the body of the watch. Between the lower lugs is the serial number 3776420, this falling between the extremes of production for that year of 3741000 and 4002000, and confirming that the watch left Rolex when new in 1973.
The original winding crown is signed with a large Rolex coronet emblem, and is of the post-1952 type that is still used on current Rolex Oyster production. When buying a classic Rolex Oyster, always carefully examine the condition of its crown and check that it locks down tightly in place into the case side as it should. If these watches are roughly handled, the fine threads inside the winding crown and on the corresponding case tube can become damaged, with the result that the former component fails to screw securely onto the latter. Here, there is no measurable wear to the threads on either, and, in common with the rest of the watch, the crown is literally almost mint.
The beautiful dark charcoal grey metallic dial is completely original and has never been restored or retouched in the past. This is in almost mint condition and probably as near to being "as new" as one could ever hope to find on a watch of this age. The signature "Rolex Oysterdate, Precision, T Swiss T" remains crisp and clear, and the chrome baton shaped markers are bright and eye catching. In place of a twelve o'clock numeral, we find a large applied coronet emblem in chrome, this matching perfectly the original luminous hands. These hands are perfectly preserved, and literally indistinguishable from those on a brand new watch. From the presence of the two letter "T"s either side of the "Swiss" word, we know that the luminous material here is tritium, rather than radium, based. Remarkably, though totally original, this luminous paint remains in perfect condition, and doesn't appear to have aged in the slightest.
As one would expect from Rolex, the hand built, in house produced, manually wound movement is a triumph superlative engineering design and extremely detailed finishing. This is a calibre 1225 mechanism, offered by Rolex between 1967 and 1984. More significantly, it should be appreciated that the 1225 was a variation of the 10.5 ligne Hunter( the ligne being the unit of movement width measurement used in the Swiss watch industry) that had been the flagship of the Rolex company, and arguably the most accurate and stable mechanism by any maker, since 1923. A very significant point is that the movement is in almost mint condition, and unlike so many neglected Rolex models that are sold online, has no changed parts whatsoever. "Montres Rolex SA, Geneva, Swiss, Seventeen Jewels" is stated on the bridge plate, with the calibre number stamped next to the regulator. This is a completely unmolested watch and the movement has not even the slightest corrosion or discolouration of any kind. The watch has been regularly serviced throughout its life, predominantly by Rolex and later by a fully qualified independent specialist in vintage Rolex items, and as a result, it runs perfectly and keeps excellent time.
The watch is complete with an attractive box, but sadly, its original papers are no longer present.
In summary, this gleaming Rolex Oyster Precision must be one of the best preserved classic Rolex timepieces to be found anywhere and offers the nearest experience any of us could ever get today to walking into a Rolex agents in 1973 and coming out again with a gleaming, brand new Oyster . It has been hardly worn and represents the chance to acquire a genuinely fresh to the marketplace vintage Rolex that will be a superb investment and a source of enormous pleasure to its owner. Rogue vintage Rolex models abound, but this one is guaranteed to be authentic and unmolested in every respect, and in the finest possible condition. This isn't a "new old stock", unused watch, but it is very close to being in that rare category, and as such, is definitely worth a significant price premium over a typically worn example of the same model reference.
This actual model, reference 6694 in stainless steel, is featured in the Italian collector Osvaldo Patrizzi's excellent reference book "Collecting Rolex Wristwatches 2001". In the accompanying price guide, this is stated as having a value of 3000 Euro in excellent condition ( approximately £2100 GB pounds or $4000 US dollars). Today, over a decade later, we wouldn't expect to find a 6694 Oyster with its original bracelet for this sum and certainly in the central London specialist vintage watch shops, the asking price would be in excess of double this figure.
The physical auction house Sotheby's sold an almost identical reference 6694 stainless steel Oysterdate as Lot 268 in its 17th October 2003 sale "Important Watches, Wristwatches and Clocks". However, this was unboxed, had a more commonly found silver dial and was in obviously considerably poorer condition than the near-perfect example here. The pre-sale estimate for this Lot was $2500 US dollars ( approximately £1500 GB pounds), though in reality, we would have expected the winning bid to have exceeded this figure. It is also worth noting that an additional 20% buyer's premium fee would also have been added to the hammer price.
We have priced this watch at £1775 GB pounds, which represents exceptionally good value for money in terms of the sheer quality present in its movement. We pay high prices for the very best stock in the market, but our policy has always been to turn pieces over with a relatively small profit margin and this item is an illustrative example of our strategy of keeping prices at a modest level. Genuinely immaculate vintage Rolex Oysters are exceedingly difficult to source now, with the majority offered having at least one incorrect aspect. This one is just as it should be in every respect, and as the best possible example of its type, can only ever increase in value in the future.
Price £1775 GB Pounds
Vintage Watch Brands
Vintage Watch Decades
Vintage Ladies Watches
Vintage Watch Bracelets
Swipwreek Straps
Travel Clock/ Pocket Watches
Home
About
Brand Overviews
By Decade
Reference
Contact Details
Telephone from the UK:
07453 734666
or 07428 051005
Telephone from overseas:
+44 7453 734666
or +44 7428 051005