Jaeger LeCoultre gold with Fulham, London dial 1971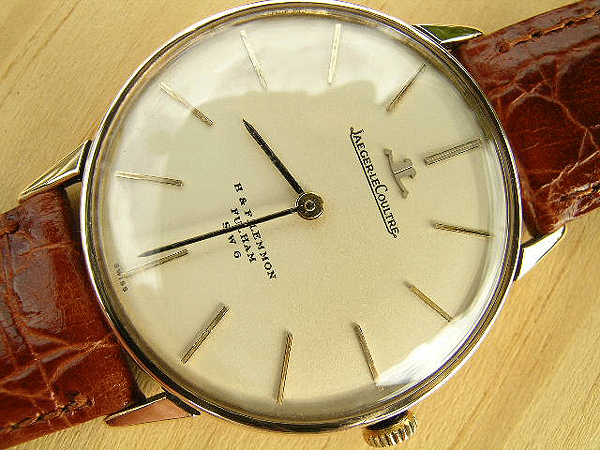 Originally sold in the UK in 1971, this solid gold gentleman's vintage Jaeger LeCoultre is an immaculately preserved example by this famous Le Sentier house. For many collectors, Jaeger LeCoultre watches have an unmatched level of credibility, this reputation stemming from it being one of very few top tier brands to have genuine "manufacture" status. This curious word is the one used in the Swiss watch industry to describe a firm that is capable of manufacturing its own movements entirely in-house, without needing to purchase components from third party producers. Over the years, Jaeger LeCoultre has supplied movements to Patek-Philippe, Audemars Piguet, Vacheron Constantin and a whole host of other top-flight brands, but has retained its own purity throughout. In the eyes of a lot of collectors, this company is regarded as having a degree of purity and integrity that is lacking in some of its competitors. The quality of any Jaeger LeCoultre watch, either vintage or current, is second to none and while good examples are always expensive at the time of purchase, they have a proven track record as investments and are very satisfying things to own and wear.
In every respect, this watch is almost mint. Its large sized gold case is virtually unmarked and has only the very tiniest of imperfections that can only really be seen with the aid of a jeweller's eyeglass. There have been no repairs to the case and looking at it now as this is written, we would guess that the watch has only been worn on a relatively small number of occasions.
On the case back outer, there is the engraving "Presented to Mr. E.A Hough on the occasion of his completing 45 years service with the Furness Withy Group, 14th November 1972. Furness Withy was, and still is, a ship owning company specialising in the transport of cargo between London and Melbourne, Australia. It would be very interesting to contact them today and see if they could supply more details about the original owner of this piece.
Inside the case is the signature "British Make, B & S", together with the individual serial number 435917. While Jaeger LeCoultre manufactured its own movements within its own facility, in common with almost all of its competitors, it did not produce watch cases. For those models intended for sale in the UK, it shipped uncased movements to its distributor here who in turn had these housed in domestically manufactured cases. Originally, this state of affairs began as a way of circumventing the ban on the import of gold into the UK that had been imposed by the British government in both World Wars I and II, but continued as a device to avoid punitive import tax long after restrictions were lifted.
The "B & S" stamp here tells us that this case was made by B.H Britton and Sons Ltd, of 35 Hockley Hill, Birmingham. Almost all the UK made cases used on Jaeger LeCoultre watches in the 1950s and '60s are signed "DTE", this being the marking of De Trevars, the company's wholly owned British agents at this time, and to find anything else is not common. Britton was a much smaller operation that industry stalwarts Dennison and David Shackman, and we have noticed over the years that its cases tend to appear on seldom seen models. Recently, we sold a very attractive gold Rolex with a very strange case signed with the B & S stamp, from 1970, which featured a large Rolex coronet emblem cast into its case back. We have never read this, and it is nothing more than pure speculation on our part, but given that Britton cases never seem to surface in any quantity, we have sometimes wondered if the company specialised in low volume pilot runs of cases that enabled firms like Jaeger LeCoultre and Rolex to test the market potential of a possibly planned model before more resources were ploughed into its production on a grander scale.
It goes without saying that it can be guaranteed quite categorically that this movement and dial were supplied in this case when new. Under no circumstances would we ever offer a watch for sale on which the case was not correct without making this very clear in the accompanying description. When finding unusual case marks inside a watch, there is always a tendency to make the presumption that a movement has been re-housed at some time in its life. In this instance, any concern is entirely unfounded and Jaeger LeCoultre records will confirm the total authenticity of this piece.
Any vintage watch must have its original dial in order to be worth its maximum potential value. The presence of a so-called "restored" dial, meaning one on which the surface has been completely stripped and replaced with a new substitute, will render any watch undesirable and diminish its value at a stroke by typically 40%. When explaining this to new collectors, we often draw a parallel to the world of antique coins, where any evidence of polishing will instantly render an item virtually worthless. Restored dials on vintage timepieces don't have quite as negative an impact, but they should be avoided wherever possible.
Even an original dial will never command a high price if badly discoloured and deteriorated. Putting it bluntly, nobody wants to wear a watch that looks awful, and a poor original dial isn't really a lot better than one that has been restored. The challenge facing any collector is to find dials that are both original and nearly mint, like the one here. We wouldn't hesitate to describe this dial as virtually perfect and even when viewed under high magnification, it would be difficult to identify any deterioration to its surface. If we wanted to be deliberately over-critical, we might suggest that the overall colour has just marginally mellowed from a once bright white into a slightly creamier shade, but this would only ever be noticed by the most obsessive purist and is of no consequence whatsoever.
The hour points are indicated by parallel sided batons in gilt. "Jaeger LeCoultre" is stated above the dial centre point, with "Swiss" at the bottom below the 6 o'clock baton. The company's "JL" emblem is in the form of an applied gilt badge.
Very unusually, this is a double signed dial, with the name of the retailer that supplied the watch when new stated below that of the manufacturing house. Over the years, we have seen very few vintage Jaeger LeCoultre watches for sale with this second signature, and would suggest that the company didn't produce many of them in the first instance. The practice of double signing had begun in the World War I era, but gradually dwindled until the 1970s when it disappeared altogether. It was obviously an inconvenience for a manufacturer to personalise its production in this way and clearly in its interests to phase out this service if it could. Today, double signed dials are a whole sub-genre of vintage wristwatch collecting, with huge prices being paid for examples signed with the names of long forgotten jewellers in exotic British colonial outposts. This dial is clearly less evocative, but nevertheless, the presence of this additional wording supplies both visual appeal and extra market value. It is no exaggeration to say that the watch here is worth perhaps 25% more than it would have been with a standard singly signed dial.
Both hands are totally original and in perfect condition. There is no second hand here and close inspection with an eyeglass reveals a solid axle running from the movement to the dial side of the watch. There is no provision for powering a second hand and we can be absolutely sure that this model was never fitted with such an item when new.
The most compelling reason to buy a vintage Jaeger LeCoultre will always be its beautifully finished movement. It is possible to spend far more than the amount needed to purchase the watch here, but doing so certainly won't guarantee that a movement superior to this one is obtained. Without any shadow of doubt, classic Jaeger LeCoultre mechanisms from this era represent the pinnacle of luxury Swiss watch making so far and any collection would be glaringly incomplete without at least one example by this famous house in it.
Probably the only thing we don't like about this watch is that it utilises the old trick of placing a standard sized movement in a large case in order to offer an oversized model to the public without the expense of building a suitably large movement to fit in it. Here, the case has been constructed with a 6mm gold spacer soldered inside it to take up the gap between the movement and the case walls. The exact same approach was routinely used by Rolex, IWC and Audemars Piguet and we have never heard anyone else criticising it, but to us, it doesn't seem like the most honest way of creating large watches. The original buyer of this watch probably assumed that the movement inside it was also of a large diameter, when in fact, it was the standard sized unit fitted to almost of all of Jaeger LeCoultre's gentleman's conventionally sized models.
The movement here is calibre 818/2. This was a hand wound unit, built entirely in-house by Jaeger LeCoultre, and introduced in 1958. In its original form, as here, it had a steady running rate of 18000 half beats per hour but, interestingly, proved to be such a reliable movement that it continued in production long into the 1990s after its running rate was upped to 21600 h.b.p.h in 1992.
The rhodium finished bridge is signed "Swiss, LeCoultre, Seventeen Jewels" together with the calibre number 818/2. Next to the balance wheel is the individual serial number 130527. The condition of the whole movement is almost as new and there isn't the slightest degree of corrosion or even dulling anywhere. The signature stands out in gold and the whole unit looks exactly as it did when new in 1971.
It is worth adding a very short note about the LeCoultre signature, not least because it often confuses newcomer collectors. When selling its watches to Europe, Britain and the rest of the world except America, Jaeger LeCoultre signed its dials and often its movements with the full Jaeger LeCoultre name. In the USA, there was a dispute over the ownership of the Jaeger trade name. Consequently, the company wishing to avoid entrenched litigation, Jaeger LeCoultre watches sold there were signed with the abbreviated LeCoultre signature. In every respect, LeCoultre and Jaeger LeCoultre signed movements are one and the same, manufactured to the same superb quality by the same craftsmen in the same factory. Interestingly, presumably just for convenience, a lot of Jaeger LeCoultre movements from the vintage period sold new in Europe and the UK have the abbreviated LeCoultre signature, as here. Despite it only showing the LeCoultre name, we can be sure that this movement was not intended for American market sale, simply because it does not have the three letter ( VXN) stamp that, by law, was required to be present on Swiss movements brought into the USA at the time.
Everything about this movement is totally original. Not one component part has been altered and there is no evidence of any repair work having ever been performed. As a consequence of having been serviced on a regular basis since new, this watch works perfectly and is in the very best of mechanical health. Provided it is treated with care and cleaned every three or four years in the future, it will have no difficulty whatsoever in outlasting its next owner, which is far more than can be said about most of the current luxury watch models on display in the high street .
We have fitted this watch with a high quality crocodile skin strap. This is in perfect condition and has never been worn. While not of Jaeger LeCoultre origin, it is very similar in appearance to the strap that would have been supplied with this model when new and certainly doesn't need to be changed.
The price of this item is £1375 GB pounds. In stainless steel, we would expect a similarly specified example to sell for at least £1000, and the additional small amount charged here for a solid gold version seems very worthwhile. Personally, and this is something that crops up as a topic of conversation in our business every few months, we would always much rather have a gold watch than a steel one and, particularly as prevailing fashion at the moment still tends to favour stainless steel, pieces like this are very good investments for the future. The preference for certain metals in wristwatches has always been a cyclical thing and there are clear signs that gold is now slowly starting to creep back into vogue. When this happens on a large scale, the value of watches like this one will skyrocket and their price today in retrospect will be seen as something of a bargain. This is certainly an immaculate, all original, model by one of the most respected Swiss horological houses in the world and as such, will give an enormous amount of pleasure to the collector who buys it.
Price £1375 GB Pounds
Vintage Watch Brands
Vintage Watch Decades
Vintage Ladies Watches
Vintage Watch Bracelets
Swipwreek Straps
Travel Clock/ Pocket Watches
Home
About
Brand Overviews
By Decade
Reference
Contact Details
Telephone from the UK:
07453 734666
or 07428 051005
Telephone from overseas:
+44 7453 734666
or +44 7428 051005