Omega De Ville ladies white gold on steel, boxed 1973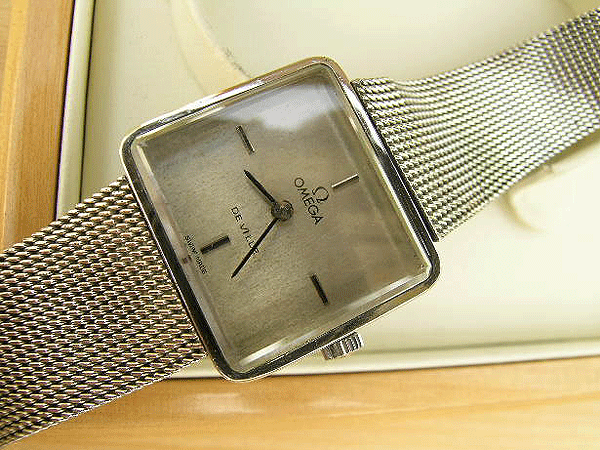 There is an old theory that fashion is cyclical and that what is in vogue today will fall out of favour before coming back into popularity in due course. There can be few better examples to illustrate this point in the watch world that this 1973 ladies' Omega De Ville. Fifteen years ago, this piece would have been very difficult for us to sell, with its only redeeming attribute being the extremely high quality of its case, bracelet and movement. Watches like this were scrapped and broken for parts simply because their appearance was at odds with the slim, discreet look that was current at the time.
Today, the pendulum of fashion has swung to make these large ladies' 1970s models the height of chic. The whole look of this watch is totally in keeping with modern taste and if we compare it with the current models in the jeweller's windows by mainstream fashion brands like Gucci and Chanel, there are obvious similarities.
The condition of this watch is extremely good. There are the tiniest few imperfections here and there to the case and bracelet, but these are of no importance and must be expected on any vintage timepiece that is not literally unworn old stock.
Internally, the snap on case back is signed "Omega Watch Co, Fab Suisse, Swiss Made, Lunette, Plaque Or L 20 Microns, GDR, Fond Acier Inoxydable ( the French term for stainless steel)" . This is very interesting, as it tells us that this case is, very unusually, in white gold plated stainless steel. The colours of white gold and stainless steel are so similar that it would seem almost pointless to plate the latter with the former, but Omega clearly felt that there was some marketing advantage to be gained from doing so. It is irresistible to point out that in almost thirty years in the high grade vintage wristwatch business, we have not owned another watch that was in white gold plated steel, which suggests that very few of these items were made in the first instance.
Also here inside the case back are two different model reference numbers, 511.444 and 711.1808. Usefully to the modern day collector, Omega model numbers from this period, or at least the part of them that comes before the decimal point, can be decoded. Here, the 5 in the first number defines a ladies' watch on a leather strap, with the second and third digits, both 1s, relating to, respectively, a manually wound model without a second hand and, finally, one that is not water resistant. Notice how only the first digit of the second string ( pre-decimal point) has changed. In this instance, the 7 defines a ladies' watch supplied on a metal bracelet. What this all tells us is that Omega offered this watch new both with and without a bracelet. The two model references relate to this watch in its different forms, the first for the model without a bracelet and the second when a bracelet was fitted.
Dial condition is very good. If we look closely enough, there is some degree of ageing to the dial surface, but this is very slight and hardly even worth mentioning. Again, the look of this dial, with a silver background and four very minimalist batons at the compass points, is completely in keeping with modern aesthetic trends. Quite literally, this could be marketed as a 2012 model and nobody would bat an eyelid.
Very significantly to the collector, this is an original dial that has not been restored or altered in any way. A vintage watch with a dial in this state will always be more desirable than the same model with a refinished dial. When buying with a view to future worth and potential profit, as most of our customers do, then the state and authenticity of a dial becomes vitally important.
"Omega" is signed above the dial centre, with "De Ville, Swiss Made" in the lower half.
Both hands are completely original, as is the Omega signed winding crown. Small details like these have a great impact on value and must be correct in order for any vintage watch to have its maximum worth. Finding authentic replacement parts for classic watches can be very difficult and very expensive. We would always advise that a watch like the one here, that is totally original and in excellent order, be purchased for investment, even though it will clearly be more costly initially than its second rate equivalent with some degree of changed components.
Omega used its calibre 625 hand wound movement for this model. Launched in 1973, the year that this watch was made, this was a revised version of the calibre 620 that had been in use since 1960. The 620 had a running speed of 19800 half beats per hour, but advances in lubrication technology meant that for the 625, the beat rate could be squeezed up to a more accurate 21600. Every luxury was included in these units, including anti-magnetic protection and shock resistance. While beautifully finished and entirely assembled by hand, the 625 is not a movement that is seen regularly. It was very much a high end unit that found its way into a number of Omega's exotic jewellery watches of the period.
This particular movement is in almost mint condition and totally original throughout. It is signed "Omega Swiss" on the bridge, together with the calibre number 625 and the unique serial number 36624883. Falling between the two extremes of vintage Omega production for that year of 36000000 and 38000000, this confirms that this item was manufactured in 1973.
This is a "real" Omega movement in the sense that it was manufactured entirely in-house at the Omega factory. Later, in the 1980s, Omega would cease to produce its own movements and instead purchase its mechanisms from the corporate giant ETA. There is a growing division between these authentic Omega items and those that followed in the eyes of serious collectors, with a corresponding price disparity between the two types. We would always recommend that for investment, only Omega watches with in-house movements are acquired.
After regular servicing, this movement works perfectly. It runs very smoothly and sets without any discernible wear play to its gears. Quite literally, this movement has many decades of life left in it and there is no reason at all why it should not be a fully working, valuable heirloom a hundred years or more from now.
The original Omega bracelet is a nice touch, again in this strange combination of white gold plated stainless steel to match the watch case. This is of full factory standard length and has not been shortened. The bracelet clasp is signed with a large Omega emblem on its outer side, while on the side facing the wearer's wrist there is the stamping "927/204 Plaque 10 Microns, Omega".
This watch will be supplied in a very attractive lacquered wooden box. This has been used as the background for the photographs with this listing. This is not an Omega box but it is of equivalent quality and sets the watch off perfectly if it is to be given as a gift.
Prices for a lot of these large sized ladies' models have jumped up sharply, but they still offer remarkably good value for money. This example is priced at £375 GB pounds, a figure that would buy very little in the high street in a brand new watch. The appeal of watches like this one is that they combine looks that are very much in fashion at present with superb movement quality of a standard that is no longer available. On top of this, unlike their modern equivalents, good, original vintage watches by makers like Omega and Rolex have a proven track record of appreciating in value. It is entirely realistic to think of buying this watch and wearing it carefully for ten or fifteen years before selling it on for a tidy profit. Sadly, the same cannot be said about today's mass produced, battery powered creations.
Price £375 GB Pounds
Vintage Watch Brands
Vintage Watch Decades
Vintage Ladies Watches
Vintage Watch Bracelets
Swipwreek Straps
Travel Clock/ Pocket Watches
Home
About
Brand Overviews
By Decade
Reference
Contact Details
Telephone from the UK:
07453 734666
or 07428 051005
Telephone from overseas:
+44 7453 734666
or +44 7428 051005