Rolex Tudor Prince Oysterdate steel blue dial 1971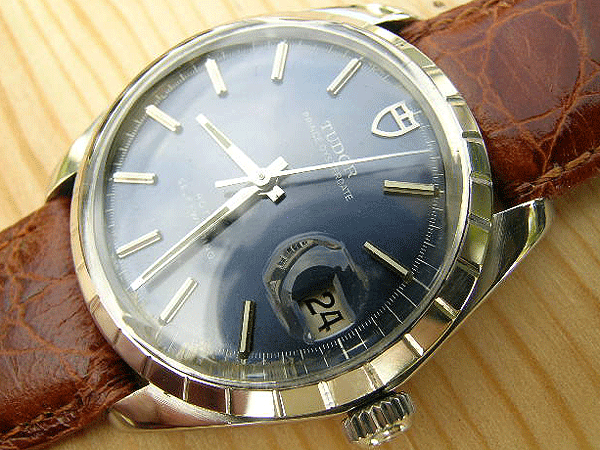 Dating from 1971, this Rolex Tudor Oyster in stainless steel with a distinctive blue dial is an unusual piece that would make an ideal choice for a gentleman looking for a robust modern classic that can be carefully worn on a regular basis without fear of it being damaged. It's a well preserved, completely original Rolex model that will never lose a penny in value and, provided it is looked after, always steadily appreciate in worth as the years go by.
The condition of the large sized stainless steel case is almost mint, with only the very slightest imperfections that are hard to detect without the aid of a jeweller's eyeglass. This is the large size of Rolex Oyster case from the 1970s, which is basically with exactly the same dimensions as a mid-2000s Oysterdate, making it perfectly wearable today.
Between the top two lugs on the case body is the model reference number 9051/0. This is quite an unusual reference and this is only the third example of this model that we have owned in the last decade. The reference 9050/0 is more common, and is the assigned number for exactly the same steel Prince Oysterdate, but with a smooth polished bezel rather than the bezel with machined slots as here.
Between the lower two lugs is stamped "Stainless Steel" and the individual serial number for this watch, 711427. Dating Rolex's Tudor range by serial numbers is always very difficult, not least because Rolex today is extremely unhelpful in answering questions about any aspect of its vintage production. Given that we know the 680000 mark was crossed in 1969 and examples of Rolex Tudors manufactured towards the end of 1971 have been noted as having 740000+ serial numbers, we are dating this watch as 1971, cross referencing the serial number with the fact that the movement here, calibre 2784, was launched early that year.
Around the case back outer is the wording "Original Oyster Case By Rolex Geneva" together with the Rolex coronet emblem. The milling around the central raised area is almost perfect and is free from chewing or other damage. We would suggest that this case has only ever been opened using the correct Rolex factory tool, hence its pristine state, but many others, especially on the mass market online auction websites, have been mauled by pliers and other wildly inappropriate implements, and these will clearly be of much less appeal to the collector.
Internally, the case back carries the stamp "Montres Tudor S.A, Geneva, Switzerland, Patented, Stainless Steel, C.R.S".
The winding crown is of the patented screw down type that has been a major feature of the waterproof Rolex Oyster since 1926. The outer surface of the crown features a large Rolex coronet emblem. This pattern of Rolex Oyster crown was introduced in 1952 and the remains the one used on the company's current models. The threads inside the crown and on the tube protruding from the case side are in perfect condition, enabling the former component to screw down securely onto the latter.
From a purely personal viewpoint, we cannot resist adding that we love the dial on this watch. Rolex Oysters from this period tend to have either silver, gold or black dials and to find one in this royal blue colour is unusual. It is very eye catching in the flesh, actually more so than in the photos, and makes the watch ideal for casual wear, accompanied by a pair of jeans. A point we often make is that anyone wanting to invest in vintage wristwatches would be well advised to acquire those models that are just that little bit different from their more common equivalents. When new, the reference 9050/0 Oysterdate would have been available with a variety of more usual dial colours, but by opting for this rarer blue dial version, the buyer puts himself in a better position than the majority of 9050/0 owners if he decides to liquidate his asset in the future. In the vintage watch world, rarity almost always equates to commercial worth and an opportunity to buy something slightly out of the ordinary should be taken.
The condition of this dial is very good. If we study it closely enough with an eyeglass, it isn't literally mint and there is some very minor deterioration to its outer edge, but in the real world, where unused new old stock vintage Rolex watches hardly ever surface for sale, this is more than acceptable as being of investment grade. Most importantly of all, this is a completely original dial that has not been restored or in any way fooled around with at any time. The presence of a refinished dial, even if this looks mint, will devalue any vintage watch dramatically and when buying with a view to future worth, the dial must be as close to perfect as can be found, and entirely unmolested.
At the top of the dial, at the 12 o'clock position, there is the Tudor shield emblem. This was introduced by Rolex at the very end of the 1960s and replaced the earlier rose emblem that had been previously used for the Tudor range since its launch in 1945. Beneath this is the wording "Tudor, Prince Oysterdate, Rotor Self-Winding" and "Swiss" along the very bottom edge of the dial. Notice how the "Rotor Self Winding" text in two straight lines has correctly changed from the 1950s and early 1960s format on which "rotor" was printed in a straight line and "self-winding" in an arc beneath it. Being familiar with dial layouts and which words appeared on which vintage Rolex dials at which time is an enormous benefit when trying to weed out those dials that are fake or restored.
All the three hands are original and in excellent condition. Again, notice how, exactly as they should be for this period of manufacture, the hour and minute hands are not parallel sided but actually just very slightly tapered.
The movements used in the Tudor Oyster range were of superb quality and certainly lived up completely to the Rolex reputation for accuracy and extreme reliability. As many of those reading this will already be aware, the concept behind Tudor was one of using conventional Rolex cases, but fitting these with movements that were purchased from approved third party suppliers and then re-processed by Rolex rather than being built from scratch in the Rolex factory. This was a fine idea and one that resulted in Rolex quality being available at a lower retail price than the mainstream Rolex range. The only problem was that, rather embarrassingly, the standard of the Tudor range was so high that, in truth, there wasn't a great deal of difference between it and the full priced Rolex equivalent. In recent years, collectors have become increasingly aware of this small degree of disparity with the consequence that Tudors are now a major inclusion in Rolex thematic sales held by Sotheby's and Antiquorum, and the gap in value between these and their closest Rolex signed equivalent models is shrinking rapidly.
In technical terms, the 2784 was very much state of the art for its era. It was offered in both 17 and 25 jewel formats by ETA, with Rolex opting for the 25 jewel version as the basis for its re-working. The running speed is 28800 half beats per hour, which was par for the course during the "war of the frequencies" that occurred towards the end of the 1960s. It was reasoned, quite correctly, that all else being equal, that the faster the oscillation rate of a balance wheel, the more accurate a movement would be. The result of this was that all the major Swiss houses went into overdrive designing movements with ever faster beat rates. To its credit, Rolex avoided the very fastest levels and didn't try to step beyond the 28800 rate here. This was regarded as the perfect intersection point between speed and reliability and even today, almost all current Rolex movements used in the Oyster range run at this rate.
A useful attribute of the 2784 is its quick set date feature, enabling the date to be changed rapidly, rather than going through the long winded process of turning the hands through a full twenty four hours for every date alteration. Earlier Rolex Oysterdates didn't have this, and we always find it extremely convenient, particularly if a watch is to have long periods of "rest" in a drawer or safe between outings.
This model, and the very similar 9050 Tudor Oysterdate that shared the same movement, represent a very inexpensive way to obtain the 2784 mechanism. This same unit, with no modifications, was also used in the Tudor Submariner reference 9411 of the same period ( 1973 onwards). Values of vintage Tudor Submariners have gone berserk in the last couple of years and in our business, we sometimes wonder if those paying crazy prices for these watches at auction are aware that if they did a little bit of research, they could find equally appealing classic Tudor models with the very same movements, for a fraction of the price.
"Tudor Auto Prince" is signed on the rotor, with "25 Rubies, Swiss Made" on the automatic bridge. Alongside the balance wheel is the calibre number 2784 and, very discreetly, the ETA emblem.
Having been serviced regularly, this movement is in superb condition. It works perfectly, setting smoothly and auto-winding with the slightest motion of the wearer's wrist. The build quality of all Rolex Oyster movements has always been first class and certainly, if a well preserved example of a modern classic like this one is sourced and maintained correctly, it has the potential to last almost forever. The key to owning all vintage watches, Rolex or otherwise, is to buy only the very best survivors in the first instance, those that show little or no sign of mechanical wear, and keep up to date with their servicing at all times. This watch can still be sent for servicing at Rolex via any official Rolex agent worldwide, though in fact, there is no reason whatsoever why an experienced local watchmaker shouldn't be able to perform exactly the same function at a considerably lower price level.
This watch has been fitted with a high quality crocodile skin type strap. This is not a genuine Rolex strap, but is perfectly suited to the piece and not at all out of keeping with its classical appearance. Having never been worn, this strap is in mint condition.
The price of this watch is £785 GB pounds, which compares very favourably with that of earlier 1950s Rolex Tudor Oyster automatics. These 1970s models are of really superb build quality and have risen sharply in value over the last two or three years, but are still available at levels that don't really represent their merit. A lot of the mechanical luxury watches manufactured during this period were badly neglected in the ensuing quartz era with the result that they are pretty life expired today, but a genuinely good, totally original example, like the one here, is a pleasure to own and wear. These watches are very similar in appearance to their current Rolex Oyster equivalents, but equally, have just enough vintage character to make them charismatic and interesting.
Price £785 GB Pounds
Vintage Watch Brands
Vintage Watch Decades
Vintage Ladies Watches
Vintage Watch Bracelets
Swipwreek Straps
Travel Clock/ Pocket Watches
Home
About
Brand Overviews
By Decade
Reference
Contact Details
Telephone from the UK:
07453 734666
or 07428 051005
Telephone from overseas:
+44 7453 734666
or +44 7428 051005