IWC gold UK market bombee lugs 1970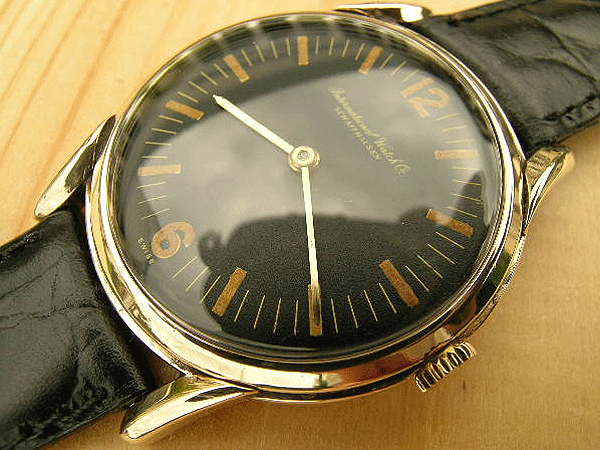 IWC watches have always been a passion of ours and we have been fortunate to own several hundred of this brand's sought after classic models over the years. Back in the 1980's when vintage wristwatch collecting was a new concept, IWC, these letters standing for International Watch Company, was rather regarded as a horological connoisseur's secret and was very much a brand appreciated for the most part only by die hard fanatics. Indeed, the Prince of Wales, well documented for his excellent taste in fine possessions, is well known as a passionate vintage IWC fan.
Very expensive when new, the movements in these timepieces are arguably the finest quality available and command considerable sums when sold in specialist physical auctions, but oddly, have never really caught the attention of the mainstream luxury watch buying public who prefer the heavily advertised watches by Rolex and Omega. This relatively low profile may actually be a deliberate marketing policy on behalf of International. Heads of state and members of the European aristocracy have long since vouched for this small Swiss-German firm and we would suspect that in order to keep their production standards to the superlative levels to which we have become accustomed, IWC management artificially limits the number of timepieces that could theoretically be created by its highly skilled craftsmen.
This large ( watch width is a hair under 35mm) solid gold, gentleman's IWC dates from 1970. It has a really beautiful case style with twisted bombee lugs that are typically far more associated with the earlier IWC models of the 1940s and 50s.
This is among the most attractive examples of IWC's work we have ever seen for some time. The vast majority of vintage IWC pieces, especially those from the 1960s and '70s, were with white or silvered dials and these black dialled versions always command a price premium from serious enthusiasts. The watch is in almost mint condition with just the tiniest of imperfections to the gold case that must be expected on any carefully worn vintage timepiece.
Inside the case back are a full set of British hallmarks, these telling us that this case was assayed as domestic solid 9 karat gold in London, 1970, and the "DS & S" signature, indicating that this case was produced by the famous London case making concern David Shackman & Sons. As many of you will be well aware, the majority of Swiss luxury houses shipped movements only to their UK distributors to avoid incredibly high import taxes on gold at this time, which were then housed in British made cases upon arrival. David Shackman cases were used extensively by both Rolex and IWC during the 1960s and '70s, and often being in slightly different styles to their counterparts produced in Switzerland and exported around the world, collectors will tend to pay a slightly higher price for these unusual UK market examples. The case on this watch is guaranteed to be the one that housed this movement when the watch was new, and is an updated interpretation of a classical style that has been used by IWC since the late 1930s.
The beautiful dial is black and virtually as new, with remarkably, not even the slightest fading or discolouration. There is no damage or age related patina of any kind and the overall visual effect of this dial is glorious in the extreme. The attractive gilt hands are again in almost mint condition and completely standard. The dial is signed "International Watch Co, Schaffhausen, Swiss". For those less familiar with the brand, it perhaps should be added that Schaffhausen is the small town in German speaking Switzerland where the IWC factory is located.
We can say very little about the movement to even begin to do such a beautiful unit justice, suffice it to state that we have hardly seen finer in any watch, at any time. The completely mechanical, hand wound movement carries the serial number 1810999 and is calibre reference 422, this being a very sought after mechanism by the serious IWC collector on account of it having had a very short production life of only four years, from 1966 to 1969. Unlike the movements used by the company in the 1980s and '90s, calibre 422 was still manufactured entirely in-house by IWC in Schaffhausen. To the serious collector, these "real" IWC movements are regarded as having far more integrity than those produced later, which were based around calibres bought from the corporate ETA and merely re-processed and signed by IWC.
This item is fully signed as "International Watch Co, Swiss" and has 17 jewels. Admirably, and largely because of the company being a low volume producer when compared with its competitors, the house keeps superb records of the exact date on which each of its movements left Schaffhausen for the first time. While this information can only be obtained by requesting an extract from the firm's archives, by consulting the tables published on page 224 of Hans Tolke's book "IWC", we can see that this movement was manufactured in mid-1966 as part of a batch of calibre 422 mechanisms, these being assigned the serial numbers 1810001 and 1811200. Notice how the movement number is slightly earlier than the hallmark letter inside the case. This is perfectly normal, and arises because all the Swiss houses would manufacture movements in batches for ease of production, proceeding to use these up often over several years as required. The serial number on the movement is telling of when it was manufactured, but the hallmark letter in the case indicates when it was sent for assay in England, and it is understandable that there should be a gap between the two. It goes without saying that it can be guaranteed categorically that this case and movement have been together since new.
A strange feature of this watch is that it has no second hand. When we acquired it, I presumed that the second hand was simply missing and needed replacement with the correct period component, but in fact, further examination revealed that it was never there in the first instance. The original pinion onto which the hands are placed is completely solid, making it impossible for a second hand to be fitted. This is exceedingly odd, and while we have seen other calibre 422 examples since that are configured in the same way, it does make this unit unusual, though not necessarily any more valuable than its more commonly found sibling.
Needless to say that the watch works perfectly and runs very smoothly. One would presume that because of their high cost when new, most owners would have looked after these watches and it would be very difficult to find a neglected IWC. In fact, sadly, despite their superb quality and initially high price, most of the surviving vintage models by all the top tier houses are mechanically rather tired and genuinely well preserved items, like the one here, are getting more and more difficult to source. This one is a gem that, provided its future owners take care of it and have it serviced every three or four years, will continue to give pleasure for many decades yet.
Overall, this is a lovely example of post-war luxury watch making at the very highest level that would be ideal as a long-term investment or a family heirloom item. We have priced it at £1150 GB pounds, which really isn't excessive when we consider the quality of its movement and solid gold case. The market for good vintage wristwatches have never been stronger, and it seems a very safe prediction that any classic IWC in a well preserved state will be worth significantly more in even five years time than it is today.
Price £1150 GB Pounds
Vintage Watch Brands
Vintage Watch Decades
Vintage Ladies Watches
Vintage Watch Bracelets
Swipwreek Straps
Travel Clock/ Pocket Watches
Home
About
Brand Overviews
By Decade
Reference
Contact Details
Telephone from the UK:
07453 734666
or 07428 051005
Telephone from overseas:
+44 7453 734666
or +44 7428 051005