Omega gold with box and papers 1974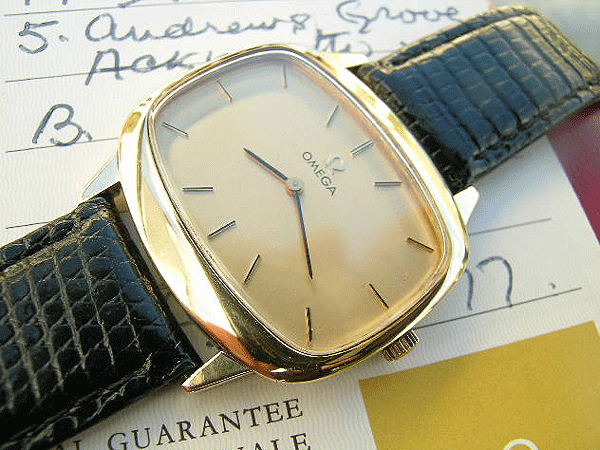 Over the last five years, luxury models from the 1970s have become one of the most fashionable areas of vintage watch collecting. Numerous articles have been written extolling the virtues of these very distinctive pieces, and their status has changed from being regarded as high quality ugly ducklings only fifteen years ago to chic must-haves now. Their strength in the market has even influenced the decision makers at the major Swiss brands, with every key concern, from Omega, Longines and IWC, right through to Heuer, Zenith and Jaeger LeCoultre, all jumping on the bandwagon and offering a 1970s styled model in their current collections.
We know that many of the vintage watch collectors who regularly buy from us are also very involved with the classic motor car world and it is interesting that this same meteoric rise has occurred there as well. Early impact bumper Porsche 911s from the 1970s have risen sharply in worth of late and the boxy Rolls-Royce Carmargue, which at one stage was regarded as something of a skeleton in the cupboard for the Crewe based maker, is now the subject of great interest when it appears in the sales held by Christie's, Cheffins and Bonhams. In short, there is a great demand for goods that represent the trappings of the wealthy and glamorous in the decade between the swinging '60s and the city slicker capitalism of the 1980s.
This watch, a gentleman's solid gold Omega from 1974, is the epitome of high quality flamboyance from this era. It would have been extremely expensive at the time and was never intended to be a product for the average man in the street. We do sometimes stumble across similar models by Omega in stainless steel, but much rarer are those in gold and we are always delighted when the opportunity presents itself to add one to our stock.
Perhaps because of its initial high cost, this item has obviously seen very little use. To describe it as unworn, new-old-stock would be technically untrue, because if we look very closely, we can just make out the slightest, almost invisible, surface imperfections with a jeweller's eyeglass, but in realistic terms, this case is as close to being perfect as any of us could ever dream of finding. We would be surprised if this piece has been worn in the past on more than a dozen occasions and every edge of its case is as crisp and defined as it was on the day it was made.
The thickness of the case is very noticeable. It is worth noting, and perhaps not entirely coincidental, that a good number of these very hefty cases were created in the years between late 1974 and 1979. The bullion price had spiked in mid-1974, but slumped dramatically just before the year end, making it viable for brands like Omega to entice buyers with some of the weightiest cases that they had ever offered. In 1980, the bullion price suddenly exploded, reaching unprecedented levels just in the space of a few months. Cost of case makers' raw materials went sky high and it must have been a temptation for even the very best manufacturers to try to keep their products more affordable by reducing wall thicknesses. As an aside, it would be unheard of for any case maker to offer a gold housing with this gauge of walls today. The quality and solidity of this case makes it rather a chalk and cheese comparison with modern paper thin housings.
This is a two part case, with snap back construction. The fit between case body and back is very tight, with not even the slightest loss of tension, which, on a gold case with a snap back, is always telling of an example that has been opened on a limited number of times. When a gold watch has circulated in the trade for many years, opened up each time it has been examined by a prospective owner, there is a tendency for its body to become just slightly stretched, resulting in a noticeable loss of tension between body and back. This is a virgin, one previous owner, watch that was bought by us from the son of its original purchaser, and this is evident when it is handled and inspected.
Inside the case back is the stamping "DS & S", Omega Watch Co 1061, S, OWC". Taking this in order, the DS & S is the sponsor's mark of David Shackman and Sons of Chesham, a British case maker that is regarded as being one of the most accomplished of the vintage period. While Omega manufactured its own movements in-house, it did not produce cases and instead commissioned these to its own specification from a small number of highly specialised concerns that excelled in this field. David Shackman will be best known to experienced collectors as a major supplier of gold cases to Rolex, but it also sold its work to IWC, Longines, Zenith and, as here, Omega. Both Rolex and Omega had tended to favour Shackman's competitor, the Birmingham based Dennison, largely because it was capable of greater volumes of work that the former, but with Dennison's closure in February 1967, the switch was made to the use of Shackman housings on a wider scale by these famous brands.
The "S" initial is a stylised rendition of the Shackman initial, with the OWC standing for Omega Watch Company. A slightly off-topic point of interest is that this three letter stamp must have been one of the longest running in the horological world by the late 1970s. Most of the major brands gradually evolved their sponsor's marks and in fact, we have several pages in the Reference section of this site just devoted to the changes in Rolex case back markings. Omega used this OWC punch from the early 1920s right up until almost 1980 and we cannot think of another that enjoyed such longevity.
Beneath the markings discussed above is the model reference 1115496. On vintage Omega watches from this period, the first three digits of the model reference can be decoded to confirm the specification of a watch. This is a very worthwhile activity for the serious collector as it enables us to confirm that a movement at least has the correct features for the case into which it is fitted. Sadly, the number of vintage watches for sale, especially online, that have been built up from scrap components that were never together in the first instance is enormous and in our business, almost daily, we are offered Omega pieces that, when model references are cross referenced with movement types, are exposed as marriages of inappropriate case and movement calibre combinations.
To use this as an example, the first digit, 1, tells us that this is a man's watch that was supplied new on a leather strap rather than a metal bracelet. The second digit, also a 1, identifies a manually wound movement without a second hand, while the third, yet another 1, informs us that this is a non-waterproof case. So, as an example, if we'd have been faced with a movement that did have a second hand, we could be sure that this was incorrect for the 1115496 model reference and the watch could have been quickly dismissed as unsuitable for investment purchase. Omega was the only manufacturer to code its model references in this way, and developing a working knowledge of these digit strings is most useful if buying regularly.
Below the model reference, there is the tiny coded mark of , the case maker that actually manufactured this housing, alongside a full set of Swiss 9 karat gold hallmarks. This is fascinating, as when we see Shackman's mark, we tend to automatically assume, given that Shackman was a major case maker, that it was responsible for manufacturing a housing. It appears that in this instance, manufactured the case in Switzerland, before it was imported to the UK with Shackman acting as the importing agent and responsible party for having it assayed here. Finally, after British assay, Shackman sold it to their customer Omega, who obviously fitted it with a movement and assembled it into a complete finished watch.
Last of all, at the very bottom of the case back interior, are a full set of British hallmarks, these telling us that this case was assayed as solid 9 karat gold in London, 1974. Exactly as we like to see in an ideal world, these hallmarks are crisp and easily legible.
The dial here is in a very attractive gold colour and is guaranteed to be completely original. As the prices of 1970s watches by the prestigious makers have climbed so steeply recently, it has become worthwhile for unscrupulous vendors to cosmetically enhance examples that are in poor condition, typically by refinishing dials that are scruffy or on which the lacquered surface has started to flake away. This dial is not only authentic, but almost mint. Its surface is virtually as-new, with no spotting or dust staining at all and its lacquer is unblemished. These 1970s Omega dials have a particularly high quality appearance, with the lacquer giving them a glossy depth that is lacking on the matt painted dials of the 1940s and '50s, but one must be careful not to unwittingly purchase an item that has been so-called "restored". As a percentage of the total number of any model of vintage watch that survive, only a very small number will have original dials in nearly mint condition, hence those that do, like the watch for sale here, will always sell for high prices to the knowledgeable collecting fraternity. Rarity commands a price premium and locating untouched dials that are as immaculate as this one is not an easy task.
The batons around the dial are so typical of the attention to detail that went into the watches by firms like Omega and Rolex during the vintage period. Rather than being simply gilt metal, they are in fact hand assembled combinations of a gilt block, into which a strip of black onyx has been set. One of the charming aspects of classic luxury wristwatches is that there is so much more to them than the average owner appreciates. Today, luxury watch ownership has been democratised and the real retail cost is vastly lower than it was in the 1960s and '70s, when compared with average income levels. When it was new, the piece here was very much an exotic item and this status manifests itself in small details like the batons.
Both hour and minute hands are original and in perfect condition. Again, there has been an increase in the dubious practice of repainting hands over the last few years, but these are unmolested and still with their original black finish in a perfect state.
As we would expect, the original winding crown is still present, signed with a large Omega emblem. The milled edges of the crown are not at all worn, which is yet another confirmation on a manually wound watch that an item has seen very little use. Rather like worn rubbers on the accelerator and brake pedals on a high mileage motor car, winding crowns that have become smooth from repeated contact with finger tips are always a giveaway that a hand wound watch has covered a lot of ground, even if its highly polished case attempts to lead us into believing otherwise.
The movements in vintage Omega watches are some of the finest quality ever made by the Swiss watch industry and this high standard of build and finish goes a long way to explaining why the period work of this brand is so passionately collected today. Classic Omega movements like the one here were built to an incredibly high grade and if sourced today in good condition and properly serviced every three or four years, they will last several lifetimes without difficulty. In today's throwaway culture, when many new "designer" watches are bought on the high street, often for quite substantial prices, and consigned to the dustbin just a few years later, it comes as something of a refreshing thought that Omega and its competitors created watches like this one with the automatic assumption that they were intended to be permanent possessions.
This movement is Omega calibre 625, a hand wound unit that made its debut in 1973. Interestingly, it was a revision of an earlier movement, calibre 620, that Omega had launched thirteen years before in 1960. Both the 620 and the 625 are regarded by collectors today as among the finest mechanisms to come out of Omega, with the factory's own museum curator, Marco Richon, commenting in the 1998 book Omega Saga ( page 185) that they were "very reliable" and often fitted to more expensive, gold cased models. He goes on to say that these closely related calibres were of "very high quality", but were also conceptually modern and a major factor for their well deserved reputation for precision timekeeping was that they were deceptively simple in their design. Both were engineered by Jacques Ziegler, who oversaw the major change that altered the 620 into the 625, this being the speeding up of its beat rate from 19800 to 21600 half beats per hour. All the major Swiss brands were aware that, all else being equal, a movement could be made more accurate by accelerating the oscillation rate of its balance wheel, hence any tweaks that could be made to existing calibres were regarded as worthwhile in an attempt to keep ahead of the competition.
The condition of this movement is almost mint, yet it remains totally original. There are no changed parts in this mechanism and every component, right down to the case clamps and the tiniest screws, is authentic and correct. The copper plated finish to the bridges is unbroken and not even slightly dulled, and the whole movement is indistinguishable from a brand new unit.
"Omega, Swiss, Seventeen Jewels" is signed on the bridge, together with the calibre number 625. There is also the individual serial number 38470134. Falling between the two extremes of vintage Omega watch movement production for that year of 38000000 and 39000000, this clearly identifies this item as having been manufactured in mid-1974. Notice how there is consistency between the hallmark date letter inside the case back and the year confirmed by the movement serial number. We know for sure that this particular watch is original because of the detailed Omega documents that are still with it, but even if we didn't have access to these, we could confirm that movement and case were correct for each other and of the appropriate year to be together, simply by cross referencing the numbers that appear on each.
After regular servicing, this watch works perfectly today. Again, we would always advise our buyers to pay a little bit more and obtain a piece, like this one, that has obviously been very carefully looked after, rather than something that is shabby and perhaps hasn't been cleaned or oiled for thirty years. We specialise in the top end of the vintage wristwatch market and spend an enormous amount of time tracking down items that are in outstanding condition and genuinely suitable for investment purposes, but equally, there are large numbers of neglected old watches out there that fall below our buying criteria and are best avoided.
We have fitted this watch with a black lizard skin type strap that is as close in appearance and construction as we can find to the straps shown in Omega's advertising for this model in the mid-1970s. This not a genuine vintage Omega strap, but is in mint condition having never been worn and is ideal for the piece.
The original gilt Omega buckle that was sold with this watch in 1974 is still with it now. We have swapped it over to the new strap, where it fits perfectly. Vintage buckles by any of the prestigious Swiss brands are highly sought after and command high prices when sold separately, mainly because there are so many collectors who own watches from which the correct period buckles have been lost over the years. In desperation, a lot of enthusiasts fit modern replacement buckles, but these are often of a different construction, in the case of Omega with the emblem recessed rather than standing proud, and not a substitute for the genuine article. If sold alone, this buckle would change hands for approximately £80 GB pounds, which is worth bearing in mind when pondering this watch as a potential acquisition.
The same comments apply equally to the original red Omega box that accompanies this watch. Its condition is very good, though not mint, and it qualifies as a collectible in its own right. Again, if sold individually, it would be reasonable for a vendor to ask around £100 GB pounds for this packaging. A nice icing on the cake touch is the applied logo of Harral The Jeweller inside the lid beneath the Omega emblem, which ties in perfectly with the name of the same retailer stated on the guarantee document.
Original papers are highly desirable with any vintage watch and not easy to find. The original guarantee booklet here is in almost mint condition and tells us that this watch was purchased on the 5th March 1977 by a Mr. D Elton of 5 Andrews Grove, Ackworth. The supplying retailer was the official Omega agent B Harral Limited of Barnsley, Yorkshire. Notice how both the model number BL1115496 and the individual movement number 38470134 are stated in full, and how these match the numbers inside this watch. An old trick played by the unscrupulous elements in the vintage watch business has always been to offer papers from a completely unrelated watch, on the basis that very few buyers will ever open up their new purchase and check that the details on watch and paperwork tally. Here, of course, the specifics are consistent and we can be sure that this guarantee was the one given to the first purchaser of this watch in 1977 when it was new. Incidentally, the sharp eyed may have spotted that we have listed this watch on our site as being from 1974, when the year of 1977 is stated as the purchase date on its guarantee. When a watch is marked with several date indicators ( case hallmark, movement serial number etc), we follow the convention in the antiques industry and always state the earliest of these.
For some time now, we have been advising our regular customers that immaculate 1970s models by the major houses should be bought as investments, and our opinion has been proved to be correct by recent auction results on the physical saleroom circuit. We must remember that even when it was brand new, this watch wouldn't have been a first choice for many buyers. Battery powered watches had arrived and even by 1977, there was a generally held view that the era of the traditional mechanical wristwatch was over and that such items were essentially obsolete relics. Consequently, most people with the means to buy an expensive watch at this level opted for one with a state of the art quartz movement on the basis that this represented the dawn of the next era, rather than the twilight of the previous one. We don't have access to Omega factory records to confirm production figures, but we do know that all the traditional brands were in deep crisis and selling very low numbers of their watches in the second half of the 1970s, and this is supported by us seeing so few high level mechanical examples from this period. Ironically, in our business, we come across far more vintage Omega and Rolex watches from the 1940s and '50s than we do from the 1970s. Rarity equates to desirability and it seems almost a certainty that as the aesthetic trend in collecting shifts to the 1970s look and more buyers actively pursue these models, putting pressure on an already very limited pool of watches for sale in worthwhile condition, that values will continue to rise.
Additionally, these 1970s models are historically important for Omega. In the 1980s, the decision was taken that Omega would cease production of its own mechanisms and instead refine raw, unfinished movements, correctly known as ebauches, that it bought from the corporate giant ETA. This example, and other vintage Omega watches from the same period, has a movement manufactured entirely in-house at the Omega factory in Bienne, and can be considered a thoroughbred Omega product in the strictest sense. There is a strong argument voiced by collectors that models like the one here are the last of the "real" Omegas and as such, are likely to become increasingly desirable with purist aficionados.
We have priced this watch at £875 pounds. This is a rare and very attractive model and in a heavy solid gold case, it is far from over-priced at this level. We make a deliberate effort to keep our prices at a very fair level, which we can do simply because of our location in rural Yorkshire where business overheads are some of the lowest in the UK. In any of the vintage watch shops in central London, for instance the vintage Omega store in Burlington Arcade or any of the other retailers in the Royal Arcade or surrounding Bond Street area, this same piece would carry a price tag of well in excess of double the asking price here. Our business has always been successful because we can supply exactly the same superb quality of vintage watches as that offered by the most prestigious London dealers, but at approximately a saving of 50% percent. There can be no doubt that this piece offers some of the best value to be found anywhere on our website and its purchaser will enjoy sitting back as its value rises over the next few years.
Price £875 GB Pounds
Vintage Watch Brands
Vintage Watch Decades
Vintage Ladies Watches
Vintage Watch Bracelets
Swipwreek Straps
Travel Clock/ Pocket Watches
Home
About
Brand Overviews
By Decade
Reference
Contact Details
Telephone from the UK:
07453 734666
or 07428 051005
Telephone from overseas:
+44 7453 734666
or +44 7428 051005