Rolex Precision gold 1971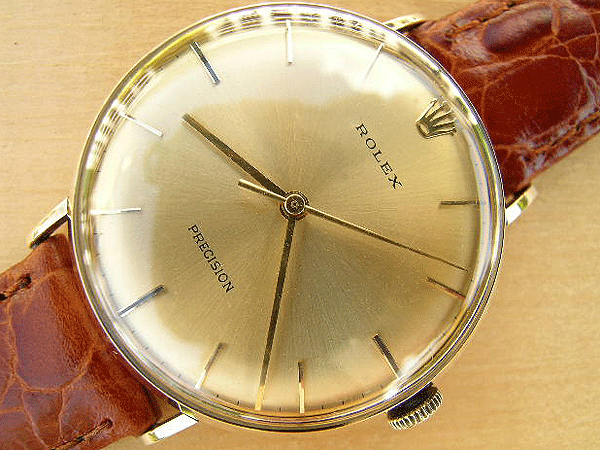 From 1971, this vintage gold Rolex watch is the classic timeless gentleman's model from this highly respected house. Today, the general public tend to subconsciously associate Rolex with its Oyster models, these being the famous waterproof watches that the company introduced in 1926. In fact though, some of the most beautiful, and the most valuable, Rolex creations have been non-sealed models that were never part of the Oyster range. This particular watch is an absolute gem and looks as if it has only ever been placed on its previous owner's wrist a handful of times at most. It isn't the cheapest gold Rolex watch available, but it would be virtually impossible to find a cleaner, more original example.
By 1971, Rolex was firmly established as the leader in the luxury wristwatch marketplace. Essentially, Rolex enjoyed the same level of status with the public that it holds today, but operated on a significantly smaller scale on account of the prestige watch market being smaller forty years ago than it is now. Just as they currently are, in the early 1970s, Rolex watches were aspirational products that were expensive and featured a superb blend of engineering excellence and aesthetic appeal.
The condition of this particular watch is quite remarkable. The large sized gold case is literally virtually unmarked and has only the very lightest imperfections that may well have been present even before the piece left its retailing jeweller's when new.
One of the most appealing characteristics of watches like this one is that they have a classic quality that renders them immune from changes in the market caused by shifting fashion tastes. While its features and hallmark tell us that this piece was manufactured in 1971, if we didn't know otherwise we could just as easily have believed it was from 1951, 1961 or 2001, or indeed any time in between. The point being made is that very traditional, classical models of this kind are timeless and will look just as stylish as they do today thirty or forty years down the line.
The construction of this case is quite unusual and worthy of a quick comment. On models of this type, the cases are usually made up of three distinct components. A snap on back and bezel are attached to a case body, this latter item surrounding the movement. This watch differs in that it has no removable case back and in fact, the case back and body have been cast as a single modular unit into which the movement is fitted from the front. This arrangement gets rid of the vulnerable joint between case back and body and in doing so, offers increased protection against the ingress of moisture. Around this time, Omega was offering a very similar case concept in the form of its Seamaster Deville model.
The case back outer has been engraved with the initials "D.T.R" and the dates 1947-1972. Given the quarter century gap between these, it seems reasonable to presume that this watch was awarded as a long service gift by an employer to an employee. In the economically difficult times today, such practice is less common, but certainly in the 1950s and '60s, it wasn't uncommon for a senior employee to be given a gold Rolex watch upon retirement or at significant stages in his career, and quite a high percentage of the surviving examples of this type have similar dedications upon their reverse sides.
The interior of the case is decorated with a fine engine turned pattern. Most attractively, this ornamentation extends right up the case walls rather than just being on the flat back. There is the serial number 90344 here and a full set of British hallmarks, these informing us that this case was assayed as solid 9 karat gold in London, 1971.
More informative still is the stamping "DS & S". This was the mark of London case making concern David Shackman and Sons. Most experienced collectors will be aware of the enduring relationship between Rolex and the British case maker Dennison. A very high percentage of precious metal Rolex watches sold in the UK during the vintage period have cases signed by Dennison. These are of very high quality and indeed, many enthusiasts regard them as the finest that Rolex has ever used. In 1967, Dennison ceased trading and Rolex purchased its gold housings for the UK market from David Shackman & Sons. Over the last thirty years, in our business we have had the opportunity to examine many hundreds of both cases at length and have never spotted any difference in grade between the two makers. In every respect, both in terms of wall thickness and finish standard, Dennison and Shackman cases are direct equivalents and there simply isn't anything to choose between the two. Incidentally, we have noticed not infrequently that many Shackman made Rolex cases are literally identical to their equivalent models by Dennison, which makes me wonder if Shackman actually purchased tooling from Dennison after the former's closure and continued using it. We have never read that this happened and this is pure speculation on our part, but it would neatly explain why many Dennison and Shackman Rolex cases are, in truth, exactly the same.
However hard we look, we won't find a better, more untouched vintage Rolex dial than the one here. The dial is the key ingredient that defines the commercial value of any collectible older wristwatch and its originality and condition will have enormous bearing on the worth of the piece to which it is attached. Watches with so-called "restored" dials, this actually being a deliberately innocuous euphemism that glosses over the actuality of brutally stripping a dial back to its bare metal before replacing its original surface with a completely new replacement, are regarded as second rate by experienced collectors and will typically have values that are only around 50% of the same models with good, untouched dials. Particularly in the case of non-waterproof watches, where it is relatively easy for moisture and dust to creep in, it is very difficult to locate completely original dials that haven't deteriorated to a fairly noticeable extent.
Even when studied from a distance of a few millimetres with a jeweller's eyeglass, the surface of this completely original dial is almost flawless. Its gold colour hasn't faded at all and is free from spotting. "Rolex, Precision" is stated on either side of the centre point, with "Swiss" along the bottom edge. A very attractive touch is the use of a large Rolex coronet emblem in place of the twelve o'clock numerals. The other hour positions are marked with gold batons which perfectly match the original hands. The coronet, hands and batons all gleam brightly and are not at all dulled.
The manually wound movement in this watch is a Rolex calibre 1225 unit. Introduced in 1967, three years before the example here was manufactured, the 1225 remained in constant production until 1984. It was a very close derivative of the Hunter movements that had been the flagship of the Rolex range from 1923 until their retirement in 1969, and inherited all their best qualities. Much to its credit, Rolex has never produced a "weak" movement in over ninety years, but certainly, mechanisms like the one here are among the best that the house has ever offered.
"Montres Rolex SA, Geneva, Swiss, Seventeen Jewels" is stated on the bridge plate. Very attractively, all this wording has been neatly filled in with gold to make it stand out more clearly against its rhodium plated background. The calibre number 1225 appears in the balance well.
It wouldn't be an exaggeration to describe this movement as being in brand new condition. We have something of a reputation for deliberately under-rating condition and always very reluctant to categorise anything as being mint, but in this instance, use of the word is justified and legitimate. Nobody could find a better preserved example of calibre 1225, at any price level, and for the collector specifically wanting to own a representative specimen of a Rolex manually wound movement from this era, the unit here would make an ideal purchase.
Having been serviced regularly since new, this movement works perfectly today. It runs very smoothly and is in the best possible mechanical state. Provided it is treated sensibly and sent for routine maintenance, there is no reason whatsoever why this watch shouldn't be in active service a hundred years from now, just as many antique pocket watches from the Georgian and Victorian eras are today. When a current watch is purchased, it can probably be regarded as having a useful life of perhaps twenty years, which, isn't too bad. When a vintage piece by a top tier maker is acquired, the standard to which its movement was built will enable it to last almost forever. This potential for extreme longevity is certainly something that has been a factor for the enormous growth in interest in vintage watches over the last twenty years. A good, unmolested vintage watch by any of the famous makers is never going to be cheap at the time of purchase, but increasingly, the public are aware that such examples have a proven track record as good investments and will always steadily rise in value as the years pass by.
We have fitted this watch with a high quality crocodile skin strap. This is not a genuine Rolex strap, but it is very similar in both appearance and construction to that which would have been fitted by Rolex in 1971. Having never been worn, this strap remains in mint condition.
We have priced this watch at £1675 GB pounds. While this not a trivial sum, when we consider that the current retail price of even the most basic stainless steel Rolex model is more than double this amount, and the fact that this item is already well established as a collector's item, its value is justified and, in fact, extremely reasonable. Particularly in the present economic climate when interest rates are so low, there is a marked tendency towards the purchase of tangible assets that are very unlikely to ever devalue. We can see this clearly in the recent results of auction sales held by Sotheby's and Christies, where good antique furniture, clocks and vintage wristwatches have been selling for dramatically increased sums. Totally original and in almost mint condition, but still at a fairly affordable level, this is just the kind of watch that is so obviously a strong choice for investment and we can guarantee that even five years from now, the asking price for it today will in retrospect seem to have been painfully low.
Price £1675 GB Pounds
Vintage Watch Brands
Vintage Watch Decades
Vintage Ladies Watches
Vintage Watch Bracelets
Swipwreek Straps
Travel Clock/ Pocket Watches
Home
About
Brand Overviews
By Decade
Reference
Contact Details
Telephone from the UK:
07453 734666
or 07428 051005
Telephone from overseas:
+44 7453 734666
or +44 7428 051005