Jaeger LeCoultre steel bracelet for Memovox etc 1970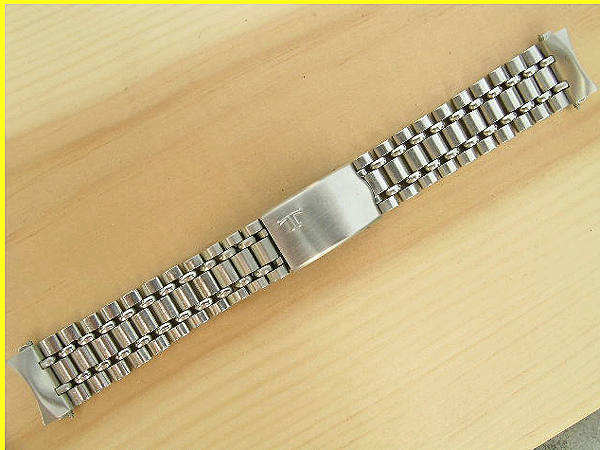 We always try to offer a number of obscure vintage watch bracelets for sale on our website, and for the owner of any of the watches that these relate to, they are something of a Godsend. From a purely personal point of view, we tend to prefer our timepieces to be on high quality leather straps, but we know many other collectors disagree with us and go to great lengths to source the correct vintage bracelets for their items.
The bracelet here is a stainless steel example, originally sold with a 1970 Jaeger LeCoultre Master Mariner. While this one was supplied with a Master Mariner, there was nothing about this bracelet that was unique to this model, and it is equally appropriate on any Jaeger LeCoultre with 20mm lugs from this period. Looking back through the brand's brochures from this period, the first appearance of this bracelet model was in 1967, and it was no longer pictured after 1976. Its very substantial, chunky construction means that it is more suited to sports watches, and would look incongruous on a slim dress watch.
Interestingly, the bracelet's maker remains a mystery to us, and we would be fascinated to identify the factory from which it was purchased by Jaeger LeCoultre. The flip-lock clasp outer is signed with a large Jaeger Le Coultre stylised "JL" emblem, but internally, the wording "Brevete. Marque Dep ( the French for "tradename" ), Swiss Made, Stainless Steel" is written, together with the tiny maker's mark "HC". A point not often appreciated by many novice collectors, without exception the great Swiss houses did not manufacture their own bracelets, instead sourcing these from a number of trusted suppliers that specialised in this area. The majority of early Jaeger LeCoultre bracelets, those produced in the 1940s and '50s, were manufactured by the Gay Freres company ( signature "GF" together with a stag's head), which also supplied its work to almost all the top tier brands at the same time. As was the case with many of its suppliers, Rolex purchased Gay Freres outright in the mid-1960s, from then on turned the operation over to exclusively manufacturing for the mother company, a role that it still continues to perform today.
It therefore followed that the other key houses, unable to use their standard bracelet maker, were forced to look elsewhere for a source of supply. We have seen this "HC" stamping on Jaeger LeCoultre bracelets on several occasions in the past, but have never read what these two initials stand for. However, a polite letter written to Switzerland's Museum of Horology would soon solve this mystery, should the bracelet's new owner wish to know more.
A point that should always be checked when buying a vintage bracelet, this one remains in full factory standard length, and has never been shortened in the past. Its total length, with the clasp in its closed position, is 175mm, a dimension that should be able to easily accommodate wrists of modern large size. Of course, for those with less Colossian limbs, it will be possible be shorten the bracelet's length considerably, either by adjusting it at the clasp, or with the removal of links.
Condition of this item is nothing less than superb, though we will hold back from describing it as being mint on account of there being the usual few tiny imperfections here and there in places that must be expected on any watch case or bracelet of this age. Looking at this piece carefully under an eyeglass, it is reasonable to assume that it has only ever been worn carefully on a relatively small number of times in the past, perhaps by an owner who decided that he preferred the look of a leather strap on his watch and swapped over accordingly. Unlike so many vintage bracelets, there is virtually no wear discernable between the links here, and none of the excessive sideways play that is always the telltale sign of an example that has led a hard life. The flush-fit end pieces are totally original to the rest of the bracelet and remain in excellent condition, with no denting or distortion whatsoever.
While one must be careful to only consider those in excellent, totally original condition, vintage bracelets must be among the easiest items to buy in terms of gauging their value. The owner of an immaculate late 1960s or early 1970s Master Mariner, Memovox or other vintage Jaeger LeCoultre watch will increase the value of his timepiece by roughly £400 when fitting it with its correct period bracelet. If the correct bracelet can be bought for less than this figure, he can buy confidently, knowing that if he sold his watch tomorrow, he will show a profit on this purchase. For the private buyer looking for a matching Jaeger LeCoultre bracelet, the worth of this item is harder to judge, as many purchasers in this bracket will knowingly pay in excess of the value of the bracelet simply for the satisfaction of restoring their watch back to factory specification. We have priced this bracelet at £365 GB pounds, which considering its extremely high quality, rarity and the comparative cost of even the most basic brand new Jaeger LeCoultre bracelet today, actually seems quite reasonable. Good, genuine vintage bracelets by the top-tier houses are difficult to source now, and when this item has sold, we wouldn't have the faintest idea of how to replace it in our stock.
Price £365 GB Pounds
Vintage Watch Brands
Vintage Watch Decades
Vintage Ladies Watches
Vintage Watch Bracelets
Swipwreek Straps
Travel Clock/ Pocket Watches
Home
About
Brand Overviews
By Decade
Reference
Contact Details
Telephone from the UK:
07453 734666
or 07428 051005
Telephone from overseas:
+44 7453 734666
or +44 7428 051005