Heuer Jacky Ickx Easy Rider with Sears dial 1974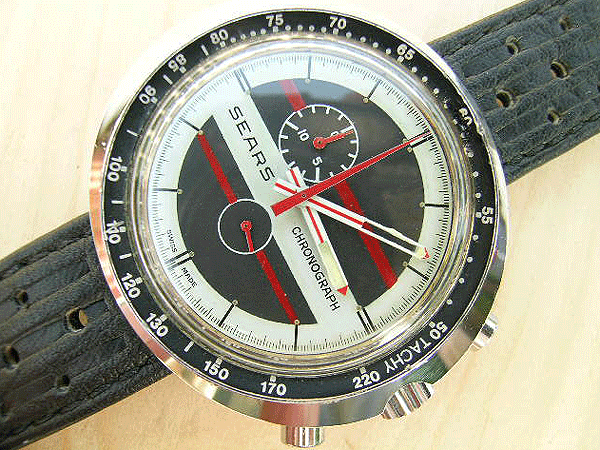 For the vintage Heuer collector, this 1974 chronograph is a fascinating piece in literally virtually new old stock condition. It is impossible to discuss this model without giving some background information to the Heuer Easy Rider and its close relative the Easy Rider Jacky Ickx, for reasons that will be explained fully below.
In 1972 Jack Heuer had the idea of launching a new Heuer model that would appeal to a fashionable moneyed younger set. Heuer was a major sponsor of the Ferrari Formula 1 team and decided that its latest chronograph should be endorsed by Ferrari driver Jacky Ickx. Youthful and dashing, the Belgium had the perfect image to market to promote this product to its target audience.
The same year, the Heuer Easy-Rider was born. Curiously, despite this reference being heavily featured in Heuer advertising at the time, the firm's name was never printed on the dial. Instead, it prominently displayed the Jacky Ickx signature and the Easy-Rider wording on the version with a date feature ( reference 429.801), and just the latter on the model without date ( reference 423.809). To complicate matters further, the Easy Rider in non-date form was also offered in brightly coloured fibreglass cases, which were roughly thirty percent cheaper at retail level than the metal cased versions.
What makes the watch for sale here so interesting is that it is, and equally isn't, a Heuer Easy Rider. In every respect other than the dial, this model is molecularly an Easy-Rider, but the dial is actually signed "Sears, Chronograph, Swiss Made" and has no reference to either Easy Rider or Jacky Ickx whatsoever.
In the last decade, we have owned two of these Sears Easy Rider models and never quite heard an entirely convincing explanation as to why, and how, they came into being. The most commonly repeated story is that Heuer produced a batch of the Easy-Rider for Sears, a department store in the USA, at the same time as it offered the same watch, but with the standard Easy Rider dial signature, to its usual dealer network. This is obviously possible and may well be true, but it somehow lacks the ring of authenticity. Given the glamour of Jacky Ickx and of Ferrari, at the time surely it would have been easier for Sears to sell these watches with Ickx's name on them, or the associated Easy Rider branding, rather than their own signature ? A more intriguing counter view is that when Jacky Ickx suddenly left Ferrari for McLaren in mid-1973, Heuer was left with a considerable number of its Easy-Rider model in stock which, still being a Ferrari sponsor, it couldn't sell without causing at best embarrassment or at worst, friction. Offloading these to Sears, with specially printed dials that omitted any reference to Jacky Ickx or Easy Rider, resolved the matter, though almost certainly at a heavy financial loss to Heuer. The documentary evidence isn't there to confirm which of these suggestions is true, or indeed if either of them are. The only thing we can say for sure is that the Sears, variant is exactly the same as its Heuer Easy Rider sibling, with the exception of its custom order dial.
The condition of this particular watch is literally almost mint and it seems fair comment to say that a better preserved example of this model probably doesn't exist anywhere, at any price. The one piece monocoque case, with the movement fitted through the crystal, was always heavily chromed on these watches, but some of those in circulation today have been re-plated. The chrome on this piece is original and not at all worn.
On the back of the case is the stamped wording "Shock Resistant, Antimagnetic, Water Resistant". This is not smoothed from wear and is of full depth.
Both chronograph pushers and the winding crown are original. Heuer did not use a signed crown for the Easy Rider and it is rather ironic that we often see examples on which, completely incorrectly, a Heuer signed crown has been fitted by modern collectors.
The dials on these vintage Heuer chronographs are some of the most eye catching that have ever been made. Even fifteen years ago, characteristically 1970s styling was something of a guilty pleasure, but now has become the height of fashion, with numerous re-issue sports models appearing that have this distinctive look. With its combination of bright colours, set in horizontal bands running across the dial, this example couldn't be more evocative of the era in which it was manufactured. Close comparison of the two types side by side confirms that other than for their wording, the Sears and Easy Rider dials are identical, even to the extent that Heuer used the same typeface for "Sears" as for its mainstream counterpart. The white outer band, the "Swiss Made" around the bottom edge and every other detail are exactly the same.
All five hands are original. These couldn't be more representative of the 1970s, with the distinctive red stripes on the hour and minute hands mirroring the lines running across the dial.
Heuer had not been a movement manufacturer since the mid-1920s and purchased its mechanisms in raw, unfinished form from third party suppliers before modifying and refining them as required. For the Easy Rider chronographs, the calibre 8420 by Ebauches Bettlach of Soleure was chosen. With 17 jewels and a running speed of 18000 half beats per hour, this was an extremely competent unit that was robust enough to deal with demands imposed by the active lifestyles of its target audience.
This movement is in superb order throughout. Its plates gleam brightly and there is no hint of corrosion anywhere. Every component is original and nothing here has been modified or replaced. A negative side-effect of the surge in popularity of vintage wristwatches over the last decade has been that a lot of items that were previously regarded as scrap have been resurrected from the parts bin and put back onto the market, often with scant regard to their originality or ability to function reliably. This watch has been carefully looked after throughout its life and is unadulterated and correct in every detail. It works perfectly, both as a conventional timekeeper and in its capacity as a chronograph.
Quite remarkably, the original perforated Heuer racing strap that was supplied with this watch is still in place today, in a near mint state. It is difficult to be absolutely sure, but it seems likely that this strap have never been worn. Finding vintage Heuer watch straps for sale, or indeed those by any of the major brands, isn't an easy task and when these do appear in new old stock condition, they are usually pricey.
There are numerous print references to the Heuer Jacky Ickx and its Easy Rider sibling, but it is much more difficult to locate facts about this rarer Sears offshoot. The British auction house Bonhams included a 1972 Heuer Easy Rider as Lot 55 in its sale of Arno Haslinger's collection of classic Heuer watches in December 2010. This had the same case, dial format, winding crown and pushers as the item here. The pre-sale estimate for this Lot was £2000 to £3000 GB pounds or $3100 to $4600 US dollars, but we should bear in mind that the Bonhams watch was offered with its original helmet shaped box, which the item here is without. We have included two photographs with this listing that show the watch for sale here against a backdrop of Heuer Jacy Ickx in the Bonhams Haslinger catalogue.
The price of this watch is £665 GB pounds, which is not excessive for an obscure vintage Heuer chronograph that appears for sale very infrequently. The Easy Rider is a classic model in the Heuer range, but this is a more interesting watch still, being an equivalent in all but dial. For a completist intent upon building up a collection of immaculate vintage Heuers, charting the development of all the key models, the Sears variant of the Easy Rider is a very worthwhile purchase and will prove to be a talking point among enthusiasts.
Price £665 GB Pounds
Price £665 GB Pounds
Vintage Watch Brands
Vintage Watch Decades
Vintage Ladies Watches
Vintage Watch Bracelets
Swipwreek Straps
Travel Clock/ Pocket Watches
Home
About
Brand Overviews
By Decade
Reference
Contact Details
Telephone from the UK:
07453 734666
or 07428 051005
Telephone from overseas:
+44 7453 734666
or +44 7428 051005