Rolex officer's with hinged lugs. Late Rebberg 1923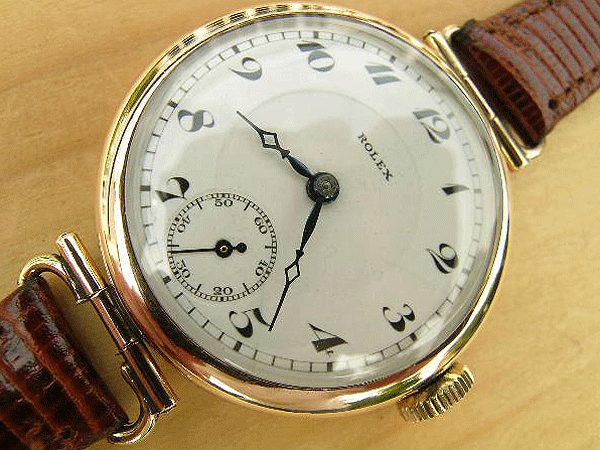 Dating from 1923, this wonderful hinged lugged Rolex officer's watch is a classic example of a rare piece that is ideal for investment purchase. In our business, one of our pet dislikes is the way in which, both online and in the physical marketplace, watches that are not in the least bit significant are trumpeted as rare or important collector's items. Particularly in the post-war years, and especially in the 1960s and '70s, the luxury Swiss watch companies that we now regard as household names were enormous concerns, employing several thousand staff each. These factories shipped out watches to a global network of distributors who in turn passed them on to, quite literally, many thousands of retailers. There is no doubt that many of the movements produced at that time were of exceptionally high quality and are technically beyond compare, but to suggest that these were produced in tiny quantities and are rare today is nonsense. Many 1960s and '70s watches are, quite rightly, very collectible now, and have appropriately high values, but this is largely on account of relatively small numbers of well preserved examples having survived out of a much larger production total.
When asked to act as consultants to those building up a collection of vintage wristwatches for investment, we always recommend that excellent examples of early watches by the great houses be sourced, particularly those from the World War I era and the following inter-war period. The wristwatch came to prominence as a result of its adoption by officers serving in the trenches during World War I and the emerging luxury wristwatch industry was still operating on a fairly small scale even by the mid 1920s. It is also significant that in the decades up until World War II, every house was independent of its competitors, giving the output of each a distinct character of its own that is clearly defined. After World War II, and particularly in the post-1970s era, we increasingly witnessed the takeover of the major brands by corporate behemoths. As an aside, today nearly all the great houses are owned by one of three Swiss corporate players with the inevitable result that there is a tendency for identical movements to be used in a variety of what are supposedly different watches by different makers. It is fascinating to study a selection of early watches by the major brands as each displays an attempt to outdo the products of its competitors with more innovative technical features, improved finishing etc. Watches like this one from 1923 have enormous charm and, perhaps even more significantly, are genuinely rare today, ensuring that as interest in vintage wristwatches continues to grow, they will increasingly be more in demand and will appreciate in value at a predictable, steady rate.
Having decided that the early watches by the great houses are the best suited for safe investment, we would then recommend that this category be subdivided in order that an even rarer watch be purchased. While all of us are influenced by the charismatic looks of a vintage timepiece, it is well worth taking a logical, considered approach in order to obtain an item that will stand out from others of its type. In many cases, because the vast majority of casual buyers are relatively uninformed, by carefully weighing up the pros of each watch offered, it is possible to acquire something that will always rise in value at a faster rate than the norm for not an awful lot more initially than would have been paid for a more run of the mill example.
The key factors that will define the worth of a vintage watch as a collectable are condition, rarity and initial quality. In order for a piece to be considered as a potential acquisition, it must score highly in all these three categories. A nearly mint watch that is of a poor quality by an unknown maker will never be worth anything, and the same can be said of a vintage Rolex in battered and non-original condition. If these three standards are met, and the purchase price is realistic, then one can safely proceed with the knowledge that a good investment has almost certainly been made.
This officer's watch could serve as a textbook example of an investment grade piece. Vintage Rolex items are universally regarded as the most desirable of all vintage wristwatches and their quality is unsurpassed. The condition of this item is superb throughout and most importantly, it is entirely original and unmolested, right down to its last internal detail. But, to continue the theme of our earlier commentary, what sets it apart from others by Rolex from the same era are its combination of eye catching hinged lugs and gorgeous large case, something that in over twenty-five years of dealing in early vintage Rolex watches, we have very rarely encountered.
The circular case is in the classic large size used by Rolex for gentleman's wristwatches at this time, the piece having a width of a hair under 35mm. When buying a vintage Rolex timepiece from this era, always take a moment to enquire as to its size if this is not stated in the accompanying description. Rolex produced several sizes for gentlemen's use, some of which are too small to really be considered practical today. This is in a perfectly acceptable size by modern standards and would not look out of the place in use now. As one would expect from any case used by Rolex, its thickness is remarkable and the watch has a very weighty feel. Without being too technical, it is worth commenting that in so many ways, this item represents a transition from the first era of Rolex production to the second. Though having the same pocket watch derived shape as the officer's watches of 1914-18, we can see that the case sides here are flatter, something that is never seen on pocket watches where the sides are noticeably rounded from the front and back of the watch. See how the lugs are no longer simply soldered wire additions, but now represent an integral part of the overall look of the watch. Hinged lugs like these are very sought after, largely on account of their evocative appearance, but are rarely seen, their cost of production being too high to merit their inclusion on more modest models. The lugs here, like the rest of the case, are in superb condition and have never been subjected to any repair work in the past.
Inside the mirror polished hinged case back is the signature "Rolex, 7 World's Records, Gold Medal, Geneva Suisse". Finding this emblem on such an early piece rather than W & D signature is important and appealing. As many of you will be well aware from reading the descriptions of the other early vintage Rolex watches for sale on this site, these initials are those of the German émigré Hans Wilsdorf and Alfred Davis, his business partner and later brother in law. After the arrival of Wilsdorf in London he secured capital from Davis and the two men began trading in 1905 as an importer of Swiss watches under the name "Wilsdorf & Davis". The quality of their wares was exceptional and the firm prospered, but anti-German feeling at the time of World War I meant that the two partners felt it prudent to change their trading name, realising that "Wilsdorf" was unlikely to be conducive to increased business. After some deliberation, the name "Rolex" was chosen, largely on account of it having no meaning in any language, and Wilsdorf & Davis was officially renamed "The Rolex Watch Company Ltd" on November 15th 1915 with the London registration number 142138.
What is fascinating is that despite the W & D name no longer being the official title of the company, the two partners continued to use it alongside the Rolex name for some years after this changeover. Logically, this does make sense, largely because Wilsdorf & Davis had carved out a niche selling watches to society's elite and built up much goodwill as a consequence. This 1923 piece is one of the earliest examples that we have ever encountered with only the Rolex Watch Company Limited signature, making it extremely historically significant. In the early World War I period, despite movements and dials being signed Rolex, a W & D logo was used in cases. From approximately 1917 onwards, we see a dual signature used, with Rolex being stated alongside W & D in case backs. In our stock at the moment, we have a spectacular silver 1922 officer's style Rolex on which only the W & D stamping is found, but to find this Rolex only signature from 1923 is very unusual indeed.
Aside from its articulated lugs, the most striking point about this case is its beautiful light gold colour. An attractively coloured gold case will always command a premium over its more common siblings, primarily because such cases are extremely attractive. Nearly all the officers' watches by Rolex that survive are in silver, with only perhaps ten percent of the total being in gold
.
The beautiful white enamel dial is in almost perfect condition and is completely original. Having a hard baked surface, enamel dials are far more resistant to discolouration that their painted equivalents, but all too often suffer from hairline cracking. Once again, we would mention that the enamel dial here represents almost the end of an era, with even five or six years later, all the watches in the Rolex range having painted dials. From a personal point of view, we love the eye catching effect of a well preserved enamel dial, its reflective glazed surface harking back aesthetically to the pocket watches of the Victorian and Edwardian eras. This example is completely original and has never been restored in the past. The signature "Rolex" is crisp and clear above the dial centre point. The lovely gothic styled hands are also completely original and in almost mint condition, their blued steel finish being uncorroded and free from patina. While many buyers may find it odd that we mention these details, they are absolutely vital when buying an expensive vintage watch for investment. Hands, winding crowns and even all internal components must be totally authentic and correct in order for a piece to have its full value. Finding cosmetic spare parts that are correct for watches of this age is an almost impossible task, and it is unrealistic to attempt to restore a modified piece of this age back to its original specification by sourcing components at a later date. We would advise any buyer to spend an addition sum and purchase a watch like this one that is the very best example of its type, and is exactly as it should be in every detail.
We have seen how this circular case style was already fading from fashion by 1923, and how the glazed enamel dial would be replaced by the more cheaply produced painted versions shortly after this item was produced. What really defines this watch as being a transitional piece that represents both the end of one era and the beginning of another is its glorious 13 ligne ( the ligne is the unit of size measurement used within the Swiss watch industry) Rolex Rebberg movement. The Rebberg, named after the district in which its producing factory was located, was the movement with which Rolex stormed the horological industry in the World War I era and is legendary in every respect, but in 1923, the firm introduced the Hunter calibre, a mechanism that would be their flagship unit until, quite remarkably, 1969. The Rebberg is of the utmost historical importance to serious Rolex collectors, and is finished to perfection, but completely genuine examples that have been cared for throughout their lives, like the one here, are very difficult to source, the majority being mechanically worn and often seriously adulterated with a variety of non-standard parts in order to keep them running . The "Rebberg" years, these being the period from 1905 to 1923, saw the transition of Wilsdorf & Davis from a niche supplier to London's high society to the dominant force in the new luxury wristwatch market, and the Hunter raised the bar once again, and when it was launched, set a completely new world standard in wristwatch sized movements. The English collector James Dowling states on page 315 of his excellent book "Rolex Wristwatches, The Best of Time" that the "Rebberg movement made the company famous". What makes this particular movement so interesting to the connoisseur is that, dating from 1923, the first year that the Hunter was offered, it must have been one of the very last Rebberg mechanisms that Rolex ever manufactured. Any serious vintage Rolex collection would be glaringly incomplete without at least one example of an early Rebberg equipped piece, and this 13 ligne variation, the largest that was made for wristwatch use at the time of this movement's debut, is the most sought after model of all.
This movement is fully signed, with "Rolex, 15 Jewels, Swiss Made" being stated on its winding wheels. The Rebberg was available in two grades, the very best of these, found here, having 15 jewels as opposed to the standard 7. Notice that the two types had entirely different finishes, the plates of this deluxe version being covered entirely in an engine turned pattern. The basic 7 jewel Rebberg has less decoration, its plates being finished with broad Geneva stripes. When buying a 15 jewel Rebberg, be sure that its finish is as here. Over the last few years, as the values of collectible early Rolex watches has soared, the unscrupulous have been tempted to change the winding wheel in their 7 jewel Rebbergs for the signed "15 Jewels" version in order to increase the market value of their items to the uninformed. A 7 jewel Rebberg has a plain finish whereas the 15 jewel type here is far more highly decorated, and these two grades should not be confused.
This movement is in gleaming, completely original condition and has never been altered in any way since new. It has been serviced on a regular basis and works perfectly, running and setting smoothly and performing with excellent amplitude.
We have fitted this piece with a high quality crocodile skin type strap that is perfectly in keeping with its upmarket period appearance. This is not a genuine Rolex strap, the original having long since disintegrated, but it is in almost mint condition, having never been worn, and is of a similar appearance to that shown with these watches in the Rolex advertisements of the early 1920s.
In summary, this is an exceptional 1923 Rolex officer's watch that is ideal for purchase as an investment. Any Rolex timepiece from this era will automatically be extremely collectible, but on account of this one being in a large sized case and having rare articulated lugs, not to mention its late Rebberg movement, it immediately gains an advantage over others of its type. Part of the fun of collecting vintage wristwatches is carefully working out a strategy to pick those items that are in some way special within the context of their type. For someone looking for a completely original example of the Rolex company's beautiful early work, this piece would be difficult to improve upon.
The negative side of watches like this one is that inevitably they are always expensive at their time of purchase. Rather like blue chip shares that have a proven track record, early vintage Rolex watches in excellent, original condition are highly desirable and universally appreciated. It therefore follows that they are unlikely to rise dramatically in price in the future, simply because their value is already so high. But at the same time, a watch like this one will rise predictably and steadily, year after year, for the foreseeable future. We always think of these items as being very safe investments, and rather like building up a stock portfolio where a number of solid, guaranteed investments will be balanced by some that are more volatile, a backbone of high grade early Rolex models will always be items that can be counted on to show a steady increase in value.
Valuing this particular watch is actually quite difficult, because one very rarely encounters such well-preserved examples from this era. If the watch was a standard silver cased model, still with these wonderful articulated lugs, we would expect it to sell for around £2000 GB pounds in today's market, a figure that is quite undervalued when we consider the prices realised by the rectangular Rolex models of the late 1920s and '30s.
We often quote estimates of price that are included with the various reference books on vintage Rolex watches, but in this instance, this model is so unusual that no valuation is given. An identical watch to this one, stated as being from 1925, is shown in full colour on page 137 of George Gordon's book "Rolex, Timeless Elegance", but no price guide is included with this work. Shigeharu Aritake's "Rolex Scene 1913-1997" shows several early 1920s officer's models with this same 13 ligne Rebberg movement on pages 144 to 146, but these are silver cased and with simpler fixed wire lugs.
In the final analysis, this is one of those rare pieces for which it is almost impossible to suggest a value based on research. The central London vintage watch shops in Burlington Arcade and surrounding Piccadilly have several early Rolex officer's watches that are not dissimilar to this one on their websites, with prices ranging from just over £3000 to more than £6000. Largely because of our low operating overheads here in rural Yorkshire, we can almost always undercut our competition in the capital by at least 40% and after some deliberation, we have priced this piece at £2150 GB pounds. Locating a comparably well preserved example of the same age in either central London or New York for this amount would probably be impossible and at this level, the watch is offered at very little above its value when selling into the retail jewellery trade. This is certainly an item that is worth paying that bit extra to secure, not least because it may be several years before a similar one with the same rare features is to be found, either online or in the specialist dealer marketplace.
Price £2150 GB Pounds
Vintage Watch Brands
Vintage Watch Decades
Vintage Ladies Watches
Vintage Watch Bracelets
Swipwreek Straps
Travel Clock/ Pocket Watches
Home
About
Brand Overviews
By Decade
Reference
Contact Details
Telephone from the UK:
07453 734666
or 07428 051005
Telephone from overseas:
+44 7453 734666
or +44 7428 051005