Dunhill London silver tank 1924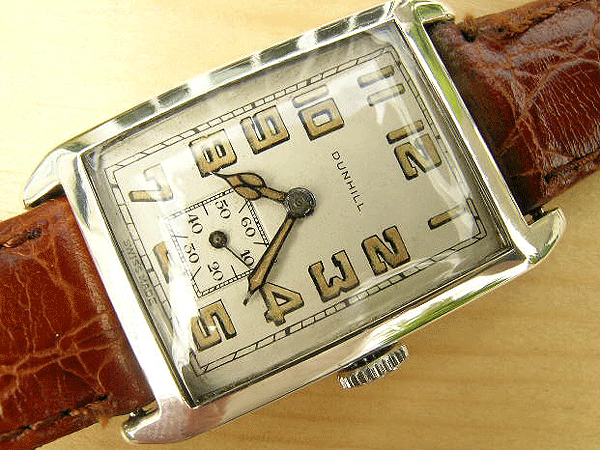 This wonderfully elegant 1924 gentleman's silver vintage Dunhill tank watch is one of the most evocative pieces offered on our website at present and unquestionably one of the very highest quality. The grade of watches that we offer is no longer to be found on general sale, and the condition of this item makes it almost unique. While not being absolutely "new old stock", it is as near to being perfect as is humanly possible for a watch of nearly ninety years old.
In order to really appreciate just how exceptional this item is we must look into the long history of the Dunhill company a little. While the brand enjoys considerable success today and is respected worldwide, like nearly all the major houses it has become increasingly commercialised as part of a democratisation of luxury. We now live in an age where the general public have far higher aspirations than they did in the early 20th century, and new prestige watches are significant as a badge of middle class success. If we visit any well established golf or tennis club in Britain, we will find innumerable comfortably off individuals wearing the current models by Rolex, Omega, Breitling and the other Swiss houses that we have come to recognise as household names. The quality of these watches remains excellent, but there is a certain dilution of their appeal as they become more and more available to a wider section of the buying public.
One of the things that we find so charming about these very early wristwatches is that they were not mass-market products, and when new, they were almost exclusively sold to members of what could be termed high society. The whole Swiss luxury watch industry was infinitely smaller than it is today, and was made up of a myriad of independent concerns that produced items with a degree of hand craftsmanship that would be unthinkable in the current climate.
The early products by Dunhill fit perfectly into this category. Founded in 1902, Dunhill made no attempt to cater for the middle class market, but instead unashamedly sought to obtain the patronage of the wealthy playboy, the adventurous aristocrat and the rich eccentric. The firm's founder, Alfred Dunhill, grasped that with the advent of the newly introduced motorcar would come a potentially untapped market for very high quality accessories for this flamboyant first wave of drivers. By definition, car owners were very wealthy people in an era where the majority of the populace either walked or, if they were lucky, travelled by horse and cart. Dunhill is quoted in 1910 as saying "Compared with quality, price is relatively unimportant", and his formative pieces, like this exquisitely finished watch, were built with this ethos clearly in mind.
Unlike today, when luxury goods companies typically supply their wares on a wholesale basis to independent stockists, in the years up to World War II, Dunhill sold only through its own exclusive outlets. Having a full British hallmark for 1924, we can ascertain that this watch was originally sold in the firm's "Dunhill Motorities" shop in fashionable Conduit Street, London. This avant-garde store was full of wonderful high quality accessories for the English gentleman motorist, these being entirely out of the price range of middle class man and, quite literally, built to be the very best available anywhere.
The list of customers that would swing into Dunhill during the 1920s and '30s is fascinating reading. Among those who were regular visitors were Douglas Fairbanks, PG Wodehouse, Ivor Novello, Somerset Maugham, Rudolph Valentino and Noel Coward. Even Royalty were not immune to the allure of these decadent and often quirky products, with Don Alfonso of Spain, King Olaf of Norway, George VI and his brother the Duke of Kent, the King of Siam, King Farouk of Egypt ( a man who is well documented as having an enormous enthusiasm for luxury wristwatches) and the Maharajah of Cooch Behar all being proud to count themselves as enthusiastic Dunhill customers. The young Prince of Wales, later the Duke of Windsor, throughout his life a trend setter, granted Dunhill his Royal Warrant and in 1933, nine years after the firm sold the watch here, Pablo Picasso bought a Dunhill lighter from the firm's shop on the Rue de la Paix in Paris and had it engraved with a portrait of Dora Maar, his mistress at the time. In short, when this particular watch was built, Dunhill was riding the crest of a celebrity whirl. The standard to which its goods were manufactured was second to none and aesthetically, no watch of this period was more attractive.
We would highly recommend that those wishing to glean more detail regarding Dunhill's golden days have a look at the firm's official website. Such sites vary in usefulness depending on how much a company's current leadership feel that it is relevant to draw attention to its early days. Dunhill, appreciating that its strength lies in its past glamour, have done an excellent job of making a most impressive museum section on their site. Simply open up the main page, choose the language desired and follow the links to the "Dunhill Museum". Of all the official websites of the major houses, we enjoyed this one the most and were inspired to the extent that we unanimously agreed that we may well try to fit in a physical tour of their exhibition when we next find ourselves meeting buyers down in London.
From the moment this watch is handled, its quality becomes instantly apparent. A major factor that prompts this realisation is its weight, which is far greater than most other pieces of the same era. The solid silver case here is in almost mint throughout, with only the very lightest of almost invisible imperfections, and is among the thickest walled that we have ever encountered. It will be noted that in the first sentence of this description, we used the phrase that this was a "tank watch". This term refers to the shape of the case, which when viewed head on from the front, resembles the outline of a World War I era tank when this is considered from above. Technically, the tank word in this context is probably one that should be reserved for the products of the Parisian jeweller Cartier, this house have designed this style originally in 1917, but in practice it has become the one used by collectors worldwide to identify immediately watches with this case style, regardless of their company of origin.
This is a remarkably elegant watch, with a length of 38mm and a width of 23mm. On the inside of the beautifully hinged case back, we find a full set of British hallmarks telling us that the watch was assayed as sterling silver in Glasgow 1924 and the case serial number 415126. The case maker's mark identifies this as a product of James Widmer of 55 Holborn Viaduct, London, one of the capital's most highly regarded case makers in the early inter-war years. It is worth noting that Dunhill was a commissioning retailer and not a manufacturer. All its products were manufactured to exacting specifications by a carefully selected network of jewellers and movement importers. Widmer is the textbook example of a supplier that was at the very pinnacle of its craft and was regularly chosen by Dunhill for watch cases for exactly this reason. Though not directly related to the watch here, it is interesting to note that at this time, Rolex was located in London just a few doors down from Widmer at 44 Holborn Viaduct.
This is obviously going to be a expensive item, and at this level it is vital that the criteria by which a vintage wristwatch will be judged by serious collectors are met. Too many watches are bought online today, often for considerable sums, by purchasers who are ignorant of the key elements that define a collectible timepiece as being worthy of investment. There is an assumption on behalf of many novice enthusiasts that any elderly watch by a respected maker will automatically be desirable, but this is far from being the case. Just as the polishing of coins will dramatically reduce their values, so it is that the refinishing of a watch dial will render a piece undesirable to the informed buyer. Incidentally, this process of resurfacing a dial is commonly referred to by the far more innocent sounding word "restoration", suggesting an enhancement of what is already there. Never has such a term being more deliberately misleading, and such work involves the stripping of the old dial surface completely, this being replaced from scratch with a substitute. Let us reiterate emphatically that, whether described as refinished or restored, or in badly discoloured condition, these sub-standard dials are to be avoided if a premium quality survivor is to be acquired that will continue to appreciate in value in the future.
Given the theme of the last paragraph, it is hardly surprising that the dial here is, quite literally, as near to being perfect as one could ever hope to find, but is also totally and utterly original. The very large Arabic numerals are dramatic in the extreme, and one would have to search long and hard to find a more eye catching 1920s variant. If one wishes to be deliberately over critical, it might be suggested that the dial's French white surface is just a touch creamier in colour than it was in 1924, but to mention such a minor point would be pedantic in the extreme. The Dunhill signature remains crisp and legible, and the original radium filled blued steel hands are in excellent condition throughout.
While Dunhill commissioned some wonderful looking watches, the firm never compromised the quality of its internal mechanisms and the hand wound A. Shild unit here is a perfect example of top tier movement making at this time. Grenchen based Adolph Schild was one of the most highly regarded of all the classic Swiss manufactures, this curious word being the one used within the industry to describe a company that were capable of producing its own movements entirely in-house without outsourcing any components from external suppliers. Almost every one of the finest houses used Schild movements at some time during the inter-war years, and the company was particularly close with Rolex, to which it supplied the elaborate mechanisms that were used in the latter's jump hour watches.
This movement is of the very highest standard and remains totally original throughout. It is signed "Breguet Hairspring, Swiss Made, 15 JLs, 3 Adj, this last qualification being a reference to this individual mechanism having been timed and regulated for extreme accuracy in three different angles of elevation. Unlike so many of these older engines, it has never been adulterated with non-standard parts and there is no evidence of any past repair work. Having been serviced regularly since new with no regard to expense, this watch works perfectly and its movement is in the very best of mechanical health. What is extremely evident though is the grade of finishing used, this being best illustrated by the mention of the undulating Geneva waves that cover the entire top surface of the movement. This is a particularly exotic method of decoration, not least because it is created entirely by hand, gently burnishing the plates with a rotating boxwood disk. While impressive, this feature is not alone as establishing this movement as a superlative item, and its quality is far in excess of that found on today's luxury watch mechanisms.
In summary, this is a really beautiful vintage wristwatch from the golden age of the collectible timepiece, manufactured to the highest possible quality standard for one of the most glamorous London retailers of its day. Unlike modern luxury watches that are sold on a mass-market basis, these early models were produced in very small quantities and sold to a wealthy elite who expected, and could afford, the best of everything. When this piece left Conduit Street in 1924, it was of a standard that could not be bettered, and this same position still applies today.
It is inevitable that comparisons should be made between vintage and new watches. We have priced this watch at £745 GB pounds, at which level it represents extremely good value for money. Not only is it of a far higher quality than its modern counterparts, it will have a far longer working life and, best of all, being already very collectible, will always hold its value. The purchase of a new luxury watch is an irreversible expenditure, an act that always involves the loss of a substantial amount of money. In contrast, the decision to buy a vintage watch is a financially sound one, with prices for these better grade pieces having risen astronomically in the last two decades. The realisation that the purchase of a vintage timepiece is often a profitable one is a major factor for the vast increase in interest in old rare watches recently, particularly since the dawn of widespread internet use in the late 1990s and the arrival of specialist vintage wristwatch magazines in the same period. Being in almost mint condition and by one of the most charismatic of all the early luxury houses, this rare Dunhill is a pleasure to own and will undoubtedly be a source of great satisfaction to its new owner.
Price £745 GB Pounds
Vintage Watch Brands
Vintage Watch Decades
Vintage Ladies Watches
Vintage Watch Bracelets
Swipwreek Straps
Travel Clock/ Pocket Watches
Home
About
Brand Overviews
By Decade
Reference
Contact Details
Telephone from the UK:
07453 734666
or 07428 051005
Telephone from overseas:
+44 7453 734666
or +44 7428 051005