Dunhill London golf ball hunter 1924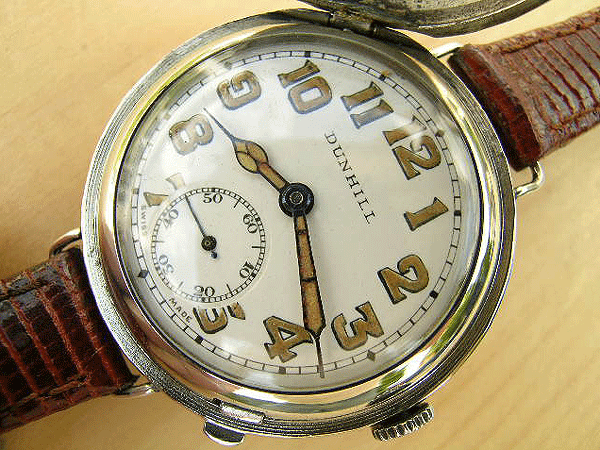 This exceptionally attractive, gentleman's full hunter, a very rare Dunhill piece from 1924, is particularly interesting to both the serious vintage wristwatch collector and the period golfing enthusiast on account of its entire case taking the form of a golf ball, complete with the pronounced dimples that characterise these items. As a wristwatch, it is a historically important item as it represents the ingenious way in which a case design that evolved in response to a specific need by trench serving officers during World War I was adapted and marketed to a targeted high spending civilian clientele in peacetime. The hunter case, immediately identifiable by the fully enclosed flip up lid that covers the front of the watch, was a classic wartime design, first used to protect the fragile glass over the dial from shrapnel damage. These early hunters, and their closely related half-hunter variants, are immensely sought after today and command high prices from collectors when found, particularly when signed by one of the great Swiss houses, most of these concerns including at least one hunter in their ranges at this time.
When the Great War finished, the hunter lingered on for a while until the early 1920s, but was no longer relevant, its purpose of providing protection against flying debris in the trenches not being of great use in civilian life. Indeed, it is quite likely that these watches were seen as rather distasteful, the population as a whole understandably wishing to distance themselves as far as possible from the memory of the horrors of Passchendale and the Somme. Golf, on the other hand, was in the ascendancy throughout the inter-war period. Despite the 1920s and '30s being extremely difficult for a large chunk of the British population, with record levels of unemployment during the Great Depression years, there were ever increasing numbers of wealthy individuals who, following the example of the Prince of Wales ( later King Edward VIII), donned plus fours, long socks and oversized caps and took to the tee. These people were exactly the customers that the Swiss watch houses needed, high spending, affluent fellows with an appreciation of quality and a desire to always keep up with the fashion of the moment. By producing a golf themed version of the hunter, but this time marketing it on the basis of its novel appearance rather than its ability to withstand shrapnel impact, the same style of watch could continue in production.
This beautiful example, one of only a handful of these watches that we have ever seen, was retailed by Dunhill in London, a business that came to prominence in the immediate post-World War I years as a result of it supplying exceptionally high quality accessories that were themed around the lifestyle of the high society, moneyed buyer. Like golf, motoring was an activity that, though entirely out of the reach of the man in the street, increasingly became popular with the rich, and Dunhill became synonymous with the supply of quirky items built to the highest standard that were related to these themes. We have several vintage Dunhill watches for sale on our website at the moment, including a 1930s duo dial and a delightfully elegant silver tank example, and we would strongly recommend that anyone interested in this golf watch reads the description of these other items, as much of the background given there applies equally to both pieces.
The quality of this piece is outstanding, as one would expect from any Dunhill retailed item from this period. Alfred Dunhill, the firm's founder, mentioned that "Compared to quality, price is relatively unimportant", and this philosophy is borne out in the watch offered here. This is a large item, with a width of 39mm, and has deliberately been made deep in order to give it something of the rounded golf ball appearance. Condition of its case is excellent throughout, with just the slightest few tiny imperfections to the inside of the case back and lid that have occurred legitimately over the years. This is a fully signed case, with wording "Brev. Dem" ( Brevetee is the French word for patented, and while our command of French is limited, to say the least, we would guess that the "Dem" here is an abbreviation meaning "Pending") being stamped inside the case lid, together with the design registration number 703616.
The hinges on both the case front and back are in excellent condition, and have not been repaired in the past. This is an important point, as the necessity of opening a hunter case to ascertain the time means that its hinge gets a considerable amount of use. Rough handling by careless owners in the past can lead to hinge damage, but the item here is tight and free from wear. When the rectangular pusher at the 4 o'clock position is depressed, a spring loaded catch is released and the lid smoothly opens.
The beautiful enamel dial is fully signed "Dunhill" and is in almost mint condition, with not even the slightest hairline cracks or discolouration that are understandably often excused on watches of this age. This dial is completely original in every respect and has not been retouched or subject to any restoration work in the past. This is vitally important point that must be vigorously stressed to any potential purchaser of a vintage wristwatch, particularly a rarity like this item that will almost certainly be bought with an eye to its investment potential. The worth of any collectible timepiece is inextricably linked to its scarcity, and very few elderly watches from the 1920s have survived with their original dials in this condition. The tulip shaped hands, in blued steel, are almost mint and completely original to this watch, their shape fitting in perfectly with the stylised oversized Arabic numerals around the dial.
When the beautifully decorated hinged dust cover that is inside the case back outer is lifted, a 15 jewelled hand wound Tavannes movement is revealed, this being a spectacularly high grade mechanism that was very much out of the top drawer at this time. A history of the Tavannes concern is included in the description of several items on this site and it seems excessive to repeat it. Suffice it to say that Tavannes was one of the most important Swiss movement manufacturers of the inter war period, supplying many of the greatest houses with its products, including, perhaps most famously of all, the movement used in the first production run of the Jaeger LeCoultre Reverso in 1931.
This mechanism is in almost mint condition. It works perfectly having been serviced regularly since new with no regard to expense. Most importantly, it has no changed parts whatsoever, and is entirely original down to the very last detail. Its finish quality, always the aspect that sets apart a really fine movement from a merely average one, is faultless, with the whole of the upper surface of the bridge plates having been hand polished with a repeating engine turned motif. The plates are perfectly bevelled, and the jewel housings mirror polished, these being just two of numerous cosmetic touches that we noticed when viewing this mechanism under high magnification. The gears themselves are almost entirely in frosted gilt, standing out attractively against their rhodium plated background.
We have fitted this beautiful watch with a very high quality crocodile skin strap that is in keeping with its upmarket period theme. While this strap is perfectly acceptable it is not of the same design as those that were supplied with these models by Dunhill when new. Period photographs of the glass fronted cabinets inside the Dunhill shop in London's Conduit Street in the mid 1920s clearly show these golf timepieces equipped with the very characteristic two part straps that were the norm on the wire lugged officers' watches of the Great War. With this construction, a single length of leather is threaded through both lugs, and then in turn passed through a much wider backing piece. This type of strap is so evocative of the dawn of the wristwatch, and is charming in the extreme to modern eyes. Having lamented the passing of this strap type for decades, and being forced to fit the officers' watches we sold with technically incorrect current straps, we recently took the plunge and had a small batch of historically accurate two part straps handmade to the very highest possible quality standard. These were not cheap by any means, but they set a wire lugged watch of this kind off to perfection. They can be seen on this site by clicking the Shipwreck Straps link above.
In summary, this is perhaps one of the quirkiest vintage wristwatches for sale on our website, and unquestionably one of the most valuable of our current offerings. When examined in the flesh, this piece exudes quality and charisma, and, as emotionally unattached as one deliberately tries to be, it is almost impossible for this watch not to evoke images of P.G Wodehouse and his delightful golf stories of the 1920s and '30s. These highly humorous tales concern themselves entirely with the capricious social escapades of the type of leisured individual that would almost certainly have purchased this watch when new. In many ways, this remarkable watch is something of a piece of social as well as horological history, and would make a splendid exhibit in a museum charting upper class leisure pursuits in the post World War I period.
We really have no idea how much this watch is worth, simply because we have never seen another one for sale, only having encountered a tiny number of others over the years in the hands of private collectors. Dunhill has its own museum at Bourdon House in London, but even if they have an example of one of these watches, which they may well do, this will obviously be on permanent display rather than available for purchase.
An identical golf watch to this one, with the same case and dial format, is given the honour of a double page colour spread in Leonardo Leonardi's excellent 1986 book in Italian "L'Orologio Da Polso" ( The Wristwatch). The caption accompanying several beautiful pictures states that "this example is a watch for a golf player, made in the 1920s. The dial is protected by a complete lid that takes on the form of a golf-ball. The enamel dial carries the name of the famous London retailer "Dunhill"."
The Harrods catalogue of 1929 shows this same model, referring to it as the "golfer's watch". It was offered in two forms, these being in so-called "white metal" as here, at £5 15, and in 9 karat gold, which we have never seen in the flesh, at £15 15. Given that the same catalogue offered brand new Triumph motorcycles at £36 15, we can work out quickly that this would have been an expensive purchase at the time.
At a loss to draw inspiration from any other source, we can only base the price of this item on that of a typical high grade World War I hunter wristwatch, and then try to adjust for its golfing theme. An original 1917 or '18 hunter that can be attributed to a famous maker will have a value of between £3000 and £4000 GB pounds. We would suggest that this watch is worth less than this sum on account of it having been produced nearly a decade later than these early hunter incarnations. But we may be wrong in this assessment because it is very difficult to judge how many of these golf watches were produced for Dunhill, and indeed, how many have survived.
Deliberately being very conservative with our pricing in order to favour the buyer, we are asking £725 GB pounds for this watch. Within reason, and obviously one has to put this comment within sensible context, we would suggest that the eventual price level is not particularly relevant here if the piece is to be retained by its new owner for any significant period of time. When looking for new stock for our business, we are always aware that, in a strongly rising market, it is worthwhile to pay a little over the odds to obtain pieces that we are unlikely to locate again. This is the perfect example of an obscure watch that one might wait many years to find, and even if it is a little pricey when acquired now, just as it was when we purchased it, such extra expense will soon be forgotten as the vintage wristwatch market ascends at its currently unprecedented rate. We genuinely hope that this watch gives as much pleasure to its next owner as it has given to us. It has been a talking point during its time here and while we are clearly in business to sell watches and make a profit, we will also be sorry to bid this unusual piece farewell. Good pre-war Dunhill examples are simply not out there in any significant quantities and we wouldn't know where to begin to find another golf watch, ironically even for the full selling price of the piece here.
Price £725 GB Pounds
Vintage Watch Brands
Vintage Watch Decades
Vintage Ladies Watches
Vintage Watch Bracelets
Swipwreek Straps
Travel Clock/ Pocket Watches
Home
About
Brand Overviews
By Decade
Reference
Contact Details
Telephone from the UK:
07453 734666
or 07428 051005
Telephone from overseas:
+44 7453 734666
or +44 7428 051005