IWC gold calibre 83 1938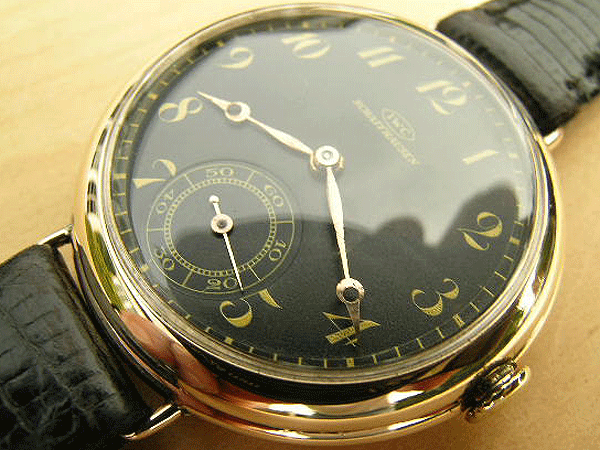 One the most beautiful vintage wristwatches for sale on our website at present is this spectacular 1938 gentleman's solid gold IWC in entirely original, almost unused condition, containing one of the firm's most exceptional movements: the calibre 83 made famous by its use in the Mark X pilots' watches of World War II. Finding a piece by IWC of this age, and in such near perfect order would be almost impossible now, and we were delighted to acquire this item on account of the exceptionally high quality of its dial, case and movement. This is not a cheap watch by any means, but it is outstanding in every detail and worth every penny of the asking price.
IWC, or, in full, the International Watch Company, is a connoisseur's choice of vintage wristwatch, its market niche having always been the technically informed buyers who understand just how refined the firm's movements are. While its overseas agents may choose to do so, the Swiss house hardly ever advertises and keeps an extremely low profile, enjoying even today something of a cult status with those who appreciate the finest mechanical horology. In the 1980s, this led to an interesting situation where, despite being in every way the equal of the most famous brands in the collectible arena, the values of period IWCs lagged behind a little, so much so that the Sunday Times, in an article on vintage watches that we distinctly remember in their colour supplement from around 1987, mentioned IWC as something of an "insider tip" for the buyer looking for the finest quality at something of a bargain price. The reference ended with the memorable line "And if you don't believe us, just ask the Prince of Wales", Charles, of course, being a now well documented long time enthusiast of these Schaffhausen manufactured pieces.
Sadly, times have now changed and IWC no longer occupies this slightly obscured position that enabled its products to be purchased cheaply twenty years ago. Vintage IWC watches are among the most desired by collectors worldwide, and prices are among the very highest of any of the top tier brands. The days of early IWC models being bought as bargains are long gone, but, representing, as they unquestionably do, arguably the highest quality achieved by any Swiss manufacturer of the vintage period, these watches make extremely fine investments and continue to rise in value year after year as totally original examples become ever more difficult to source.
The circular ( watch width is 32mm), solid 9 karat yellow gold case on this watch is in, quite literally, almost mint condition and has only the very slightest imperfections that are to be found on any carefully looked after piece of this age. Studying the case now with a jeweller's eyeglass, we would suggest that this piece has probably been worn on no more than a few dozen occasions since new, making it a virtually "new old stock" example. The bulk of the case is very eye catching, and its style, with very rounded case sides and wire lugs, harks back to the company's officers' watches of the World War I period. While in every respect this case is original, and was sold when new with the movement inside it today, it is something of an oddity, having an appearance that pre-dates its hallmark year by at least a decade. Over twenty or more years, we have encountered half a dozen or so of this same IWC model, and every time we do so it always strikes us that these must have been among the very last wristwatches to have been sold in this traditional format. This housing is very weighty, and using up so much gold in a watch case, particularly at a time when the bullion price was at an all time high just before World War II, is worthy of comment, and tells us a little about the target market for whom IWC catered, this largely consisting of wealthy individuals for whom the actual retail price of these pieces was of little concern.
Internally, the thick case back has been beautifully mirror polished to perfection. This combination of a rugged, classical exterior with a highly embellished interior is archetypically IWC and represents a philosophy that we admire enormously. Unlike many other Swiss houses that offered diamond set cases and a myriad of other cosmetic features, IWC shunned the superficial almost entirely and basically offered a beautifully made, but very robust, case, with perhaps the finest finished movements that have ever been created, by any manufacturer. Vintage IWC items represent a no frills approach to high horology, the house having always created pieces that were, first and foremost engineers' watches, with genuine technical substance, rather than masculine jewellery in which movement quality was secondary.
This case is, of course, entirely original to the movement contained with it, and carries full British domestic, not import, hallmarks for 1938, together with the individual case number 12975. It is fully signed internally with the sponsor's mark "EH", these letters being the initials of Edwin Harrop, managing director of The London Watchcase Company of the capital's Rosebery Avenue. The presence of this marking is extremely interesting to the collector, as we would normally expect IWC cases sold in the British market to carry the "CN" stamping, this representing Charles Nicholet, the managing director of Stauffer & Co of 13 Charterhouse Street, Holborn, London, the company that was IWC's official British importer throughout the inter-war period. In every annual edition of the "Watch & Clock Yearbook" from this era, the directory section gives Stauffer as IWC's agent here, and no mention is made of either Harrop or The London Watchcase Company.
Under normal circumstances, we might be inclined to the view that this case was not original to this movement, and was simply a substitute that coincidentally happened to fit perfectly. However, further research categorically confirms that this is not so, and that in reality, this case is definitely the original one supplied with this movement. Just before Christmas 2008, we sold a 1938 IWC gold cushion watch, also with a calibre 83 movement as here. Fascinatingly, this had a case that was fully signed as an IWC item, complete with the Probus Scafusia emblem, but dually had the exactly same EH sponsor's mark as here also, the presence of these two signatures side by side proving beyond doubt that The London Watchcase Company had some tie in with IWC's British distribution at this time. Curiously, we have only ever seen the EH stamp in IWC cases that were produced in 1938, and this makes them especially fascinating to the collector. The immediate conclusion that we would normally jump to would be that, as was quite normal for many brands, IWC's British importer was housing movements in British made cases in order to avoid the high rate of duty charged on precious metal brought into the UK, but curiously, the EH stamp also appears on Swiss made IWC housings sold in the UK in 1938, suggesting that London Watchcase may have, for whatever reason, briefly acted as the brand's agent here rather than being merely a contract case manufacturer working with Stauffer & Co. IWC today is extremely helpful to anyone making enquiries about its vintage production, and it would be fascinating to describe this case back signature in detail, together with the double signed IWC/EH example on our 1938 cushion model, enclosing close up shots of the EH sponsor's mark, and see what explanation was offered.
The totally original black dial here is in almost mint condition, with no patina or fading of any kind visible even when the watch is viewed under high magnification. The dial has its original eggshell semi-gloss finish, and is virgin in every way. This item is fully signed, very clearly, in gold "International Watch Co, Schaffhausen, Swiss", this lettering matching perfectly the gold Arabic numerals and gleaming, totally original, Breguet shaped hands. The overall effect of gold hands and case, contrasted with jet-black dial, is absolutely breathtaking, just as a really top grade vintage wristwatch should always be. To find a genuine black dial in this perfectly preserved state on an IWC from this period is very unusual, and adds considerably to the value of this piece. In a very interesting article on the general state of the booming vintage wristwatch market in the April 2004 edition of the American magazine "WatchTime" ( page 58), Massimo Barracca, an Italian collector who was one of the pioneers of the first wave of elderly wristwatch appreciation in the early 1980's states that "a black dial is always the rarest, and very popular today, maybe even three times the value of a white dial. Why ? The dial is the face of the watch, the sexy part, the allure". While this suggestion as to the extent of the commercial significance of the black dial is considerably exaggerated, we do agree in principle with his comment. Black dials are indeed rare, particularly on civilian production of the 1940s and '50s when the world was trying to get away from the memory of all things military, and in the context of the watch here, we would suggest that this gorgeous dial adds a 40% premium to the same model with a white dial. From a logical point of view, this additional value is ludicrous, the black finish being of no more intrinsic merit than the white, but we have to remember that there are strong emotional and aesthetic influences behind the purchase of vintage wristwatches, particular at this high level. We must confess that if we were buying today, we would find it very difficult to resist the temptation to pay the extra required and obtain a rare and glorious looking black variant like this one.
One of the advantages of listing so many rare vintage watches for sale in one place, is that we can cross reference items with those that are similar in order that the reader can form a much more comprehensive background picture that would otherwise be possible, while at the same time, avoiding the repetition of information that would be tedious for the more casual browser. The movement used in this piece is IWC's own in-house produced calibre 83, one of the company's most famous and sought after mechanisms of all time. First launched in 1930 and in production until 1947 ,the amount of information and reference material that has been written about this calibre is almost infinite, not least on account of it being the movement found in IWC's Mark X pilot's watch of the war years, this being among the most sought after aviator's timepieces of all time .
The movement present here is in almost perfect condition, and is original down to the very last detail. This is a fully signed unit, with "International Watch Company, Swiss" stated on the perfectly Geneva striped bridge, and the movement serial number , 976688. When located in Hans Tolke's excellent book "IWC", this clearly indicates that this movement left IWC for the first time in 1937, being part of a batch of calibre 83 mechanisms manufactured late that year with the serial numbers 976601 to 977800. It is worth noting that the details of every individual IWC watch are logged in the archives at the firm's headquarters in Schaffhausen, and for a small fee, an extract from their register can be supplied that states the exact date of manufacture, and the name of the first purchaser. We applaud the interest that IWC continues to take in its vintage watches, and are greatly impressed by its official website, where a considerable amount of space is given over to these connoisseur's older models.
Past owners have had the good sense to have this watch serviced regularly, their actions resulting in it working perfectly today. To neglect a movement of this high precision and quality would be a downright tragedy, and we would advise in the strongest terms that its future owner continues with this same routine maintenance every three or four years in order to keep the mechanism in the superb condition that it currently is in. A watch of this quality is quite capable of being in full working order several centuries from now, but in order for this potential longevity to be taken advantage of, routine care is essential. Unquestionably, a major factor in the boom in the vintage wristwatch market over the last fifteen years has been the increased awareness that watches like this one, with arguably the very highest grade of movements that have ever been built at any time, are "watches for life", with the potential to easily outlive their owners and indeed be handed on through future generations as valuable heirloom pieces. This watch is an expensive rarity, but when one considers this sum over perhaps a half century period of ownership, deliberately not allowing for any appreciation in the vintage watch market, its cost per annum is extremely low. One of the most attractive things about top level elderly watches by makers like IWC is that they can be enjoyed on a regular basis without the feeling that they are depreciating in the slightest. Just the opposite in fact, with near mint vintage pieces by all the great houses appreciating in value at a rapid rate per annum at the current time.
We have fitted the watch with a very high quality black crocodile skin strap that is perfectly suited to its appearance. This strap is in mint condition and has never been worn. This is not a genuine IWC item, but is almost identical to the straps shown on this model is IWC's catalogues from the mid 1930s.
In summary, this is an exceptionally fine late 1930s gentleman's IWC in a robust solid gold case, with a rare original black dial and, most importantly of all, one of the most highly respected movements ever made by this venerated house. Its condition is nothing short of remarkable, and it is completely original throughout. Valuing this watch is very difficult, as hardly any black dialled IWC civilian models from this period are ever seen for sale, and the presence of the unusual Edwin Harrop case stamping adds interest to the serious collector.
We have priced this watch at £1875 GB pounds, at which level it represents remarkably good value for money. We could not hope to buy a similarly specified gold Rolex from the same era for this sum, yet the calibre 83 movement in the IWC is arguably a better finished and most sophisticated unit than the Hunter mechanism we would find in the former. This is very much a serious collector's watch and it will be very difficult for us to find a comparable example for our stock when it has sold.
Price £1875 GB Pounds
Vintage Watch Brands
Vintage Watch Decades
Vintage Ladies Watches
Vintage Watch Bracelets
Swipwreek Straps
Travel Clock/ Pocket Watches
Home
About
Brand Overviews
By Decade
Reference
Contact Details
Telephone from the UK:
07453 734666
or 07428 051005
Telephone from overseas:
+44 7453 734666
or +44 7428 051005