IWC steel with art nouveau dial 1938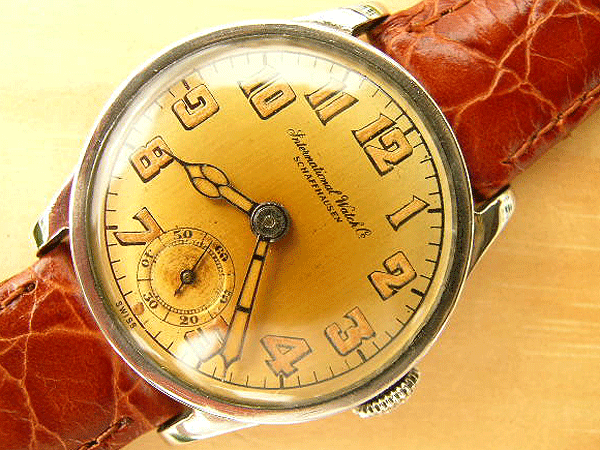 From 1938, this gentleman's stainless steel vintage IWC watch is and is particularly interesting to the collector on account of it having an unusual, but completely original, combination of case and movement, these having been manufactured a full decade apart.
It is very noticeable to the experienced enthusiast that this item is something of a hybrid that theoretically, shouldn't really exist. Its case is the epitome of 1930s style, in stainless steel with exceedingly attractive sweeping lugs. By this time, the wristwatch had basically evolved into the animal that we know today, and, while this example is obviously a vintage item rather than a new one, its case shape still has a relatively contemporary look.
The condition of the case is literally almost perfect. If one looks hard and long enough through a jeweller's eyeglass, there are the tiniest, almost invisible handling marks that must be expected on even the most cosseted vintage watch of this age, but there is no wear to the case and its angled edges are crisp and perfectly defined.
Internally, the snap on case back is covered with a decorative engine turned pearled pattern and is signed "IWC, Probus Scafusia" in the company's famous circular logo, together with "Acier Staybrite". In French, acier is the word for steel, with Staybrite being a particular stainless blend, developed in British steel mill Brown Firth's laboratories in the 1920s, that incorporated a very high (12% each) chromium and nickel content. Not only is Staybrite visually very eye catching on account of its distinctive reflective "glow", it also has the advantage of being extremely resistant to corrosion and acid attack, these two factors often badly damaging other early stainless steel types.
Rather like the rest of the watch, its dial is a strange blend of styles from two quite different periods. The large shadowed Arabic numerals are in the classic World War I typeface, this same period being suggested also by the distinctive tulip shape skeleton hands. But look more closely and you'll see that the minute track is a classic single track 30s type, and not the double track version that was universally found on wristwatches from the Great War until certainly the mid-1920s. On an early IWC officer's watch with this style of numbers, we'd find the signature "IWC Schaffhausen", with the company's three initials in a distinctive lozenge shaped border. Here, quite correctly for a 1938 watch, the signature is the full "International Watch Co, Schaffhausen", with "Swiss" appearing at the bottom of the dial. In real terms, this dial was already an anachronism when it was sold new, and must have looked very dated in the jeweller's window compared with the art deco dial formats that were in vogue at the time.
This is a completely original item, and exactly as it left IWC a year before the start of World War II. It has never been restored and, as such, represents the perfect textbook dial to be acquired for investment purposes. If one wishes to be deliberately over critical, it could be mentioned that there is the slightest discolouration to the subsidiary seconds register, but this is hardly even noticeable with the naked eye and certainly not a reason for the watch being rejected by even the most fastidious collector. The overall shade of the dial has aged very gently from a once bright white into a now utterly beautiful light orangey colour. This effect is very subtle, and vintage electric guitar enthusiasts will know exactly what is meant if we describe it as a mellow sunburst, fading just slightly from the centre of the dial towards the outer edge.
To return to the opening theme of this description, what makes the watch so interesting is that its case dates from 1938 and is in the perfect late inter-war period style, but its movement was manufactured in 1928 and is one that we would associate with very early IWC wristwatches from the World War I period. We would always expect the calibre 64 and 64T ( the difference between the two being that calibre 64T, introduced in 1917, is set by pulling out its winding crown in the standard way, rather than via a pin set system. Otherwise, the 64 and 64T are identical) to be housed in circular silver or gold cases onto which wire lugs had been soldered. This case is a modern looking steel item, but yet it houses an extremely early movement.
Why did IWC create a watch in 1938 with a decade old movement inside it ? We were so curious about this matter that we wrote to IWC in Schaffhausen, including the movement and case numbers and requesting that the company's archives be searched for specific details of when this combination left the factory when new. A reply was duly forthcoming and confirmed that both case and movement are totally original to each other and have been together all their lives, but did not expand upon the reasons for this age disparity. We would guess that IWC simply found a supply of old stock 64T movements in its stores and decided to make these up into complete watches for sale with cases that were on hand at the time, but, of course, without any more specific facts to hand, this is pure speculation on our part.
The condition of this movement is almost perfect, and its frosted gilt surface sparkles brightly. There is a sub-conscious assumption on the part of many potential purchasers that, because movements by the top tier Swiss makers were built to such high standards, these will always be worthwhile acquisitions, regardless of what has happened to them over the decades between their being new and the present day. The reality is just the opposite, and in fact, the vast majority of watches from the 1920s and '30s, even of the finest quality, contain movements that are now almost completely life expired, simply because previous owners have allowed them to fall into a lamentable state of repair. Novice buyers are often amazed at the value gap between average and superb condition pieces, but pondered logically, this really isn't unreasonable, just as one would expect to pay far more for a classic motorcar in excellent cosmetic and mechanical order than for the same model in a poor state with a myriad of botched repairs by back street garages.
Once again, IWC's "Probus Scafusia" emblem appears, this time on the bridge plate. Notice how we can deduce from this that the watch was originally sold outside the UK. If the piece has been imported to the UK when new, its movement would have carried the signature "S & Co, Peerless", these being the markings requested by IWC's official British agent Stauffer & Co for calibre 63, 64 and 64T. Beside the regulator is the serial number 890540. If we consult the tables in Hans Tolke's excellent book "IWC", this movement can be seen to have been one of a batch of calibre 64T units manufactured in late 1928, these being assigned the serial numbers 890201 to 890800.
Given its near mint condition, it really isn't too much of a surprise that this movement works perfectly today. It has been serviced on a regular basis throughout its life, and, provided routine cleaning and lubrication is performed every three or four years in the future, will almost certainly outlast the grandchildren of anyone reading this description now. Just as many pocket watches from the 18th and 19th century are still running faultlessly, the initial build quality of the early wristwatch movements by the grand Swiss houses was so exceptional that they will, quite literally, last almost forever if treated with respect. The secret of taking advantage of this potential longevity is to buy the best preserved example possible in the first instance, and then keep on top of its servicing as originally intended. IWC will still service calibre 64 and 64T equipped watches like this one and continues to take a very active interest in its early pieces. The cost of this servicing is surprisingly low, and we would advise owners of rare IWC examples like the one here to take advantage of this facility while it remains available.
In summary, this is a serious collector's watch with a very unusual specification. Its mixture of 1920s movement in a 1930s case is so odd that if we had stumbled across the piece without any supporting documentation, we would have been very suspicious, being inclined to think that it may have been a union of parts that were never together when new. In fact, it is entirely original and correct in every respect.
It is rather difficult to set a price on this item, not least because we have never seen another with the same case and movement combination. In typical officer's watch form, in a silver case, an early IWC containing a calibre 64 or 64T movement would have a value of around £1800 to £2000 GB pounds if in excellent, all original condition. A late 1930s model in stainless steel, typically with a calibre 83 movement, would sell for somewhere in the region of £2000 GB pounds. Largely because we don't have the burden of high commission fees when we sell on our site as opposed to auction, we can offer this watch for £1275, which, given its rarity and sheer beauty, doesn't seem in the least bit excessive.
Price £1275 GB Pounds
Vintage Watch Brands
Vintage Watch Decades
Vintage Ladies Watches
Vintage Watch Bracelets
Swipwreek Straps
Travel Clock/ Pocket Watches
Home
About
Brand Overviews
By Decade
Reference
Contact Details
Telephone from the UK:
07453 734666
or 07428 051005
Telephone from overseas:
+44 7453 734666
or +44 7428 051005