IWC steel calibre 62 1950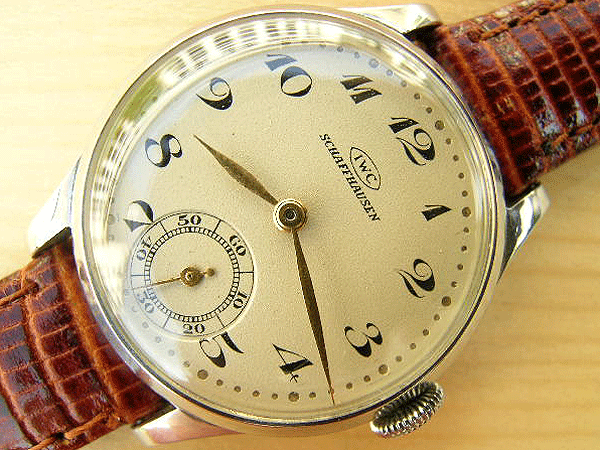 From 1950, this beautiful gentleman's stainless steel model is one of the most unusual vintage IWC watches for sale on this website, not least on account of it containing a movement calibre that was produced for less than a decade and in far smaller quantities than we would expect from this Schaffhausen based firm. It is a relatively expensive item, but it falls squarely into the category of a watch that is genuinely rare and therefore eminently suitable as an investment vehicle.
Those who regularly visit our site will be well aware of the enthusiasm that we have for vintage IWC watches. Founded in 1868, this company has always been something of an outsider within the Swiss watch industry, taking its own path and operating often quite independently of the other brands that we consider to be household names today. This separatism is deep rooted, and perhaps originates from the firm having been set up by an American émigré rather than a native Swiss. Even today, IWC is the only major horological house to be based in German, rather than French, speaking Switzerland, on the opposite side of the country from the Jura region: the traditional home of the Swiss luxury watch.
One of the reasons why we have a particular soft spot for IWC is that the company has always made a point of catering for those with a genuine interest in, and appreciation of, fine mechanical engineering and hand finishing. Eschewing the awful, celebrity driven advertising of many of its competitors, IWC has a very no-nonsense approach to its marketing and is not afraid to include the technical specifications of its movements. In our business, we are completely and utterly indifferent as to which vapid pop star or banal football hero is wearing a watch that we may be considering purchasing, but will perk up if it is explained that such a model has a new and innovative technical aspect, for instance perhaps an improved manner of self-winding or a revised system of running speed regulation. In short, IWC watches of the vintage period were sold on the basis of genuine substance, rather than fizzy marketing hype. Having dealt in them for almost thirty years, we regard pre-1975 IWC mechanisms as arguably the best ever offered by any manufacturer. A growing number of collectors and enthusiasts seem to agree with us, including HRH the Prince of Wales, who is a noted collector of Schaffhausen's classic output.
While we admire early IWC watches primarily because of the remarkably high standard to which they were built, we would also recommend these for investment on account of their having a degree of integrity that is sadly lacking in almost all of the company's current production. Classic IWC models up until the mid-1970s were fitted with movements that were actually manufactured entirely in-house at the firm's factory in Schaffhausen. After this time, there was an increasing use of mechanisms based around ebauches, this being the term for a movement in its basic, unfinished state, purchased from the corporate supplier ETA. We don't have a particular prejudice against ETA movements, simply on the basis that if they are heavily reworked and refinished, there is no reason why they shouldn't be of a perfectly acceptable standard even at IWC's high price level. However, we am the first to acknowledge the point made by many enthusiasts that from an emotive viewpoint, it is rather disillusioning to think that the movement in a watch that perhaps cost several thousand pounds will have been derived from the same basic ebauche that is present in many timepieces by numerous lower level brands costing a mere fraction of this sum. When buying an old IWC, one is acquiring a movement that is genuinely a unique product of this famous house, designed, built and finished by an identifiable team of individuals, all working under the same roof to achieve a common goal. This has the effect of creating a divide in the purist's mind between earlier "authentic" IWC models and those offered in more recent years.
This particular example is especially appealing on two counts, these being its superb condition and it having an exceedingly rare movement calibre that is hardly ever encountered. Its heavy stainless steel case is virtually perfect, with just the very lightest of handling imperfections that can only really be noticed with the aid of a jeweller's eyeglass. This housing has no dents or past repair work, and is free of the pitting that all too often blights early stainless steel cases. Quite remarkably, this has never even re-polished, and still retains its dual finish, having matt satinised sides that contrast with mirrored lug tops and bezel.
Internally, the snap on case back is highly decorated with an engine turned pearled pattern and signed with the wording "Acier Inox", the French term for stainless steel, and "IWC, Probus Schafusia", this being arranged in the company's famous circular emblem. Ever since we first encountered this motto, translating as "good solid craftsmanship from Schaffhausen", we have considered it as being perfect for this most modest of horological houses. This movement, in common with all the other IWC mechanisms from the same era, is of a quality that is nothing less than breathtaking, yet the company's slogan is so self-effacing, suggesting that its products have an almost workmanlike nature that completely belies their actual, very exotic, status. Also here is the individual case number for this watch, 1190502, this informing us that the piece left Schaffhausen for the first time in 1950.
With a width of 27mm, this is not a large watch and might be best suited to a collector in China or Japan, where wrists tend to be slimmer than they are here in Europe. After a decade of oversized watches being in fashion, there is a very noticeable trend in new watches for less ostentatious models of reduced diameter. The return to classical shapes and sizes is bringing a boom to the vintage market and making examples like this once again very much in vogue.
With its snap back case and standard pull out winding crown, this isn't a waterproof watch, and consequently, we would expect its dial to be in at least somewhat discoloured condition. While such a piece has probably never been immersed in water, it will tend to suffer from the ingress of dust and moisture over the years, and most vintage IWCs now have dials that either look relatively scruffy or alternatively, have been totally restored. A watch like this one is always going to be a relatively expensive purchase and at this level, it seems likely that its now owner will have an interest in its potential as an investment for the future. Always, and there should be no exceptions to this, only acquire the very best possible examples of any given model, and shy away from those on which the dials are sub-standard. Because there can be so much variation in the state of a watch dial, this has become the universal standard test for judging and evaluating any vintage timepiece. In order to survive in near mint condition yet be totally original after over half a century, a dial must have been stored in a dry, clean environment, away from the damaging effects of bright sunlight. Any watch that has been used on a daily basis as a working timekeeper will certainly not have a dial that falls into this category, and this rarity is a major factor as to why examples with near mint original dials will have a market worth of typically almost double that of their merely average counterparts. Similarly, a watch with a brand new, freshly refinished dial will be of little interest to the purist. Such a dial has no scarcity value, it being possible to recreate such an item at will at any time. Yet constantly, we see novice collectors paying premium prices for watches with badly discoloured or so-called "restored" dials, blissfully unaware that, for the most part, they haven't got a hope of selling their acquisitions for anything remotely like the amount they paid to purchase them.
This dial is totally original and in almost perfect condition. It has never been restored and is exactly as it was when it sat in IWC's stores in 1950, with the exception of its overall colour having possibly just mellowed slightly from a once bright white into a now fraction creamier shade. Its applied gilt dot minute markers and matching hands are totally original and free from corrosion, with the IWC logo being clearly signed above the dial centre point. Perhaps in an ideal world, the icing on the cake would have been for this to be a double-signed dial, on which the name of the retailer who supplied the watch when new was stated alongside that of the manufacturing house, but one has to be realistic. In twenty-odd years, we have only ever seen three or four vintage IWC watches for sale with the company's calibre 62 movement, and if one was to hold out and attempt to find a double signed example, he might well be waiting for something that doesn't even exist. In real terms, this dial is exceptionally fine in every respect, and finding another that is similarly well preserved would be quite a challenge.
The case and dial on this piece have both survived in remarkable order and as a consequence, this watch is very attractive, but it is its internal mechanism that will make it almost irresistible to the vintage IWC diehard. The movement here, calibre 62, is one of the most difficult IWC engines to source, having been made from only 1938 to 1949, and had its production severely effected by the war years. To put this into context, IWC's calibre 89, one of the most collectible examples of all the company's work and the unit fitted to its legendary Mark XI pilot's watches of the cold war era, was made in a broken run of 220200 units, production being staggered across twenty-eight years. Even the first IWC movement to appear in the firm's officer's watches of the World War I period was manufactured in a series of 55060 examples, made until the early 1930s, and it remains a rare mechanism that is difficult to locate. It is a matter of documented fact that only 13800 calibre 62 movements were ever built, this being only just over 5% of the number of calibre 89s manufactured. Theoretically, even given this number, a tiny, almost unheard of, run by Swiss industrial standards, one would expect to find IWCs with this mechanism on an occasional basis, but in reality, this just doesn't happen. We are not aware of any other calibre 62 equipped IWC having ever been sold by any British source and we know of no collector or dealer that owns one of these watches.
One of the questions that has to be asked regarding the 62 is why IWC chose to create it in the first place. In almost every respect, this hand wound, 16 jewelled, movement was technically and physically identical to the famous calibre 83, the mechanism that was fitted to its World War II era Mark X pilot's watches, and there seems no logic behind the decision to produce a similar unit. Looking at the two side by side now as this description is written, the similarity between the two is almost total, the only obvious difference being that the 83 has a 12 ligne size ( the ligne is the unit of movement width measurement used within the Swiss watch industry), whereas the 62 is just marginally smaller in 10 ligne form. It is difficult to imagine any application where this slight width variation would be been significant, and puzzling to speculate as to what the 62 was supposed to offer that the 83 didn't already provide. Production of these two clearly related movements overlapped, with 69000 calibre 83s being manufactured between 1930 and 1947, and it seems bizarre that the need was felt to tool up to create a "junior" version of this standard, equal in quality and in technical sophistication, but just a fraction smaller in size. Looking at the small number of 62s that were produced, it appears that IWC realised that this movement simply didn't have an identity within its range, hence it was made obsolete with the introduction of next generation of IWC hand wound mechanisms, the 88 and 89, in the immediate post-war period.
Studying this movement closely, we could go so far as to state that its quality of construction and finishing is so high that it would be impossible to obtain better from the same period, by any maker, regardless of how much money was spent. This is a beautifully made unit, rhodium plated and with the most decorative set of Geneva stripes running across the bridges. In every respect, this mechanism is absolutely original and in near perfect condition. It has no changed components whatsoever, and as a consequence of it having been serviced regularly since new, works perfectly today. So many vintage watch movements that circulate today have at least some non-original parts, these usually having been fitted on account of the correct items not being available. This movement is unmolested and technically correct on every level, and can withstand expert scrutiny with ease.
The signature "International Watch Co, Swiss" is clearly stated, as is the individual serial number for this movement, 1136778. It is well worth taking notice of IWC serial numbers, as these can often tell us an awful lot about a particular watch's past history. In this instance, after consulting Hans Tolke's superb book "IWC", we can see on page 223 that this movement formed one of a batch of 599 calibre 62s produced in 1947, these having the serial numbers 1136201 to 1136800 and being cased and sold over the following three years. Remarkably, and largely because this firm's production has typically been far smaller than that of its competitors, IWC today still retains the original ledgers that document the exact day that each of its watches left Schaffhausen, and give chapter and verse as to who was the original purchaser. For a nominal fee, if the serial numbers on the case and movement of a watch are supplied, both of which are included in full in my description here, the company will produce an extract from its archives, giving this information to a piece's current owner.
While this is fascinating in its own right, a more compelling reason for taking advantage of this service is that it confirms categorically that a combination of movement and case were together since new, and have not been mated in more recent times. This watch is guaranteed to be original and as it should be, but many are not, and we would strongly recommend that anyone with a vintage IWC in their possession take advantage of this excellent facility by writing to Schaffhausen directly. Much to its credit, IWC today takes an ongoing interest in its vintage output, and we have always found them to be incredibly helpful when asked for specific information, to such an extent that one is almost embarrassed to get in touch with them on a frequent basis for fear of taking up too much of their staff's time for a tiny financial reward. Similarly, the firm will still happily undertake the servicing and repair of its classic and vintage watches, to an exceedingly high standard and at very reasonable cost. The backup service offered to the owner of an elderly IWC by the factory is second to none, and in itself, this is a strong argument for considering the purchase of a period watch by this famous house.
We have fitted this piece with a high quality crocodile skin type strap that remains in excellent condition, having never been worn. This is not a genuine IWC strap, the original having expired many years ago, but it is perfectly suited to the charming vintage appearance of the watch, and certainly need not be changed in the near future.
It is very difficult to assess the value of this item, largely because very few IWCs with this unusual calibre 62 movement surface, let alone are offered for sale. Hans Tolke's book "IWC", already mentioned in the context of the movement serial number on this piece, includes a photograph of a calibre 62 equipped model on page 199. Interestingly, its movement has the serial number 1136233, meaning that it was built as part of the same 1947 batch that included my example for sale here. A larger photograph of a calibre 62 movement is included on page 229.
The physical auctioneer Sotheby's included a 1945 IWC with a calibre 62 movement as Lot 257 of its 25th November 2003 sale "Important Clocks, Watches and Wristwatches" held in Amsterdam. This appears to be almost identical to example here, with the exception of it having a gold, rather than steel, case. While we have the catalogue for this event, we do not have the post-sale results list and therefore don't know how much the item eventually sold for.
The desirability of this watch in relation to IWC's calibre 83 movement can be argued in both ways. On the one hand, because of its use in the Mark X pilot's watch, the 83 is famous and highly regarded, but on the other, six times more calibre 83s were made than this calibre 62 unit. The 62 is in every respect equal to the 83, but is less known, and far more difficult to locate.
A good, tidy steel IWC from the 1940s with a calibre 83 movement will sell for between £1800 and £2200 GB pounds in civilian form. We would be inclined to think that this item is worth slightly more than this amount if placed into a suitable thematic auction, simply on the basis that it will be a very appealing prospect for serious IWC collectors who haven't yet been able to locate an example of a calibre 62 powered watch to complete a representative selection of the firm's classic in-house mechanisms. We deliberately try to keep our prices down below auction levels, which we are able to do simply because by selling via our site, we avoid the high commission rates payable if we consigned our stock to the major auction houses. The price of this piece is £1245, which is far from excessive. This is one of those watches that, because of its rarity, should be almost risk free as an investment. The history of IWC and its various calibres is so well documented, including the production run figures for each, that it is difficult to imagine any situation in which this piece could ever lose value. It's a delightful watch that is one of the most interesting among our current selection.
Price £1245 GB Pounds
Vintage Watch Brands
Vintage Watch Decades
Vintage Ladies Watches
Vintage Watch Bracelets
Swipwreek Straps
Travel Clock/ Pocket Watches
Home
About
Brand Overviews
By Decade
Reference
Contact Details
Telephone from the UK:
07453 734666
or 07428 051005
Telephone from overseas:
+44 7453 734666
or +44 7428 051005