IWC 18k gold calibre 402 1966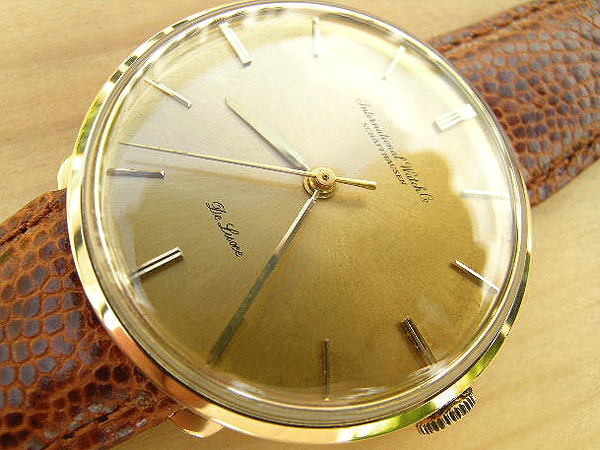 For many serious vintage wristwatch collectors, the glorious pieces manufactured by IWC, or in full, the International Watch Company, during the firm's heyday represent the very best of fine mechanical horology. The sheer degree of craftsmanship present in both the cases and exquisite movements of these remarkable watches has arguably never been equalled, either before or after, and given the chronic lack of skilled labour within the traditional luxury wristwatch industry in Switzerland now, it is unlikely that we will see a return to the consummate standard reached during this period during our lifetimes.
It is noticeable that vintage IWC watches are something to which hardened collectors gravitate as they become more informed as to what constitutes a superb movement and it is not without good reason that the classic products of this house have been referred to as "watchmaker's watches". Today we are barraged with glossy magazine advertising by the major luxury brands, almost universally depicting highly paid glamorous celebrity endorsees who have no real link to the world of high horology whatsoever. Probably more than any other aspect of the decline of the top tier Swiss watch industry, we find this dissolution of substance to be particularly depressing. When gems like this large 1966 solid 18 karat gold gentleman's IWC were offered new, they were sold entirely on technical merit. Nobody had any interest in the hype behind luxury products and advertising at the time went to great lengths, often with the inclusion of some fascinating construction detail, to extol the virtues of any new movement development or finishing process employed in the product. IWC in particular achieved commercial success at the highest level on the simple no-frills basis of superlative engineering, something that is conveniently never mentioned by most high-level brands today in the context of their current offerings.
Owning a vintage IWC watch is immensely satisfying in the same way that slipping on a pair of bespoke John Lobb shoes that have been built to one's own last, or firing a shotgun crafted by Purdey's or Holland & Holland gives us an enormous sense of wellbeing. Possession of any of these objects is reassurance that, despite life's trials, stresses and tribulations, things really haven't worked out too badly after all. Part of this appeal comes from the certain knowledge that one owns something extraordinary that is far above the accepted industry standard for that particular type of product. In any affluent town or city in Britain today there will be jewellers offering a myriad of brand new luxury timepieces by a variety of recognised makers, often with price tags of several thousand pounds each. These are fine watches, and to pretend otherwise would be banal, but at the same time it is unquestionably the case that none of them is the equal of the mid-1960s piece here in terms of hand finishing or overall build quality. In the same way that a modern luxury car, with its pressed body panels and mass produced electronics, is an entirely different animal to its pre-war hand panel beaten coach built equivalent, so it is with vintage IWC watches from this era. The whole method of movement building has irreversibly changed in the four decades since these classic models were built, with automation taking the role once occupied by time served craftsmen. This has inevitably meant a shift in both priorities and quality standards within the factories of the important Swiss houses.
We have to admit that in our business, we have to exercise a degree of restraint when writing about these models. To say that we are passionate about vintage IWC models is something of an understatement, and if we're not careful, what begins as an attempt to produce a relatively concise description of the item for sale turns into a vast evangelical treatise on this most fascinating of subjects.
While these watches have become legendary on the basis of their movements, even their cases are vastly superior to those by the majority of IWC's competitors. The example here is in a large robust size ( the watch was a width of just under 36mm and a depth of just under 7mm), with the most wonderful thick chamfered lugs and a weight that is immediately remarked upon by those handling the watch for the first time. It goes without saying that this degree of quality never came cheaply, but rather than being forced to compromise on case wall thickness in order to cut raw material costs and remain competitive, because IWC models were always recognised from the outset as being at the top of the luxury watch price spectrum and had a customer base that was largely oblivious to price, the firm was able to continue supplying some of the thickest precious metal cases ever offered by any brand, even at a time of record breaking gold bullion prices in the late 1950s and early '60s.
This case is in almost as-new condition throughout and has only the tiniest handling imperfections that differentiate it from that on a brand new watch. The colour of the gold used here is extremely attractive, having a slight rosy tan than is not pronounced enough to qualify it as pink gold, but marks it out as noticeably different from the standard brassy yellow gold used in the watch and jewellery industry today. When one compares a significant number of gold cased watches from different periods side by side, it is fascinating to see how prevailing fashions in gold colouring have changed over the years. The pinkish gold used in the later inter-war period through to the early 1960s, largely of South African origin, is exceptionally eye catching and regarded as particularly desirable to collectors today.
Quite correctly, the beautifully turned case back is fully signed internally as "International watch Co, Swiss", together with the firm's famous "Probus Scafusia" emblem, this phrase translating as "good solid craftsmanship from Schaffhausen". For us, the sentiment expressed in this stamping, used from the very start of the company's foundation in 1868, so perfectly captures the understated spirit for which the brand is so well loved by enthusiasts. The movements in vintage IWC watches are possibly the highest quality ever manufactured, and are surpassed by none, but the company motto has no boastful element to it, almost suggesting a matter of fact, utilitarian nature to their offerings that belies their truly exotic nature.
Also present here is the individual serial number 1807951 and a set of Swiss hallmarks, these telling us that the case was assayed as solid 18 karat gold
If we look very carefully, we can just make out the tiny coded mark of Georges Croisier, the manufacturer responsible for this case. Located at Couleuvreniere 40, 1200 Geneve, Croisier was one of the most respected case making concerns of the post-war era. Its work was of the highest standard and universally regarded by collectors as among the best ever used by the top tier movement makers. It is important to appreciate that, like its competitors Jaeger LeCoultre, Omega and Rolex, IWC was never a manufacturer of its own precious metal cases. Instead, it purchased these from a small number of manufacturers that specialised in this field. While IWC cases from the vintage period are signed prominently with the IWC brand name, as here, it is usually possible to work out who actually made them, which is very interesting information to the serious aficionado.
One of the wonderful things about owning a vintage IWC watch is that even today, this small company retain all the details concerning every unit that it have ever sold, these dating right back to the 19th century and being stored in bound ledgers at the IWC factory in Schaffhausen. For a nominal fee, if a movement and case number for a specific watch are supplied ( both of which are included in full as part of the description here), IWC will produce an extract from these registers detailing the exact date on which the piece first left its hands, and more interestingly still, the name of its original purchaser. An additional reason for taking advantage of this service is that it can be categorically ascertained that a particular case and movement started life together when new. We would strongly recommend that any owner of a period IWC request these details from Schaffhausen, on the basis that they form a definitive provenance that will only add to an item's appeal if it is to be liquidated in the future. Management attitudes within companies change, and there is no guarantee that IWC will continue to offer this excellent service in the future, particularly as it must be very labour intensive to have dedicated members of staff researching each new enquiry as it arrives, and for very little financial return.
To suggest that this item will be an inexpensive purchase is obviously ludicrous. A near perfect, completely original vintage piece in 18 karat gold by one of the finest wristwatch makers in the world is always going to attract considerable interest and certainly its acquisition here will involve substantial outlay. To offset this expenditure thought, it is worth noting that at this level of the market, elderly watches have proved to be superb investments and, despite changes in the prevailing economic climate, have continued to rise steadily year after year for almost three decades now. However, in order to take advantage of this investment potential, it is absolutely vital that only a watch that is completely original and in near perfect condition be purchased. A point that we emphatically reiterate in every one of our website descriptions is that in order to be considered as a desirable item, a vintage watch must have its original dial in almost mint condition. So many older watches are with badly discoloured or completely refinished dials and these must be ignored when buying for long term financial gain. At least 40% of the value of any vintage watch is derived directly from its dial, yet this fact, long appreciated by experienced collectors, is largely ignored by novice buyers who will eventually become aware that in many instances, the items they were so delighted to have secured are worth far less than the high price paid for them. The beautiful gold dial on this watch is completely original and has never been tampered with in the past. Even when viewed under high magnification, it has only the slightest surface patina and is in very good condition. The signature "International Watch Co, Schaffhausen, Deluxe" is clear and crisply defined, with none of the fading to the black print that one often finds on more average examples.
The extraordinary condition and complete originality of this watch make it ideal as an investment vehicle. Either online or in the physical market place, one hardly ever encounters the classic IWC watches in this near perfect state. The original pitched hands, in solid gold, are totally original, as indeed is the substantial winding crown. Another point to look out for at this high level, notice how even the serrated edges of the winding crown here are crisp and well defined, telling us that this piece has probably spent most of its life locked in a safe or the back of a drawer. On a hand wound watch like this one with years of regular use, these edges start to become smooth. Always look for consistency in a vintage watch as a sign that an item has not been molested in the past. The dial here is very good, the case remains effectively in mint condition, the movement is bright and shiny and, correspondingly, the winding crown appears to have been hardly used. While we deliberately go into considerable detail as part of our descriptions in order that potential buyers can understand the respective merits and, in some cases, negative aspects of the watches offered, much of this is actually based on little more than common sense. One doesn't have to be a watchmaker or seasoned collector to identify glaringly new parts inside an old watch, and simply getting into a habit of checking for such inconsistencies before a purchase is made can immediately alert one's attention to undesirable component changes and departures from the elusive state of complete originality.
The movement in this watch is the manually wound IWC calibre 402, a unit that is particularly historically significant within the development of the company and, we have to admit at this point, one that is something of an all-time favourite of ours. Leaving aside personal feelings for a moment, in common with many dealers and collectors, we are of the opinion that while already sought after today, this mechanism is also one of the strongest potential future investments that can be made within the vintage IWC category, on account of several reasons that we include here. The 402 was the very last of an evolutionary line of hand wound movements by IWC, the heritage of which can be clearly traced right back to the firm's calibre 75 of 1917. Along this path there were several key stepping stones, the calibres 83 and 88/89 ( these latter two being effectively identical except for the former having a subsidiary seconds dial and the other being with centrally pivoted seconds, hence our linking them here) being perhaps the most famous due to their use in the glamorous IWC British Government issued military pilots' watches of the 1940s and '50s. However, it can be said with authority than none of these other earlier mechanisms had the same degree of refinement as the 402, a point that really shouldn't come as a surprise when we consider that this was the last manually winding mechanism to be introduced by IWC and very much a selective distillation of all the best features of the preceding calibres.
We often think that it was calibres 88 and 89 that very unfairly got the glory in their day, while when new, the 402 was largely overlooked. A major contributing factor for this state of affairs was simply one of timing. While the earlier two movements were launched in 1946 at a time when there were no challengers to the traditional mechanical watch industry, the 402 appeared in 1965, reaching full production in the late-60s, a juncture when enormous dark clouds had gathered over all the grand Swiss houses, these caused by the looming onset of mass-produced imported electronic movement technology. In retrospect, the development of the battery powered tuning fork mechanism was just the first in a series of technical revolutions that would eventually leave an aftermath of quartz dominance in the mid 1970s, but even so, its perceived appeal was so great at the time of its launch that in truth, nobody was really greatly interested in an exceptional new mechanical movement quietly launched by IWC, an elitist manufacturer of the old school. The 402 was the last of the line, a beautifully designed and finished dinosaur offered in an age when the mechanical movement had become an anachronism.
To the collector, the relative lack of interest in the 402, combined with the movement's historical context as the last in-house built hand wound mechanism to be introduced by IWC, makes it very attractive. In relative terms, very few calibre 402 movements were built and today these are seen for sale on an infrequent basis, particularly in the immaculately preserved condition in which this one remains. From 1965 to 1969, a production span of only four years, only 19200 calibre 402 movements left Schaffhausen, as opposed to nearly double this number of calibre 89 units over a manufacturing life of nearly forty-five years. In nearly every respect, calibre 402 was virtually identical to the 89, and had every refinement and attribute for which the earlier movement had become legendary. But where it scored points over its older sibling was with its brilliantly ingenious fine regulation system, this allowing the running speed of the movement to be minutely altered to produce the most remarkable rate results in independent Observatory tests. Curiously, IWC never offered any of its vintage watches as officially certified chronometers, something which has always struck us as odd given that its movements were so technically advanced when compared to those of their competitors. It is a matter of recorded fact that all the famous 1950s and '60s IWC movements, calibres 88, 89 and 402 obviously being firmly among these, can be regulated with ease to achieve chronometer standards of accuracy, and to take a vintage movement of this grade and finely adjust it to this degree today would be an interesting challenge for an experienced watchmaker, but one that would require no modification whatsoever to the movement itself.
Readers will have probably gathered by now that we like the 402 an awful lot, and despite deliberately always attempting to paint a balanced picture of any piece offered on this website, we do find it difficult to find fault with this movement, either in terms of its intrinsic design or in terms of the particular example present in this watch. The standard of hand finishing present here is little short of breathtaking and we would encourage the new owner of this piece to carefully remove its case back in a dust free environment and take a few minutes to study its movement under magnification, either with a jeweller's eyeglass or, if such an item is not available, even with a domestic magnifying glass. This degree of quality, a point made at the beginning of this description, simply isn't to be found in a new watch today and it always seems such a terrible shame that the majority of novice collectors, though aware that they own a high priced vintage rarity by one of the top-tier manufacturers, are not entirely conversant with the features that make it internally so remarkable. Every surface of the bridge plates has been hand polished to perfection with a rotating boxwood disk to create the most spectacular Geneva stripes. Incredibly, every tooth on every gear has been bevelled by hand and the edges of the plates themselves having been perfectly bevelled at 45 degree angles so as to remove any unsightly sharp right angles. No expense whatsoever was spared in creating what was the absolute state of the art mechanical movement of its day and every detail of this mechanism exudes quality and attention to detail.
Having been serviced regularly throughout its life regardless of expense, this movement works perfectly. Calibre 402 is an immensely reliable unit, largely as a consequence of it being almost ridiculously over-engineered, but even so, if neglected and abused it will still become troublesome. We have no hesitation in stating that this particular example is effectively "as new" throughout. It is completely original in every respect, contains no incorrect or non-standard parts, and has a bright shiny gleam to its surfaces and gears. There is not even the slightest hint of incipient corrosion or even dulling of the surface finish, and no sign whatsoever of any past repair work having ever been carried out.
The full signature "International Watch Co, Swiss" is stated on the bridge plate, this wording having been beautifully filled in with 18 karat gold to make it stand out clearly against its rhodium plated background. Also present is the calibre number, 402, and the individual serial number for this movement, 1807791. If we look up this number in the very useful appendix ( page 224) in Hans Tolke's excellent 1987 reference book "IWC", we can see that this movement was actually one of a batch of calibre 402 units manufactured in 1966 with the serial number range 1805201 to 1810000. Once again, we include this detail as yet another confirmation that all is exactly as it should be here. We firmly believe that one can never have too many safety checks when buying rare vintage wristwatches and the more cross referencing of hallmarks, calibre, case and movement serial numbers that can be done by a prospective buyer prior to purchase, the better. As many of our regular buyers are well aware, we have something of a reputation for being almost pathologically obsessed with the originality of the watches we offer and this item is guaranteed to be authentic and correct in every respect. But many are not, and a few minutes checking these basic points can save much financial heartache later.
We have fitted this piece with a high quality lizard skin type strap that is perfectly suited to its elegant but still robust appearance. This is not a genuine IWC strap, the original having been hardened by age when we first acquired the watch, but it is in mint condition, having never been worn.
It would be a safe bet to describe this item as being among the very finest of the vintage IWC watches for sale on our website at present. Any early post-war IWC, built when the company were still manufacturing its own movements entirely in-house from design to final finishing, will always be a superb investment now and in the future. While still a highly respected supplier of beautiful watches, IWC is no longer a true movement manufacturer for all of its watches, primarily re-processing raw unfinished movements that it buys in from the Swiss corporate supplier ETA. In contrast, this is a "real" IWC in the purest sense of the word, a product of the most inventive minds at this house, the design of which was conceived and executed with no external influence or assistance. Well preserved vintage IWC watches from this period are expensive today, but guaranteed to appreciate in value over the long term, simply because they represent a period when one of the most sought after of all the grand Swiss marques was at its very best. It can certainly be said that in quality terms, there is nothing available in the vintage watch world that surpasses IWC production from this era, and for the buyer perhaps looking for one exceptional piece, that he can return back to Schaffhausen in Switzerland for servicing and wear with great pleasure for the rest of his life, this item would seem like a very sensible choice.
Pricing this item today is not easy, not least because very few near vintage IWC watches for sale from the 1960s in the marketplace today. Shabbier examples still surface now and then, typically in the online auction environment, but this one, barring the very slightest degree of legitimate ageing to its dial, is as crisp and near perfect as we have ever encountered.
In good, original condition we would expect a watch with this specification to sell for around £2000 GB pounds today if included in a suitable Christie's, Sotheby's or Bonhams fine wristwatch auction, particularly when we consider that the most mundanely styled steel cased post-war IWC will typically reach almost the same sum. It is worth remembering that due on this amount would be a buyer's premium of, at the time of writing, 20%, and VAT on this premium, these two evils adding approximately another £450 to the final bill. This watch is better than one graded as merely good, and we have priced it at £1425 GB pounds, following our policy of undercutting both the auction houses and the specialist London vintage watch shops. While this is a considerable amount of money even today, in terms of the sheer technical excellence and traditional craftsmanship exhibited in its movement, it represents remarkably good value for money, perhaps more so than almost any other vintage watch for sale here at present.
Price £1425 GB Pounds
Vintage Watch Brands
Vintage Watch Decades
Vintage Ladies Watches
Vintage Watch Bracelets
Swipwreek Straps
Travel Clock/ Pocket Watches
Home
About
Brand Overviews
By Decade
Reference
Contact Details
Telephone from the UK:
07453 734666
or 07428 051005
Telephone from overseas:
+44 7453 734666
or +44 7428 051005