IWC ladies steel boxed 1944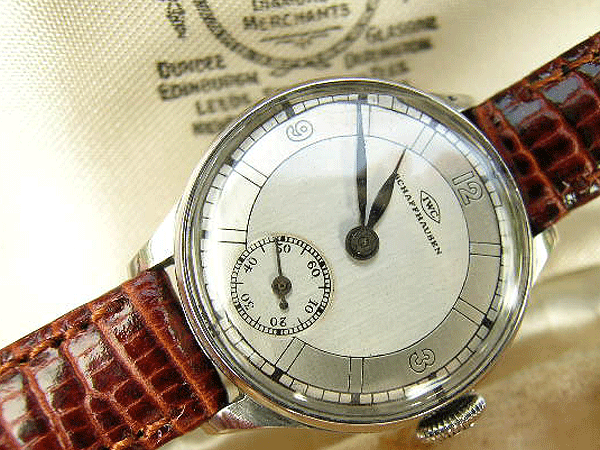 Vintage ladies watches don't get a lot more appealing than this boxed 1944 steel IWC. Manufactured a year before the end of World War II, remarkably, this item has survived in a near perfect state. It is not literally new old stock, but is very, very close and a better example of a ladies' IWC from this classic era probably doesn't exist anywhere in the world at any price level.
Regarding IWC itself, there isn't a great deal to be said that is not included in our summary of the brand on this website. Founded in 1885 by an American, Florentine Aristo Jones, the company has always been something of an outsider among the top tier brands, not least because of its location in the German, rather than French speaking, part of Switzerland. What cannot be disputed is that its products during the vintage period were of the highest possible quality. There is a strong argument that IWC movements from the 1940s and '50s are the highest grade that have ever been created at any point in the history of the wristwatch.
The case of this watch is in bright stainless steel and is very classically styled. This watch looks extremely similar to a Patek-Philippe Calatrava from the same period, which probably shouldn't surprise us too much as IWC and Patek were fierce competitors at this time are clearly well aware of each other's product ranges. If we look closely enough, there are a few tiny marks to the case here and there, but they can hardly been seen with the naked eye. In realistic terms, this case is in almost perfect condition.
Internally, the snap on case back is beautifully decorated with an engine turned pearled pattern. There is the stamping "IWC, Probus Scafusia ( a loose translation of the company's motto is "Quality workmanship from Schaffhaussen" ), Acier Inoxydable ( the French for stainless steel) and the unique case number 1089459. We know from IWC's production records that this housing was manufactured in 1944.
The dial alone is reason enough to buy this watch. Rolex collectors will recognise the format of this dial as the "tropical". Extremely attractive, this dial type is one of the most sought after by vintage Rolex collectors and typically appears on the company's bubble back models from the late 1930s and '40s. Interestingly, this is the second time in the last decade that we have seen this classic Rolex dial style on an IWC. Approximately three or four years ago, we purchased a steel and gold mixed metal man's IWC with a very striking tropical dial with its central area in a shade of metallic pink that perfectly matched the pink gold bezel of the case. While the appearance of very similar dials across competing brands may seem strange to the casual observer, it becomes less surprising when we realise that neither Rolex or IWC were ever dial manufacturers. Instead, they purchased dials, pre-printed as required, from several companies that were established in this niche field. A major dial supplier to Rolex and IWC in the 1940s was Singer SA and we would hazard a strong guess that the dial on this watch is a product of the Singer concern.
Dial condition here is beyond criticism, with the only deviation from absolutely perfect condition being a very slight, almost imperceptible yellowing of the originally French white dial surface in much the same way that the pages of an antiquarian book will gradually become a little creamier in colour as the decades pass. Most importantly of all, this is a completely original dial that has not been restored at any point. To find an authentic, untouched dial of this age is very unusual. Most are either original and scruffy, or mint looking and refinished. For the serious collector, a virgin dial in a near-pristine state is the ultimate find and watches that have this attribute command a high price premium over those that don't. A dial is the defining feature that makes or breaks a vintage wristwatch in the eyes of the experienced buyer. This dial is as close to being perfect as anyone could ever hope to find. Its presence here certainly adds to the price of the watch as it would have been with a more mediocre dial, but equally, it ensures that this item will be highly sought after if sold again in the future.
All three hands are original and in blued steel. The subsidiary seconds register is unusual on a vintage ladies' watch. The vast majority of ladies' models from this era do not have a second hand of any kind and the presence of one here is attractive. It must be understood that with an 8 ¾ ligne movement, the diameter that is generally associated with mid-sized men's watches, this is a much larger item than most timepieces intended for female use at the time. Ironically, in the 1940s, most of those ladies in the market for a luxury watch would have probably preferred something slightly smaller. Today, larger vintage ladies' watches like this one are very fashionable and highly desirable as collectibles.
The winding crown is also original. Its milled edges are in superb, crisp condition, which on a manually wound watch of this age suggests an item that has seen very use. In our business, we always try to judge a watch in its entirety when buying and keep a keen eye out for any aspect that is inconsistent with the rest of the piece. Here, we have a near mint case, original dial, very bright movement and unworn winding crown, which all knit together as indicative of a watch that has spent most of its life in the back of a drawer or safe. Sometimes, we see what appear to be near mint watches, with hands that are corroded or movements that have a strange mixture of dull and shiny component parts. Our experience over three decades has taught us that condition should be uniform across every aspect of a watch and if it isn't, then we should be suspicious as to the originality of the piece. Sadly, the dramatic rise in the worth of vintage watches by makers like IWC and Rolex over the last twenty years has led to the resurrection of a lot of once scrap examples that have been languishing in the component parts trays of watch repairers all over the world. We source and sell only original watches that have been together as one item since new and would strongly recommend that buyers intending to build up an investment portfolio purchase at this level of the market rather than opting for cheaper, lower grade examples.
As we would expect from IWC, this movement is little short of being a work of art. The quality here is quite remarkable and while the included photographs give some indication of the standard of finish, they don't give justice to a mechanism that is far more impressive than a Rolex Hunter of the same era.
Even by studying the pictures, the casual browser can see just how high grade this unit is. Rather than being left plain as they would have been on a Rolex or Omega movement, the bridges have all been covered with Geneva stripes. The process of adding these stripes is a time consuming one, with each stripe buffed into the flat surface by hand using a rotating boxwood or ivory disk. Refinement of this quality is never found on mass produced movements, simply because it would never be commercially viable to finish inexpensive movements in such a labour intensive way.
Look carefully at the brass borders around the jewels in the movement photos. On lesser items, the jewels are press fitted directly into the plates and held in place by friction. Vintage Omega and Rolex movements usually have their jewels fitted in this way. IWC has gone a step further here and fitted each jewel into its own threaded brass sleeve, known as a chaton, which screws down into a correspondingly threaded hole drilled in the plate. Only the most exotic movements were built with screwed chatons and their presence is always indicative of exceptionally high standards.
This movement is the hand wound IWC calibre 94, launched in 1926 and produced until 1941, making this unit one of the very last to leave Schaffhausen. In total, 9600 calibre 94 movements were produced, with the 94 being considerably more unusual today than the calibre 83 that was also created at approximately the same time, totals for the latter running into almost 90000 movements. We don't see calibre 94 on a regular basis, which is rather strange given that it is one of the most beautiful of all vintage IWC movements.
Exactly as it should be, this movement is signed "International Watch Co" on its bridge. The serial number 1022033 is stamped next to the regulator. If we consult the excellent book "IWC" by Juegen King and Hans Tolke, we find on page 222 that this particular mechanism was manufactured in 1941 as part of a batch of calibre 94 units that were assigned the serial numbers 1021601 to 1022200. .
Notice how the serial number of the movement dates it to 1941, whereas the case was manufactured in 1944, three years later. This disparity is not at all uncommon on watches by all the top tier Swiss houses. It stems from firms like IWC building movements in batches in order to take advantage of economies of scale. A run of movements was created and then put into store to be used up in due course as required. Age differences of up to five years between movements and cases are entirely acceptable on vintage IWC models from the 1930s and '40s. Curiously, for reasons that are not obvious, we have never encountered the reverse situation, with a case that was produced before the movement inside it. We suspect that this issue may have something to do with IWC movements having been manufactured in-house at the company's factory in Schaffhausen, whereas cases were purchased from third party suppliers. IWC, in common with Rolex, Patek-Philippe, Omega and Jaeger LeCoultre, was never a case maker and relied on independent specialists to provide its housings. Of course, we guarantee categorically that this case and movement have been together since new.
Having been serviced regularly, this movement works perfectly. It is in almost mint condition and every component part is guaranteed to be original and correct. Nothing, not even a single screw, has been changed or modified. If looked after properly, this watch will last several lifetimes and still be a treasured possession several hundred years from now, just as many 18th and 19th century antique pocket watches are today. The key to extracting maximum longevity from high quality vintage watches is to only buy the very best preserved examples in the first instance, like the one here, and then continue to have them cleaned and lubricated every three or four years throughout the period of one's ownership. The standard to which these watches were built is far in excess of anything offered new today, but like any other piece of high precision machinery, they will wear prematurely and become unreliable if neglected and starved of lubrication.
We have fitted this watch with a brand new high quality lizard skin type strap. This is not a genuine IWC strap, the original having deteriorated long ago, but it is perfectly suited to the upmarket, antique look of the piece and certainly need not be changed.
This watch is boxed and in itself, this packaging is very collectible. In red leatherette lined with cream satin, this is signed "MM Henderson Ltd, Watch Specialist & Diamond Merchants, Dundee, Glasgow, Edinburgh, Darlington, Leeds, Stockton on Tees, Newcastle Upon Tyne". Henderson was an important supplier of luxury wristwatches in the inter-war years and acted as agent for Omega, IWC and Jaeger LeCoultre. This box is a delightful item that remains in near mint condition throughout.
The price of this watch is £1075 GB pounds. Finding another steel cased ladies' IWC from the 1940s in anything remotely approaching this condition would be very difficult, even if armed with a far more substantial sum that that required to buy the piece here. The problem with a lot of these older models now is that they are simply not available on the market, largely because the collectors who own them realise what solid investments they are. This is a gorgeous watch in a superb state and for less than a thousand pounds, it is nothing short of a bargain. It will give enormous pleasure to its next owner who can wear it safe in the knowledge that, in vintage wristwatches, there is absolutely nothing of higher quality.
Price £1075 GB Pounds
Vintage Watch Brands
Vintage Watch Decades
Vintage Ladies Watches
Vintage Watch Bracelets
Swipwreek Straps
Travel Clock/ Pocket Watches
Home
About
Brand Overviews
By Decade
Reference
Contact Details
Telephone from the UK:
07453 734666
or 07428 051005
Telephone from overseas:
+44 7453 734666
or +44 7428 051005