IWC pocket watch silver 1916 with patent documents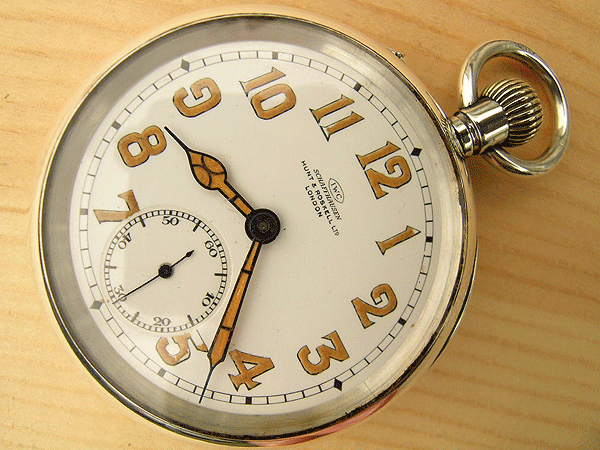 As a consequence of having been in business since the mid-1980s in this field we are known as being a wristwatch men, having a particularly strong interest in those models created between World War I and the late 1950s. It is somewhat ironic then, that when we are in the mood for a little relaxation and self-indulgence, we invariably choose to wear pocket watches.
The reason for this preference lies in the fact that today, a pocket watch cannot be worn practically in the vast majority of daily situations that we encounter, and is only suited to a more sedentary, luxurious environment. In the past, such timepieces were worn on the person in the waistcoat pocket, where they were relatively protected, but since the fall of these type of garments from popular use, anyone wishing to wear a pocket watch today will almost certainly put it in a jacket breast pocket, securing it with a short length of chain that reaches to the button hole in one's lapel. While elegant, this arrangement is not suited to any task that involves bending down or strenuous movement, simply because the watch will inevitably fall out of the wearer's pocket. For an evening at the theatre or a meal with friends, it is fine to wear a pocket watch in this manner, knowing that it will be perfectly safe. Because we subconsciously associate the pocket watch with these very pleasant activities, it has come to represent an object of luxury, with no utilitarian connotations whatsoever.
This particular vintage IWC pocket watch is gem, and any wristwatch enthusiast wishing to put his toes into this fascinating stretch of water could do an awful lot worse than acquire a piece like this one. Cased in solid silver and manufactured in 1916, the condition of this item is literally almost perfect throughout, yet it remains entirely original in every respect.
When handling this watch, it is immediately obvious as an item of exceedingly high quality. This is a large piece and its weight is very considerable. In an attempt to cut costs at a time when the majority of the British public were understandably anxious about their future, most watch case manufacturers lightened the gauge of their precious metal cases during World War I. The walls of this case are incredibly thick, and it would not be an exaggeration to say that this housing is one of the most substantial that we have encountered from any period. This is a double-hinged case, with an inner dust cover present inside the case back outer, this having the function of protecting the movement from damp or dirt. Again, notice that the dust cover is also in solid silver, and that no attempt has been made to cut costs here. On an inferior watch, we might have expected a precious metal outer case, allied with a base metal dust cover, this legally enabling its retailer to describe it as being in solid gold or silver, while offering it at a cheaper price than an all precious equivalent.
We have something of a reputation for being very critical when assessing vintage timepieces, and are deliberately just as harsh when judging our own examples for sale as those offered by others. As with any antique commodity, there is a world of difference between merely average watches, mechanically worn and with a myriad of minor failings, and the very best pieces, which will typically sell for several times the amount of their lesser counterparts. Even after studying it in the most minute detail, we would be hard pushed to find any fault with the case here, and it is quite obvious that this has only ever had the lightest use in the past. Its bezel snaps firmly into place without even the slightest of play, and both inner and outer case back hinges operate smoothly and have never required repair. There are only the very lightest of almost invisible imperfections to this case, and no noticeable scratches or dents whatsoever.
Inside the outer case back interior, we find a full set of British hallmarks, these informing us that this housing was assayed in London, 1916 as imported sterling silver. Interestingly, because of circumstances at this time, we can date the entry time of this watch into the UK to a far more precise extent than would be normally possible. We know that the London assay office changed its year letter annually in May, and that the letter present on this case is the one used between May 1916 and May 1917. We can also see that this is an import hallmark, rather than one used on domestic silver. However, the British Government placed an outright ban on the import of precious metal into the UK on the 15th December 1916 in order to cut unnecessary public spending as a wartime austerity measure. It therefore follows that as there would have been no importation of silver watchcases in 1916 or 1917 after this date, this housing came into the UK sometime between the beginning of May and the 15th December 1916.
Alongside the hallmark, we find the individual serial number for this case, 696949 and the sponsor's mark "CN". IWC's official British importer at the time was Stauffer & Son of Charterhouse Road, Holborn, with Charles Nicholet being the company's managing director, hence the initials here. Details like these are so important when assessing any vintage watch, and make all the difference between a genuinely high grade example and a merely average one. The amount of case swapping that has gone on with antique pocket watches over the last half century is enormous, and if it is to have anything even remotely approaching its theoretical value, a piece must have its original case, signed, as here, with the appropriate markings. Notice also on this watch that the same serial number, CN stamp and 1916 London hallmark are repeated inside the movement dust cover, again confirming that all aspects of the case started life together when new and have not been mated together more recently. Even the bow here, the circular loop through which a chain can be attached, carries the same London import marks, this telling us that, unlike so many others, it has never been replaced in the past.
In common with the majority of pocket watches from this period, this piece has an enamel dial, rather than the painted type that would begin to appear in the 1920s. Hard, oven baked enamel dials have the advantage that they are almost immune to discolouration by dirt and moisture, but they have the downside of being vulnerable to hairline cracking, especially if dropped or roughly handled. Quite remarkably, despite being completely original in every respect, this dial is in almost perfect condition, and has no cracks to its surface whatsoever. It is exceedingly unusual to find any World War I period enamel dial in such well-preserved condition, with some faint hairlines almost being expected on an item like this one.
The dial layout here couldn't be more evocative of its era of production. While this isn't a military watch, this style, with very large luminous Arabic numerals and matching tulip hands, became something of a standard among officers serving in the trenches, who often needed to ascertain the accurate time in complete darkness. The numerals and hands are filled with radium material, and this has mellowed in colour from a once bright green to a very attractive khaki shade. Appreciating that this deterioration of radium based paint is chemically unavoidable, no experienced collector would ever criticise an early watch on this basis, and indeed, the fact that this remains here intact at all is something of a minor miracle.
This is a fully signed dial, with "IWC, Schaffhausen" stated above the dial centre, together with "Hunt & Roskell", this being the name of the retailer that supplied the watch when new. This second signature is important, and undoubtedly adds value to this watch as it otherwise would have been in singly signed form. Directly descended from Rundell, Bridge and Rundell, the makers of Queen Victoria's crown and arguably the most prestigious of London's silversmiths in the mid 19th century, Hunt & Roskell held warrants of appointment to Queen Victoria, the Prince of Wales and the Kings of Siam and Denmark. In 1889, the business was taken over by the highly respected J.W Benson company of Ludgate Hill, who kept the name alive until the early 1920s when it gradually faded from usage. From 1916, this watch must have been one of the last to carry this famous signature, and as such, is particularly appealing.
The beautiful blued steel tulip hands are completely original and free from corrosion, as is the correct onion shaped brass winding crown. A point already made in the context of the case back signature, details like these are instrumental in defining market value. Finding the correct hands and crown for any vintage watch of this age today would be nothing less than a nightmare, and we would always advise any buyer to purchase an example that is correct from the outset, rather than buy a cheaper item with non-standard components and then attempt to restore it back to original specification at a later date.
IWC movements are universally regarded as being among the very finest ever made, by any of the top tier Swiss houses. In common with all the vintage movements produced by the company, as opposed to those it has offered in the last two decades, the fully jewelled calibre 57 mechanism in this watch was manufactured entirely in-house in the firm's Schaffhausen factory. It contains no components from other makers, and is a genuine, undiluted IWC product. Produced from 1890 to 1931, calibre 57 is undoubtedly one of IWC's classic movements and, interestingly for the buyer more used to wristwatches, can be regarded very much as the inspiration for the scaled down calibre 64 that we associate with the company's early wristwatches of the World War I period.
Quite as it should, this movement is signed "S & Co" ( Stauffer & Company) on its bridge, with the word "Peerless" alongside its balance wheel. Early IWC movements were never signed as such when sold in the UK market, but instead carried these references to the company's British importer. Very interestingly, there are also two Swiss patent numbers stated here, these being 31457 and 55231. We have obtained copies of the original patent grant documents from the Swiss records office and will include them when shipping this piece to its next owner. They make fascinating reading and add to the background of this charming piece.
The individual serial number 640079 is clearly visible. Looking this up in the tables published on page 220 of Hans Tolke's excellent book "IWC", we can see that this movement was manufactured in 1916 as part of a batch of calibre 57 mechanisms that had the serial number range 640001 to 641200. Notice that there is complete consistency running throughout this watch. Both the case and movement numbers date these components to 1916, and this is confirmed by the British hallmark letter for the same year.
Much to its credit, IWC today takes a great deal of interest in its vintage output, and is often of invaluable use to collectors of its antique pieces. For a nominal fee, if case and serial numbers are supplied to Schaffhausen, both of which are included in full in this description, the company will produce an extract from its archives, this giving the exact date on which a particular watch left the factory when new, and naming its first purchaser. Better still, requesting this information will confirm categorically that a particular combination of case and movement is original. Having such documentation will be a great help when selling a watch in the future, and given the tiny cost involved, we would strongly recommend that anyone who owns a vintage IWC, either wrist or pocket watch, takes advantage of this facility while it is still offered.
The condition of this movement is literally almost perfect throughout. Its frosted gilt surface is bright and free from corrosion, and there is not even the slightest hint of dulling to any of its gears. Having been serviced on a regular basis since new, this unit works perfectly and is in the best possible mechanical health. A movement of this exceptionally high quality has the potential to last almost forever, and there is no doubt whatsoever that if carefully looked after, cleaned and lubricated every three of four years, this watch will effortlessly outlive anyone who might be reading this description today. Movements like this one were hand crafted in what was a golden age of mechanical watch making, and while relatively expensive now, they are enormously satisfying to own and examine under high magnification. Almost every product that we buy new today is compromised in the sense that some shortcut is taken in its production to reduce manufacturing cost. Here, there was no question of creating anything other than the highest possible quality standard, which is a major factor as to why vintage IWC movements, both for wristwatches and pocket watches, are held in such high regard by connoisseurs of mechanical horology today.
As a matter of business policy, we deliberately try to keep our own opinions out of our website and present each watch in a very matter of fact, unbiased way, but readers will have probably noticed that we are genuinely very impressed by this item, and would consider it to be one of the most charming among those listed here at present. Most of the visitors to this site will be familiar with IWC in its capacity as one of the most highest respected wristwatch makers, but relatively few will have ever thought about buying an IWC pocket watch, which is a great shame. To those people, such a step would be something we would recommend. A genuinely near mint pocket watch by a top tier maker like IWC will always appreciate in value and must be the epitomic example of an investment that is entirely risk free. Perhaps more appealingly still, an antique model like this one, with its elegant dial and reassuringly audible tick, is the perfect antidote to a rather depressing environment in which utterly tasteless brightly coloured brand new oversized sports watches now predominate. While it would be impractical to wear a pocket watch on a daily basis, we would derive a lot of pleasure from using such a charming piece of archaic machinery in suitable environments, and for the buyer looking for a single superb example to fulfil this niche requirement, he won't find a better one than that offered here.
Suggesting a realistic value for this watch isn't easy, as one sees very few early vintage IWC pocket watches for sale that are in comparable near mint condition to the example here, while being at the same time also totally original. Last year we sold a very similar IWC pocket watch, with the same calibre 57 movement, also in silver, but with a simpler dial format and without this appealing double dial signature. This other watch sold for just under £1000 GB pounds and represented astonishingly good value for money when we stop to consider that this figure wouldn't begin to purchase even the most battered IWC wristwatch from the World War I period. After some thought, we have priced the example here at £1175 GB pounds, which again, is not a great deal of money to pay for something of this quality in such immaculate order.
Price £1175 GB Pounds
Vintage Watch Brands
Vintage Watch Decades
Vintage Ladies Watches
Vintage Watch Bracelets
Swipwreek Straps
Travel Clock/ Pocket Watches
Home
About
Brand Overviews
By Decade
Reference
Contact Details
Telephone from the UK:
07453 734666
or 07428 051005
Telephone from overseas:
+44 7453 734666
or +44 7428 051005