Jaeger LeCoultre travelling clock and barometer 1935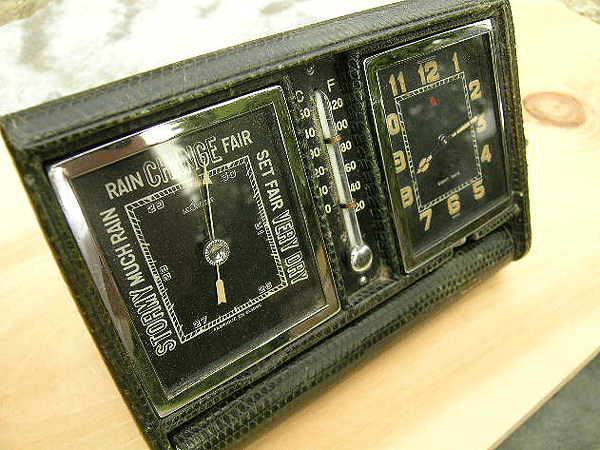 Dating from 1935, this beautiful art deco Jaeger LeCoultre combination of desk clock, barometer and thermometer is something that oozes the spirit of the elegant inter-war period. Accessories like this were created by the top tier luxury makers for a money no object clientele who could afford to pay for the absolute best in quality. This piece fits perfectly with the world of Bugatti cars and high society parties and was a universe away from the ordinary man, perhaps working in a factory or as a labourer.
Even today, over seventy years later, this is still a very glamorous item that has lost none of its opulence. We always try to have a small selection of vintage Jaeger LeCoultre travel clocks for sale and these always prove popular, but we have only owned this deluxe variant, with the additional barometer and thermometer, twice in the last twenty years. Once this has sold, we wouldn't begin to know how to replace it and it may well be a long time before the opportunity arises for us to purchase another with the same specification.
This whole item is in superb condition, which shouldn't surprise us too much. It seems probable that the sort of individual who purchased such an expensive indulgence in the first place was something of a connoisseur who was unlikely to mistreat his possessions. The value of these clocks has always been high and there wasn't much of a likelihood that they would fall into the careless hands of lower class owners.
Period Jaeger LeCoultre advertising tells us that this model was offered with various dial colours and several different coverings to the case. We have a French 1935 advert by the company in our archives that shows this exact option and we have included a photograph of this here. This example features the most desirable combination of black dials for the clock and barometer with a small grained, very dark green lizard skin covering for the case. The overall effect of black, dark green and chrome screams 1930s art deco and is very eye catching. It is difficult to imagine anyone not finding this clock extremely attractive. English browsers will understand if we say that this item would look perfect on the set of the television series Poirot, perhaps on the desk of Agatha Christie's famous detective or in his carriage on the Orient Express.
With a width of cm, a height of and a depth of , this is actually quite a large item. It would be convenient to carry about one's person and it seems likely that it was intended as something that a gentleman could place on his writing desk while travelling. Curiously, unlike many travel clocks of the period, curiously, it does not have an alarm function.
The barometer and the clock are hinged on their top surfaces and can be swung upwards and forwards in order that their reverse sides are accessible for servicing. The chrome to both the front and the back of the barometer and clock housings is almost perfect, with no corrosion or flaking at all.
On the rear of the clock housing there is the patent number 365.884. We have obtained a copy of the original patent documents relating to this grant and they make interesting reading. Registered in 1932, they relate to the distinctive folding style of this case. What we didn't know was that this format was not a Jaeger LeCoultre design per se, but had in fact been created by an Englishman, Cyril Gowland, of 106 Regent Street, London. After patenting this case architecture, Mr. Gowland made it available to Jaeger LeCoultre in exchange for a suitable fee. We will include a copy of this patent document when we ship this clock to its next owner.
Both dials are completely original and in almost mint condition. Neither is at all faded and there is no spotting or damage of any kind. One cannot help draw the conclusion that the superb condition of the dials may well be due to this clock having been stored with its case cover closed. Without exposure to light and protected against damp, there really wasn't a great deal to cause this dial to age. It is also worth noting that the luminous paint on the dial numerals and hands is in excellent order and has deteriorated to a far lesser extent that we would expect to find on a conventional wristwatch from the 1930s. It must be stressed emphatically that this luminous material, like the rest of the watch, is totally original and has not been retouched at any time.
The barometer is signed on its dial as "LeCoultre, Fabrique En Suisse" while the clock carries the wording "Jaeger LeCoultre, Eight Days, Swiss". We guarantee that both the clock and the barometer are those that were fitted to this case new. Absolutely nothing about this unit has been altered and every last detail, from the tulip shaped hands through to the winding crown and thermometer, is totally correct.
Setting a price for this piece isn't easy. We haven't seen another on the market for several years, with the last example we know to have sold being in a Sotheby's London sale in the mid 2000s. We have a large number of past auction catalogues but despite considerable effort in looking, we don't appear to have the relevant one for this event. From memory, we have a vague recollection that it sold for just slightly less than £1000 and was in a tan coloured pigskin, but beyond this, we are rather in the dark.
For anyone looking for one of these beautiful objects, this is as good as they will find anywhere, at any price. The colour combination is highly desirable, and condition and originality could not be improved upon. After some deliberation, we have priced this item at £775 GB pounds, which is not excessive. This is a very indulgent, superbly made piece that would look wonderful displayed on the antique mahogany desk of a barrister or medical man somewhere. While the asking price is not a trivial sum, we should not lose sight of just what incredibly good value for money this clock offers in comparison to a Jaeger LeCoultre wristwatch of the same age. At the moment, these exquisite clocks, whether by Rolex, Longines or Jaeger LeCoultre, are very undervalued. To be able to buy this kind of quality in a vintage Jaeger LeCoultre wristwatch for less than a thousand pounds is unthinkable, and when these clocks are "discovered" by a wider collecting base, as they inevitably will be, then prices will rise sharply. There is no reason for the values of these clocks lagging behind those of their wristwatch equivalents other than the simple fact that most collectors are not even aware of their existence.
Price £775 GB Pounds
Vintage Watch Brands
Vintage Watch Decades
Vintage Ladies Watches
Vintage Watch Bracelets
Swipwreek Straps
Travel Clock/ Pocket Watches
Home
About
Brand Overviews
By Decade
Reference
Contact Details
Telephone from the UK:
07453 734666
or 07428 051005
Telephone from overseas:
+44 7453 734666
or +44 7428 051005