Movado Ermeto chronometer in Asprey, London case 1929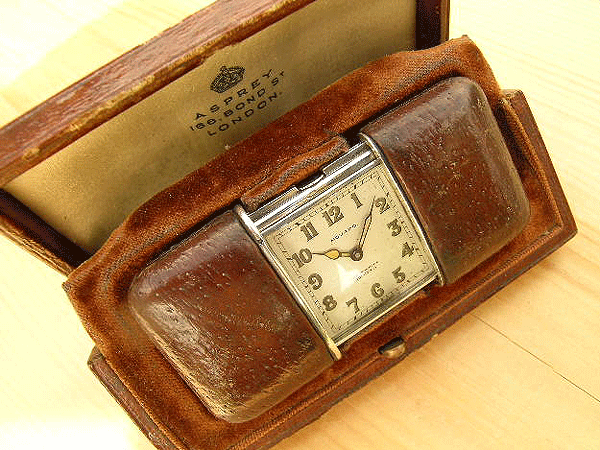 From 1929, this utterly beautiful chronometer rated Movado Ermeto, complete with its original custom made fitted case from London high society jeweller Asprey, is the classic example of a piece that is unquestionably expensive, but at the same time worth every penny as something exceptional to be acquired for investment.
Introduced in 1926, the Ermeto is arguably the most important product to have been created by the innovative Movado company, and today, is without doubt the one for which it is most fondly remembered. Neither a pocket or wristwatch, it occupied a sort of no man's land between the two and curiously, has something of a magnetic appeal to collectors of both genres. We can honestly say that we cannot think of any one of our long term customers who hasn't immediately been captivated by Ermetos on first examining one, and the majority of serious antique wristwatch enthusiasts usually own at least one representative sample of this type. There is something tactile and satisfying about Movado Ermetos and it is immediately obvious from the first few seconds of handling that these items are of the highest possible quality.
The Ermeto was offered in four sizes. The smallest was intended for use by ladies in their purses, the largest, the "Pullman" for display on a desk, the second largest as a sort of oversized travelling clock known as the "Master", and this model for carrying in the pocket as a portable watch. Keen to market its invention to as many potential purchasers as possible, this size of Ermeto was always portrayed as a unisex item, and delightful art deco advertisements of the period show a fashionably dressed couple in a variety of befittingly sophisticated social situations, each consulting their own Ermetos.
We have not seen a more appealing Ermeto than this one. Its condition is literally almost perfect, and the evocative associations of its Asprey signature and fitted case are enormous. It is difficult to view the object without remembering that somebody actually walked into Asprey one day in 1929, arguably the most prestigious jeweller in London at the time, patronised by Maharajas and both British and European Royalty, chose this delightful object and went on his way. The economic and social gulf between the ordinary working public and the sort of person who shopped in Asprey for whimsies like this was incredibly wide, and somehow, much of this aura of almost aristocratic glamour still surrounds the watch today. The fitted case here may be slightly faded and the dial just a slight touch yellower than it was over eighty ago, but when we hold the piece to our ear rather as we did seashells as children, with a little imagination we can still hear the sound of guests arriving at a country house shooting weekend, the domestic staff bustling to unload luggage and gun cases as their owners greeted old friends on the stone steps outside. Old Louis Vuitton cabin trunks and Holland & Holland shooting related items are charming and very valuable for the same reasons; because they evoke a rather Brideshead Revisited-type nostalgia for an upper class elegant world that has all but ceased to exist.
On its reverse side, the case is stamped with the serial number 1217374 and the signature "Swiss Made, Patent, Fab. Suisse, A5M, Mecan". Interestingly, it has two sets of hallmarks, both French and British. The former, in the form of a swan, indicates that the item is in sterling silver, but was imported to France from a country that did not have a trading contract with the destination nation. The latter consists of full sterling silver import hallmarks for Glasgow 1929, together with the sponsor's mark "GS". These letters were the initials of George Stockwell, managing director of Stockwell & Co. Ltd, of 16-18 Finsbury Street, London EC. Listed in the 1929 London trade directory as a "continental carrier", Stockwell acted as an importer for many of the prestigious Swiss horological and jewellery houses. Particularly in the World War I era and the early 1920s, the company was responsible for a significant percentage of high level early wristwatches entering the UK.
The outer housing is covered with brown pigskin. This is totally original and has never been changed. Its condition is almost faultless, though in places it has just acquired the slightest mellow patina commensurate with its age. The sort of person who will be attracted to this look will almost certainly have a penchant for decades old polished handmade English brogues and derive great pleasure from looking at the antiquated wine labels on the dusty vintage bottles in his cellar. Even from a casual first glance, this is clearly a high quality object, but it also has a sophistication and gentle charm of its own that is quite lacking from the sterile brand new watches on display in the high street jeweller's window.
The French white dial is completely original and in virtually perfect condition. It has never been restored and is exactly as it was in 1929, with the exception that its overall colour has perhaps just mellowed almost imperceptibly from a near white to a slightly creamier tone. The signature "Movado, Chronometre Ermeto, Swiss Made" is stated in black inside a double minute track. At the very top of the dial is "US. Pat. 1.707906" in tiny letters. Strangely, we have never seen this mention of US patent protection on any Ermeto dial in the past, and it seems a reasonable assumption therefore that, for whatever reason, it only appeared for a short period.
The degree of originality here is astonishing, and not one component in the watch has been changed or modified. The blued steel hands are original and in superb condition, though their radium based luminous infill has deteriorated to a very minor extent. The very distinctive winding crown, decorated with an oak leaf pattern, is original and unusual, almost all Ermetos now having had this component changed at some stage.
Desirably, this Ermeto is a rack winding model. For the uninitiated, it should be explained that this term refers to the watch being wound automatically when the two sides of its protective outer shell are pulled apart. A lovely refinement is the way the winding crown can still be seen to turn remotely when the case is split, even though it is untouched by human hand. The very first Ermetos, those manufactured between 1926 and approximately 1928, were wound manually via the winding crown, but collectors are all agreed that the patented rack wound versions that followed are the most sought after of the species.
Movado used its calibre 150MN for this size of Ermeto. The example here is in almost mint condition and is especially appealing on account of it having been officially certified as a chronometer. The vast majority of Ermetos were not tested for accuracy in this way and for the enthusiast today, finding one that it is something of a treat. The signature "Movado Factories, Seventeen Jewels, Swiss, Tested to Five Positions" is stated on the bridge plate. Having been serviced on a regular basis since new, this movement works perfectly and is in the very best possible order. Carefully looked after and correctly maintained, there is no reason whatsoever why a mechanical movement of this quality should not be in full working order a hundred years or more from now, just as a huge number of 18th and 19th century pocket watches are today.
It sounds rather overdramatic, but for us, a major reason that influenced our decision to buy this watch at a high price was its accompanying Asprey signed case. Honey coloured, sumptuously lined in matching brown velvet and signed on the satin inside its lid as "Asprey, 166 Bond St, London", this is in excellent, though not absolutely mint, condition. It must be appreciated that this isn't a standard Asprey watch box of the time into which the Ermeto has been fitted, but a custom designed receptacle that is shaped especially to hold this item. The bottom of the case is beautifully hinged in order that the section in which the watch sits can be pivoted upwards at an angle, enabling it to double as a desk stand as required. One has to ask just how many of these Asprey Ermeto cases from the 1920s have survived. We have never seen another in the last thirty years, and find it hard to believe that the total surviving examples would stretch into double figures. The quality of the case is exceptionally high, and in itself this must have a value of over £350 GB pounds at very least.
The price for this package is £1075 GB pounds. The majority of vintage Movado Ermetos for sale online are worn out, mechanically life expired examples that, while often polished and recovered, are fit for little more than spare parts use. To find a good one, and by this we mean one with a well preserved, regularly serviced movement, we would realistically have to pay somewhere between £400 and £500 GB pounds. The item here exceeds this criteria, and falls into the sparsely populated category of near perfect. If we add to this the charm and obvious commercial value of the fitted Asprey case, the asking price doesn't seem at all excessive. This is one of those unique pieces that simply won't be offered again, and as a consequence, is guaranteed to be a good investment. Ten years from now, this, in common with almost every other high grade vintage wristwatch for sale on this site, will be seen to have changed hands at a painfully low price level, and comparable examples simply won't be on the market with any regularity. We defy anybody to purchase this watch and not derive considerable pleasure from simply owning it, and for us, it is certainly one of the most irresistible items in our safe at present.
Price £1075 GB Pounds
Vintage Watch Brands
Vintage Watch Decades
Vintage Ladies Watches
Vintage Watch Bracelets
Swipwreek Straps
Travel Clock/ Pocket Watches
Home
About
Brand Overviews
By Decade
Reference
Contact Details
Telephone from the UK:
07453 734666
or 07428 051005
Telephone from overseas:
+44 7453 734666
or +44 7428 051005