Omega stopwatches. New old stock 1952 & 1959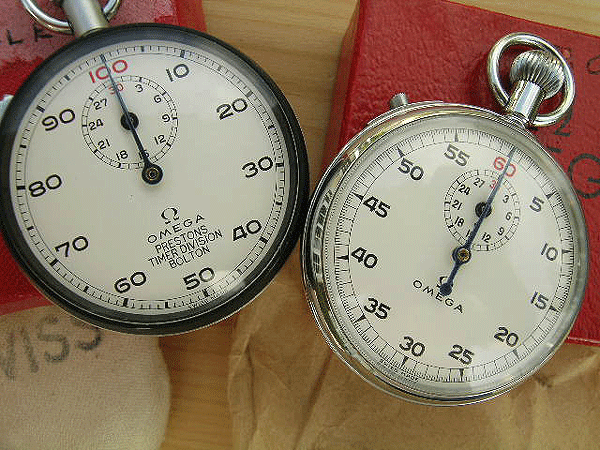 After almost thirty years in the high grade vintage wristwatch business, we feel very much at ease with our subject. We have sold, literally, many thousands of watches and have a working knowledge of almost all the variants, both uncommon and more easily found, by the major Swiss brands. Our customers trust us not least because we are able to make informed judgements about whether watches are original and of investment grade, or if they fall short of this standard.
We were rather taken out of our comfort zone when a member of the general public offered us two Omega stopwatches that she had inherited. Our familiarity with these objects is almost nil, our only experience in the stopwatch field being derived from the occasional vintage Heuer dash board clock that crosses our path maybe once every three or four years.
What aroused our curiosity was the fact that this pair of watches had never been used. They were purchased by the vendor's relative who had been a research scientist working for GEC. He had bought the watches for a specific purpose, but in the event, found a better way around the problem he was trying to solve and they remained, packed away untouched in their original boxes and interior packaging, until 2011 when he passed away. These are not items that have been used and carefully looked after, but are new old stock pieces that have never been operated since the day they were bought. In all our years trading, we have never seen anything like these and couldn't resist buying them, simply because they are almost certainly unique in this time warped condition. There cannot be better examples of these two models anywhere in the world, even in Omega's own collection.
There seems little point in giving the typical in-depth analysis of condition that traditionally accompanies our descriptions because there is nothing to say. These watches could be placed in the window of any official Omega agent and sold as brand new, the only giveaway to their age being their very attractive vintage styling. They are, throughout, molecularly perfect and entirely beyond criticism of any kind.
The finish on the cases is chrome. Initially, we thought they were in stainless steel, but close examination reveals that in fact, they are in heavily chrome plated brass. This chrome is pristine, without even signs of careful handling in a jeweller's shop. While totally original, the condition of the cases is such that we could have easily believed them to have come out of the plating bath an hour ago.
Uniquely on this site, we will deal with both watches in the space of a single listing. They are very similar, but strangely given that they were bought at the same time, were manufactured in different years, these being 1952 and 1959 respectively. It will help the reader if we indicate that the more recent watch is the one with "Prestons Timer Division, Bolton" printed on its dial.
Interestingly, case detail is slightly different to that found on Omega wristwatches. The older, 1952, watch has an internal dust cover that is entirely separate from its snap on case back. This cover has been decorated with an engine turned pearled pattern. The more modern watch has never had a movement dust cover, with its case back snapping onto the case body and directly covering the mechanism. The internal finish of the 1959 watch is not the same as its predecessor, this having a frosted surface, rather like that we associate with vintage IWC movements from the 1920s.
Amazingly, the newer watch still has the original paper cover attached to its case back outer that was designed to protect it during shipping to its place of retail sale. This has never been removed.
The older watch has a sweep second hand that records intervals of up to a minute. After this time, the minute counter comes into play, which enables periods of time up to half an hour to be tracked.
On the face of it somewhat oddly, the 1959 watch also has a central sweep second hand that takes a minute to make a full revolution, but this is calibrated into one hundred, rather than sixty, intervals. Again, as before, once this time has been reached, the minute counter begins to operate.
Both dials are very similar in appearance. A nice touch is the presence of a supplying retailer's name on the dial of the older watch. Prestons of the Strand, Blackpool, Lancashire was an official Omega agent and was probably best known for its supply of stop watches. There are some very evocative full page adverts by Prestons from the 1950s and '60s featuring racing cars and speed boats, all promoting Omega stop watches like the ones here.
Both movements are, again, simply in brand new condition. The older watch is signed "Omega, Swiss, 7 Jewels" on its mechanism, together with the calibre number 5600 and the individual serial number 1562558 . This movement has its plates decorated with a set of Geneva stripes and is of the very highest possible quality. The standard of finish here is at least the equal of that found in any of Omega's chronograph wristwatches from the same era. We also should not be put off by the mention of a mere seven jewels and must remember that without the time keeping section of a conventional wristwatch chronograph, there is no need for more than this number.
The movement in the 1959 watch is again signed "Omega, Swiss, Seven Jewels". This carries the serial number 3391884 and the calibre number 8300. In tiny letters under the balance wheel, surrounded by a Maltese cross, is the maker's mark for Lemania ( LWO "Lemania Watch L'Orient" ). If we hadn't seen this, we would still have assumed that the movements in both of these watches were of Lemania origin. Omega purchased its chronograph mechanisms almost entirely from this famous maker during this period and indeed, its Speedmaster wristwatches, best known for their role in the Apollo moon mission, contained movements that originated at the Lemania factory.
Both watches work perfectly. Clicking the slider on their sides to start and stop the chronograph mechanism working is a pleasure. The precision and smoothness with which the release and arrest process performs brings a smile to the face. There is absolutely no wear at all in these movements and they work today just as crisply as they did on the days they respectively left Omega when new.
Again quite remarkably, both watches are complete with their original packaging. This has clearly been in a drawer for many years and is now slightly worn, but certainly it is still of interest to the collector and something that adds commercial value.
As mentioned above, we are the first to admit that vintage stopwatches are not our specialist subject. There are many collectors who know far more about this field than we ever will. However, we do know enough to guarantee that these two examples are both completely original and in a condition that makes them the very best of their type anywhere on earth. We couldn't resist buying them because of their sheer quality and untouched state and we are sure that they will quickly find new owners. These would be the perfect gift for a vintage motorsport enthusiast and if looked after properly and not abused, they will never lose a penny in value.
We have priced both watches at £265 GB pounds each. At this level, they offer a lot of very high precision machinery for a very small amount of money. Stopwatches are an important part of Omega's history, with the company providing timing for the Olympic games. Either, or both, of these beautiful items would look perfectly in keeping with any collection of wristwatches that aimed to chart the rise of this highly celebrated brand. The prestigious horological auctioneer Antiquorum clearly had the same view of the significance of these items, including seven vintage Omega stopwatches in its thematic "Omegamania" sale of 14 and 15 April 2007 in Geneva. The most expensive of these, a steel cased example from 1955, sold for 7080 Swiss Francs including buyer's premium, this amount roughly equating to £5325 GB pounds, more than double its pre-sale estimate.
Price £265 each GB Pounds
Vintage Watch Brands
Vintage Watch Decades
Vintage Ladies Watches
Vintage Watch Bracelets
Swipwreek Straps
Travel Clock/ Pocket Watches
Home
About
Brand Overviews
By Decade
Reference
Contact Details
Telephone from the UK:
07453 734666
or 07428 051005
Telephone from overseas:
+44 7453 734666
or +44 7428 051005