Jaeger LeCoultre alarm/desk clock red leather 1936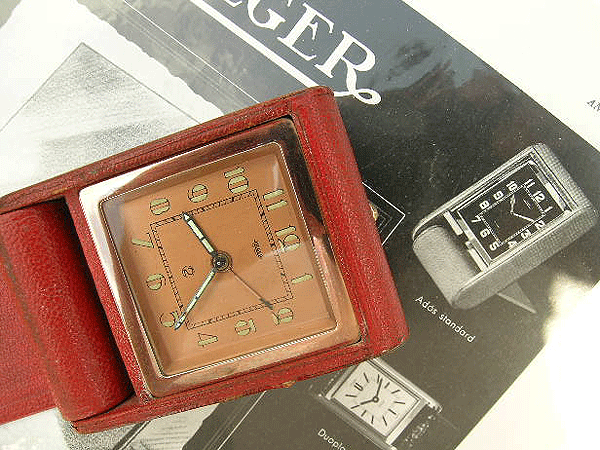 There is something extremely appealing about vintage Jaeger LeCoultre clocks from the 1930s. We have dealt in these items for almost thirty years and have probably owned examples of almost all the variants ever made, but they have never lost their allure and we still enjoy examining new arrivals when they appear. At any one time, we might have five or six in stock, but finding replacements in a condition that meets our standards is not easy. Just as with Jaeger LeCoultre wristwatches, collectors have been looking for these clocks since the mid-1980s and the majority of those who own them today have no interest in selling.
This clock dates from 1936 and is something of a gem. Unusually, its case is covered in bright red Moroccan leather, which we have only encountered on a handful of occasions in the past. The combination of the salmon pink dial, pink gilt bezel and this red hide is very striking. Interestingly, this look is something that has been used by several of the current fashion houses in recent years and despite its very strong art deco 1930s styling, the clock has, oddly on the face of it, a very modern appearance. We could easily imagine this item sitting in the window of a Prada or Chanel boutique in central London or Leeds alongside brightly coloured luxury designer handbags, gentleman's accessories and highly priced leather goods.
While they were very expensive when new and very much a product intended for the inter-war smart set, a lot of the Jaeger LeCoultre clocks in circulation today have been treated badly and are now looking rather shabby. We must remember that while these items are sought after now, in the 1970s when traditional mechanical timepieces had little commercial worth, they were simply viewed as outdated relics of a long past era. Particularly in the past two or three years, we have seen a number of these models surface that have been re-covered with new leather, presumably because their original coverings were badly damaged. We certainly do not criticise this approach and it seems sensible to try to restore items that might otherwise by broken up for spare parts, but even so, we would always advise our customers to obtain an all original example for investment purposes. The hide covering on this clock is guaranteed to be authentic and untouched, and is in extremely good condition.
Those who haven't seen these clocks in the flesh are often surprised by their large size. A number of makers produced clocks in the 1930s that were intended to be carried in handbags, but these Jaeger LeCoultre models were far more substantial, being suited for use as desk or bedside clocks by both ladies and gentlemen. This one has a height of 95mm, a width of 63mm and a depth of 22mm. Similarly, these items have a weighty, high quality feel and one would not wish to carry them far in a pocket for very long.
On any vintage timepiece, whether a clock or a wristwatch, dial condition and originality are key factors in establishing value. Many of the pre-war watches that we see in our business, in fact we could phrase this more strongly and say most instead of many, are with dials that are either original and in noticeably deteriorated condition, or, perhaps worse still, dials that have been restored and are devoid of all originality. In watches, just as in other forms of antiques, rarity has a direct correlation to worth and desirability. There are very few watches from the 1930s that have untouched, unmolested dials in a near mint state and if we take this into account, the high prices realised by these scarce items begin to make logical sense.
This dial is guaranteed to be completely original. It has not been restored, yet it remains in a condition that to all intents and purposes is just the same as it was in 1936 when new. There is no noticeable ageing to its surface at all and none of the spotting that we almost expect as standard on original dials of this age. We have no knowledge of the history of this item, but for its original dial to have survived so unscathed it seems almost certain that it must have spent a lot of its life tucked away in a dark, dry drawer or safe, well away from the bleaching effect of bright sunlight and any moisture that might otherwise have crept around the sides of the glass.
Dial numerals do not get a great deal more attractive than the art deco items here. This look could not be more evocative of the 1930s. A lot of the value attached to particular models of vintage watches relates to their dial formats and if this variant was to be found in a Jaeger LeCoultre wristwatch from the same period, it would command a very high price.
All three hands are entirely original. In the pencil style, they remind of us the hands used on many Rolex Oysters of the same era. It is fascinating that while these hands are found regularly on Jaeger LeCoultre clocks from the inter-war period, we don't recall having ever encountered them on the company's wristwatches. Certainly, few would argue that they are some of the most evocative from this era.
"Jaeger, Fab Suisse" is signed above the dial centre point. This abbreviated signature is worth a brief note of explanation. Without wishing to digress into a full history of the company, it should be mentioned that the genesis of this famous concern came with the merging of two independent firms in 1917, these being run by Frenchman Edmond Jaeger and Swiss national Jacques-David LeCoultre respectively. Up until 1937, watches were still sold with just the "Jaeger" or "LeCoultre" signatures, the full "Jaeger LeCoultre" wording that we know so well today not appearing before the holding company that bound both businesses had changed its official title to "Societe de vente des produits Jaeger LeCoultre SA". For those with access to an extensive horological library, this subject is discussed in great detail in Franco Cologni's excellent book "Jaeger LeCoultre, The Story of The Grande Maison". Cologni comments on page 84 that in the mid-1930s, the firm's products were routinely sold under the shortened dial signatures "Jaeger" and "LeCoultre".
Below the signature is the number "2", surrounded by a circle. This informs us that this clock has a two day power reserve or, to put it more simply, it will continue to run for forty-eight hours from fully wound to stopped if left to its own devices. Jaeger LeCoultre offered its clocks in various forms, ranging from two and eight day versions without alarm, through to the complicated day/date/month editions that are very rarely seen. We always think that, even though it commands a slight price premium, the alarm feature is one that is well worth seeking out, simply because it means that the clock can then be used on a regular basis on one's bedside table.
Movement quality, as we would expect from Jaeger LeCoultre, was first rate. The company was responsible for some of the best engineered and most exquisitely finished movements of the vintage period and the mechanisms used for its clocks lived up to this standard in every way. It is important to realise that Jaeger LeCoultre manufactured its own movements, for both clocks and wristwatches, entirely in-house from start to finish and had complete control over the production process at every stage. A lot of the prestigious wristwatch makers also offered clocks as something of a sideline, but purchased the movements for these from third party suppliers, not least because they didn't have stock of any mechanisms that were suitable sized. One of the charming things about items like this one is that they are pedigree Jaeger LeCoultre products through and though, just as much so as the company's famous Reverso, Duo-Plan and Uni-Plan wristwatches.
On the rear of the clock, the crowns used for adjustment of the hands are original. The same can be said about the folding handles that allow winding, one for the timekeeping mechanism and the other for the alarm. Similarly, the tiny pivoting cover that keeps dust out of the regulator slot is also correct. It is very common to find that these components have been incorrectly replaced or, in the case of the cover, are missing altogether.
Everything about this clock tells us that it has been looked after extremely well and it is no surprise that it works perfectly. It sets and runs very smoothly and its alarm rings out exactly as it should. The alarm sound itself is pleasing on the ears and is a world away from the awfully harsh beeps that omit from today's battery powered equivalents. One can imagine it ringing out in some Belgravia apartment or country house bedroom between the two wars and this Brideshead-esque evocative aspect will be appealing to a lot of buyers.
We have priced this item at £475 GB pounds. When we consider that similar small clocks by Jaeger LeCoultre and Cartier retail new today for several thousand pounds and that the piece here is of significantly higher quality, it hardly seems expensive. This is a very elegant clock that if looked after, will last several lifetimes with ease. Best of all, if it is treated with respect and kept in the same condition that it remains in currently, it will always appreciate in value. We have held the opinion for a long time that these clocks are very under-appreciated and offer all the quality we associate with vintage Jaeger LeCoultre wristwatches, but at a fraction of the price. Prices are still low for the simple reason that most wristwatch enthusiasts are unaware that Jaeger LeCoultre even produced clocks of any kind. As more enthusiasts realise just how exceptional they are, and just how much high precision machinery can be obtained for relatively modest sums of money, we predict that values will start to climb sharply, just as they have over the last five years for the company's fascinating Atmos clocks.
Price £475 GB Pounds
Vintage Watch Brands
Vintage Watch Decades
Vintage Ladies Watches
Vintage Watch Bracelets
Swipwreek Straps
Travel Clock/ Pocket Watches
Home
About
Brand Overviews
By Decade
Reference
Contact Details
Telephone from the UK:
07453 734666
or 07428 051005
Telephone from overseas:
+44 7453 734666
or +44 7428 051005