Vintage Jaeger LeCoultre Watches For Sale
Vintage Jaeger LeCoultre watches are among the most coveted models in the world of antique horology. The Jaeger LeCoultre company has occupied a position in the top tier of Swiss watch houses in the eyes of collectors since the dawn of the vintage wristwatch concept in the early 1980s. One of problems this has created is that the pool of genuinely worthwhile vintage Jaeger LeCoultre watches is now enormously diminished and top notch pre-1970 examples are getting very tough to source.
As a well known dealer in this field, we are offered several early Jaeger LeCoultre pieces each week, but in most instances, we reject these on the basis that they are too badly worn, contain non-original components or have restored dials. As with Rolex, vintage Jaeger LeCoultre watches have been objects of desire for so long now that there is very little new stock coming onto the market of a premium grade. All the watches left in the back of drawers were discovered twenty five years ago when prices started to rocket and the vast majority of the collectors who own well preserved classic Jaeger LeCoultre models simply don't want to part with them. We always have a selection of exceptional, entirely original, vintage Jaeger LeCoultre watches for sale, but visitors to this site will have little idea of just how much effort goes into tracking down others to replace them when they've sold without compromising our very exacting standards in terms of originality and condition.
Part of Jaeger LeCoultre's appeal is the company's "pure" status as a true manufacture. In Switzerland, the term manufacture is one used to denote a watch brand that is capable of producing its own movements entirely in-house, without the need to purchase parts from external suppliers. Very unusually, even among the top echelon of Swiss watch houses, Jaeger LeCoultre created, and still creates today, its own movements under its own roof in its Le Sentier factory. When you buy a vintage Jaeger LeCoultre watch, everything inside it is a pedigree Jaeger LeCoultre product that can be traced back to this single point of origin. This integrity is something that many serious collectors find appealing and is one of the reasons, along with very high build quality and superb finishing, that vintage Jaeger LeCoultre watches have such credibility in the marketplace today.
The dial signatures on vintage Jaeger LeCoultre watches can be rather confusing to the novice collector and it's worth taking a few minutes to understand how these inter-relate. While they had worked closely together since 1918, the firms of Edmond Jaeger and LeCoultre & Cie were separate entities until 1937, when they formally amalgamated. Prior to this union, we will find either a Jaeger or a LeCoultre dial signature, but never the joint full Jaeger LeCoultre title. In reality, most of the classic 1930s models, including the Uniplan, Duoplan and Reverso, had the LeCoultre signature, though curiously, the Jaeger word is often given greater prominence in period advertising of the era.
Watches made by the company after 1937 will have "Jaeger LeCoultre" stated on their dials. The exception to this will be those sold in the USA which will have a LeCoultre dial signature. This stems from a disagreement over the ownership of the registered Jaeger tradename in America. It should be pretty easy to differentiate between a pre-1937 European market LeCoultre and a Jaeger LeCoultre sold in the USA with an abbreviated dial signature by looking as the specification of the watch and, in particular, the country in which its case was manufactured. Another quick tip is to look at the typeface of the signature very closely. An American market model will have a horizontal line running below the LeCoultre word, whereas on the earlier pre-merger European watches, LeCoultre is stated in simple upper case letters, without the underlining. Post 1980, the dispute in the USA was resolved and since then, all Jaeger LeCoultre watches have been signed with the full Jaeger LeCoultre dial, regardless of the country in which they were intended to be sold. On this site, we always have a very good selection of pre-1937 European LeCoultre models, American market Jaeger LeCoultres with the abbreviated dial signature and a number of British market watches from the 1940s, 50s and 60s with the full Jaeger LeCoultre wording on their dials for sale.
All the vintage Jaeger LeCoultre watches from the inter-war period are exceptional, but in particular, the Uniplan, Duoplan and the Reverso stand out as being especially iconic. The Duoplan will always appeal to the technically inclined on account of its movement being built in two sandwiched split levels, one screwed on top of the other. There isn't anything like it and, though original, unmodified examples are expensive, they are undoubtedly among the most fascinating vintage watches ever made.
When it was introduced in 1931, the Reverso was unique in that it enabled a pivoted carriage containing the dial and movement to be completely flipped over to protect its glass. Originally devised for polo playing British officers out in colonial India, its quirky design proved to be a commercial success and a series of variants evolved throughout the 1930s and '40s. We always have a selection of pre-war vintage Jaeger LeCoultre Reverso watches for sale, though again, it has to be said that replacing these each time we sell one is becoming noticeably more difficult with every year that passes.
It is worth giving serious consideration to the Jaeger LeCoultre military watches that were supplied by the company to the British RAF in the 1940s and '50s. Sadly, with prices starting at £1500 and ending much higher, these aren't the bargains that they used to be twenty years ago, but they remain charismatic in the extreme and rugged enough to be used carefully on a regular basis.
Jaeger LeCoultre will still undertake the servicing of its vintage watches back at its Le Sentier factory, but we're a little reluctant to recommend this without some qualification. The standard of work is extremely high, but many collectors feel the price charged in many instances is excessive. There is no hard evidence for this theory and the comments here are based on little more than gut feeling, but we can't help thinking that Jaeger LeCoultre today is proud of its past glories from the vintage era, but doesn't want to get too involved with them on a day to day basis, hence the price of servicing is deliberately set at a level that will be off putting to many owners. This is a great shame and it is difficult not to contrast this approach to that of IWC, which, much to its credit, takes an enormous interest in providing relatively reasonably priced backup to enthusiasts of its vintage watches. This comparison is a particularly interesting one because today, both IWC and Jaeger LeCoultre are owned by the Richemont luxury goods group.
In common with the products of all the major Swiss houses, good, all original vintage Jaeger LeCoultre watches will always command high price premiums and appreciate in value. For the novice collector, classic Jaeger LeCoultre watches are not a cheap entry into this field and as more enthusiasts continue to chase an ever diminishing pool of worthwhile items, as with good vintage Rolex pieces, inevitably this will push prices further upwards. Again in parallel to Rolex, a well preserved vintage Jaeger LeCoultre is always going to seem expensive at the time of purchase, but over the last twenty five years, watches by both of these brands have proved to be remarkably good investments and have blue chip status in the vintage watch market as a result. No concern today is going to reproduce the remarkable quality present in the best Jaeger LeCoultre movements from the 1940s and 50s, and they will stand for the foreseeable future as being among the most refined products that the Swiss luxury watch industry has ever created. There are very few other makers that have the same degree of respect given to them and any collection that aims to showcase the very best of the vintage watch world would be glaringly incomplete without at least one, and preferably several, early LeCoultre and later Jaeger LeCoultre models in it.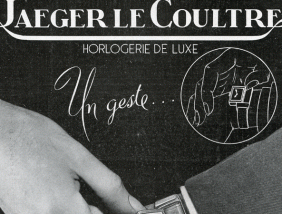 Jaeger LeCoultre rectangular art deco 1948
Jaeger LeCoultre ladies backwind with deco gold bracelet 1949
Jaeger LeCoultre steel calibre P478 buckle 1955
Jaeger LeCoultre gold with London dial 1955
Jaeger LeCoultre Wrist Alarm 2nd Generation 1956
Jaeger LeCoultre steel bumper automatic 1957
Jaeger LeCoultre automatic calibre K881 1962
Jaeger LeCoultre Memovox 3rd Generation 1967
Jaeger LeCoultre Club Automatic 18k gold 1969
Jaeger LeCoultre gold with Fulham, London dial 1971
Vintage Watch Brands
Vintage Watch Decades
Vintage Ladies Watches
Vintage Watch Bracelets
Swipwreek Straps
Travel Clock/ Pocket Watches
Home
About
Brand Overviews
By Decade
Reference
Contact Details
Telephone from the UK:
07453 734666
or 07428 051005
Telephone from overseas:
+44 7453 734666
or +44 7428 051005