Jaeger LeCoultre Wrist Alarm 2nd Generation 1956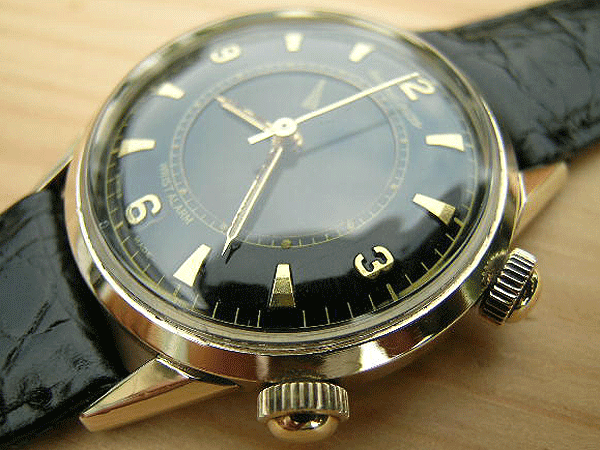 Absolutely gorgeous and very much a collector's item, this 1956 gentleman's Jaeger LeCoultre Wrist Alarm will sell here very quickly. Classic Wrist Alarm and Memovox models have long been specialities of ours and we always have a selection available for sale. We used to find these watches fairly frequently but certainly in the last five years, locating worthwhile examples has been much more of a challenge. This one, and the others we offer, represent the best surviving examples of their type and are ideal as something that could be bought as investments while at the same time remaining very useful objects. A lot of the complications found on vintage wristwatches are fascinating, but, in truth, not a great day of use in a practical sense. When staying in hotels on business or simply for timing the length of time one has left on a parking meter, having an alarm feature on a wristwatch can be very handy.
We always think of watches like this as being the second significant generation of the Wrist Alarm. Jaeger LeCoultre had first launched this important model range in 1950. The earliest versions featured calibre 489 but in 1953, the mechanism 814 found in this watch made its debut. This unit remained the flagship Jaeger LeCoultre alarm movement in hand wound form until it was eventually retired in 1964. Beautifully engineered and finished, a tidy example of a calibre 814 equipped alarm watch is unquestionably an essential inclusion in any serious collection that attempts to chart the landmark achievements that have defined Jaeger LeCoultre as one of the most prestigious Swiss horological houses over the last century.
The condition of this watch is almost perfect. It is not new-old-stock and there are a few tiny imperfections to the case here and there, but it is obvious from even casual inspection that this is a piece that has been a cherished possession of its former owners and has led a very easy life.
This case is 10 karat gold filled, which means that it was constructed by taking two thick sheets of gold and sandwiching between them a sheet of base metal. The resulting stack was rolled out under immense pressure to create cases that had the appearance of gold on both their inner and outer surfaces, but a core of, in this instance, steel. Gold fill is not gold plate and the two should not be confused. Gold plating, a process involving electric current and the submerging of the item to be plated in a chemical bath, leaves only the thinnest coating of gold, a few microns thick, on a case and is to be regarded as vastly inferior. Gold filling is a mechanical, not chemical, process and cases like the one here contain a high percentage of heavy solid gold. Gold filled cases were very popular in the 1940s and '50s, but were gradually seen less and less as the public turned to gold plating as a cheaper alternative. The thickness of gold on the surface of a filled case is such that under normal circumstances, it will never wear through to the base metal below, unlike gold plated cases, which are all too often looking decidedly shabby after just a few years.
As it should be, the case back is in stainless steel. It was almost universal for gold filled case bodies to be mated with steel backs. The case back fixing method here is unusual, with the back fitting into place on the body and then being locked down tightly by means of a threaded ring that is entirely separate from the case back itself. Interestingly, this is a system that is seen on some very early Omega bumper automatics from the late 1940s and it would appear that Jaeger LeCoultre decided to borrow the same approach for these Wrist Alarm housings.
On the outside of the case back is the wording "10k Gold Filled Bezel, Stainless Back". Internally, we find the signature "Cased and Timed in USA by LeCoultre. Star Watch Case Company, 10 kt Gold Filled Bezel, Stainless Back" together with the model reference 2511 and the serial number 4739702. There is an awful lot of information to be gleaned from this stamping and it is well worth taking a few moments to appreciate what these various aspects mean.
In the year immediately after World War II, the American Government was keen to protect the domestic watch manufacturing industry. To further this objective, heavy taxes were levied on watches imported from overseas, making them less competitive in the marketplace and putting the traditional Swiss luxury brands, which were always expensive in the first instance, at a disadvantage.
Rather than being forced out of the lucrative American market, the Swiss houses reacted in an ingenious manner. The tax was due on complete watches, so by shipping uncased movements to the USA and having these housed in due course by their American agents, these companies could avoid the tariffs and continue to trade unhindered. It wasn't only Jaeger LeCoultre that took this route and in our business, we regularly encounter vintage Omega, Rolex, IWC and Longines watches with their original American made cases.
Based in Luddington, Michigan, the Star Watch Case Company was responsible for some of the highest quality wristwatch cases that have ever been manufactured on US soil. It was a natural choice as a supplier to Jaeger LeCoultre, with the latter's decision being repeated by the management team at Omega in 1978 when Star was commissioned to produce cases for the famous Speedmaster range.
Incidentally, even without its country of origin being stated in the case back, we would have been pretty sure that this case was manufactured in the USA. While 9 and 18 karat were the two purity grades used as standard in Europe, 10 and 14 karat were the norms in America. We have very occasionally encountered 10 karat gold cases that were European made but these are so unusual as to be almost irrelevant. A good working rule is that if a case is in10 karat gold, it is almost certainly of US origin.
We have something of an obsession with weeding out watches that are not in their correct cases. So many vintage timepieces sold online, especially in the mass market auction environment where originality is often dubious, are marriages of cases and movements that were never together in the first place. Interest in classic wristwatches has increased out of all proportion over the last fifteen years and a negative side effect of this popularity is that a lot of watches have been, in English parlance, bodged together from incorrect parts to deceive the unwary. The cases used for the Wrist Alarm ( and Memovox, this being the slightly later automatic form of the hand wound Wrist Alarm) are usually correct, not least because a standard watch case, with a single hole in its side for a winding crown, obviously will not accommodate the two crowns present here. In this respect, the Wrist Alarm is a pretty safe purchase and as long as some research is carried to confirm that a case style is appropriate for the era of movement contained in it, we can be confident that a re-case has not been performed. Of course, we guarantee categorically that the case and movement in this watch are original to each other.
A more attractive, better preserved dial from the 1950s could not be found. Its jet black finish has not faded and remains as dark as it did when new. For reasons we have never understood, the dials on Jaeger LeCoultre alarm watches have often deteriorated noticeably, more so than those on many other models from the same period. This is especially so of the rotating inner section that indicates the alarm time setting. Even when examined at a distance of just a few millimetres under high magnification, this dial appears virtually perfect, with just the very faintest, almost imperceptible ageing around the batons and numerals. We will always gladly pay a premium for watches with dials in this remarkable state, simply because we are aware that our buyers are actively looking for items of this grade and again, will knowingly pay over the odds to secure them.
"Jaeger LeCoultre" is signed below the 12 position with "Wrist Alarm, Swiss Made" just above and below the 6 respectively. The double minute track around the sunken central area and the single track around the very outside of the dial are in superb condition and not at all corrupted or rubbed.
All three hands are original and in gilt. Their surfaces are in excellent condition and not at all dulled. The luminous paint present on the hands and the alarm time indicator disk has aged very slightly, but this is due to the unavoidable chemical changes that have occurred in its radium ingredient over the last half century. It would probably be impossible to locate a vintage watch from this period with radium paint that was pristine and indeed, we would go further and say that if such an item was offered to us, we would have doubts as to whether the hands had been retouched. The gentle fading and slight browning of old luminous paint that we see here is exactly what the experienced collector hopes to find in an ideal world.
After almost thirty years in the vintage wristwatch business, we tend to believe that we have encountered most of the variations that were offered on the important models by the major Swiss makers. Repeated handling, day in, day out, of large volumes of classic Rolex, Omega and Jaeger LeCoultre watches has given us a good practical knowledge of which components are correct for which years of production. We certainly don't know it all though and were caught off-guard by the watch here. When it was first offered to us by a member of the public, we did not recognise this style of winding crowns and despite the immaculate state of the rest of the watch, we reluctantly made the decision not to add it to our stock, believing that at some point, non-standard crowns had been fitted. Indignantly, the vendor commented that he knew that the crowns were original and after some investigation through our archive of period advertising material, we, rather red faced, had to accept that he was right. We have only seen this highly obscure style of Jaeger LeCoultre crown once and it seems likely that it was only used for a very short length of time. Those with access to comprehensive horological libraries will see this exact same crown type pictured in full colour on page 108 of Zaf Basha's book "Jaeger LeCoultre, A Guide for the Collector", where they are fitted to a 1958 Memovox model.
Jaeger LeCoultre did not invent the concept of the wristwatch with an alarm feature, but it did refine the genre to the point that any collection aiming to chart the significant developments that occurred in the luxury watch field over the 20th century would be incomplete without either a Wrist Alarm or a Memovox.
The quality of vintage Jaeger LeCoultre movements was of the highest standard and if an example of the company's exquisite work from this period is sourced today in excellent order, it will be a source of great pleasure to its owner. Unlike many of its competitors, Jaeger LeCoultre manufactured its own movements entirely in-house with no use of components purchased from external suppliers. This had the great advantage that the firm was in complete control at every stage of the production process and could ensure a consistency of machining and finishing that was at times lacking in the output of the lesser brands. For the modern day collector, the uniqueness of Jaeger LeCoultre movements gives them a sense of integrity. It can be very disappointing to find that the movement in a much prized vintage watch that has been purchased at a high price was also used by lower level brands much further down the desirability scale. Rather like a single malt whisky that is the product of a specific distillery, a vintage Jaeger LeCoultre movement was designed, built and finished at the company's famous factory in Le Sentier. These units were not mass produced and cannot be found in anything other than Jaeger LeCoultre's own range.
Calibre 814 was in many ways similar to the 489 that it replaced. In fact, many of the component parts are common to both units, which of course is an advantage today if repair work is ever needed. The key difference between the two calibres is the presence of a distinctive very large plate on the 814, this almost covering the top of the movement when viewed from the back. The 489 has the same total area of plate coverage, but divided almost centrally into two separate plates. It is worth noting that the 814 was deemed to be such a superb design that Jaeger LeCoultre would use it as the basis of its automatic alarm movements when launching its self-winding Memovox line. The automatics appeared in late 1956 and the watch here would have been among the last manufactured by Jaeger LeCoultre when it still only offered hand wound alarm models in its range.
Both the 814 and the 489 operate in exactly the same way. The upper crown winds and sets the alarm function, entirely independently of the standard timekeeping aspect of the watch, which is controlled by the lower crown. Though expensive to create, this separation had the great benefit of increased accuracy. On many previous alarm watches by various concerns, when the alarm rung out, it immediately placed an excessive load on the power supply to the rest of the movement, causing its beat rate to fractionally slow. Jaeger LeCoultre's solution to this old problem was technically difficult, but ensured that even when the alarm was in full sonorous swing, accuracy was maintained as before.
The quality of the classic Jaeger LeCoultre alarm movements was so high in the first instance that provided they have not been neglected and starved of lubrication, they will last almost forever. These are complex units with a wide range of moving parts and the importance of only buying an example in a near mint state cannot be over-stressed. Even the finest quality movement will become unreliable if it is allowed to corrode or has been modified with non-standard components in order to carry out a low budget, back street repair. This movement is one of the cleanest and best preserved that we have owned in recent years. It has been serviced on a regular basis and works perfectly, both as a conventional timekeeper and in its capacity as an alarm watch. Perhaps even more fundamentally, it is original throughout and has not been adulterated at any time with incorrect replacement parts.
"LeCoultre Co, Seventeen Jewels, Swiss" is signed on the bridge, with the calibre number 814 stamped into the base plate. The individual serial number 1188084 is present next to the balance wheel. Falling between the two extremes of vintage Jaeger LeCoultre production for that year of 1130000 and 1225000, this clearly identifies this unit as having been manufactured in 1956.
Jaeger LeCoultre period advertising from the mid-1950s shows the Wrist Alarm and Memovox models fitted with crocodile skin straps. While not a genuine Jaeger LeCoultre item, the strap supplied with this piece is very similar in appearance to that which would have graced it in the first instance. This is a brand new strap that has never been worn.
The excellent book "The Alarm Wristwatch" by Michael Horlbeck includes three large colour photographs on page 69 of an almost identical 10 karat gold filled Jaeger LeCoultre Wrist Alarm to the piece here as part of a section entitled "Milestones of Alarm History". This has the same Star case with its distinctive locking ring back in steel and the identical winding crowns. Very interestingly, Horlbeck comments that the lugs are angled back more steeply from the case than they would be on a conventional watch, this having the effect of slightly raising the case back from the wearer's wrist and making the alarm more audible. This principle was used when Jaeger LeCoultre created the first generation Wrist Alarm and was clearly handed down to the second generation models also. The Horlbeck watch also features the hand wound calibre 814 movement.
The Jaeger LeCoultre Wrist Alarm deserves its status as a vintage wristwatch icon. This is a model range that, in all its forms, had a great influence on the luxury watch market of its era and was just as desirable half a century ago as it remains today. We often explain to customers that the relative position of a watch in the hierarchy of desirability rarely changes with time. In other words, a model that was very high quality, innovative and inevitably expensive when new is likely to be sought after now. The Wrist Alarm is the perfect illustration of this point and ever since the early 1980s when vintage wristwatches began to be recognised as collectibles, good original Jaeger LeCoultre pieces from the 1950s and '60s have been regarded as blue chip staples in the portfolio of any enthusiast.
We have priced this watch at £1375 GB pounds, which is far from unreasonable. We would love nothing more than to buy a greater number of classic Jaeger LeCoultre alarm watches for our stock, but we struggle to replace the pieces we sell with items of a similar grade. The collectors that own worthwhile early Wrist Alarms and Memovox examples are well aware that the value of these is rising sharply and understandably, are very reluctant to sell them or part with them in part exchange against further pieces. The first generation (pre-1953) of Wrist Alarms, with the Jaeger LeCoultre calibre 489 movement, have shot up in value to the extent that sourcing an investment standard example for less than £3000 in any case material is not easy. The second generation, as typified by this watch, with the 814 movement are every bit the equal of their predecessors and arguably slightly more sophisticated, but at the moment are still noticeably undervalued and can be bought for slightly lower sums.
This particular watch is one of the best preserved second generation Wrist Alarms that we have seen for a while and its purchaser will be delighted when it arrives. In total, we probably have a dozen Jaeger LeCoultre Wrist Alarms for sale at any one point, whereas a decade ago, we might have been able to offer a selection of fifty. There is no doubt at all that even five years from now items like the one here will be considerably more expensive than they are at present and, more crucially, less available. The vintage wristwatch market is on the one hand rising sharply but the large number of articles in the mainstream media proclaiming the benefits of old luxury watches as high performing investments is creating a situation where an ever increasing number of buyers are chasing an ever dwindling pool of worthwhile items. This is a lovely example of a highly regarded model and we can be sure that it will not remain on our website for a long period before it is packed and shipped out to begin the next chapter of its life.
Price £1375 GB Pounds
Vintage Watch Brands
Vintage Watch Decades
Vintage Ladies Watches
Vintage Watch Bracelets
Swipwreek Straps
Travel Clock/ Pocket Watches
Home
About
Brand Overviews
By Decade
Reference
Contact Details
Telephone from the UK:
07453 734666
or 07428 051005
Telephone from overseas:
+44 7453 734666
or +44 7428 051005