Jaeger LeCoultre steel bumper automatic 1957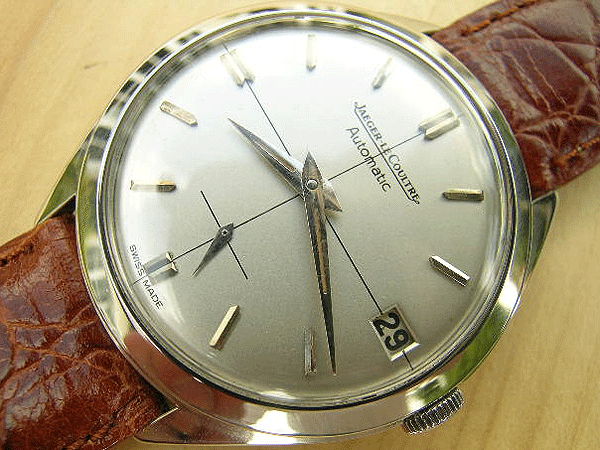 This nearly mint stainless steel gentleman's Jaeger LeCoultre bumper automatic from 1957 is one of the most charming and best preserved vintage watches for sale on our website at present. Jaeger LeCoultre is among the most respected of vintage wristwatch brands and widely sought after by purist collectors, particularly in early automatic format. The company was founded in Vallee de Joux in 1833 and has manufactured its movements entirely in house since this time, a remarkable feat that has only been achieved by a tiny handful of other top Swiss luxury houses. In so many ways, Jaeger LeCoultre watches are now seen as something of a connoisseur's choice and tend to be collected by those with an understanding of movement architecture and precision finishing techniques. We would certainly argue endlessly that the movement quality present in these older watches certainly justifies their high price levels and, as more of the buying public because educated as to what constitutes a hand built, high quality movement, the value of these classic Jaeger LeCoultre pieces rises steadily year after year.
Interestingly, despite its hallowed status and seemingly unlimited credibility, the success of the company has been largely established as a result of perfecting the ideas of others rather than pioneering new movement complications itself. Unquestionably, Jaeger LeCoultre did develop a number of technical advancements, but we would have no hesitation in classifying the brand overall as a reactionary one, refining the ideas of others in its own inimitable style. Indeed, it was not until 1929 that Le Coultre produced its first wristwatch, at least fifteen years after the concept of a wrist worn timepiece had been widely adopted by the other grand marques and not until 1947 that the brand launched its first automatic movement, nearly two decades after such innovation had become commonplace elsewhere. But unquestionably, whatever Jaeger LeCoultre lacked in innovation, it made up for with the sheer quality of its work. Studying a LeCoultre movement with a jeweller's eyeglass is rather like reading a complicated book for a second time and noticing nuances that passed one by on first initial acquaintance. Every time the movement in this watch is examined closely, new aspects of its finish and construction quality catch the eye and one spots a hand polished screw, or carefully chamfered bearing housing that had previously gone unnoticed.
The watch for sale here in a particularly large piece, with a width of 35mm. The three part case has been carefully crafted from 316L grade stainless steel, a particularly high grade that offers very high corrosion resistance and protection against marine and hostile industrial atmospheres. 316L is used in the aviation industry where is has traditionally found favour as a basis for propeller shafts. Internally, the case back is covered with a highly decorative engine turned pattern and signed "Acier Inoxydable ( the French term for stainless steel), LeCoultre Co, Swiss". The whole case is in almost as new condition, with only the very slightest of imperfections that would be expected on any watch of this age. The case back exterior is stamped with the serial number 719738 and has no damage, having only ever been opened with the correct Jaeger LeCoultre factory tool throughout its life.
The French white dial is entirely original and in almost perfect condition. This is a fully signed item, with "Jaeger LeCoultre, Automatic, Swiss Made" proudly displayed above and below the dial centre point respectively. Most vintage watches from this era do have some legitimate discolouration to their dials, but this one is among the best we have purchased in the last year and has not even the slightest incipient patina anywhere. The importance of both dial condition and originality cannot be overstressed to those buying as a serious investment. It is universally agreed that these factors typically account for over 40% of the value of any high level vintage watch, yet they are probably the two aspects most overlooked by novice buyers. Too often now, watches with original, but badly discoloured dials are represented both physically and online as having "attractive ageing" and recently restored dials are even more commonly sold as being in mint condition. An original dial in poor condition and a non-original restored dial are both of no interest to the serious collector. For nearly twenty years now, connoisseurs of vintage wristwatches have sought out that rarest of breeds, the watch with an original dial in almost perfect condition and we would advise anyone buying for long term financial gain to do likewise. Watches that fall into this category, like the beautiful piece for sale here, are very difficult to source today, but well worth waiting for in terms of their future potential for capital enhancement. As enthusiasm for vintage wristwatches increases, as it does year after year, the value of immaculately preserved survivors by brands like Jaeger LeCoultre is assured and they will unquestionably appreciate at a far faster rate than their more average siblings.
The stylish chrome hands are entirely original. This very elegant chrome and silver-white dial combination is delightful in the extreme, and very eye catching. The art deco spearhead markers are also matching in gleaming chrome. The chrome plating on both the hands and the batons is in excellent condition and not in the least bit tarnished.
The movement used in this watch is Jaeger LeCoultre calibre p813, introduced in 1956 and a superb seventeen jewelled example of a classic bumper automatic. For those unfamiliar with the term, this describes the system of self-winding where, rather than having full 360 degree rotation as was later introduced, the watch is wound by means of an oscillating rotor than is only allowed to travel through 180 degree, being arrested by buffer springs that then bounce the rotor back in its original direction. These movements are enormously charismatic and when in use, the wearer can actually feel a distinct bumping sensation as the rotor hammers back and forth to wind the watch. Bumper automatics by the top tier Swiss makers were very reliable, but lacked the efficiency that could be achieved with rotor winding. Additionally, because of the extra costs involved in manufacturing these complicated calibres when compared to the far simpler 360 degree rotor units, production of the bumper automatic designs had almost universally ceased by the late 1950s. By the time the p813 was launched, it was already anachronistic when viewed in the context of the Swiss watch industry as a whole. Rolex had been producing rotor automatics since 1935 and Omega had just released its first rotor calibre, the 470, in 1955. Confirming the point made above, Jaeger LeCoultre's use of a movement design that was already regarded as obsolete by most of the company's competitors suggests again that the house policy was one of refining existing technology to perfection rather than breaking new ground. The p813 is one of the finest quality and best finished bumper automatic movements ever made, by any brand, but to suggest that it represented the cutting edge of self-winding movement design in 1956 would be nonsense.
"Jaeger LeCoultre, Fab Suisse, Swiss" is signed on this unit, with the calibre number p813 stamped alongside the balance wheel. The individual serial number 1296008 is here which, falling between the two extremes of Jaeger LeCoultre production for that year of 1225000 and 1300000, informs us that this unit was manufactured in 1957. It always strikes us as remarkable how few movements Jaeger LeCoultre produced annually when compared to its competitors Rolex and Omega, whose production volumes dwarfed those of the relatively small Le Sentier brand. This movement, like every other aspect of the watch, is entirely original and has no changed or altered parts whatsoever. This item has clearly been a treasured possession of its past owner and has been regularly cleaned and serviced with the result that the movement has no corrosion present whatsoever, gleams like that in a new watch and works perfectly.
The watch is fitted with a brand new, unworn crocodile skin type strap of the highest quality. This in not a Jaeger LeCoultre item, but is perfectly in keeping with the style of the piece and very similar in both appearance and quality to the strap that was supplied with the watch when new. A very appealing icing on the cake touch here is the presence of the correct Jaeger LeCoultre signed stainless steel buckle in almost mint condition. Vintage buckles by any of the top tier houses are expensive and difficult to source as spare part items. When they do appear, they command high prices, simply because so many owners of these watches today on which the buckles have been lost would love to restore their items back to full factory correct specification. If sold alone, this buckle would certainly change hands for in excess of £80 GB pounds, and this must be factored into the equation when considering this piece as a potential purchase.
This is obviously a rare piece from one of the very finest makers in the world. In a traditional retail environment in one of London's specialist vintage watch shops or a fine wristwatches sale at Sotheby's, Bonhams or Christie's, we would expect it to carry a price ticket of several thousand pounds. Largely because of our location in rural Yorkshire, in the North of England, where business overheads are very low, we can almost always undercut our competitors in the capital by a significant percentage. We have priced this watch at £1475 GB pounds, at which level it represents extremely good value for money. Finding vintage Jaeger LeCoultre material in this outstanding condition is very difficult and to replace this watch in our stock with a similar piece, we will have to pay almost this sum, even when buying from long established contacts within the jewellery trade from whom we obtain the most preferential rates.
Price £1475 GB Pounds
Vintage Watch Brands
Vintage Watch Decades
Vintage Ladies Watches
Vintage Watch Bracelets
Swipwreek Straps
Travel Clock/ Pocket Watches
Home
About
Brand Overviews
By Decade
Reference
Contact Details
Telephone from the UK:
07453 734666
or 07428 051005
Telephone from overseas:
+44 7453 734666
or +44 7428 051005