Jaeger LeCoultre ladies backwind with deco gold bracelet 1949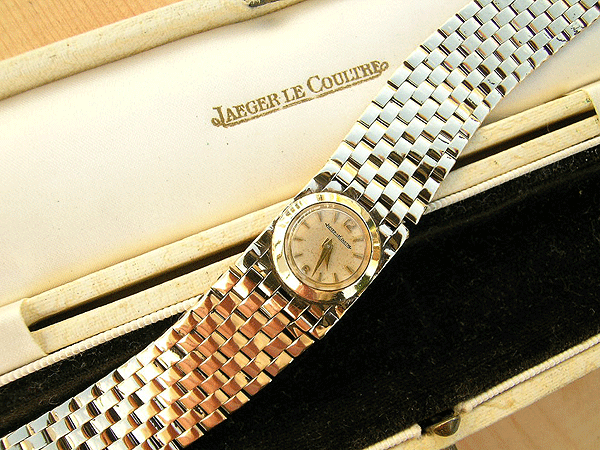 This dramatic art deco 1949 Jaeger LeCoultre back wound ladies' watch with its integral deco bracelet, all in very heavy solid gold, is one of the most attractive vintage ladies' watches that we currently have offered for sale on our site. Its appearance screams of the era in which it was manufactured and conjures up images of the glamorous cocktail parties held by London's wealthy elite at a time when the majority of the population was still affected by lingering post-War austerity. When it was new, a watch of this quality and value was never intended for the mass market and it still has an exotic charm now.
The fully signed "Jaeger LeCoultre, Swiss" dial is in a delightful two tone, with a French white background colour. This is one of the most eye catching of all the Jaeger dial variants and tends to command a price premium over the standard silvered dials. There are beautiful deco gold spearhead batons which add to the dramatic deco style of the dial. The dealer from whom we purchased the watch also offered us an identical model but made slightly later, in the 1950s, with a regular silvered dial and standard parallel sided batons, at a significantly lower price than this one. Though attractive, the silvered example had far less of that opulent "jazz age" look about it, and, after careful consideration, we decided that it was worth the difference in purchase price to buy the rarer and more desirable earlier watch now for sale here.
It is worth mentioning that the dial, like the rest of the watch, is in totally original condition. It looks almost exactly as it did on leaving the Jaeger LeCoultre factory, with just the tiniest hint of patina that is only noticeable under the magnification of a jeweller's eyeglass. This is very significant in a vintage watch, as dial restoration, particularly on significant watches like this item, can de-value a piece by up to 50%. The stylised solid gold dauphin shaped hands are entirely original and again, need no restoration.
The movement is housed in its original large ( the watch has a length of 190mm and a very impressive parallel sided width of 17mm) and very heavy solid 9 karat gold case and integral matching Jaeger LeCoultre art deco bracelet, which is fully signed internally as a Jaeger LeCoultre item (the reference number marked on the outside case back is 3933). Collectors will be well aware by now, having studied the photos, that this is a back wind movement ( with the winding crown being located on the rear of the watch case), undoubtedly among the most collectible of all the vintage Jaeger LeCoultre items. This family of movements was created in close conjunction with the famous Cartier company, which had strong links with Jaeger LeCoultre between the two World Wars and realised the aesthetic advantages of a watch on which no winding crown cluttered the clean deco lines of the case. Cartier designed some of the most sought after art deco jewellery of this golden age for a high society, glamorous clientele for whom the price of such objects was of no consideration whatsoever. The back wind movements that were created at the request of Cartier by Jaeger LeCoultre, are considered to rank among the most ingenious and spectacular technical achievements of both of the latter company.
The watch is wound and the hands adjusted by means of a large serrated winding crown that pushes almost flat against the case back and is completely out of view when worn, therefore not spoiling the dramatic art deco lines of what is really, a piece of luxurious mid 20th century sculpture. These watches are rightly considered to be design classics, and are sought after by both art deco enthusiasts and collectors of high-end vintage timepieces. It is worth noting that in its current catalogue, Jaeger LeCoultre comments that the backwind movement is among the past products of which it is most proud.
Notice the characteristically art deco style heavy bracelet links, crafted at very high cost out of solid gold. These rare 1940s Jaeger art deco bracelets are in a sweeping, stylised form that ensures the watch will instantly attract comment when worn in public. Rolex and Omega fitted some superb bracelets on their vintage ladies' watches, but none of these are anything like as substantial as this Jaeger LeCoultre item. It is remarkable to think that the British social elite were still capable of buying incredibly flamboyant pieces of jewellery like this one even in the immediate period following World War II, when the rest of the population had concerns over the availability of basic food products and the effects of the continuation of rationing. A completely true, but still quite amazing, point is that when new, the cost of its watches was so high that Jaeger Le Coultre attempted to influence wary potential bidders by including with each watch an insurance policy with Lloyds of London covering the watch against damage or loss while ever the original purchaser retained the watch. This offer is probably unique in horological history, and even the paperwork that detailed this insurance policy would be very collectible today. We have always been of the opinion that vintage Jaeger LeCoultre cases and bracelets were ( and still are) of slightly higher grade manufacture than those used by the company's competitors and this example supports this opinion. The bracelet is in fine, gleaming, condition and needs no polishing.
The movement is fully signed "Jaeger LeCoultre, Swiss" and in superb order. This is calibre 426, introduced by the firm in 1941. Finish quality, as always on items produced by Jaeger LeCoultre, is beyond criticism. Obviously, the hand wound, all mechanical movement is fully jewelled ( 17 jewels) and runs very smoothly. It has just been cleaned and lubricated.
The icing on the cake is the sumptuous original box supplied with the watch when new, bearing the stylised art deco logo of the Jaeger LeCoultre company. The box is in excellent condition, is a delightfully opulent example and adds considerable provenance to the watch. To find any piece of original art deco high-end jewellery in its original packaging is very rare now, and this adds a great deal of both value and aesthetic charm to the package as a whole.
This watch would take pride of place in any serious Jaeger LeCoultre collector's arsenal along with the usual art deco reversible set pieces, but as regards price, we are a little unsure as to what it is worth. The prestigious physical auction house Sotheby's included a identical back wound ladies' Jaeger Le Coultre, also from the 1940s and on a comparable substantial integral solid gold bracelet, at Lot 449 in its 7th December 2004 Amsterdam sale "Important Clocks, Watches and Wristwatches". This was assigned a pre-sale estimate of 5000 Euro ( approximately £3350 GB pounds ) though in reality, we would have expected that the winning bid exceeded this figure. It is also worth mentioning that additionally, the purchaser would have paid an extra 20% buyer's premium on top of the hammer price.
Watches like this one, by the top tier Swiss houses, have benefited both from the dramatic rise in the value of gold over the last decade and from the upsurge in interest in vintage ladies' watches in general. This is a first rate classic timepiece that stands head and shoulders above anything that can be found new on the high street, both in terms of intrinsic quality and sharpness of aesthetics. We have priced it at £975 GB pounds, which reflects the fact that we bought it over a decade ago, before the bullion price went sky high, and haven't got around to doing anything with it since. If we had to buy this same piece now from one of our regular suppliers, the irony is that we would almost certainly have to pay quite a lot more for it than the asking price here. At this level, the watch offers remarkable quality for a very modest sum and we would expect it to be sold very quickly.
Price £975 GB Pounds
Vintage Watch Brands
Vintage Watch Decades
Vintage Ladies Watches
Vintage Watch Bracelets
Swipwreek Straps
Travel Clock/ Pocket Watches
Home
About
Brand Overviews
By Decade
Reference
Contact Details
Telephone from the UK:
07453 734666
or 07428 051005
Telephone from overseas:
+44 7453 734666
or +44 7428 051005