Omega Seamaster 200 steel "pre-Bond" 1989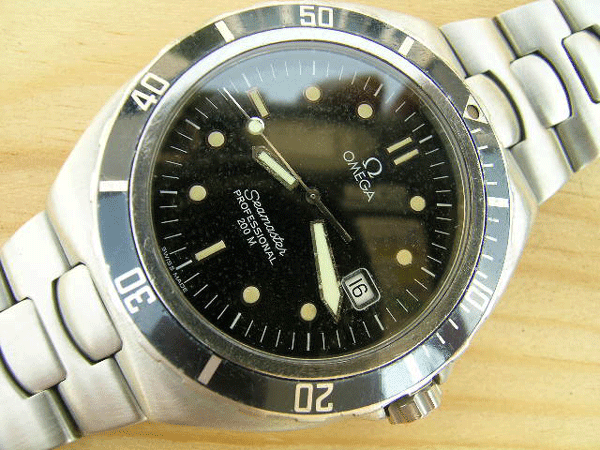 Dating from 1989, this well preserved gentleman's Omega Seamaster 200 is a very good example of a high quality vintage watch with genuine historical significance that can be bought for a very small amount of money. Models like this one can credibly be considered as among the best choices for investment, simply because at present, they are largely overlooked by the majority of collectors who tend to focus on much earlier items. There is absolutely nothing wrong with these watches, far from it, and we could present a strong and reasoned argument as to why even a decade from now, this particular Seamaster variant is likely to be a lot more valuable than it is currently.
This model reference, 398.1041, was launched in 1988 and represents the first time that Omega offered its Seamaster in the form that many enthusiasts will associate with the "James Bond era". Omega's ties with the James Bond franchise began in 1995, but if we study the watch for sale here closely, its lineage as an ancestor to the reference 2541.80 Seamaster worn by actor Pierce Brosnan in the film "GoldenEye" of the same year is immediately obvious. This is something acknowledged by Omega itself, which includes this model in the section of its official website devoted to its classic output, referring to it as a "pre-Bond Seamaster 200".
Rightly or wrongly, many purists shy away from quartz watches, preferring those with traditional hand wound movements. When we advise our buyers on what they should purchase for investment purposes, we tell them that they should opt for established, blue chip classics with mechanical movements. We are actually great fans of quartz watches, but our enthusiasm for them stems from their superiority as items to be used on a daily basis rather than from their potential to rise in worth. The model here is one of very few watches that we would recommend buying for investment in quartz, rather than mechanical, form. The reason for this is simply that in the Bond films, agent 007 wears a quartz Seamaster, not a mechanical one. Every watch, without exception, that has been featured on the leading actor's wrist since the James Bond franchise began in 1961 has become very desirable, from the early Rolex Submariner worn by Sean Connery in Goldfinger onwards.
When the Bond tie in hit the cinema screens, sales of the Seamaster soared. This association was an enormous commercial success for Omega and it still continues today. While the Bond connection is obviously a glamorous one, the fact remains that these pre-Bond Seamaster 200s are much rarer watches that were sold in far smaller quantities when new. We believe that they have the potential to rise in value to a greater extent than the ubiquitous James Bond versions that came immediately after them. Because the Seamasters used in the Bond films were quartz models, there is no stigma to quartz in this context. As a pre-Bond version of what would morph into the 007 Seamaster, this is a very interesting watch that, despite its low price, is worthy of a place in an advanced vintage Omega collection.
Condition of this example is very good indeed, though certainly not mint. This is a well preserved watch that has been worn fairly regularly by a careful owner. The very large steel case has a few slight imperfections here and there, but nothing that should not be expected on a well looked after piece of this age.
Case construction is worthy of comment. Instead of having a single piece case back that screws into the case body, the case back here is held by means of a very substantial threaded steel ring that clamps this component tightly in place. Those with long memories or experience collecting vintage Omega watches from the immediate post-war period will realise that this was not a new invention for this model, but in fact a re-heating of an idea that had been first seen on some of the company's bumper automatics from the late 1940s.
"Omega Seamaster" is stamped into the case back outer. Internally, the case back is signed "Acier Inoxydable ( the French term for stainless steel), Omega Watch Co, Fab Suisse, Swiss Made", together with the model reference 396.1041, which is the correct identifying string for a pre-James Bond Seamaster 200.
Also inside the case back is the easily overlooked code maker's mark of Louis Lang SA of Neuve 8, 2900 Porrentruy. In common with Jaeger LeCoultre, IWC and Rolex, Omega was not a manufacturer of cases during the vintage period. Instead, it outsourced these from a small network of suppliers that excelled in this field. The case here is of very high grade and was manufactured in Switzerland to the same standard as the Seamaster cases of the 1950s and '60s. Earlier in the 1980s when under extreme pressure to cut costs in the face of stiff competition from the Far East, Omega had purchased cases from several Italian makers. To suggest that these were poor would be an exaggeration and unfairly harsh on Omega. However, they were noticeably lower in finish quality than the traditional heavy Swiss cases like the one here.
The winding crown is original and signed with a large Omega emblem. This is a threaded crown that screws down in place exactly like those on Rolex Oysters. Rolex patented this arrangement in the mid-1920s, but it has now become available to other manufacturers due to expiry of its protective registration. The threads inside this crown, and those of the case tube onto which it screws, are in perfect condition and the former locks down securely onto the latter.
A restored dial, this innocuous sounding term actually meaning a dial that has been stripped back to bare metal and refinished, is inexcusable on a relatively recent watch like this one. Though we strongly advise against restored dials, there are times when a collector must accept that they are the only realistic options on some pre-war models, simply because the chances of ever finding these watches with original dials are almost zero. While more modern watches can certainly qualify as rare, there are invariably more of them that these antique pieces and under no circumstances should an example with a non-original dial be considered if buying as part of a serious investment strategy.
The dial here is guaranteed to be entirely original. Its condition is extremely good, with just the slightest degree of spotting uniformly across the dial surface. We certainly wouldn't hesitate to class this dial as an item that could be bought as an appreciating asset. The white signature "Omega, Seamaster Professional 200 M, Swiss Made" is clear and not at all corrupted.
All three hands are original. Their luminous infill has not been replaced and is in excellent condition. This distinctive style of hands made its debut with this model. These continued through the James Bond era and are still found on the current Seamaster range.
Omega movements, whether quartz or mechanical, are of superb quality. This unit is Omega's calibre 1438, a unit based around the calibre 255566 manufactured by ETA. Omega purchased the 255566 movements from ETA and then refined them to its own requirements. The 1438 was first launched in 1988, a year before this particular watch was created.
The movement here is entirely original and in superb condition. None of its components has been changed and there is no evidence of any past repair work having ever been performed.
When buying a classic quartz watch, it is well worth checking to ensure that its battery is still a current model that can be readily obtained at an inexpensive price. The cell in this watch is a Rayovac 373, one of the most common of all button batteries. Used in, quite literally, millions of high quality cameras and watches around the globe, there is no possibility that the 373 will become obsolete for many decades and when this day eventually dawns, alternatives will doubtless be available for the legions of enthusiasts who own equipment that requires this power source. As to price, because these batteries are produced in vast numbers, they cost next to nothing. A quick search on the site of the online retailer Amazon reveals that the current price there is less than £2 GB pounds including shipping. Once to hand, a new battery can be fitted in seconds by any competent local jeweller.
After regular servicing, this watch works perfectly. These Seamaster 200s were built to last and if treated with respect and sent for routine cleaning every four or five years, this will last just as long as their mechanical equivalents. There seems to be a belief that quartz watches do not require servicing, but this is complete nonsense. While a quartz movement does not have the oscillating balance found in a traditional mechanism, the linkages that drive the hands still need oiling if premature wear is to be avoided. Such servicing can be performed via any Omega agent or at one's local experienced watchmaker.
This model, in common with the James Bond version that came immediately after it, is fitted with a very heavy Omega bracelet. This is an integral item, so it cannot be substituted for a leather strap. Bracelet condition is extremely good, with no noticeable sideways wear play between the links. This is a full factory length item that has never been shortened and will fit all but the very largest of wrist sizes.
Internally, the flip-lock folding clasp plates are signed "32 Stainless Steel 1465/452, Omega". Externally, the clasp is signed "Omega" together with the company's emblem.
A nice touch is the presence of the folding wetsuit extension link that clips in place under the clasp. Over the years we have noticed that, for whatever reason, these are often missing from vintage Seamaster 200s. Small details like this is always indicative of a cared for watch. It would be possible for the buyer of a watch on which the wetsuit extension was missing to order a replacement from Omega, but it really should be there in the first place. In our business, we look for examples that have obviously been cherished by past owners and shy away from watches that are incomplete or in need of remedial work.
The price of this watch is £485 GB pounds. If we stop for a moment and consider that a brand new stainless steel Omega Seamaster with a quartz movement would cost at least £1400 GB pounds, for the most basic model, at British Omega agents Goldsmiths and Ernest Jones, then this classic version suddenly seems like something of a bargain. More appealingly still, its worth is certainly on an ascending upward curve and unlike the new watch, this item will have a higher value even a year from now than it does today. Conceived before the partnership between Omega and Eon films came into being and the undisputed father of the first James Bond Seamaster, model reference 398.1041 occupies a pivotal position in the evolution of the Seamaster line and is well worth buying at the time of writing. It also has the not inconsiderable advantage that it is a piece that is eminently suited to regular use and is rugged enough to exist outside the confines of the collector's safe without ill effect.
Price £485 GB Pounds
Vintage Watch Brands
Vintage Watch Decades
Vintage Ladies Watches
Vintage Watch Bracelets
Swipwreek Straps
Travel Clock/ Pocket Watches
Home
About
Brand Overviews
By Decade
Reference
Contact Details
Telephone from the UK:
07453 734666
or 07428 051005
Telephone from overseas:
+44 7453 734666
or +44 7428 051005