Longines automatic. Important movement, calibre 990, 1984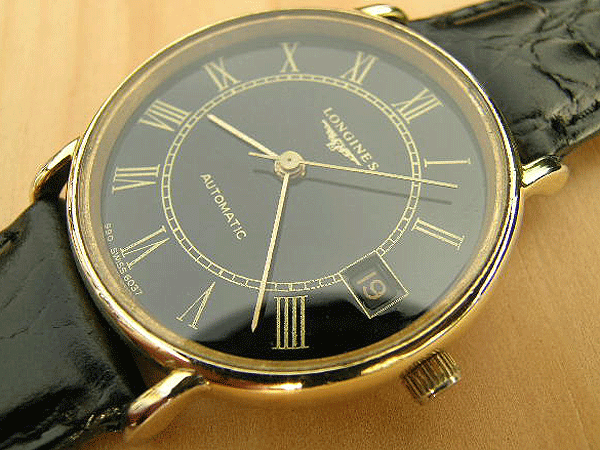 It is quite possible that this 1984 gentleman's Longines offers the very best value for money to be found anywhere on this website. Given that we typically have over three hundred vintage watches listed here at any given point in time, this is a bold statement, but one that can be backed out with factual argument. At a time when classic wristwatch prices have never been higher, it is nothing short of astonishing that this item can be purchased for less than £600 GB pounds, or, to put it another way, less than would be needed to buy many mass produced, battery powered, throw away "designer" watches in high street jewellers' windows up and down Britain. Anyone with a potential interest in this piece should carefully read through the notes about it here and by the end of the page, they will understand why it is so special and so ludicrously undervalued at the time of writing.
We would also suggest that the brand overview of Longines that appears on this site is studied. It has been our view for some years now that vintage Longines wristwatches are some of the highest quality and best finished of all, certainly on a direct par with those by Rolex and Omega from the same period. We go into this subject in some detail and this article can be read in full at the top of the pages that list the various Longines watches that we have for sale at the moment.
This piece was produced at a point in time when the fortunes of the traditional mechanical luxury watch making industry were at an all time low. Quite literally, famous brands like Omega, Patek-Philippe and Longines were surviving only by the very skin of their teeth. The whole industry had been torn apart by the arrival of battery powered quartz movements from the Far East that were more accurate, more reliable and far cheaper than their craftsman made mechanical equivalents. There are many factors that make this watch so exceptional and we cannot help ask why Longines chose to pull out all the stops to create a new model of this quality at a time of such extreme uncertainty. Everything was in turmoil in the late 1970s and '80s, but somebody, somewhere in the decision making hierarchy at Longines retained a steady head and realised that the way forward was to keep with tradition, push the boundaries forward and build a new movement type, still entirely mechanical, that was better engineered, better finished and of a generally higher grade than anything that the house had offered before.
It is very interesting that this watch is in a gold plated case. Two decades before, it would have been unthinkable that such an exquisite movement could have been housed in anything other than solid gold or, at a push, stainless steel. Production cost of the mechanism here must have been astronomical and we might read into this that a plated case was used to keep the price at retail level down to a vaguely affordable level.
While obviously less desirable than its solid gold equivalent, this case is actually of very high quality manufacture and not at all an inferior grade item. It is noticeably thicker walled than most and has been plated to a very substantial degree. If the gold plating on a case is very thick, as it is here, it will last for many decades before needing to be re-applied. To some extent, the reputation that gold plating has for limited longevity comes from the vast majority of cheap cases from China and Taiwan, where the thinnest layer of just a few microns has been used to give a watch the appearance of gold, but nothing more.
The condition of this case is extremely good and the whole watch has obviously been very carefully looked after. It would be an exaggeration to describe the piece as literally as-new, but equally, it is not far removed from this and a cleaner, better preserved example would be very difficult to locate. The gold plating has not rubbed through to the base metal below at all and the suggestion is that the watch has seen very little use.
As called for, the case back is of the snap on variety and is in stainless steel. Externally, this is stamped "Stainless Steel Back" and has the serial number 19981947. This detail is of full depth and has not been smoothed at all by polishing or wear. Small points like this all add up to make the difference between a merely average watch and one that is genuinely suited for investment. Online, often these subtle aspects are overlooked and buyers pay high prices for watches that are cosmetically attractive, but deficient in other aspects. Our watches do tend to be fairly pricey, but without exception the customer gets something worthwhile for his money and when assessed objectively, much of the stock on our website is ultimately much better value that that sold via the mass market auction websites, even though it costs significantly more to acquire in the first instance.
Internally, the Longines brand name is stamped, together with the company's winged hourglass emblem and "Swiss Made". There is also the model reference 6037 4 and the number 990, which is that of the movement calibre used in this model. This referencing of movement type is so handy to the modern day collector as it enables us to see at a glance that the case is fitted with the appropriate mechanism for this model. So often, movements and cases are swapped around to build complete watches out of scrap parts that were never together when new. With a Longines from this period, a simple check inside the case back will confirm that at least housing and movement are of the correct type for each other.
In our business, dials are paramount. The influence of dial condition and originality on the value of any collectible vintage watch cannot be over-emphasised, with the view of many experienced dealers and collectors being that approximately 40% of the commercial worth of a first rate example lies in its pristine, unrestored dial. To graphically illustrate this point to novice buyers, we often say that finding a virgin dial in a near-perfect state on a vintage wristwatch is a similar experience to locating a classic motor car of the same age with untouched paintwork in excellent order. For every fifty vintage watches in circulation, perhaps one, at very most, will have an original dial that can genuinely be regarded as of the very best grade. We specialise in these watches and dedicate a vast amount of time to tracking them down. We can't buy them cheaply and have to charge a premium when we sell them, but they are lovely things to own and enjoy.
In jet black lacquer, this dial is completely original and in mint condition. We very rarely use the term mint in our descriptions on the basis that common sense tells us that no component or watch that is several decades old can be genuinely as-new, but in this instance, however closely we look, there is nothing to distinguish this dial today from how it looked in 1984. While they don't tend to show staining to the same degree as their white equivalents, black dials do often suffer from fading, especially after being worn for many years in hot, sunny climates. This watch was supplied and used in the UK, with the consequence that its dial is as dark as it ever has been. The gold printing on its surface is clear and not at all corrupted with age.
"Longines" is signed above the dial centre point, together with the winged hourglass logo. In the lower half, there is the word "Automatic" and, along the very bottom edge "990 Swiss 6037". This latter printing is fascinating, because it identifies both the movement calibre used ( 990) and the model reference inside the case (6037). We have never encountered another watch, by any maker, on which this detail was signed on the dial. This is so typical of the attention to detail that appears on vintage Longines watches and, again, is a Godsend to the collector now. By cross referencing the various numbers on this watch, we can confirm categorically that not only case and movement are correct for each other, but that the dial is also the appropriate one for this mechanism and its housing. Tying in numbers in this way was obviously an extra complication for Longines at the production stage, but it enables us to check at a glance that the basics are well on any model of this kind that we are thinking of purchasing. For the record, it is worth adding that no other top tier Swiss maker, not Omega, Rolex, IWC or Jaeger LeCoultre, cross referenced the various major aspects of their output in this way and in this respect, as in many others, Longines undoubtedly led the field.
All three hands are original, as is the parallel sided winding crown. The hands are in gilt to match the dial printing and are in perfect condition. We constantly repeat the mantra that in order for any collectible classic wristwatch to worth its maximum theoretical amount, details like hands and winding crown must be correct. If these have been changed, as is all too often so, the value of a piece will plummet, especially when selling to experienced collectors who will immediately pick up on any aspects that are not authentic.
To return to the theme of the opening paragraph, what makes this watch so exceptional is its movement. Introduced in 1977 after two years in the research and development stages, calibre L990 was the last ever automatic movement to be manufactured entirely in-house at the Longines factory in St. Imier and to this day, it remains as what many knowledgeable purists regard as its finest ever product. The last L990 movements left the company in 1987 when it was agreed that they were simply too expensive to manufacture and finish, with the decision being taken to end in-house production and instead build movements around ebauches ( this is the correct terms for a movement in its most basic, bare bones form, without components or finishing) purchased from corporate giant ETA. The L990 was the final "real" Longines self-winding movement in the strictest sense of the term and consequently, is of the utmost significance to the collector. It is nothing short of an essential inclusion in any portfolio that attempts to chart the history of this famous brand and it is hardly surprising that an L990 is on permanent public display at the Longines factory museum.
The quality of the L990 was second to none and easily the equal of that of movements by Longines' most famous competitors. A potential buyer for this watch does not need to take our word for this statement and if he studies the movement photographs with this listing and compares them to those of a Rolex automatic mechanism from the same era, the difference in finish standard will be instantly obvious. The Rolex movement will have plain finished bridges and the rotor will be undecorated. Here, the plates and rotor are covered with the most breathtaking set of fine engine turned stripes, these having been applied laboriously using a hand operated ornamental lathe known as a rose engine. Similarly, while the edges of the bridges on both Rolex and Omega movements from this era have been left as right angles, Longines has taken the trouble to give them bevelled edges, again, entirely by hand. Not content to stop there, Longines then proceeded to take the bevelled plate edges and polish each of them, by hand, with diamond paste. The sheer time input that went into every L990 is quite incredible and the more this unit is studied, the more small touches will be noticed that had perhaps been overlooked at first glance. The Longines factory bulletin of 1977 makes the comment that the "components in the 990 are of exceptionally high quality from the point of view of both their dimensions and their finish".
The deeper we delve into the L990, the more interesting it becomes. We can see immediately that it is a movement of very rare quality, but just how exquisite it is starts to become clear with more research. After Longines ceased in-house production, the tooling for the L990 was purchased by Lemania, who, with some very minor revisions, continued to offer it under its own label as calibre 8810. Today, as of 2012, this same mechanism is the one used in the majority of ultra-high end models by Breguet, the flagship brand of the Swatch Group, which currently owns Longines, Lemania, Omega and Glashutte Original. Quite literally, it is possible to spend several hundred thousand pounds on one of the quarter repeater or perpetual calendar models by Breguet and obtain a watch inside which the movement, albeit modified with additional complications, is based around the very same unit that is present in the watch for sale here. For the knowledgeable enthusiast who actually understands watches, rather than the novice buyer who will be more influenced by brand name and celebrity endorsement, this watch, and other classic Longines models fitted with the L990, is nothing short of sheer delight. It is the Rolls-Royce of vintage self-winding timepieces and the fact that it can be bought today for such a tiny sum of money beggars belief.
"Longines, Swiss" is stamped into the automatic bridge, together with the calibre number L990.1, "twenty five jewels" and the individual serial number 56354687, this confirming a production date on 1984. A very attractive touch is the Longines winged hourglass emblem cut into the rotor. There were several versions of the calibre 990, ranging from the most basic, with seventeen jewels, no second hand and no date feature ( technically offered as the 994) through to the twenty-five jewelled item here, which was the top of the line. Even the most basic of the 990 series was exceptional, and all offered high accuracy running speed of 28800 half beats per hour, Kif Flex shock protection and anti-magnetic shielding.
The condition of this particular movement is superb in every way. The rhodium finish to the rotor and the plates is unbroken and not at all brassed. Even with an eyeglass, it would be difficult to differentiate between this movement and its equivalent in a brand new watch. The casual observer with no specialist knowledge of Longines movement evolution could easily look at this movement and form the opinion that it was no more than a few months old. Better still, everything about it is original and no component parts have been changed. Even the screw heads slots appear virgin and there is no suggestion that anything other than routine servicing has ever been performed. The movement runs very smoothly, winding itself with just the slightest motion of the wearer's wrist. The quality of the L990 was so high that if looked after, vintage examples like this one will last almost forever. Longines itself still takes a very active interest in keeping its classic watches on the road, so to speak, and will undertake cleaning and any repairs needed in a dedicated unit at its factory in St Imier.
We have fitted this piece with a black crocodile skin type strap that perfectly suits its charming, classical appearance. This is not a genuine Longines strap, but is very similar to those which appear in Longines advertising with this model from the early 1980s. This strap is brand new and has never been worn.
We have priced this watch at £585 GB pounds. The movement alone should, if judged on merit, have a value far in excess of this amount and could not be manufactured today for anything even remotely approaching this figure. This item represents a high point for Longines mechanisms and as the last, and best, in a long line of in-house built automatic movements by this much revered concern, will always be historically important and desirable. Due to both its intrinsic high quality and guaranteed place in the Longines history book, it is inconceivable that a watch like this one could ever lose value and, particularly at the present time when it is still very affordable in the vintage market, it stands out as the perfect vehicle for investment. It is gem of a watch and if we could secure more examples of the same for our stock, we would do so immediately without hesitation.
Price £585 GB Pounds
Vintage Watch Brands
Vintage Watch Decades
Vintage Ladies Watches
Vintage Watch Bracelets
Swipwreek Straps
Travel Clock/ Pocket Watches
Home
About
Brand Overviews
By Decade
Reference
Contact Details
Telephone from the UK:
07453 734666
or 07428 051005
Telephone from overseas:
+44 7453 734666
or +44 7428 051005