Heuer steel divers. Early 844-1. Patent documents 1980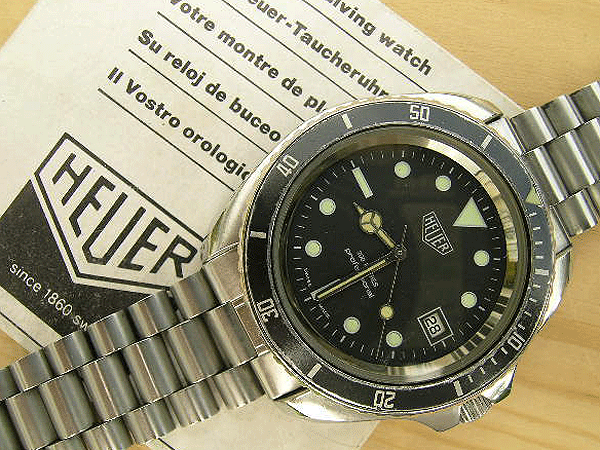 This spectacular stainless steel gentleman's Heuer is a very rare treat for the serious tool watch enthusiast. The piece dates from 1980 and is particularly interesting, not only because of its unusual oversized case, but also because this model, reference 844, was Heuer's first attempt to break into the market for professional divers' watches that had previously been dominated by Rolex with its Submariner and Sea-Dweller models.
Senior management at Heuer were aware that creating highly specialised watches for professional divers was an activity that could be lucrative, but hesitated to commit a lot of resources to a project that might easily fail. Interestingly, rather than have the first batch of reference 844 produced in Switzerland, the decision was taken to have these built by G. Monnin, a manufacturer in France, that was already offering a very similar model in its range. If we find an 844 Heuer from 1979 and almost all of 1980, it will have the G.Monnin signature stamped inside its case back.
The piece for sale here is one of the very first to have been made when production was switched to Switzerland in late 1980. Later versions can be identified by the number after their 844 reference stamped into their case back outer. This incarnation is 844-1, with further runs being labelled 844-2 through to 844-5 respectively. The French 844 is the rarest and will command a price of several thousand pounds. 844-1 and 844-2 are both very unusual models that are hardly ever seen and in our business, over the last thirty years, almost every 844 that we have owned has been an 844-3.
The development of Heuer and, post-1985 when Heuer merged with Techniques d'Avant-Garde ,Tag-Heuer in the 1980s and '90s is a very interesting study in brand marketing and image management. For many of the general public, for whom TAG-Heuer has only recently become an object of desire, this luxury watch brand has a relatively modern image, created by extensive use of Formula One racing pictures in TAG's glossy magazine advertising and the brand's association with current sporting legends of the calibre of the golfing colossus Tiger Woods.
In fact, the Heuer brand has long been appreciated by connoisseurs of fine wristwatches and actually dates back to 1860 when it was founded by Edouard Heuer in St. Imier, Switzerland. The rise of TAG-Heuer as a household name has in turn delighted and irritated die hard fans of this superb company. On the one hand, the current wave of prosperity enjoyed by TAG-Heuer has lead to the production and development of some very advanced new watches, but on the other side of the balance, it has to be noted that older Heuer timepieces have risen in value to a phenomenal extent, to the point where many genuine horological enthusiasts are now unable to continue adding further classic pre-TAG-Heuer Heuers to their collections.
Watches like this one are particularly desirable on account of their superlative build quality and evocative styling. The Heuers of the 1960s and '70s, and, to be fair, the early TAG-Heuers of the mid 1980s, have a far more masculine look that the rather sanitised versions on sale today. Inspired by the wearing of a similar model by racing driver Jo Siffert, the legendary Hollywood actor Steve McQueen chose a Heuer chronograph for his own use, despite having never received a penny in payment for doing so.
This watch has a very rugged appearance. A particular point which adds to this aesthetic is the heavily squared off, very angular, coin edged rotateable bezel, designed to be operated while wearing cumbersome diving gauntlets, which we have not seen on more recent TAG-Heuer diving watch versions and find enormously appealing. The large original winding crown is of huge diameter and is a feature that would be replaced with the much smaller and less charismatic TAG winding crown pattern after the company merger had occurred.
This watch is in very fine condition and has only the slightest imperfections that must be expected on any vintage watch. These early reference 844-1 and 844-2 models tend to be offered now in very poor cosmetic condition having been used professionally as working instruments by commercial divers, but this one has worn well, and has obviously led an easy life.
The stainless steel case back is fully signed in a very utilitarian, almost military typeface "20 ATM, Etanche, Automatic, Acier" and carries the correct model reference number 844-1. Later versions of the 844 would carry a large Heuer shield emblem on their case back outers, but the early variants had smooth case backs into which the detail above was fairly crudely stamped. This is an important clue as to the nature of the target market for these first generation Heuer diving models. These watches were not sold as fashion accessories, but as a working pieces of equipment, designed to perform in an extremely hostile environment and as such, needed no elaborate case back logos or other cosmetic refinements. Anyone buying one of these watches new bought it for its technical characteristics, not its refined aethetics, yet ironically, this very bulky sports watch style is now the height of fashion, and widely imitated by many of today's luxury watch makers.
Internally, the case back is stamped "Brevet ( the French word for patented) 503306, M.R.P SA, Switzerland, Heuer-Leonidas SA". We were intrigued by this and wrote to the Swiss Patent Office, which duly supplied us with a copy of the original patent registration document. This registration was granted in 1971 and relates to the fixing of the rotating bezel to the case body, utilising ball bearings to ensure the smooth movement of the former. MRP SA was the manufacturer of these cases. The Heuer-Leonidas signature here is absolutely correct for a vintage Heuer of this age and was the one used after Heuer merged with the venerable movement maker Leonidas in 1964, prior to the TAG takeover in 1985. We have used the patent documents as the background for the photographs with this listing. These make very interesting reading and will be included when we send this watch to its next owner. Additionally, we will provide a photocopy of the appropriate Heuer owner's manual for this model.
It is vital to realise that this item is entirely original and authentic, with no changed parts or modifications whatsoever. Its dial, hands, winding crown and movement are first rate and have not been tampered with at any point. A refinished, so-called "restored" dial in particular will de-value any vintage watch dramatically, but the dial here is virgin and as close to being mint as anyone could ever hope to locate.
Authenticity is of paramount importance with any vintage Heuer, as sadly, the brand has now fallen target to an army of fakers worldwide. This is an enormous problem and anyone considering the purchase of a used vintage Heuer or more recent TAG-Heuer watch must be vigilant in the extreme. This example was bought used from the main TAG-Heuer agents, Preston and Duckworth, in York and, as would be expected, has been thoroughly serviced via this same retailer in the past.
Eagle eyed readers will have doubtless noticed that we referred to this item as a "tool watch" at the beginning of this description. This is the term used by vintage watch enthusiasts to describe a timepiece that has been specifically designed to perform a professional function in a real world, working environment.
The watch has been fully serviced and is, of course, working perfectly. The automatic movement is of the finest quality, though it would be naive to assign its origin to the Heuer company. Many collectors are unaware that in common with its close competitor Breitling, Heuer had not been a manufacturer of movements since the 1920s and instead purchased its mechanisms in raw, unfinished form from various trusted suppliers with which it worked closely, after which it processed these in-house as required.
Exactly as it should be, the movement here is based around calibre 2872 by ETA. Notice how in the early Swiss made reference 844 examples, the movements do not feature the Heuer signature. Later, when 844-2 and 844-3 production runs were reached, the Heuer name would appear on their rotors. This plain rotor is absolutely correct for a very early 844-1. These details are so important when buying watches with a view to investment, yet online they are so often overlooked simply because neither sellers or buyers have the in-depth knowledge to be sure that what they are looking at is authentic and unmodified. We guarantee quite categorically that every part of this watch is original. It could be included immediately in any thematic vintage Heuer sale held by Christie's, Sotheby's or Bonhams and is capable of withstanding expect scrutiny at any level.
For the technically minded, we should add that this unit has 25 jewels and was equipped with every known luxury feature of its day, including anti-magnetic protection, self-winding in both directions and a fascinating regulation system patented as the "Etachron" which enabled very high precision tuning of the movement's running speed. First introduced in 1975, five years before this particular watch was produced, the 2872 was the flagship of the non-chronograph Heuer range and reserved for inclusion in the firm's models intended for professional application, largely due to its relatively high cost of production.
The original Heuer signed steel bracelet in particular has very little wear and is tight between the individual links, a point which must be confirmed before the purchase of any classic watch is considered. This is a full factory length bracelet and has never been shortened in the past. An endearing touch of this example is that it retains its folding wetsuit extension link under the bracelet clasp. The purpose of this ingenious item was to allow the wearer to immediately extend the bracelet, with only a few seconds notice, to fit over his wrist while wearing a standard thickness neoprene wetsuit. So many older Heuer diving watches have now had these removed that original wetsuit links are collectible items in themselves, keenly sought by enthusiasts wishing to restore their watches to factory specification.
When every aspect of this model is taken into consideration, it is extremely undervalued in the marketplace at present. When new, this was a very competent attempt by Heuer to break into a Rolex dominated field and compared side by side, reference 844 stands up well against a Submariner of the same age. The Heuer was depth rated to a remarkable 200 metres and, ahead of its time, was fitted with an immensely strong sapphire crystal in an era when Rolex was still using plastic glass. Good Rolex sports models from the late 1970s and early 1980s command high prices now, yet this watch can be purchased here for £1175 GB pounds, which represents a bargain.
Vintage Heuer watches have a strong following among knowledgeable collectors and, this, allied to the current mania for sports timepieces from the top makers, means that this very fine example will sell quickly. Auction house Antiquorum held a thematic sale of vintage Heuer models on the 29th November 2009 in Milan and more recently in London, Bonhams sold the Haslinger Collection of classic Heuers on the 15th December 2010. Both of these events were tremendously successful, with new price records established that were far in excess of what we had seen before. Everything points towards a rapid increase in the value of good vintage Heuers and we would strongly tip watches like the one here as very worthwhile for the investment buyer looking for alternatives to the Rolex sports watch set pieces that in the eyes of many observers are now significantly over-priced and possibly heading for a downward correction in the near future.
Price £1175 GB Pounds
Vintage Watch Brands
Vintage Watch Decades
Vintage Ladies Watches
Vintage Watch Bracelets
Swipwreek Straps
Travel Clock/ Pocket Watches
Home
About
Brand Overviews
By Decade
Reference
Contact Details
Telephone from the UK:
07453 734666
or 07428 051005
Telephone from overseas:
+44 7453 734666
or +44 7428 051005