Rolex Tudor gold 1985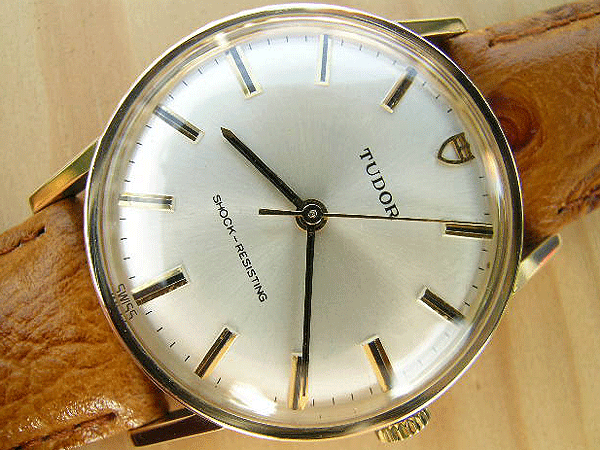 From 1985, this gentleman's gold Rolex Tudor is not only an exceedingly attractive watch but also one that is interesting because it has aspects that are not typical of Rolex production of its period. Items by Rolex are without doubt the most sought after of all vintage wristwatches, and almost anything by the company that is well preserved and totally original will command a high price among enthusiasts. However, those pieces that have quirks will always have the desirability edge over more mundane equivalents, and for some years now, we have advised buyers to try to identify unusual aspects in watches that they are considering as investments.
The style of this watch is absolutely textbook classical, with a large solid gold case in the imperial style. The lovely thing about watches like this is that they will never date, and will look just as relevant in thirty years time as they do today, or did when they were new. A simple gold Rolex transcends fashion, and this is certainly a factor that has kept prices for these models rising steadily without a dip since the early 1980s.
Rolex has never had a weak period of production, and its standards have been uniformly high. Having said this, while any older Rolex watch in good order will be technically excellent, its major components may have come from a variety of carefully vetted sources, Rolex relying enormously on third party suppliers for cases, dials, winding crowns and movements. The general public buying a Rolex watch from the jeweller's window has always presumed that all its component parts were made by Rolex itself, but the truth was far from this. When one has prolonged exposure to a large volume of vintage Rolex pieces, a familiarity with these various suppliers develops, and with a little effort, it is usually possible to decode the maker's marks on its various key components and identify their origins.
In common with all vintage Rolex cases, the one here is very thick walled and extremely robust. If a mid-priced gold watch is bought brand new on the high street today, perhaps by a mass market maker at a cost of £1000 to £1500 pounds, its case will be so thin and flimsy on account of its manufacturer being so determined to cut down on raw material costs. Even the slightest pressure will cause the case back to flex dramatically and in some instances, even the lugs are actually hollow rather than solid. Despite being in solid gold, this case is every bit as substantial as a Rolex stainless steel housing from the same period, and doesn't deform in the slightest even under high tension.
Internally, the case is highly decorated with an engine turned pearled pattern and signed "Made for Tudor", together with the model reference number 00169 and the individual serial number for this watch, 57054. Also present are a full set of British hallmarks, these informing us that this case was assayed as solid 9 karat gold in Birmingham, 1965 and the tiny letters "WHW Ltd", these being the maker's mark of WH Wilmot Limited, of the Albion Street Works, Birmingham, UK. In more than twenty years, we have only seen perhaps three or four Rolex cases made by Wilmot, and this curious aspect immediately makes this watch exceedingly interesting from a completist Rolex collector's point of view. All the examples we have seen were from the early to mid-1980s, and their age goes a long way towards explaining their existence. Since the World War I era, Rolex had enjoyed a very successful relationship with the Dennison company acting as, almost universally, the case manufacturer for its watches sold in the UK, but this came to an end with the closure of Dennison in 1979. Having lost a very important supplier, it seems natural that Rolex would have sought to continue its UK arrangement with a substitute manufacturer, and clearly located this in the same part of the country, Birmingham, then as now, being the centre of the British manufacturing jewellery industry. What is particularly fascinating is why WH Wilmot was chosen to supply contract cases, given that the firm wasn't even previously involved with the manufacture of watch cases, but was well established as a respected producer of gold chains. In reality, like so many things vintage Rolex related, because the company today has a policy of refusing to answer any questions in relation to its past output, the specifics regarding the use of Wilmot for cases at this time, including the number of Wilmot made Rolex cases and the exact length of the relationship between the two firms, will remain a mystery for the foreseeable future.
The dial here is as close to being perfect as could ever be found, and is effectively indistinguishable from that on a brand new watch. It is totally original and has never been restored in the past. Even when studied with a jeweller's eyeglass, it is blemish free and without any sign of even incipient minor spotting. In order to survive in this condition, even a relatively modern dial like this one has to have been carefully kept in a dust free, dry environment and very few comparable examples are to be found.
The faceted batons are free from corrosion, as are the original matching gilt hands and Tudor emblem. Notice how Rolex had by this stage changed the emblem used for its Tudor range from the rose used on the early watches to the more contemporary shield motif used here. The black signature "Tudor, Shock-Resisting, Swiss" is clear and well defined, with no bleeding of the letters into the French white background colour whatsoever.
One tends to find that watches are in uniformly good or bad condition. If pondered, this makes logical sense. If a piece has an excellent original dial that is free from staining, it is a reasonable assumption that its movement, having been in the same dirt free environment, will also be very tidy. And so it is here, with the almost as-new condition of the mechanism being consistent with the immaculate state of both case and dial. This is calibre 2750, the basis of which Rolex purchased from the ETA company and then processed and finished to its own superlative standards. It is worth noting that in 1985, when this watch was built, the 2750 had already been out of production for three years, it being manufactured between 1969 and 1982. Time after time we see this same situation, this being a reflection on Rolex's policy of purchasing and manufacturing in larger quantities than those immediately required in order to gain economies of scale. Rolex had stock piled calibre 2750 movements from the late 1970s, and continued to serve these up, beautifully finished in Tudor form, until the late 1980s.
In technical terms, the 2750 is a manually wound unit, running at 21600 half beats per hour, with 17 ruby jewels and a power reserve of 48 hours, this being the length of time the movement will continue to run from a single wind before stopping. Here, the signature "Tudor, 17 Rubies, Swiss Made" is clearly stated on the bridge plate, with the calibre number 2750 found beneath the regulator. In every respect, this mechanism is original, and it contains no changed parts whatsoever. Having been serviced on a regular basis since new, it works perfectly today and runs extremely smoothly.
This is one of those modern classics that represents almost unbelievably good value for money for anyone who is considering the purchase of a new gold Rolex watch. At £935 GB pounds, it can be purchased today, worn on a regular basis for a decade and then sold on at a considerable profit. Over the last twenty years, all vintage Rolex watches have increased steadily in value without ever dipping in the slightest at any time, regardless of the general economic climate. Rather like having one's cake and eating it, ownership of a classic Rolex is not only effectively free of charge in the long term because of this appreciation, but actually a very sound investment choice, which goes some way to explaining why interest in this area has exploded recently, particularly in the internet era of the last fifteen years. We struggle to find immaculate gold vintage Rolex watches like this one and ironically, because their market value is escalating so quickly, we invariably seem to have to pay more to replace our stock than we have received in payment for similar items that we have recently sold. This particular watch is nothing short of a gem and sourcing another in the same, totally original, almost as-new, state would be quite a challenge.
Price £935 GB Pounds
Vintage Watch Brands
Vintage Watch Decades
Vintage Ladies Watches
Vintage Watch Bracelets
Swipwreek Straps
Travel Clock/ Pocket Watches
Home
About
Brand Overviews
By Decade
Reference
Contact Details
Telephone from the UK:
07453 734666
or 07428 051005
Telephone from overseas:
+44 7453 734666
or +44 7428 051005