Omega Constellation Manhattan steel on bracelet 1984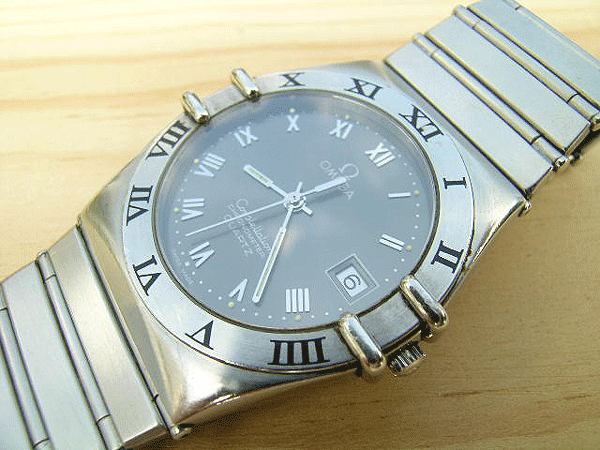 It would probably be impossible to find a better example to illustrate the remarkably good value that can be found in used luxury watches between five and thirty years old than this 1984 gentleman's Omega Constellation in stainless steel. A theme that often creeps into our descriptions is the link between classic wristwatches and classic motorcars, and indeed, it is widely accepted that many enthusiasts of one category are also aficionados of the other. When considering a watch like the one here, we can draw a direct parallel to the world of the modern luxury car, with one important difference. As many of us know all too well, a brand new quality car falls in value at a horrendous rate from the moment it leaves the dealer's showroom, losing perhaps 50% of its value in the first two years of ownership. By the time the same vehicle is a decade old, its value is merely nominal, yet as a functional piece of machinery, it will almost certainly be perfectly satisfactory and eminently useable on a daily basis.
Buyers of both watches and cars have different criteria, and for many purchasers, it is important to be seen to have the latest model in order to fit in with an accepted norm within their peer group, whether at the local golf club or in the workplace. However, there is no doubt whatsoever that for those that can accept being at one stage removed from the very cutting edge of fashion, the best value in both cars and watches exists in the no-man's land between current and vintage, this second term being used here to categorise items more than two decades old. Not modern enough to have worth similar to their brand new equivalents, and not old enough yet to be considered collectors' items in the strictest sense , both cars and watches of this age can be almost unbelievably satisfying purchases. The secret of successful hunting in this area is to only buy those items that have been carefully looked after since new, and that remain in nearly perfect condition. A ten year old luxury watch that has been scratched and abused by a careless owner is to be avoided at all costs, as is a prestige car of the same age that had had a succession of idiotic past keepers. But a watch that was given perhaps as a retirement gift and hardly ever worn, or a car that has been owned by an elderly couple and used only for Sunday afternoon trips to the seaside, is to be taken very seriously indeed, and makes the ideal choice for the thinking man who wants to obtain the best possible cost to benefit ratio.
This pleasant state of affairs is actually even better than it first appears when applied to the wristwatch, because a timepiece suffers none of the damage caused by the environment that must be taken as unavoidable in the case of an older car. If properly serviced and carefully looked after, an older watch will be in no way technically inferior to its current equivalent, this meaning that any reduction in its value corresponds not to any genuine inferiority, but merely to its styling.
This model of Constellation, correctly known as the Manhattan, was introduced in 1982 to much critical acclaim. This was a complete redesign of Omega's flagship by Carol Didisheim, inspired by a draft drawing by Pierre-Andre Aellen. The key feature of this revision was the two so-called claws that wrapped around the outer edges of the case at the 3 and 9 o'clock positions, these serving the dual purposes of protecting both the crystal and winding crown from damage. Without doubt, the eye-catching appearance of the Manhattan makes it one of the all-time wristwatch classics of the 20th century, and the overall aesthetic is both rugged and elegant.
A particular reason for buying an early Constellation Manhattan like this one is that it represents the first time that Omega used this landmark design. Constellations, being the very top of the company's range, are always regarded as collectible in their older incarnations, and being the first of a major stage in the model's history, items like the piece here are guaranteed to be of interest in the future. It is very interesting to visit Omega's official website where the current model Constellation is shown. The option is given to select a watch in all-steel, and the picture then produced can be enlarged. In almost every stylistic detail, the 2011 Constellation is virtually identical to its 1984 predecessor here, with the evolutionary link between the two pieces being instantly obvious.
The condition of this particular watch is exceptional throughout. To suggest that this is a new old stock, unworn item would be untrue, and there are the usual few tiny handling imperfections to the large case ( the watch has an impressive width of 34mm) and bracelet, but in real terms, this item is in superb order. The pinned joints between the bracelet links articulate smoothly, and there is none of the sideways play that is always a tell tale sign of a badly worn example.
Internally, the case back is beautifully decorated with an engine turned pattern and signed as "Acier Inoxydable ( the French term for stainless steel), Omega Watch Co", together with the model reference 1980140 and the individual case number 3980866. Externally, this component has the famous observatory emblem, this being the symbol of the Constellation range since its introduction in 1952. When buying a classic Constellation, always check that this case back logo is crisp and free from wear, just as it is here. Not so much a problem on all steel examples like this one, on mixed metal versions on which the observatory takes the form of an inserted gold medallion, the detailing can become smoothed. A good check is to count the number of visible stars above the telescope. There should be eight stars in total, and any loss of definition to these suggests a watch that has either been worn daily for many decades, or has been over-zealously polished.
The Omega emblem is present on the end of the original winding crown, and the internal clasp plates on the bracelet are signed "Stainless Steel, Omega, Mod. Depose ( this being the abbreviated French for patented)", together with the model reference for this item, 1392/012. We greatly admire Constellation bracelets from this period, and would happily argue that their quality was as good as anything manufactured by any of the other top tier houses at the same time. This is a deployant item, on which the clasp is released not simply by pulling it apart rather crudely, but by means of a dedicated pusher on its side. Externally, the concealed clasp is signed with a large Omega logo.
We would expect any carefully looked after watch of this age to have its original dial in excellent condition, and this is the case here. We often make the point in our descriptions that in order to be considered as a serious investment purchase, only a piece with its original, near perfect dial should be considered, but there really shouldn't be any problems with a relatively modern watch of this quality. The dial here is a very attractive metallic grey, with individually applied chrome Roman numerals matching perfectly those around the flat polished bezel. The signature "Omega, Constellation, Chronometer, Quartz, Swiss Made" remains crisp and perfectly defined, and the original chromed hands are free from even the slightest discolouration.
When the case back is removed, we can examine the Omega calibre 1431 movement. Introduced in 1982 specifically for the Constellation, this chronometer rated quartz unit proved itself to be exceptionally reliable and trouble free. Though signed "Omega, Swiss, Chronometer, 6 Jewels", the 1431 was, in common with all Omega movements used today, sourced from ETA ( the ETA reference for the same Calibre was 255.411), this being a member of the corporate group of which Omega forms part. Purists will often shun quartz movements on the assumption that these contain less craftsmanship than their all-mechanical equivalents, but actually, this is not necessarily so. When cheap, mass produced battery powered watches flooded every garage forecourt in the mid 1970s, this inevitable gave all quartz movements a bad name, which actually, they didn't deserve. Movements like the 1431 were built and finished to the same exacting standards that were present in Omega's mechanical units, and a close study of this item under a jeweller's eyeglass reveals it to be of the very highest grade. The ignorant will no doubt point to the jewel count of six as being far less than the number in a conventional watch as if this is a shortcoming, entirely failing to appreciate that the majority of jewels in a mechanical movement are found in the oscillating balance and escapement, neither of which are present in the traditional sense in a quartz unit. For years now, we have championed the quartz watch, and wouldn't hesitate to suggest that in almost every respect, it is superior to its mechanical equivalent. Quartz movements are incredibly dependable, even in extremes of temperature, and far more accurate than any mechanical movement. Their power cell energy source negates the need for daily winding, making them ideal for the user that doesn't wear his watch every day, but who still wants the convenience of using it instantly without having to set the correct time. We love mechanical watches, and have been fascinated by their development and craftsmanship for several decades, but we still wear quartz watches on a daily basis and know many serious collectors and established vintage watch dealers who do exactly the same.
The movement in this particular watch is in almost perfect condition, and gleams brightly like that in a brand new timepiece. Of vital importance when assessing any battery powered movement, there is not even the slightest hint of corrosion or oxidisation whatever. Having been serviced on a regular basis since new, every aspect of this unit works perfectly, and the watch keeps excellent time. One often hears the opinion that quartz watches do not require servicing and can be left to their own devices, but this is not the case. While the actual timekeeping and regulation aspects of a quartz movement have no moving parts, it is easy to forget that the gear trains that drive the hands and, in this instance, operate the date display, are still mechanical items that are essentially the same as those in a standard watch. These will require cleaning and lubrication, and the owner that fails to heed this will live to regret his negligence over the long term. Conversely though, if a quartz watch is properly serviced routinely, there is no reason whatsoever why it should not last just as long as its mechanical equivalent, and, having fewer moving parts, potentially, even longer.
A final note regarding any quartz movement should always identify its battery type, and confirm that this is still in current production. This watch uses the Renata 373 battery that is still the industry standard for high grade photographic equipment around the world today. There are literally many tens of millions of objects in daily use that take the Renata 373, and there is no chance whatsoever that this cell will become obsolete during the lifetime of anyone reading this description. If fitted by an Omega agent, a replacement battery will cost around £7 GB pounds, but if purchased online from an independent supplier, this will be available for approximately £3, which seems very reasonable. Very useful indeed, an appealing refinement of this 1431 movement was the inclusion of a battery life indicator, with the second hand moving in five second jumps when the cell is due for replacement.
To end by returning back to the theme of our earlier paragraphs, this is an ideal purchase for the shrewd buyer that wants an awful lot of very high quality watch for a very small amount of money. A new quartz Constellation in steel, which actually has an almost identical appearance to the one here, currently has a retail price of around £2500 GB pounds. Omega has always been renowned for offering extremely good value for money, and this figure is very fair, but when we compare it to the £575 GB pounds asked for the item here, the older watch is difficult to resist, not least because at this level, it will always hold its value in the future. Admittedly, these early Manhattans are now sufficiently old to be making the transition from being perceived as merely "used" into the world of the collectible, but even so, they are still so obviously undervalued at the moment that they cannot fail to be excellent investments. A good, first generation Constellation Manhattan like this one, and by this we mean a watch that has been well cared for and treated with respect, looks fabulous and is a highly practical timepiece that can be worn carefully on a daily basis without any ill effect. £575 GB pounds wouldn't buy any worthwhile watch from the inter-war period, but by choosing a more modern piece, on which all the depreciation has been paid by the previous owner, a superb modern classic can be acquired for this small amount that, when new, cost an awful lot of money.
Price £575 GB Pounds
Vintage Watch Brands
Vintage Watch Decades
Vintage Ladies Watches
Vintage Watch Bracelets
Swipwreek Straps
Travel Clock/ Pocket Watches
Home
About
Brand Overviews
By Decade
Reference
Contact Details
Telephone from the UK:
07453 734666
or 07428 051005
Telephone from overseas:
+44 7453 734666
or +44 7428 051005