Universal capped bumper with honeycomb 1951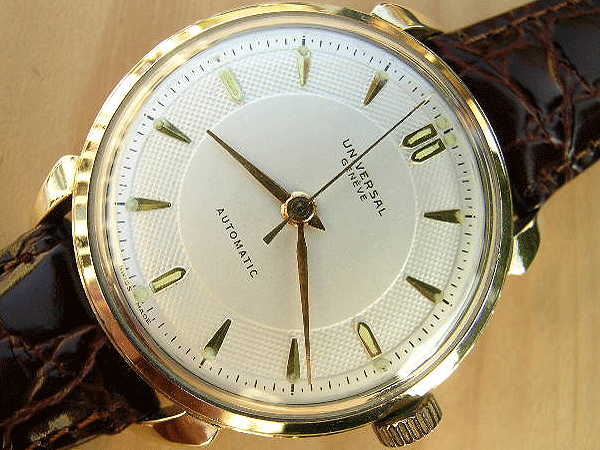 This 1951 gentleman's Universal bumper automatic, in a stylised gold capped case and with a near mint original honeycomb dial, is one of the most charming vintage watches for sale on this website. That it has survived in this remarkable pristine state is exceptional in itself and this is very much a watch for the serious collector. Having said this, despite its quality being every bit the equal of that of Rolex, Omega, IWC and Jaeger LeCoultre, our asking price for it is much less, only because the Universal brand name, once among the most prestigious in the world, is now largely unknown to the general public and only really appreciated by experienced enthusiasts who understand just how superb the company's watches were.
Founded in 1884, we tend to associate Universal Geneve with its Compax chronograph ranges of the 1940s and '50s, and with the Polerouter models of the following two decades. Indeed, early vintage Universal Polerouters are something of a speciality of this site and we always try to offer a small selection of the best preserved specimens for sale here. The Microtor movements that were fitted to the Polerouter are now regarded, quite rightly, as a landmark in the evolution of the luxury wristwatch, but we shouldn't forget that in fact, Universal had manufactured a most exquisite self-winding movement, calibre 138, the unit in these piece, built along the bumper principle, before it moved its attention to the miniaturised rotor concept. These movements are beautifully built and as well as being rare today, are historically important as the first automatics to be created by this highly respected house.
The condition of this watch is superb throughout, to the degree that it could legitimately be described as virtually mint. Our business specialises in vintage wristwatches that can be bought as serious investments and certainly, the state of this example qualifies it for inclusion into this category.
With heavily sculpted grasshopper lugs, the large case is almost unmarked and appears to have seen very little use. If we really go out of our way to spot tiny imperfections through an eyeglass, they are of course there, but in the real world, this case can be graded as exceptionally fine. The gold cap, which must not be confused with much cheaper and vastly inferior gold plate, is very thick and has not worn through to the base metal below anywhere. Some gold cap cases from this period, like this one, and those by Omega and Jaeger LeCoultre, are of remarkably high quality and contain a substantial weight of mechanically bonded ( not electro-plated) gold. The practice of gold capping ended in 1960s, simply because the arrival of electro-plating meant that gold coloured cases could be created at far lower cost, using much less gold than had been previously possible. In our business, we tend to think of gold capped cases as being a halfway point on the desirability scale between stainless steel and solid gold, which accords with the way in which they were priced when new.
The case back is of the threaded, screw on type, which suggests that Universal intended this model to have some protection against water, or at least the ingress of damp. The recessed notches around the case back outer are not chewed at all, which is always a good sign that a piece has not fallen into the hands of back street repairmen who didn't have access to the correct factory tool to open its case without causing damage.
Internally, the case back is covered with the most decorative engine turned pearled pattern imaginable. Rolex took the trouble to finish some of its Oyster case internals in this way, but many were left simply as they came out of the machine press. Universal really did take its work seriously, and these 1950s units by the company are some of the very best that we have seen, by any maker. We should keep in mind that Universal was going to great lengths and considerable expense to decorate an internal component that under normal circumstances, would never be seen by either dealers or retail buyers. This approach came from a genuine sense of wanting to create the finest watches on the market. Here, we are enthusiastic about vintage Universal watches to the point of being almost evangelical and cannot stress just how much value for money they offer at the present time.
Stamped inside the case back is "Fond Acier Inoxydable ( the French term for stainless steel), Swiss, and the Universal Geneve signature and emblem.
Externally, the case back is stamped with the Universal model reference 40206 and the individual serial number 1586787. This stamping is of full depth and has not been smoothed at all by either polishing or wear. This is exactly what we hope to see in an ideal situation, but unfortunately, a lot of the vintage watches for sale today, especially online, have case detail that is noticeably lacking in crispness and definition.
Universal was very unusual in its approach to serial numbering. Most of the major Swiss brands, among them IWC, Omega, Longines and Jaeger LeCoultre, took the movement as the point of reference and serial numbered it accordingly. Universal, in common with Rolex, did the opposite and sequentially numbered its cases, but left its movements without an identifying number. Here, for example, this case falls between the two extremes of vintage Universal production for that year of 1500000 and 1600000, which means it can be tied down categorically to a manufacturing year of 1951. The practice of stamping a model reference on a case back alongside the serial number is also one that we associate with classic Rolex watches. All these brands purchased cases from external suppliers and it would very interesting to know if the key producers of Universal cases were also those responsible for creating housings for the Rolex Oyster at the same time. Looking closely with an eyeglass, we can see that the distinctive type face on the case back numbers here is the same used on period Rolex cases, and it does seem likely that these two competing houses bought their cases from the same sources.
The dial on this watch is one of the most attractive of any vintage watch for sale on this website. It combines a central gently domed area, on which is printed the signature "Universal, Geneve, Automatic", with an outer ring that has been created using a hand operated rose engine. This section has a textured, honeycomb surface that is correctly known as guilloche. Extremely time consuming to produce, with a single dial taking most of a working day to individually create, guilloche is one of the most exotic of all dial finishes and commands a premium with serious collectors. Originally, this effect was very fashionable in the late 1910s and early 1920s, but it fell from popularity in the later inter-war period as flat, printed dials became the standard. It re-appeared briefly in the 1950s on high end models like this one, going into hibernation again until its rediscovery over the last decade on the latest models by some of the world's most exotic boutique brands.
The remarkable thing about this dial is its condition, which is literally almost mint. We could look for years, even in our capacity as professional dealers, and not find a vintage Universal watch for sale with a better preserved dial than this one. A lot of French white dials tend to take on a slight tinge of yellow as they age, which is not necessarily a bad thing, rather like the pages in an antique book, but this example is a stark and bright as it was in 1951. We don't know the history of the piece, but in order for its dial to have survived in this pristine state, it is almost certain that this watch has spent considerable chunks of its life away from sunlight, perhaps hidden in the back of a dry drawer or bank vault. It is difficult to explain this to newcomers with little experience of watch hunting, but the fact is that nobody can find vintage dials in this state with any regularity any more and when they do turn up now and then, they are to be regarded as a treat for the connoisseur.
It must be stressed emphatically that this is an original dial that has never been touched. Anyone can locate a vintage watch with a restored dial and these have no rarity value whatsoever. Similarly, there are plenty of old watches in circulation with original dials that are dirty and discoloured. The holy grail for the purist are watches like these, with virgin dials in perfect condition, largely because they exist in such small numbers. As far as we can, we make an effort to keep our prices as low as possible and the amount asked here for a rare Universal with a dial of this grade is very, very reasonable. In the vintage watch shops in central London, the asking price would be perhaps double or triple this figure, for a piece with a merely average or refinished dial.
All three hands are original and in gilt to match the applied art deco hour batons. Hands and batons are in excellent condition without any tarnishing whatsoever. Notice how there is consistency here across the applied metal aspects and the background dial finish, all of which are nearly mint. We constantly look for this when we buy and are wary of immaculate dials with dull and oxidised applied furniture. Often, when a restorer re-finishes a dial, he will not have the facility to polish its batons and will refit them in their original scruffy state, giving the informed collector a clue that things are not as they might first appear.
The movements manufactured by Universal during the vintage period are some of the most exceptional, both in terms of their design and quality, that have ever been created by the Swiss watch industry. Note the phraseology here. It is important to understand that unlike many of its competitors, Universal actually manufactured its own mechanisms entirely in-house in its own factory, without the use of any components sourced from external suppliers. Or, to put it another way, a vintage Universal movement is a "pure" product that originates from a single definable point, in exactly the same way that a single malt whisky like Laphroig or The Macallan is unique to a specific distillery. It can be very disillusioning to spend a considerable sum on a vintage watch only to find that the movement inside it is based around an ebauche ( the Swiss term for a movement in its most basic form, without components or finishing) that was produced by one of Switzerland's giant corporate concerns and used by a variety of brands at wildly different ends of the price spectrum. This can never happen to the Universal collector, with each of the firm's movements being exclusive and built in-house throughout.
We have written a very informative article about the in-house movement and what this really means to the collector today. To read this, click on the "What does the term "manufacture movement" mean ?" in the list of related articles below this description. This background will be very interesting for anyone considering adding a vintage Universal to their classic watch collection.
This movement is calibre 138 SS which is significant as the first ever self-winding movement to be offered by Universal. Launched in 1947, calibre 138 was produced in two versions, with the centre seconds edition here given the appendix letters SS. Later, in 1951, a further model would be added, the 138 C, which featured a date display. Extremely reliable and beautifully engineered, the 138 series of movements remained in production until 1958 when they were usurped by the first generation of Universal microtor mechanisms, beginning with calibre 215.
At this time, Universal was catering for a very upmarket, high level customer base that was happy to pay for items of exceptional quality. This watch would have been among the most expensive available in a capped case and period advertising shows us that its retail price was approximately 25% more than a similarly specified Omega Seamaster or Rolex Oyster Perpetual. Clearly, of necessity, a lot of this premium went into the research and development that Universal had to put into its in-house movement production, but additionally, the finish standard here is noticeably higher than that of the company's main competitors.
Technically, the 138 SS had every possible luxury feature of its era. It was a tour de force that was designed to re-enforce Universal's position in the top tier of Swiss houses and certainly, there was no better self-winding movement at the time. The example here has 17 jewels, a Glucydur balance that ensures consistent time keeping even in widely fluctuating temperatures and Incabloc shock resistance which, when it was new, was very much an innovative aspect.
The construction of the 138 calibres was two part, with a completely separate automatic module screwed down on top of what was a conventional manually wound movement. Both Rolex and Omega adopted the same approach for their first generation automatics, not least because it enabled them to utilise existing hand wound movements that were tried and tested, without the huge expense of tooling up to create completely integrated self-winding mechanisms from scratch. An important consideration at the time was that watchmakers worldwide, most of whom had never seen an automatic movement before and were deeply suspicious about the whole concept of self-winding, could relate to these movements and find a basis in them that was familiar and which they understood. When the self-winding unit was unscrewed, which could be achieved in minutes, access to a traditional manual movement was gained and routine cleaning and oiling was incredibly easy. A bonus of collecting these early automatics now is that they can be maintained at very reasonable cost by any good independent watchmaker. While they are exquisitely built and hand finished to a standard that could never be financially viable today, there really is nothing particularly complicated about them, which goes along way to explaining why they tend to be so reliable and have almost infinitely long working lives. Provided it is cleaned and re-oiled every three of four years, there is no reason at all why this movement, and others like it, should not be running a century or more from now.
Absolutely paramount when buying for investment, this movement is completely original and contains no replacement parts. It is quite remarkable how many vintage watches for sale online, especially in the mass market auction environment where authenticity standards tend to be very low, have movements that have been adulterated with incorrect components to keep them going at minimal cost. In our business, we are constantly offered watches that we reject due to component originality issues and by far the majority of period pieces in circulation by the top Swiss makers have some aspect or other that renders them unsuitable for serious investment. It is so easy to buy a watch that will never be considered first rate and while our stock is pricey, it will not be the source of any unpleasant surprises in the future.
After regular servicing, this watch works perfectly. Its movement is very bright and clean and has obviously been looked after extremely well. A better example of a first generation Universal automatic could probably not be located and it is the ideal specimen sample for the aficionado who is looking for a Universal bumper for his portfolio.
We have fitted this watch with a high quality crocodile skin type strap. This is not a genuine Universal strap, the original having disintegrated many moons ago, but it is perfectly in keeping with the sophisticated period look of the model and certainly need not be replaced. Having never been worn, this strap remains brand new.
This is a lovely watch that will be a source of enormous pleasure to its buyer. We don't see Universal bumpers with any regularity and most of the collectors who own them are quite happy to sit back and observe them rise in value. Vintage Universal Polerouters have shot up in price over the last five years, yet the earlier bumper automatics by Universal are rarer and, in our view, better looking watches. All classic Universals still offer incredibly good value for money, for no other reason than the brand having a low profile with the general public. The man in the street would love to own a vintage Rolex or Omega, but he is not aware that exactly the same quality, or arguably better, can be acquired in a period Universal, and this keeps values down to a reasonable level.
We have priced this watch at £685 GB pounds, which is much less than would be needed to buy an all-original, tidy capped Omega Seamaster from the same period. When it was new, this Universal would have been regarded as a more exotic model than the Omega and today, it is remarkable that this degree of quality can be purchased for such a relatively modest figure. We have championed the work of this exceptional niche market brand for some time and can say without a hint of exaggeration that this is one of the most attractive and best engineered items currently in our stock. It will certainly not disappoint in any way and we cannot recommend it too strongly for the buyer looking for something just that little bit more characterful than the models by the household name luxury brands.
Price £685 GB Pounds
Related Articles
Vintage Watch Brands
Vintage Watch Decades
Vintage Ladies Watches
Vintage Watch Bracelets
Swipwreek Straps
Travel Clock/ Pocket Watches
Home
About
Brand Overviews
By Decade
Reference
Contact Details
Telephone from the UK:
07453 734666
or 07428 051005
Telephone from overseas:
+44 7453 734666
or +44 7428 051005