Universal Geneve steel art deco rectangular 1937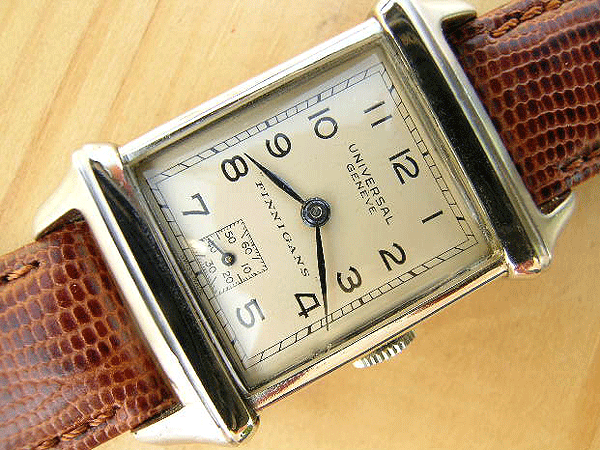 With its long stretched rectangular case and the most beautiful stylised lugs imaginable, this 1937 gentleman's vintage Universal is the epitome of the art deco look that dominated Swiss watch production the late inter-war period. However, its appeal is far more than skin deep, and the quality of its case, dial and movement is first rate throughout. In the 1930s and '40s, Universal was regarded as every bit the equal of Rolex, Jaeger LeCoultre, Omega and the other top tier houses, but largely because the current models by this brand have a low market profile and are not heavily advertised, today good vintage Universal watches can still be bought for substantially less than their equivalents by other better known firms. We defy anybody to find any aspect of this piece that is of a lower quality than a similarly specified Rolex from the same period yet it can be purchased for roughly a third of the amount needed to secure its better-known counterpart. To a considerable extent, the increased sharing of knowledge via the internet has resulted in good early Universals rising dramatically in price over the last two or three years, but they still represent one of the last genuine bargains to be found in the vintage wristwatch market.
The condition of this watch is extremely good throughout, though it would be an exaggeration to describe it as being literally new-old-stock mint. We would conservatively describe it as a piece that has been used now and again over the years, but always with care, and perhaps primarily on special occasions. Like any watch of this age, if one deliberately tries to find tiny imperfections to the large stainless steel case with the aid of an eye glass these are there, but are certainly not of a magnitude that would cause concern to even the most small minded purist.
Internally, the case back is highly decorated with an engine turned pearled pattern and stamped "Universal Geneve", together with the company's early shield emblem. Below this is stated "Enversteel", Universal's tradename for the particular alloy of stainless steel that it favoured. The metal here has a distinctive sharp white glow to it that is typical of Staybrite steel, and we can be confident that if analysed in a laboratory, Enversteel and Staybrite were either one and the same, or very close indeed in their ingredients, both having a very high chromium content.
Externally, the case back has the individual serial number 1004210 and the model reference 28512. These numbers are of full depth and it is quite clear that this housing has never been re-polished in the past.
The French white dial is totally original and has never been restored at any time. Dials on rectangular watches tend to suffer quite badly from staining by dust and moisture, their cases not being as effectively sealed as those on screw back circular models. Very few untouched 1930s rectangular dials have survived in the state of the one here, and for the serious collector looking for investment grade pieces that he can own over the long term, this is a rare find.
The signature "Universal Geneve" is stated above the centre point, with "Swiss Made" beneath the subsidiary seconds register. Also here is the additional name of Finnigan's, the retailer that supplied the watch when new. Finnigans, based at Market Street in Manchester, was one of the most glamorous suppliers of its day and, in essence, was a pioneer department store that catered for the needs of Lancashire's very wealthy. The firm was an official agent for both Rolex and IWC and is probably best remembered today for the quality of its in-house luggage, which included the most beautiful crocodile skin suitcases and brass studded travelling trunks. It wouldn't be an exaggeration to say that Finnigan's was probably the closest thing that Manchester had to Hermes. Double-signed dials of this kind are not common and are extremely desirable, and the Finnigan's wording will add considerably to the value of this piece as it would have been with a singly signed dial, or even a dial signed with the name of a less evocative retailer.
Even when scrutinised under high magnification, this dial is virtually faultless. It has no spotting or dust staining whatsoever. The overall background colour has just slightly mellowed uniformly from a bright white into a now slightly creamier hue, but this is very attractive, rather like the yellowing of the pages on an old collectible book.
Universal movements from the 1940s and '50s are the equal of anything produced by any Swiss house during this golden period. These are entirely uncompromised products, built by hand to a superlative quality standard with little regard to their eventual retail price. This unit is calibre 240, a tonneau shaped, manually wound mechanism with 17 jewels, introduced by Universal in 1932 and in production until the late 1940s. Interestingly, it is quite clear from the architecture of this movement that it was intended as a direct challenger to Rolex's HW calibre, and the similarity between the two is striking even to the casual observer. A close up photo for comparative purposes can be found on page 179 of Shigeharu Aritake's book "Rolex Scene 1913-1997".
Nothing about this movement has been changed since new, and it remains entirely original and unmodified. As can be seen in the photograph, its condition is literally perfect, and a better example of this calibre could not be found at any price. The rhodium finish on the plates gleams like a mirror and the signature "Universal Geneve" is stated clearly in inlaid gold, together with the calibre number 240 and the individual serial number 115674.
Having been serviced on a regular basis since new, this movement works perfectly and runs very strongly. If properly looked after and professionally cleaned every three or four years, there is no reason why a mechanism of this quality will not still be providing excellent service a century from now. Unlike today's luxury watches, that are designed and built from the outset with the expectation that they will be required to last perhaps a decade at most, pieces like this one by the great houses from the inter-war years were manufactured on the basis that they were one-off purchases that would remain with their wearers for life. Studying this movement with an eyeglass, it really can be seen to be something of a sculpture and is a textbook sample of Universal's classic output.
The price for this watch is £685 GB pounds. Given that this is a rare model with the most wonderful art deco case and a movement that is of the highest quality available, this represents remarkably good value for money. If this was by Rolex, with the same case and the equivalent HW movement, its price here would be somewhere between £2500 and £3000, yet the watch would be in no way technically superior. Universal has a superb pedigree and an elite status among enthusiasts that is derived from it being one of only a small number of Swiss houses that have been able to manufacture their own movements entirely on a self-contained basis without the need for out sourced components. So far, appreciation of this house has largely been confined to the connoisseur element who understand just how good these watches really are, but as recognition becomes more widespread, prices will rise dramatically, just as they did as IWC sprung from obscurity to prominence approximately twenty years ago. Universal items have no negative aspects whatsoever and, at the moment, remain a way of buying into the highest quality level without the normally associated expenditure. Our prediction is that this obvious market undervaluation is unlikely to continue for much longer and that even three years from now, good, all original 1930s vintage Universal watches will be far more expensive than they are today.
Price £685 GB Pounds
Vintage Watch Brands
Vintage Watch Decades
Vintage Ladies Watches
Vintage Watch Bracelets
Swipwreek Straps
Travel Clock/ Pocket Watches
Home
About
Brand Overviews
By Decade
Reference
Contact Details
Telephone from the UK:
07453 734666
or 07428 051005
Telephone from overseas:
+44 7453 734666
or +44 7428 051005