Universal Polerouter Jet 18k gold microtor automatic 1960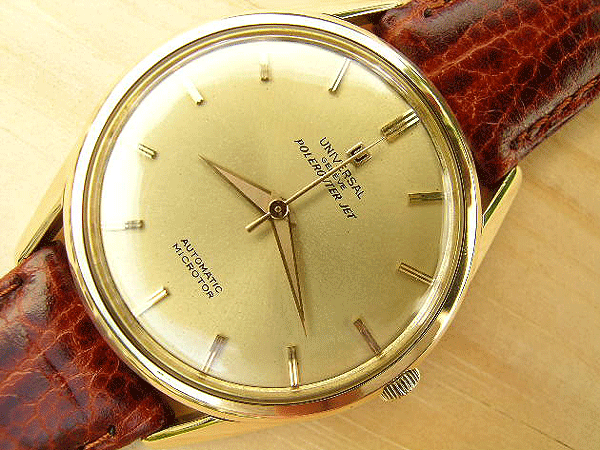 Regular customers of ours over the years will be well aware of our fondness for the Universal Polerouter. Introduced in 1954 and named on account of it being designed specifically for the pilots of the SAS airline flying on the "Royal Viking" route from Copenhagen to Los Angeles through the high magnetic field over the north pole, this model, or more correctly said, series of models, are among the most beautifully crafted watches of their era, but, for no apparent reason, with a little effort, can still be purchased at very reasonable prices. Unlike many watches from the post-war period which tended to have a sameness about them regardless of their origin, the Polerouter was a product out on its own, with a gorgeous micro-rotor powered automatic movement that was a unique creation of Universal, manufactured entirely in-house in the company's own factory in Geneva. For us, on a personal level, the Polerouter is an almost irresistible blend of an interesting and glamorous history, very attractive aesthetics and genuine technical innovation, and we always enjoy handling these items on the occasions when we have them for sale.
Over the years, in our business we have bought and sold perhaps fifty or sixty vintage Polerouters, and almost all of these have been in stainless steel cases. Originally, this was very much a sports model and was not intended to be a dress watch. Accordingly, the type of person who would have been inclined to purchase a Universal Polerouter in the 1950s or '60s would have invariably drawn to steel on the basis that this was far more capable of withstanding rough use than its gold cased equivalent.
While the model was offered in Universal's sales catalogue throughout the 1950s and early '60s, this is the fourth Polerouter in solid 18 karat gold that we have personally handled in the last three decades and we do wonder how many were actually produced in this specification. Certainly, this is a rare watch that even those employed in the vintage watch business full time can go for several years without seeing.
The styling of this watch is exactly the same as its more modest counterpart in stainless steel. The large case dimensions ( the watch has a width of 35mm) are unchanged from those of the steel Polerouter, and if one was to only shown a black and white front view photograph of the two side by side, it would be impossible to identify one from the other.
The first thing that will strike the purchaser of this piece after it arrives with him will be its weight. Unlike those of many of its competitors, Universal gold cases are just as thick as their equivalents in steel, which results in watches that have a remarkably hefty feel to them. We haven't actually weighed these items to compare them, but holding one in each hand crudely, we would be inclined to the opinion that the gold watch weighs more than double that of the steel one.
Steel Polerouters have an emblem on their case back outers, with a sectionalised rendition of the globe into which a flagpole has been placed at the top, this symbolising the SAS flight over the north pole mentioned earlier. Quite correctly, this gold version has a completely plain, undecorated back, except for the presence of the serial number 1993770 and the model reference 10369/3. It is quite clear that these stampings are of their full original depth and that this case has never been re-polished at any time in the past, and it can be guaranteed that the large Polerouter emblem found on the steel watches has not been polished out, but was never there in the first place. We would make the educated guess that the number of high priced Polerouters in gold that Universal expected to sell was so small that it simply wasn't worthwhile having the relevant tooling produced to apply this logo to soft gold case backs, hence they were offered with the smooth back here.
Internally, the screw on, threaded back is stamped with a large Universal shield emblem, above and below which "Universal Geneve, Swiss" is stated. Also here are a full set of Swiss hallmarks ( Helvetia), these confirming that the case is solid 18k gold. Most interestingly of all though is the tiny coded case maker's mark of Edouard Wenger, of Lyon 20, 1200 Geneve. In common with almost all its competitors, Universal was a movement maker but did not manufacture its own gold cases, instead relying on a small number of external sub-contractors to supply these are required. Unquestionably, Wenger was one of the most highly regarded case making concerns, and its signature here goes a long way to explaining why this housing is so thick walled. Experienced vintage watch enthusiasts will know Wenger best as the company that manufactured the complex cases for Jaeger Le Coultre's Reverso model in the early 1930s, but it also worked extensively for almost all the top tier Swiss movement makers throughout the golden years of the industry.
In a light gold colour that compliments the case perfectly, this dial is totally original and in almost mint condition. The black signature "Universal Geneve, Polerouter Jet, Automatic, Microtor" is crisp and not in the least bit faded. Almost every Polerouter that we have seen offered online over the last couple of years has had a refinished, so-called "restored" dial, but this one is authentic and untouched since leaving Universal for the first time in 1960. If one looks hard enough under high magnification, there is some very light spotting in places, but this is so slight as to be almost invisible, and would only be noticed by the individual who was deliberately trying to find fault with the dial when in practice, it is virtually as new. Something that novice buyers often do not appreciate, the presence of a restored dial will reduce the value of any vintage wristwatch as a collector's item by at least 40%, and often damn it in the eyes of the purist to the extent that it is not considered as a potential purchase at any price. Summarising the situation very bluntly, restored dials are exceedingly bad news and should be avoided at all cost. This, completely original, dial is the perfect example of what a buyer should be looking for if purchasing with a view to serious investment.
The total originality of this watch really is quite remarkable. Its wide gilt dauphine hands are correct and in almost perfect condition, with not even the slightest hint of corrosion to their mirror polished surfaces. Similarly, the original winding crown is still in place, signed with the Universal "U" emblem that had been the company's corporate symbol since 1959. All these details aggregate to make the difference between a genuinely exceptional watch that can withstand criticism at the most expert level, and a merely average example that, while often looking perfectly acceptable, will have several aspects that are sub-standard.
It is no exaggeration to suggest that any collection that attempts to chart the progression of the luxury wristwatch over the last century must have an example of one of Universal's micro rotor movements in it. These are so different from any other form of automatic mechanism and represent a unique approach to movement architecture. While often associated with the Polerouter, micro rotor movements were used by Universal in several other models of the same era. Knowing this, and because it would seem unnecessary to repeat information that applies equally to several similar watches, we have written an article giving the background to these movements and explaining why they are so interesting from a technical perspective. This can be read by clicking the link below to the reference section of this website.
While there are common themes that run through all the various versions, not all of Universal's micro rotor equipped movements had the same basic specification. The movement most commonly found in the Polerouter Jet, this watch, was calibre 215-7, which had 17 jewels. Some reference 10369/3 examples however, of which this is one, were fitted with calibre 215-9, a superior mechanism with 28 jewels that is altogether more exotic. Both are excellent movements, but if one can be sourced, it is worth paying a premium to obtain one with the 215-9.
The condition of this particular movement is quite remarkable, so much so that anyone without the specific knowledge to recognise it would automatically presume it was a brand new item, rather than one that is almost half a century old. The rhodium plates are covered with the most beautiful prominent Geneva stripes and are signed in inlaid gold as "Universal Geneve 215-9, Swiss, Microtor, Twenty Eight Jewels". Alongside the micro rotor is the patent number 329805, this being the one assigned to Universal's design for this unique series of calibres.
One of the major practical advantages of the micro rotor design concept is that it allows much greater ease of servicing that would normally be possible. On a conventional self-winding movement with a full sized rotor, the rotor has to be removed before access to the rest of the mechanism can be gained, but here, the micro rotor only occupies a small percentage of the total surface area of the movement, and the balance can be reached instantly. This movement has been serviced on a regular basis since new, with the result that it works perfectly. The engineering and build standard of these micro rotor units was so exceptionally high that they do tend to extremely reliable, but in common with any piece of precision machinery, if they are neglected and starved of lubrication, wear will occur. If properly looked after and treated with respect, this watch will still be working a hundred years from now, unlike the luxury timepieces manufactured today, which are designed from the outset to have working lives of typically a decade.
Helmut Kahlert's book "Wristwatches, History of a Century's Development" shows a 1958 Universal Polerouter in detail on page 329. This is a steel model, but contains an almost identical movement to the one in this more opulent gold version.
This is very much a collectible and isn't an inexpensive item, but on the other hand, it offers incredibly good value for money if its merits are pondered logically. When new, the closest competitor the Universal Polerouter had was probably the Rolex Explorer, both being rugged sports models that were designed to be able to withstand hard use in an active environment. In steel, the cost of both watches was similar, the Polerouter costing just slightly more than the Rolex, but, in 18 karat gold, the Universal was tremendously expensive and far more of a genuine luxury purchase than one bought for purely functional reasons. It is food for thought, but absolutely true, that in 1960, when this example was manufactured, the cost of a Universal Polerouter in 18 karat gold was only a fraction less than that of a brand new Volkswagen Beetle car. To continue the comparison between the Rolex and the Universal, because of the seemingly unstoppable rise in the popularity of the former company, the current market worth of the Explorer is high. Universal, while still in existence, has a much lower public profile and consequently, its vintage output is largely appreciated by serious aficionados rather than the general public, with the result that values of classic Polerouters are much less than they actually should be.
The price of this watch is £1750 GB pounds, a sum that wouldn't buy a tidy vintage Rolex Explorer in steel. In 18 karat gold, this is a much rarer item than an Explorer, was produced in far smaller quantities initially, and its movement is of a significantly higher build and finish quality than that of Rolex's calibre 1530 of the same era. Rolex collectors don't want to hear this, and, certainly, the Explorer is a fine timepiece that is rightly regarded as an all-time classic, but, if compared merit for merit on a clinical, unbiased direct basis, the Polerouter is undoubtedly a better watch.
We also firmly believe that the Polerouter has a long way to go before its price hits a ceiling, and that genuinely well preserved, all original examples are one of the strongest buying opportunities in the vintage watch market place at the moment. Other anti-magnetic specialist models, for instance Omega's Railmaster, the IWC Ingenieur and, most ludicrously priced of all, the Rolex Milgauss, have literally trebled in value over the last four or five years, yet the vintage Universal Polerouter, built to a quality standard that is at least the equal of any of these, remains very affordable. Of all the watches that are listed on this site, this item is among our own favourites, and we guarantee that as interest in high grade collectors' timepieces continues to grow rapidly and the market expands, its value even ten years from now will make its asking price today seem almost ridiculously cheap.
Price £1750 GB Pounds
Vintage Watch Brands
Vintage Watch Decades
Vintage Ladies Watches
Vintage Watch Bracelets
Swipwreek Straps
Travel Clock/ Pocket Watches
Home
About
Brand Overviews
By Decade
Reference
Contact Details
Telephone from the UK:
07453 734666
or 07428 051005
Telephone from overseas:
+44 7453 734666
or +44 7428 051005