Universal Unicompax steel boxed 1939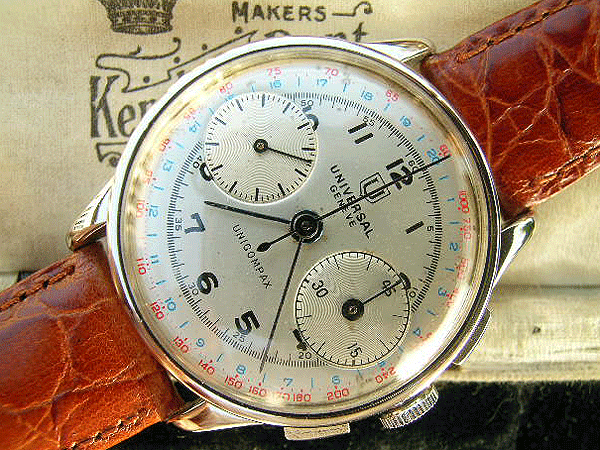 The Universal company manufactured some of the highest quality chronograph wristwatches that have ever come from Switzerland, yet today, even at a time when the vintage watch market seems to be rising almost by the month, they can still be acquired with a little effort and careful vetting for the very modest outlay of just a few thousand pounds.
The sheer value for money offered by this 1939 Unicompax model in stainless steel is unbeatable and we have often commented in our business that if the general public, or even the collecting community, ever wakes up and realises how exceptional these models really are, they will treble or quadruple in worth within the space of a few months. Compared side by side and judged with an impartial eye, these classic Universals are in every way equal to Rolex hand wound chronographs from the same period, yet tidy examples by the more famous brand change hands for five and even six figure sums. A persuasive argument could be put forward that in fact, the Universal was a better watch than its Rolex equivalent, not least because it contained an in-house "manufacture" movement. Universal designed, built and finished its own movements whereas Rolex always purchased its chronograph mechanisms from third parties, most notably Valjoux.
This particular example is in nearly mint condition throughout and is of a standard that could be acquired for investment. We specialise in immaculate watches that have been clearly well cared for and these make up the core of our business, but even so, we were delighted to secure this piece for our stock. It was bought privately and we don't know its past, but it is immediately apparent from its remarkable state of preservation that it has seen very little use and almost certainly been a prized item that its previous owner, or owners, has brought out only on special occasions.
The large stainless steel case is almost unmarked, with only the very tiniest of imperfections here and there that must be expected on any watch that is not brand new. There have been no repairs to this case and it is among the best that has survived anywhere.
Internally, the snap on case back is covered with an engine turned pattern and signed "Fond Acier ( the French term for stainless steel), Metal Chrome, Universal U.W ( Universal Watch), Geneve". Interestingly, the reference to metal chrome relates to the high chromium content used in the better grades of stainless steel alloy that were employed by the Swiss luxury watch industry in the 1930s and 1940s. The most common of these, used by everyone from Rolex through to Patek-Philippe, was Staybrite, but there were many others, among which this was one. Steel cases from this period have a very distinctive "glow" that is quite different from current steel models. Anyone looking at this piece, even without any specific knowledge, would immediately pick up on its old fashioned, vintage appearance and the strange shine of its steel case only accentuates this effect.
Externally, the case back is stamped with the model reference 32401 and the unique serial number 749815. Unusually, Universal followed the system we normally associate with Rolex, with a serial number on its cases being used to identify age. Omega, Jaeger LeCoultre, Longines, IWC and Zenith are all dated by the numbers on their movements rather than cases. The two extremes for vintage Universal production for 1939 were 733333 and 766666, confirming that this piece was manufactured in the middle of that year. It is fascinating to speculate on who would have purchased such an expensive luxury watch at a time when Europe was facing great financial uncertainty as the storm clouds of approaching war grew ever darker. We do not know the history of this item, but we can be sure that its first owner was clearly a well heeled individual who perhaps regarded it as a safe, and portable, investment during a period when there was a great danger of currency devaluation and a more remote one of occupation.
Both pushers and the winding crown are original. These points are important when buying a vintage watch at this level. To be fair, most chronographs with rectangular pushers tend to have their originals still in place due to the difficulty of finding replacements that will exactly fit the holes in the case side, but it is quite another story with those models that feature screw in, round section pushers. Often swapped to enhance the appearance of a worn watch, screw in pushers seem to be changed routinely in the on-line auction world, which is a great shame as old stock originals for brands like Universal, Heuer and Breitling can be almost impossible to source. Similarly, keep an eye out for winding crown authenticity. We have seen a number of Unicompax and Tricompax models from the 1930s fitted with crowns signed with the Universal "U" emblem on their outer surface. This is not correct and Universal only signed crowns in this manner from the 1970s onwards. The appropriate crown for a late 1930s Unicompax is the polished unsigned unit here.
When vintage watches are assessed by experienced collectors, more attention is given to their dials than to any other aspect. Dials are vulnerable to damage by bright sunlight, damp and any dust that manages to creep around the outside of the glass, with the consequence that most examples from the 1930s are now showing very noticeable signs of deterioration. No other component is likely to show such a range of deviation in condition and it is not therefore illogical that dial state, coupled with layout and degree of originality, has a greater bearing on commercial worth than all other factors. Cases can be repaired and non-working movements pulled back from the brink with expensive specialist work, but once a dial has become scruffy and stained, it can never again be regarded as both original and near mint. Hence those relatively few watches that exist with near perfect untouched dials command high prices when sold in the physical sales held by the major auction houses.
The dial on this watch is absolutely superb. It is guaranteed to be original and unrestored, yet its condition is as close to perfect as could ever be found. Scrutinised from a distance of a few millimetres with the aid of a jeweller's eyeglass, there is the very slightest ageing to the registers, but to dwell on this point would be to take criticism to a ludicrous extent. To all intents and purposes, this dial is as-new. Its silver white surface is not dirtied or foxed and the printing, in red, blue and black, has not faded with the passing of more than sixty years.
A dial in this virgin state will command a premium and it represents a significant percentage of the asking price for this watch. The consensus of opinion is that approximately 40% of the commercial value of the best vintage watches lies in their dials and it is very noticeable that the pieces which attract the most attention in the traditional physical auction sales held by Sotheby's, Christie's and Bonhams are those with dials that are unmolested and still in first rate order.
"Universal, Geneve" is stated in black above the dial centre point. Prior to 1937, the simpler signature "Universal" was used. Following on from the official change in the company's trading style from Universal Watch Co Limited to Universal Geneve in 1937, the double barrelled wording see here appeared on the firm's chronograph dials.
All five hands are original and in superb condition. Their blued steel finish is not at all corroded and is consistent with the excellent state of the rest of the piece. Finding the correct replacement hands for the lower production volume brands like Universal and IWC is very difficult and invariably turns out to be extremely pricey. In our early days in the business, we were occasionally tempted to buy watches that we knew had minor aspects that were incorrect, typically hands or winding crowns, and try to restore them back to factory standard specification. Such watches were often offered to us at what appeared at the time to be bargain prices, but in many instances, proved tremendously expensive to put back into first rate condition. We learnt our lesson many years ago and now only buy those pieces that are complete and correct in every detail. We always advise our customers that it is by far the best route to pay a little over the odds in the first instance and acquire something that is authentic and as it should be rather than cut corners and try to rectify a second rate vintage watch with components that may or may not ever be sourced in the future.
To return to the theme of the opening paragraph of this description, it is quite incredible that a vintage chronograph movement of this quality, which is literally second to none, can be purchased for such a small amount of money. Universal chronographs from this period undoubtedly contain some of the most exquisite mechanisms ever created, yet this example and others like it, can be bought for less than the asking price of many mass produced time-only watches offered new in the high street.
The movement in this watch is calibre 386, a hand wound chronograph with seventeen jewels that was built along classical lines, with an 18000 half beats per hour running speed and its start, stop and reset features controlled by means of a column wheel. While we deliberately avoid being overly technical on our website for fear of boring the casual observer, this is an important aspect that is worth some further explanation. In order that damage does not occur, it is clearly vital that these chronograph functions operate in sequence. In other words, for example, it is imperative that no attempt can ever be made to reset a running chronograph without first arresting its movement with the stop function. While beautifully made, the vintage chronographs by the elite houses like Universal are delicate and the forces involved when stopping and restarting are enough to wreak havoc with the chain of toothed gears and levers if not synchronized perfectly.
The crown wheel, equally correctly referred to as a column wheel, is the purist's method of chronograph guidance. In order to work, the relevant operating lever has to drop into its dedicated slot machined into the top of the column wheel. If this action is not performed, the respective start, stop or reset function cannot take place.
While extremely elegant and very attractive to look at, crown wheel movements required a great deal of highly skilled hand finishing to ensure a perfect fit between this component and the levers that fitted into it and were expensive to manufacture, hence they were only offered by brands at the top of the price scale when new. The alternative system was lever actuation, which achieved the same results by means of a pivoting cam. Far cheaper to produce, the cam arrangement was widely adopted by makers who were more cost conscious and happy to depart from what had been the classical method of chronograph control since the Victorian pocket watch era.
The fact of the matter is that lever actuated cams worked just as well as crown wheels, but they lacked the charm and took away the opportunities to display superlative craftsmanship that were offered by the latter. The most prestigious makers, for which the eventual retail price of their watches was not a major concern, like Patek-Philippe, Rolex and indeed Universal, continued to create crown wheel chronographs while other, less eminent brands, would typically market chronographs that employed cam guidance. For the modern day collector wanting to own something truly outstanding, a classic 1930s or '40s crown wheel chronograph is an essential purchase and will be a source of great satisfaction.
Calibre 386 will always be associated in the minds of enthusiasts with the Unicompax. Launched in 1936 it was effectively the junior version of the company's Compax that had made its debut a year earlier. Almost identical in appearance and of the same remarkable quality, the Compax differed slightly from the Unicompax on account of it having an additional 12 hour chronograph counter and a 30 minute register, as opposed to the single 45 minute register on the latter. Both variants are highly desirable, though it could be argued that the slightly simpler dial layout of the Unicompax has a certain extra period charm.
Movements like this one were hand built and designed with the intention that they would be possessions for life. Their quality was so high that this objective was easily achieved provided that they were maintained correctly and sent for cleaning and re-lubrication every three or four years. The complexity of mechanical chronographs means that it is imperative that they are serviced periodically and if such work is not performed, they will suffer rapid premature wear. We regularly reject early chronographs offered to us on the basis that their neglected movements are well on the way to life expiry and it is so important to only buy an example like the piece here with a movement that is showing no signs of mechanical wear. Finished in distinctive frosted gilt, its appearance reminding us of a pre-War IWC unit, this movement gleams brightly and is not at all corroded or even tarnished.
Just as important as condition, though the two factors are inextricably linked, is movement originality. Again, as movements become worn, there is an unfortunately tendency for unscrupulous dealers to repair them at low cost with non-standard components, often from related, but not the correct, calibres. This movement is guaranteed to be entirely standard and is today exactly as it was in 1939 when new.
As called for, "Universal Geneve" is signed on the Y shaped bridge, with the calibre number 386 on the base plate. Operation is very smooth, with the start, stop and re-set functions performing with a definite crisp click. Everything here works perfectly and the watch runs without issue, both as a chronograph and as a standard timekeeper.
We have fitted this watch with a high quality crocodile skin type strap that perfectly suits its upmarket old world appearance. This is not a genuine Universal strap, but is very similar to those shown with the Compax and Unicompax models in Universal's advertising from the 1930s and early '40s. The strap is brand new and has never been worn.
A lovely touch is the presence of the original box that this watch was supplied in back in 1939. Kendal & Dent was one of the most important retailers of fine horology during the inter-War period. An official agent for Rolex, Omega, IWC and Universal, this business offered high precision watches to both the public and the military. In itself, this box is a very collectible item. More information about Kendal & Dent, and in particular its proprietors F.E Coad and B.L Langman, can be found on page 180 of Tony Mercer's book "Chronometer Makers of the World".
The book "Chronograph Wristwatches-To Stop Time" by Gerd R Lang includes quite a lot of information about Universal and its important role in the development of the luxury wristwatch chronograph as we know it today. There is an excellent large colour photograph of a Unicompax on page 135, with the watch shown from 1945, six years later than the piece for sale here. A close up of the classic Universal calibre 386 chronograph movement appears in the same book on page 236.
There is an excellent article in the April 2003 edition of "WatchTime" magazine by Gisbert Brunner, a highly respected horological historian and vintage watch collector, entitled "The 12 most beautiful chronograph movements of all time". Mr Brunner picks the dozen chronograph mechanisms that he feels are the finest ever made and includes an identical Universal chronograph calibre to the one inside this watch, the 287. Looking at the large colour photograph of the 287 in WatchTime ( page 110) and comparing it to the calibre 386 here, it is almost impossible to see any differences between the two and it seems fair to say that the latter is a very subtly refined version of the former.
The price of this watch is £1685 GB pounds. The value for money that it represents is nothing short of astonishing and we cannot recommend it too strongly. It is a beautiful looking period piece that has been manufactured to a quality standard that has hardly ever been equalled. The only reason that vintage Universal chronographs from this era are so woefully undervalued is that the present Universal company has a very low profile and its classic work remains almost unknown to all but the most diehard aficionados. There is nothing about this watch that is inferior to its equivalent by Rolex, Omega or Patek-Philippe, yet the asking price for it here would only just cover the cost of a tidy 1950s steel Rolex Oyster in its most basic format. This is sheer horological excellence that can be acquired on a limited budget and it stands out as one of the very few models that have changed respective positions in the market place. When they were new, chronographs by Universal were among the most prestigious and most costly available and were found at Asprey, Cartier and Hermes. In fact, we have several Hermes adverts from the 1930s devoted entirely to Universal chronographs in our archives and we have used one as the background for one of the photographs accompanying this listing. The text makes great play of the fact that these can be purchased in the Hermes stores in Monaco, Biarritz, St. Tropez and Cannes, giving us a pretty good idea of the target audience for timepieces at this level. Rather anomalously in today's market, Universal has been forgotten which means, for the moment at least, before somebody resurrects this dormant glorious brand and raises its profile, exceptional early Universal chronographs like the one here are nothing short of bargains.
Price £1685 GB Pounds
Vintage Watch Brands
Vintage Watch Decades
Vintage Ladies Watches
Vintage Watch Bracelets
Swipwreek Straps
Travel Clock/ Pocket Watches
Home
About
Brand Overviews
By Decade
Reference
Contact Details
Telephone from the UK:
07453 734666
or 07428 051005
Telephone from overseas:
+44 7453 734666
or +44 7428 051005