Eterna Centenaire 18 karat gold automatic 1961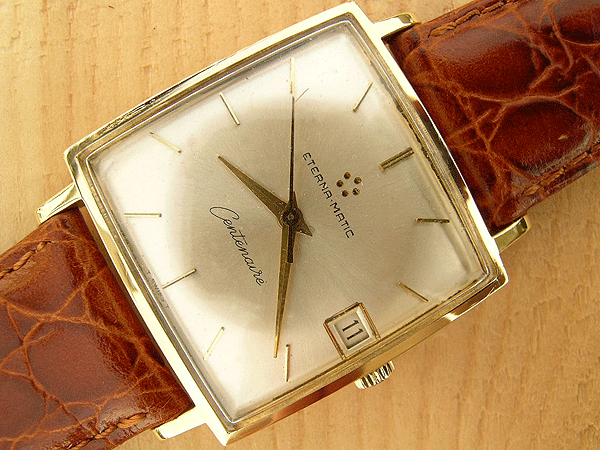 This limited edition, large sized, 1961 gentleman's EternaMatic Centenaire Date in solid 18 karat gold is one of the most appealing vintage watches for sale on this site, yet ironically it is not prohibitively costly. This model was created, in relatively small numbers, to celebrate 105 years of the Eterna company. Eterna had originally released the Centenaire in 1956, but the concept proved successful, and further versions were produced in 1961 and 1971. It was an expensive model when new and Eterna used it as a marketing tool to display its remarkable watch making abilities. Interestingly, Eterna, through its movement supply division ETA, still provides the base movements for many of the finest luxury watch brands in the world including IWC, Omega, Longines and even Rolex, but ironically, because of the company's role as a low key wholesale supplier to the prestige houses, its own watches are often relatively unnoticed, making them something of a bargain on the vintage market. It is not in the least bit uncommon to pay in excess of £4000 GB pounds today for even a steel new watch by one of the world's most revered watch brands and find that the movement inside it was manufactured by Eterna.
Unquestionably, every serious collector should own at least one Eterna Automatic, simply as an example of the work of the company that invented the first ball bearing pivoted automatic winding rotor. This was a development that revolutionised the concept of the self winding watch. So significant was this breakthrough that Eterna has used the "five dots" symbol, representing the five ball bearings on which the rotor is pivoted, ever since. If the photographs accompanying this listing are studied in detail, it will be noticed that the original winding crown here is signed with the same five bearings emblem. We would recommend that anyone not familiar with the remarkable role played by Eterna in the luxury wristwatch industry visit the firm's excellent website at http://www.eterna.ch . Much is made of the development of bearing mounted rotors, and a considerable amount of detail is included that will prove interesting to the collector.
Eterna has always produced beautiful watches under its own name and is now, deservedly, coming once again to the forefront, with a new range of models inspired by its 1950s classics and relying heavily upon its involvement with the famous Kon-Tiki expedition of the same era. These modern Eterna watches retail around the £3000 GB pounds level in stainless steel and are certainly in no way technically superior to this classic model on sale here.
This very attractive watch is in near perfect condition and has been serviced throughout its life. The large ( the watch has a width of 31mm and a length of 41mm) rectangular case body and case back are in highly polished solid 18 karat gold.
The case back is internally signed as "Eterna Watch Co , Swiss", together with the model reference 765 and Swiss control marks ( head of Helvatia) for 18 karat gold. Externally there is a very distinctive circular art deco inspired emblem on the case back, across which is stated "Centenaire" in stylised script.
It is worth noting that this is one of the thickest walled 18 karat gold cases that we have encountered recently and as a consequence of this, the watch is noticeably heavier than we would typically expect it to be. In common with almost all the top tier Swiss houses, while Eterna had the ability to produce its own movements entirely in-house, it relied on out-sourced cases that it purchased from external suppliers. On this site, we deliberately try to decode case makers' marks where possible as part of our descriptions, but in this instance, the tiny hidden signature remains a mystery. The majority of Eterna gold cases were made by Baumgartner in Geneva, but this isn't one of them. Its construction suggests it is almost certainly a product of William Willemin, a small atelier based at Progres 115, 2300 La Chaux-de-Fonds, and certainly Willemin worked closely with Eterna in the post-war period, but not being able to categorically break the signature here, we cannot categorically guarantee this. What we can state is that the quality of this housing is superb, and out of all the vintage wristwatches for sale on this site, there is not one with a more substantial, or better finished, case than this.
The original silvered dial is in superb condition and the crystal is unmarked. The signature "Eterna-Matic, Centenaire, T Swiss T" is crisp and perfectly defined, the scripted typeface of the model name mirroring perfectly the same on the case back outer.
The mechanical hand assembled, automatic movement ( serial number 4438614) is a delight to behold. The bridges are finished to a standard that most other high grade Swiss manufacturers could only aspire to. The calibre used in this piece is the famous 1438U, introduced in 1959. The movement is signed "Eterna-Matic,21 Rubis, Brevete", (the French word for "Patented"), which is a reference to the Eterna-U system of shock absorbance that debuted with this calibre. An appealing feature is its rapid running speed of 21600 half beats per minute. The more rapid the rate at which a movement runs, all else being equal, the more inherently accurate it tends to be. The downside of this is that it is technically challenging, and very costly, for a manufacturer to overcome problems with balance wheel inertia to create fast running calibres.
This watch has a quality of movement that is the equal of any of those found in any of our other vintage pieces, many of which have a value of several thousand pounds each. If assessed clinically and logically, every element that makes up a collectible timepiece is present here in abundance. Its case is exceptionally well built, its movement is a true "manufacture" item, genuinely produced in-house by Eterna with no out-sourced components whatsoever, and it is a rare model, offered originally as a limited edition to mark an anniversary in its maker's history.
It hardly needs to be mentioned that this watch, being of such high cost when new, has been fully serviced throughout its life, with the result that it works perfectly and has no corrosion or discolouration to the movement whatsoever. Indeed, when examined both with the naked eye and a jeweller's eyeglass, the movement appears to be in almost as-new condition and has a spectacular gleam from its perfectly polished surfaces.
The historical significance of this model, representing, as it does, an important landmark for one of the Swiss luxury watch industry's most respected and highest quality makers, should not be underestimated. Limited edition watches by true "manufactures" ( the term given to those Swiss watch houses that are capable of manufacturing their entire movements in house with no out-sourced parts) are fiercely sought after now and continue to rise rapidly in price on the collector market. After some discussion, we have priced this item at £1175 GB pounds, which reflects our deliberately policy of offering vintage watches for sale on our website at considerably lower prices than these same pieces would sell for if entered into the specialist horological sales held by Christie's, Sotheby's and Bonhams. If we sell directly, we have no auction house commission to pay and can keep our prices down to very competitive levels, which results in increased turnover for us and a much better deal for the collecting community.
This is an absolutely first rate watch that would make a very worthwhile addition to any collection that charts the evolution of the luxury wristwatch over the last century. We cannot recommend it too highly or stress too emphatically that it offers exactly the same quality found in vintage Rolex, Jaeger LeCoultre or Omega models of the same age, but at a far lower price.
Price £1175 GB Pounds
Vintage Watch Brands
Vintage Watch Decades
Vintage Ladies Watches
Vintage Watch Bracelets
Swipwreek Straps
Travel Clock/ Pocket Watches
Home
About
Brand Overviews
By Decade
Reference
Contact Details
Telephone from the UK:
07453 734666
or 07428 051005
Telephone from overseas:
+44 7453 734666
or +44 7428 051005